According to Lolo Zouaï, 2019 is going to be her official global takeover. Since 2017, the French-Algerian R&B singer has been thriving within KidSuper's tight-knit creative community and taking her sweet time dropping singles with little promotion that organically gain massive attention. So far, her biggest hit is the Stelios Phili-produced track "High Highs to Low Lows", but 2018 showed her even more love following the release of songs like "Blue" and "Desert Rose." Zouaï has yet to put out a project (although she can already check off merch collab from her to-do list after successfully teaming up with New York brand Sticky Baby), but the demand is certainly there and she fully intends to supply it without any further delays.
Zouaï grew up within the cultural melting pot of the Sunset District in San Francisco. As a child, she remembers auditioning for solos at her french elementary school and taking piano lessons. Zouaï's mother played the saxophone and her grandmother was supposedly a wedding singer, but no one in her family pursued professionally as a career. She recalls how her dad played Arabic music in the house as well. Living in the Bay also exposed her to rap music which she's never not been obsessed with since her teenage years. As a result, Zouaï believes that all of these components from her surroundings heavily influenced the sound that would become her self-described "bittersweet bangers."
Highsnobiety recently sat down with Zouaï to learn more about her ongoing development as an artist and get the exclusive on what she's manifesting for the new year. Scroll down for the full discussion.
How did you come up with the term "bittersweet bangers"?
Bittersweet is opposites kind of and high highs to low lows and I always feel like everybody is not one thing, we're all multifaceted and that's kind of the beauty of life. My music, it knocks, so it's a banger. I think that's the rap influence, it's mostly on the beat and then the emotions and the feelings that it gives you is a bittersweet thing and then we put it together and it just flows. And it just works. And I think that all of my music is kind of bittersweet. 'Cause you're like, "Why am I turning up to this? Why am I crying?"
I always say crying in the club music is my favorite. It hits you and you're like "I don't care, I'm just gonna dance through the pain."
Right. I like making music that you can listen to when you're falling asleep, and when you wanna turn up it switches depending on your mood. So, that's what that was.
This time of year is perfect for it as well. People are saying that cuffing season doesn't exist anymore because of Ariana Grande and Carly Rae Jepsen, but I was like, "Lolo's been having these hits for a while now..."
Well, I think that for Ariana Grande it's good because she is finally writing music that she wants and just singing. She's a real artist now. She's writing what she feels and everybody's shocked but its just like, it's artistry.
That is the root of it.
So that's what I do. I write exactly what's going on and that's why people connect.
Why did you end up moving to New York? What made you want to come out here?
I've lived in a lot of places. After high school I had to move to Nashville, my mom's job got relocated, so I went to college for a semester in Nashville and then I was over it and I dropped out.
What were you studying?
Songwriting, but I didn't even go deep enough into the curriculum where I actually went into a songwriting class. So it was just math. And then, after that I moved back to San Francisco and lived by myself and got a job and then I moved to Paris. Then I moved to Paris because I was bored in San Francisco and I was just working and wanted to maybe try and start my career there. So I lived there for seven months and worked at a store and started recording. But I didn't really find ... It wasn't right and I was like what am I doing here? I got kind of scared so I moved back home, which was Nashville, at the time and I was not that happy to live in Nashville, for some reason. Even though its awesome. I just wanted to live in a bigger city and my mom was like - my mom got a job offer in New York and so I was like, "I'll gonna come with you." And then, we moved together and then I found my own life there but it was mostly because she was moving there and I thought that I would never get the chance to live in New York for free.
So I was like "If you can make it in New York you can make it anywhere so let me try it, let me try that out." When I moved to New York I was meeting people and recording and all that for a couple years. Things kept happening but then I kept getting my hopes up and then back down and then Doug reached out to me, my manager, on Instagram. So Doug slid into the DMs, not creepily, very professionally, and then we met and we hit it off and he brought to KidSuper and then I ended up moving in there and the rest is history. We've just been on the climb.
How was your touring experience?
It was great because I had stage fright like a year ago. It was my biggest fear to perform just because I didn't practice that much and I was super scared. Doug was like "No, you're ready. We're doing this." And I was like "I guess we're doing it... Is anybody gonna show up?" Most of the shows were sold out, it was kind of insane. And then I felt comfortable and every show got better and better.
This Alina [Baraz] tour was amazing because it was more challenging. I had to perform for people who didn't know me. There were some people that knew me, but the majority didn't and it was a really great experience because I was learning how to win over a crowd. I think it was great and she was really, really great.
When you perform are you about having a choreographed routine for the songs?
No, not at the moment, but I do dance a lot. I move around a lot... I'm excited for how my show is gonna progress and get bigger. Right now I don't even have a band, but I can't wait to have a band. For now, I'm just making my own projections for each song and it goes with the song and it's kind of great. It works for now.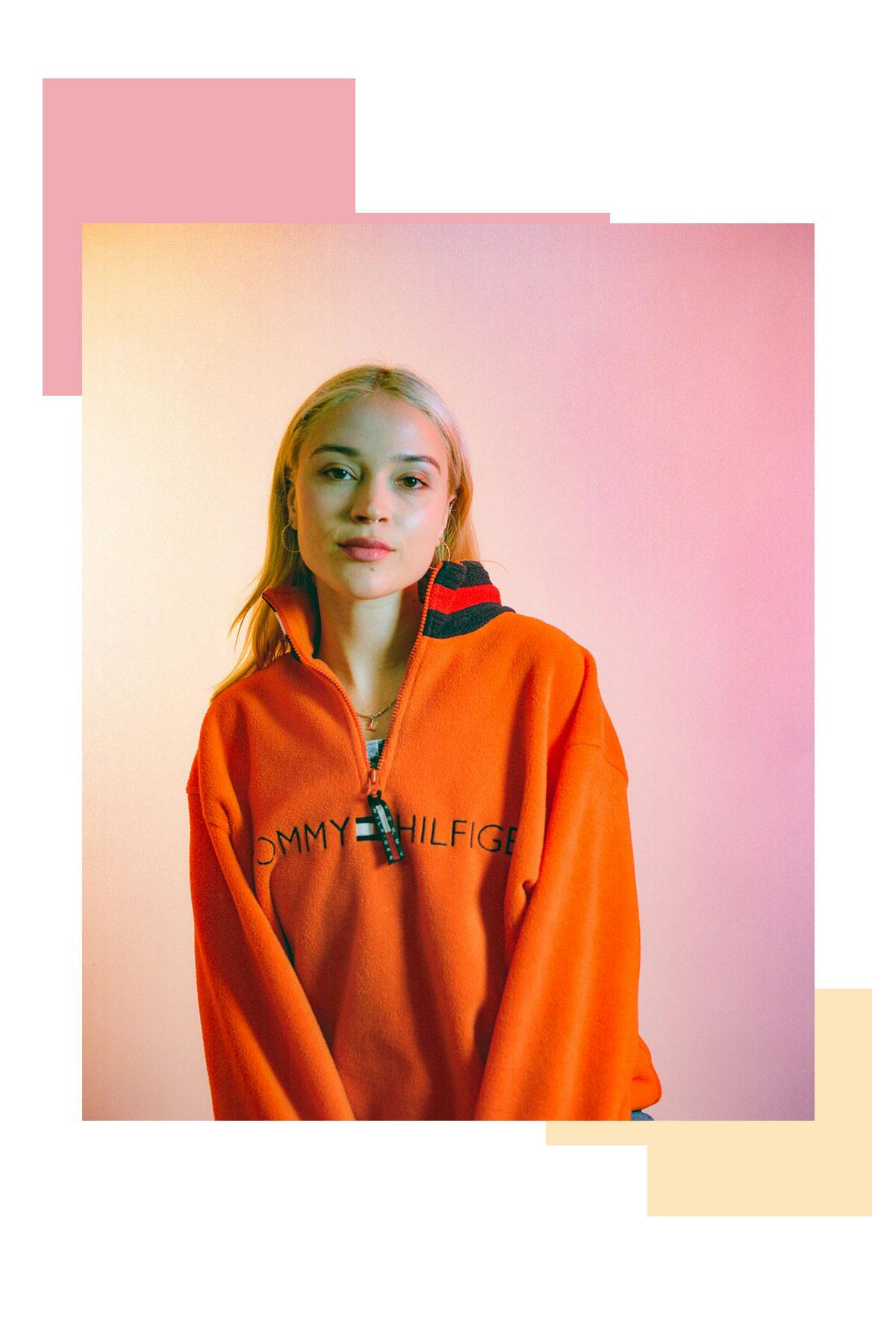 What's been the biggest crowd pleaser song wise?
I think that "Blue" always hits super hard. "Desert Rose" is always this crazy moment because it's so passionate, it's this moment. Obviously, "High Highs to Low Lows" is the last song and always gets the crowd going and people have it stuck in their head.
Have you heard any of your songs come on anywhere in public yet?
I haven't, but people send me videos at Joe and the Juice or something [and restaurants] in Tokyo. It's on the radio in France and London, but I haven't had one of those moments yet. I can't wait to. People always send them to me and I'm like "What?"
I know you've been working at this for a really long time, but I feel like the way you've been rolling out the songs has been a very gradual process that's paying off.
I mean, I haven't out put out a project yet so it's kind of crazy already what's happening and how I'm able to do these shows, how it's slowly building everywhere in the world. It's not just in one area... That's why we're doing small tours and we're just setting the groundwork for later.
So what else is in the works?
I'm working on a bigger project... Not a mixtape, definitely an album next year. I have videos coming that are exciting, a feature that's exciting. I will not say who, but it's great. Just more songs and then a lot of songs. This year has just been the foundation and I'm not putting out a lot of things, but next year is gonna be nonstop.
I'm excited for 2019. I feel like 2018 was really slow and then all of a sudden it's been whizzing by... I just want it to be over and for people to stop putting out music so I have a break.
There's so much music out. Every Friday I'm overwhelmed... How do you standout? There's so much. People are over saturating themselves. I don't wanna do that, but I know that the real ones will care. The real ones know.
For more of our features, take a look at our spicy interview with Victoria Monét.