It rains a lot in London which is a great reason to find inside activities as opposed to umbrella jousting down Oxford Street or hanging around outside famous landmarks in a waterproof poncho. But London's galleries are more than just a place to escape the bad weather and despite the city's housing costs pricing out a lot of young artists, there's a lot to be discovered from both established and emerging talent.
Our City Experiences project backed by American Express is a series of travel guides personal to us, our friends, and our family. Focusing on cities such as London, Berlin, and New York, each guide gives you Highsnobiety's lens onto an aspect of each city including spots to eat, shop, and stay. For the latest in this series, we're bringing you London's best galleries according to James Pearson-Howes — a photographer and visual artist that we regularly collaborate with.
For more from the series check out our City Experiences hub for guides to London, Berlin, and New York City.
Opened in 1971, The Photographers Gallery was the UK's first public gallery dedicated to photography. As a global leader in the exploration of the medium, the six-story space hosts contemporary and fine art photography exhibitions, talks, and events including the annual Deutsche Börse Photography Foundation Prize which identifies and honors photographic talent and innovation. The gallery reopened on Ramillies Street, Soho in 2012 and now boasts two new galleries, an impressive bookshop, a print sales room, and a café.
London's Barbican Centre is Europe's largest arts center and is committed to cultivating all major art forms including music, film, dance, theatre, and visual arts. On any given week you're guaranteed to find something on its programme that will peak your interest including performances at its concert hall, two theatres, and three cinemas. The center is located on the Barbican Estate, a conspicuous example of British brutalist architecture which itself is worth half a day's exploration (you might recognize it from Skepta's "Shutdown" video).
Insider's tip: if the timing is right, check out the Barbican Conservatory which is open on select Sundays each month, it's home to "a hidden tropical oasis in the heart of the city" and a great place to escape before Monday comes back around.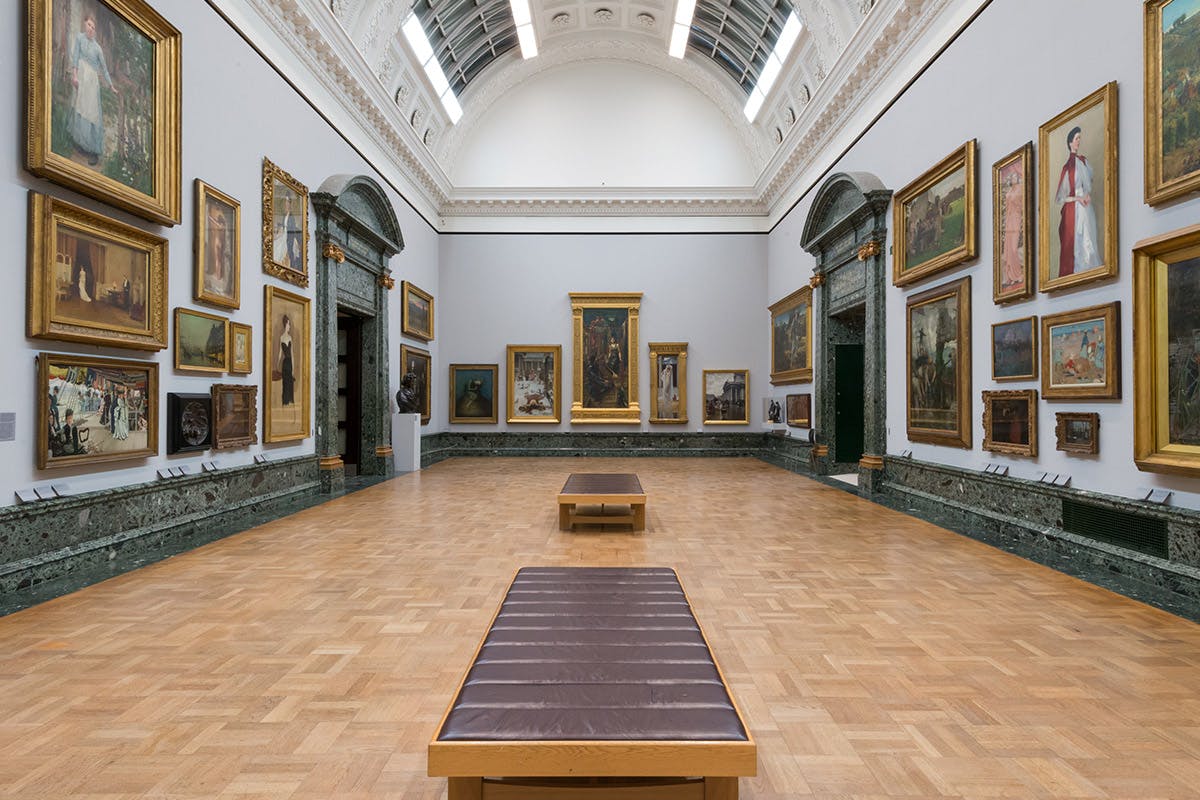 The Tate Britain is an iconic gallery showcasing contemporary British art as well as that from centuries past — as far back as the 16th century if you're wondering. The permanent historical displays feature work from artists such as William Hogarth, Thomas Gainsborough, and John Constable (legends in the game) while more contemporary displays explore eras like the 1960s and artists such as Lucian Freud and Francis Bacon. The Tate Britain has a regularly revolving programme of talks, workshops, tours, and exhibitions too so it's worth checking what's on even if you've been recently.
The Camden Arts Centre — located in a Victorian building that survived multiple attacks during World War Two — has been helping to develop young artists since opening through exhibitions, residencies, events, and even courses. Within the gallery you'll find emerging artists, international artists showing in London for the first time, and historic figures relevant to contemporary culture; on any visit, you're likely to be introduced to a name you've yet to discover.
Made up of the Serpentine Gallery and the Serpentine Sackler Gallery, the Serpentine Galleries sit either side of the Serpentine Lake, linked by a bridge, in Kensington Gardens. In addition to its seasonal exhibitions, the galleries are arguably most famous for the annual summer Serpentine Pavilion. Each year since 2000, the Serpentine has commissioned a leading architect or design team who has not completed a building in England at the time of the invitation to create a temporary summer pavilion that's displayed on the Serpentine's lawn for three months.
London's Institute of Contemporary Arts has exhibited some of the world's most groundbreaking artists over the last 50 years including Jean-Michel Basquiat, Damien Hirst, Douglas Huebler, Barbara Kruger, Robert Mapplethorpe, and Steve McQueen. It's also played host to concerts from legendary musicians such as The Clash, The Smiths, David Bowie, The Stone Roses, and The Beastie Boys. Today, the programme speaks to the challenges of the 21st Century with thought-provoking films, exhibitions, and talks from leading international artists and thinkers.
Highsnobiety's global team has gathered together the best City Experiences from London, Berlin, and New York. Click here to explore more.