When lockdowns gripped the globe, we collectively spent more time indoors than ever before. During these unprecedented times, style saw a seismic shift, putting comfort about all else. During months of dressing down, many took to nature as a refuge from this strange new world.
Hiking became more popular than ever, and once normality resumed, brands across fashion and sneakers closely aligned themselves with this spike, launching trail and hike-inspired collections at a high frequency.
Perhaps through a combination of the desire to remain comfortable at home while ready to tackle the outdoors at will, Merrell 1TRL's Hydro Moc quickly rose the ranks, becoming a cult icon.
As Crocs seemed to dominate the streets as much as they did homes and workplaces across the globe, the Hydro Moc stepped onto the scene like a bigger, badder, mysterious older sibling. Water-ready with a striking amphibian design, the Hydro Moc quickly became an essential part of any hikers set-up, all the while being snatched up as a fashion statement.
While its trailblaze continues, Merrell 1TRL has capitalized on the shoe's popularity to deliver its latest evolution. The Hydro Moc AT (for Allterrain), conceived as the "ultimate camp shoe," describes not one but three new styles that cater to the specific needs of outdoor adventure and serves these needs with aggressive style and peak function.
Ahead of the launch of the Hydro Moc AT family online in the US, EU, and UK and December, we caught up with Paul Ruffles, Brand Director at Merrell 1TRL to learn more about all things Hydro Moc
Hydro Mocs are everywhere. First things first, what is their intended purpose?
"They were designed for Hydro Hiking, Water Shoeing, Kayaking, and Camping."
Was their mainstream popularity something you expected?
"We saw it as a product opportunity but wouldn't have been able to guess that molded footwear was going to come back in such a strong way when we started on the original idea."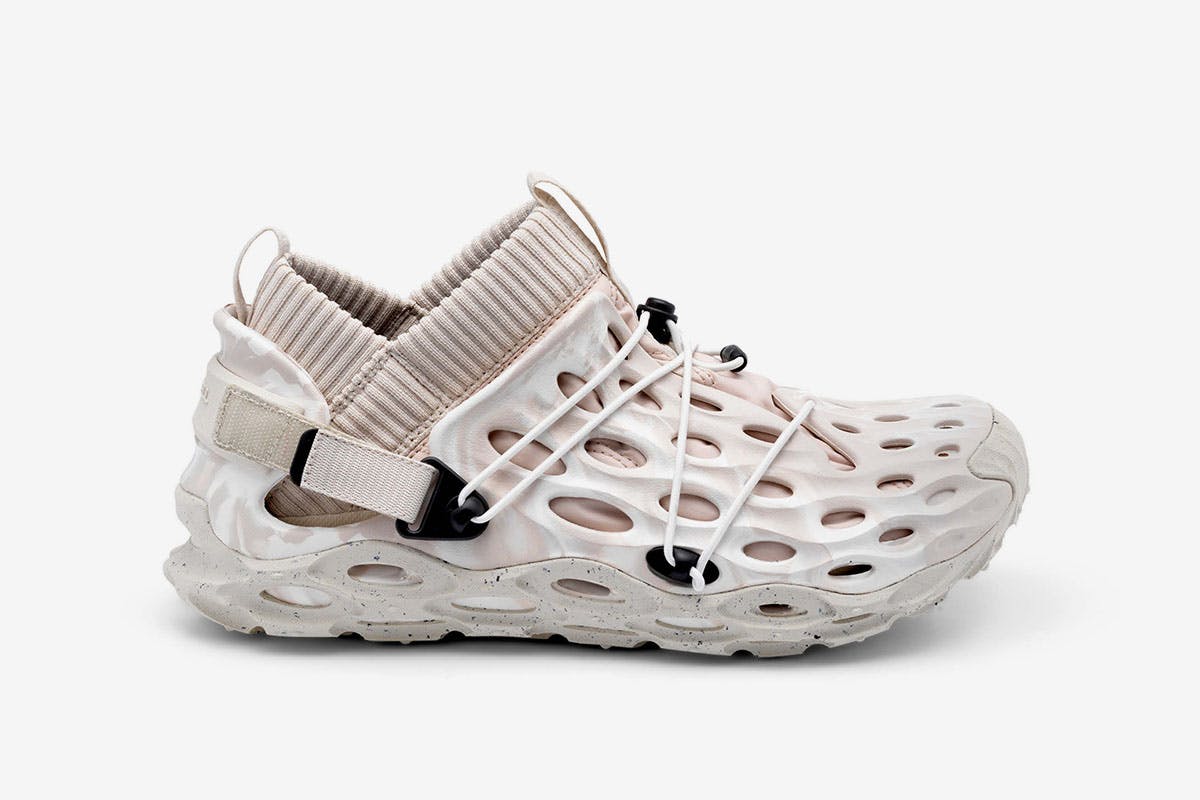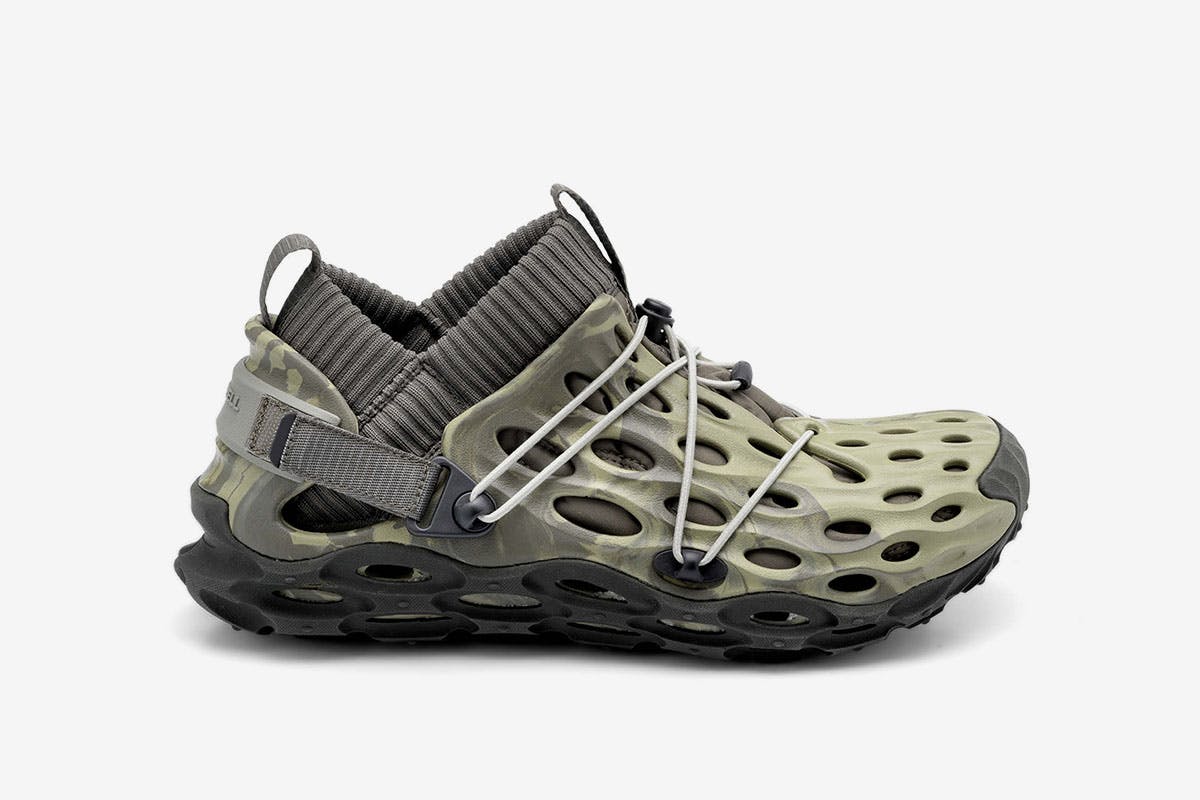 Why do you think they've become, and remained so popular?
"I think it's been a combination of a few things – from a product point of view it hits all three key points – strong purpose value, unique/aggressive design, accessible price – then we add factors like COVID and people staying at home more."
Was their evolution always on the cards?
"Absolutely. We always loved the Hydro Moc and it's pretty swiftly becoming an iconic model."
How was the original Hydro Moc used as a template to create the Hyro Moc AT?
"Design language, fit, and comfort."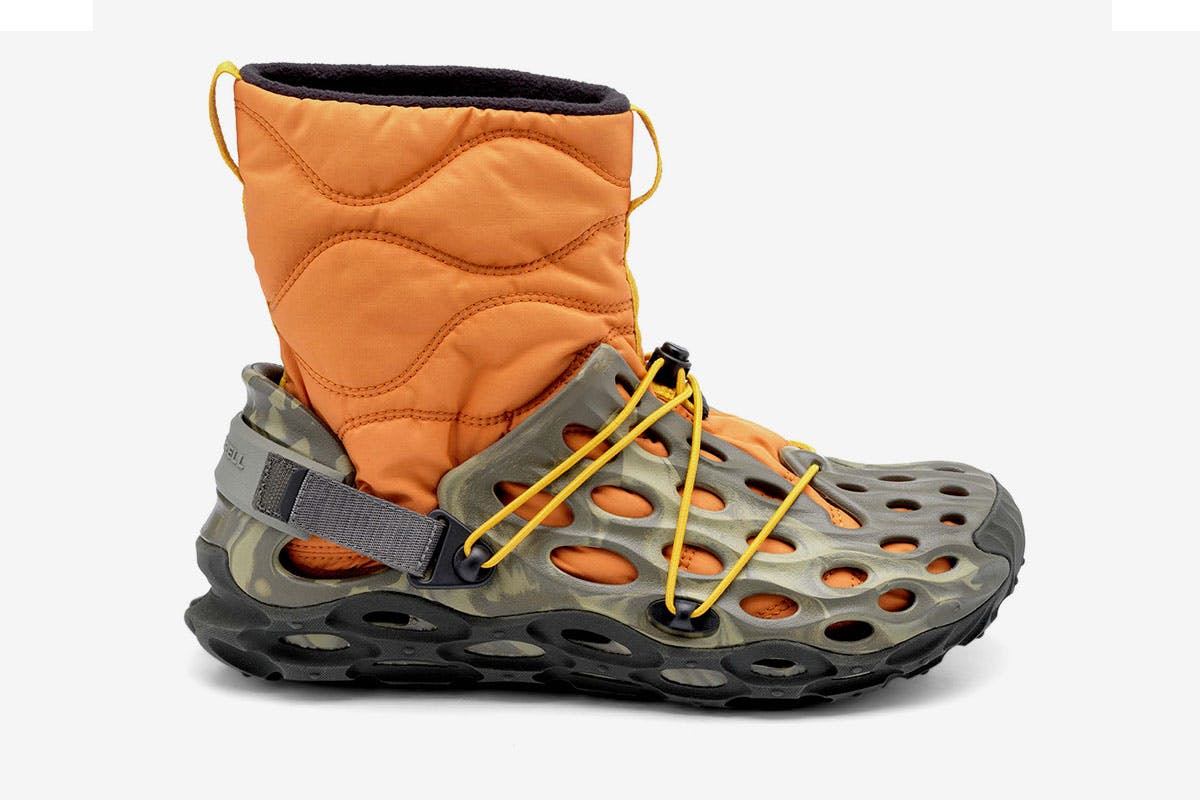 Aesthetics aside, what is the functional purpose of this evolution?
"We wanted to add traction, an enhanced fit experience, and add more versatility to the Hydro Moc product. A full-length luggy outsole made from our Quantum Rubber mixed with Austin Rubber (recycled car tires) provides excellent traction. Upper-wise, 2 points of adjustability through the quarter bungee and heel strap.
We wanted to be able to lock your foot in to bring confidence during your activity. And lastly, the Bootie/Sock inserts allow you to wear your Hydro ATs in any seasonal condition or just in the house as a slipper."
Do you think these will match or even outshine the popularity of the original?
"We see them cut from the same cloth but 2 separate beasts. Our hope would be that both continue to find their place in the world as we look to expand the Hydro family."
Should we expect more from the Hydro Moc story?
"Absolutely. We've got a lot of fun things in the works."