"I knew if I was ever to do this, I would have to hide my face," says 20-year-old Midas the Jagaban in a low-toned, pensive voice that guides most of our conversation. As she speaks, she picks her words with the intention of not giving away too much, but just enough to leave you with even more questions. Cameras are off on our zoom chat to respect her privacy, which I soon learn is of paramount importance to her now. For a Gen-zer, anonymity is quite an interesting stance to take. We are, after all, at a time when relatability, utter transparency, and vulnerability are the new markers of stardom for young people thanks to social media (cue Lil Nas X). But Midas is selective with the attention she allows and prefers the public eye to rest on her art. One might say that she has so far managed to do a great job at that.
The elusive British-Nigerian artist stepped on the scene last year with music reminiscent of the good ol' days of blaring speakers and drunken nights out with friends. In a year when we were all confined to our couches, this was a bold move. Her debut EP, Midas Touch, delivered a selection of heavy-hitting anthems peppered with her native Yoruba and Pidgin English from "Party with a Jagaban'' — a TikTok Favorite and one of the UK's biggest Afrobeats songs of 2020 — to the Hollaback Girl Inspired "Wuje''. By the end of the year, she gained enough street cred to be named one of the hottest new stars in the Afrobeats pool. Not stopping there, she is set to headline the 2021 edition of the Homecoming Festival alongside golden boy Rema at the Manchester International Festival in July. It's safe to say Midas the Jagaban is deep in her zone. "When I'm outside, I don't feel like much has changed," she says with a mischievous chuckle, almost thankful for the luxury her masks bring her.
Music has always been a compass of sorts guiding the young artist in the right directions through life. It was how she navigated studying in a predominantly white secondary school and what steered her closer to her Nigerian roots. "Music was an escape." Through it, "I was able to find a group of people who were similar to me." She cheerfully recalls those fateful days; the group of friends would bond over the latest hits from Nigerian Afrobeats stars like Wizkid, Davido, and Wande Coal. Freestyling on the school steps during breaks was also a staple. "We were just like playing about. We would write bars and stuff just for bants." And come 2019, one of such freestyles eventually became the hook for Paigons, the Amapiano tune on her EP starring South Africa's Sho Madjozi. 
But before all of this, a defining moment was sparked earlier in her childhood. Her mother had introduced her to music from legendary Nigerian artists like Yinka Ayefele, but none stood out to her quite like Lagbaja. Unknown to her mother, the person that would become the self-appointed "Queen of Lamba" was taking cues from the singer, saxophonist, and Ayan (talking drum) connoisseur, who is just as famous for his flamboyant masks as he is for his music.
 "I remember the first time I heard 'Konko Below'. As soon as I heard the drums, it was just like a madness to me." Midas the Jagaban states. "He kinda reminded me of a villain, and I've always loved villains. He has always intrigued me to be real."
In a three-part thesis on Lagabaja's album, We Before Me, Yoruba art historian, Moyo Somorin, aptly describes the artist as "Beholder and beholden. He is in control of our gaze, looking at us without being seen in return. When we watch Lágbájá, we enter a matrix woven from the metaphysical and the mysterious." The same words ring true for Midas.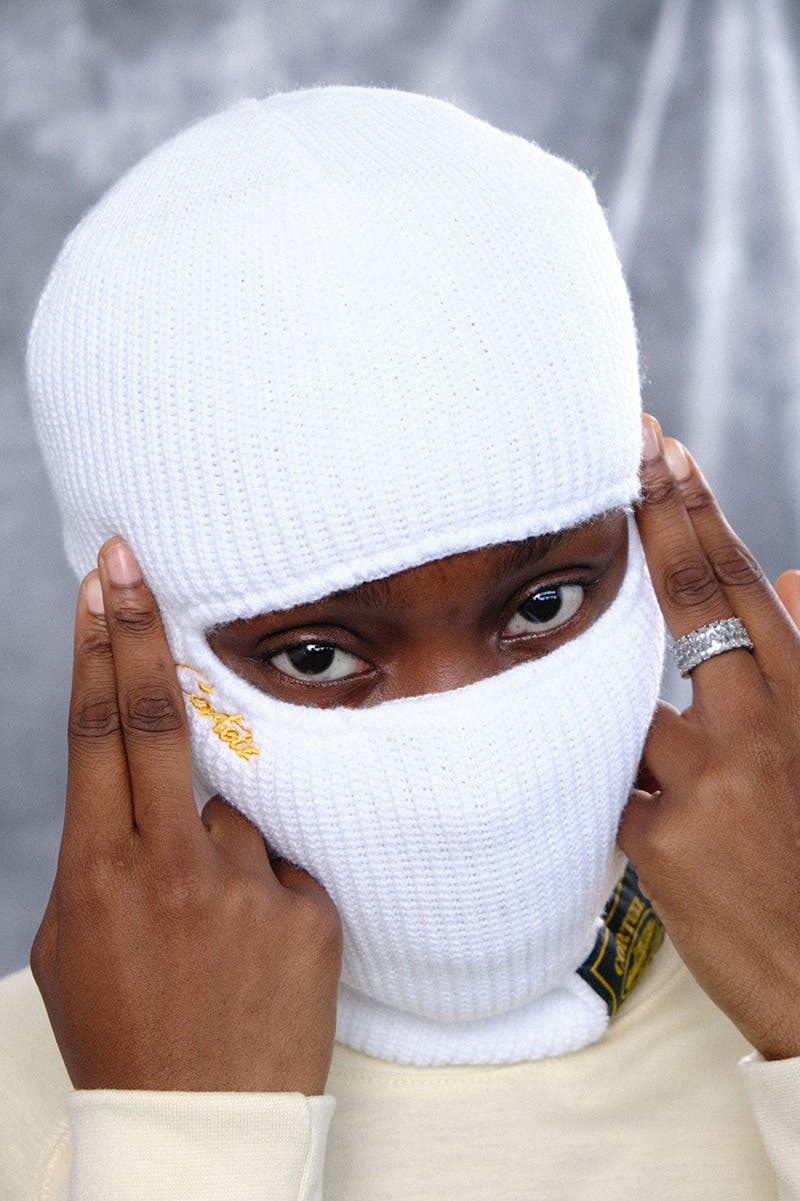 Masks in Yoruba culture represent an ancestor. When mask wearers adorn the masks, they become a link between the spirit and physical world as the wearer is inhibited by the spirit of the ancestor called upon during the masking ceremony. In the music video of Cloud 9, Midas calls on Lagbaja. "In the video, what we see is typical of a Yoruba masking ceremony," Somorin explains. "She is in the middle with women all around her dancing as she calls back the spirit of Lagbaja" which she eventually embodies as the chorus for "Konko Below" plays.
She points multiple times to her masks being vehicles for embodying different characters. Characters separate from herself with just her eyes and voice as the connecting factor between both personas. Be it The Joker Herself, BallyBabiiJaja, or just the Greek myth-inspired Midas the Jagaban. This is for a good reason too. "The industry demands a lot and does a lot to a person, especially young black women," she acknowledges. "It is almost a way to protect myself."
The question of if there'll ever come a day when she'll feel comfortable enough to take off her mask is one even her team has raised. Her response is, however, the same. "There is so much more I feel I can still do with it. I want to see how far I can go without showing my face or showing things that other people might be showing."
For now, she is more concerned with churning out more golden records... careful to never allow them to come at the cost of the things she holds dear.