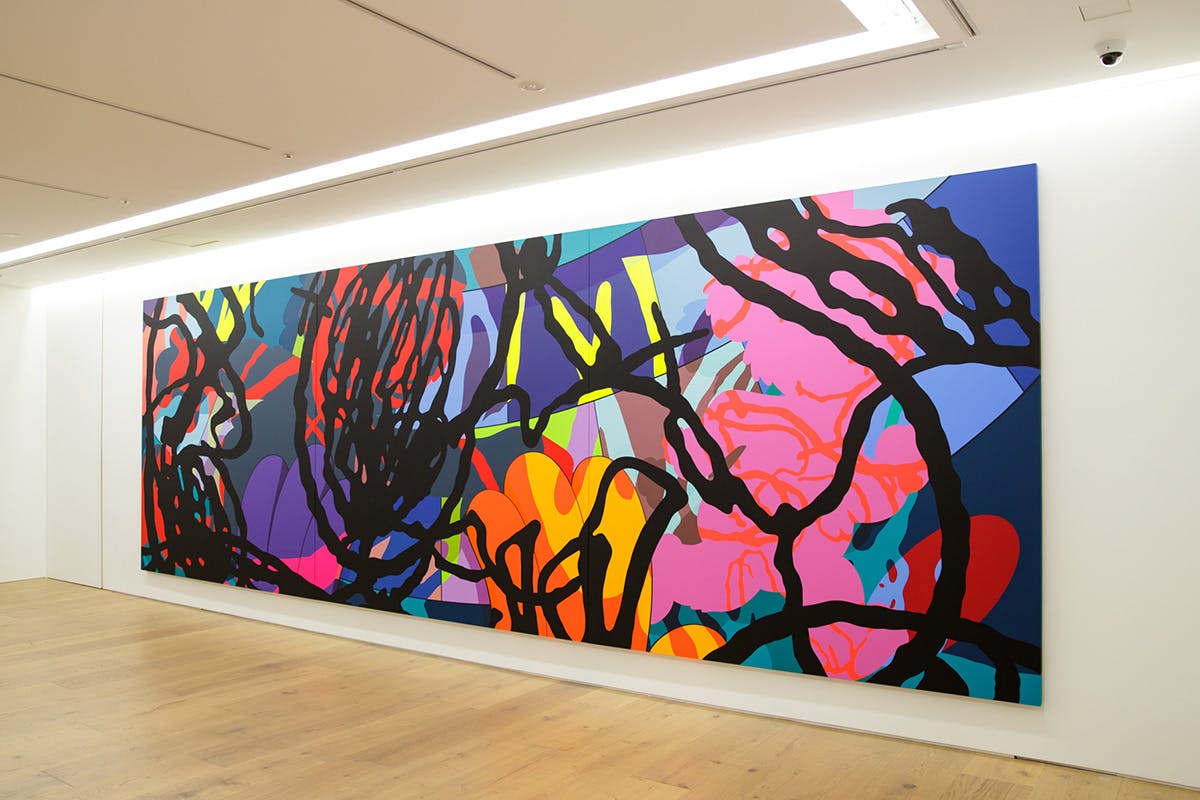 Art collecting is big business. So big, in fact, that just five of its top players control assets of over $11 billion. Taking a look at what has become one of the most lucrative investments known to man, Mark Edwards gives the lowdown on the most valuable art collections on Earth.
Imagine, for a second, that you have a billion dollars burning a hole in your Swiss bank account...
How can you be smart with those spare Dom Perignon tokens? The global economy is shifting seismically towards the developing world. The investment markets are volatile. What's the safest way to turn your billion dollars into several more billion dollars? Hint: don't open an ISA. If you know your stuff (or have a decent advisor),  buying art is your ticket to the financial stratosphere. It can be one of the most stable, reliable investments out there. And some of it looks quite nice hanging on your living room wall, too. Perhaps that's why it's so popular these days.
Exactly what kind of art is the best investment depends on how impatient you are. The world of art collectors is defined by obscene personal wealth, with a few collections' worth actually eclipsing the GDP of some small countries. If you pick the right pieces, the value of your art collection can appreciate faster than pretty much any other commodity on Earth. Andy Warhol's Orange Marilyn silkscreens sold for $2,400 in the 1960s, yet when they were auctioned around the turn of the millennium, they fetched around $17 million. Even allowing for inflation, that's approximately a 102,000% increase in value in 40-odd years.
All of which might help explain some of the ridiculous figures involved in the world's five most valuable art collections...
5. Francois Pinault Collection value: $1.4 billion Personal wealth: $14 billion
Small beginnings can lead to very big things. Francois Pinault began his career chopping wood in 1963. He got smart fast, turning this profession into a large timber import/export business. The company floated on the French stock exchange in 1988.
The years since have seen Pinault Group (now known as Kering) acquire the entire Gucci Group (which includes Gucci, YSL, Stella McCartney, McQueen and Balenciaga). He also owns (among many other investments) Puma, Stade Rennais Football Club, the Château Latour vineyard, and one of the planet's largest collections of art.
His dedication to art is, thankfully, not a selfish one. Pinault is committed to sharing his collection with the widest number of people possible. He bought a controlling stake in the Palazzo Grassi in Venice in 2005, for $37 million, and has held multiple exhibitions from his collection there. In 2007, he saw off a challenge from the Guggenheim Foundation, and was selected by the city of Venice to undertake the restoration of the Punta della Dogana. A serious chunk of his personal collection is now permanently housed there.
Pinault's first art purchase was Mondrian's Tableau Losangique II, which set him back $8.8 million. His collection now includes over 2,000 pieces from the contemporary art elite, including Mark Rothko, Andy Warhol, Damien Hirst, Gerhard Richter, Cindy Sherman, Agnes Martin, Jeff Koons, Cy Twombly… the list goes on.
And so does Pinault's dedication to opening new museums: he is reported to be looking at new premises in London and New York.
4. Philip Niarchos Collection value: $2.2 billion Personal wealth: $2.5 billion
The Niarchos family story reads like the plot of an '80s soap opera. Stavros Niarchos, a Greek shipping magnate, racehorse owner and art collector, lived a life punctuated by the drug overdoses of wives, private jet crashes, accusations (unproven) of murder, love triangles, and connections with international politics.
Philip Niarchos had the good fortune to be his eldest son. When Niarchos Sr. died in 1996 he left behind a personal fortune of around $5 billion, and a collection of masterpieces that is rumoured to include the world's largest private stockpile of works by Van Gogh. Since the collection's ownership was passed to Philip Niarchos some blockbuster additions have been made, including Van Gogh's iconic post-ear-chop Self Portrait (pictured), bought for $71.5 million, and Yo Picasso, which set him back $47.9 million.
One of the more interesting additions that Niarchos Jr. has made to his father's collection was Jean-Michel Basquiat's self-portrait, which raised eyebrows for its sale value of $3.3 million in 1982. That's about five-and-a-half times what Basquiat works tended to sell for at the time, and its value suggested that Niarchos put it alongside work from some of the greatest masters of all time.
Flash forward to 2013, when the hammer came down on Basquiat's 1982 painting Dustheads for $48.8 million. It turns out that Niarchos might just have been right.
3. Eli Broad Collection value: $2.2 billion Personal wealth: $7.1 billion
Known as the "Lorenzo Medici of Los Angeles," Eli Broad is a self-made billionaire whose philanthropic work is every bit as famous as he is. Broad amassed his fortune through financial wizardry, and is the only person to have built two Fortune 500 companies: KBHome and SunAmerica. Together with his wife Edythe, "Mr. LA" also runs the Broad Foundations, of which the Broad Art Foundation is a part.
His interest in art dates back to 1973, when he purchased the Van Gogh drawing Cabanes a Saintes-Maries. He then picked up a few other pieces by Miró, Picasso and Matisse, as you do.
Since then, his collection has expanded exponentially to include work by Jasper Johns, Jeff Koons (pictured), Roy Lichtenstein, Damien Hirst, Ed Ruscha, Cindy Sherman, Andy Warhol: essentially the definitive list of big-name, post WWII contemporary artists.
The Broad Art Foundation's mission is to make its 8,000 works as available in the public domain as possible, and it lends them out to over 500 institutions. It's an admirably selfless philosophy that is in keeping with Broad's wider stance on wealth: he is among the group of billionaires who have joined The Giving Pledge, in which they promise to donate at least 50% of their fortunes.
Broad's personal pledge is to give away 75% of his.
2. David Geffen Collection value: $2.3 billion Personal wealth: $7 billion
David Geffen is quoted as saying, "my mother taught me how not to get hustled." She evidently taught him well.
Geffen is a college dropout with dyslexia, who used a fake UCLA degree to land his first mailroom job. From these mildly dishonest beginnings he went on to found Asylum Records, Geffen Records, and DreamWorks Animation. He also keeps the small matter of around $1 billion worth of Apple stock kicking about.
Geffen is into midcentury art, with a heavy lean towards American artists. Jackson Pollock, Willem de Kooning, Rothko – you know the sort of thing. He is widely considered to have one of the most impressive collections of this school in the world. So impressive, in fact, that he felt comfortable selling both Jackson Pollock's No. 5, 1948 and Willem de Kooning's Woman III – each a masterpiece in its own right – without it impacting the strength of his overall hoard.
He is known for being the smartest buyer and seller in the art market, and with the largest art collection owned by one person out there, who would disagree? Geffen's philanthropic work is shaping the US cultural landscape. It remains to be seen what will happen to his private art collection.
1. Ezra and David Nahmad Collection value: $3 billion Combined personal wealth: $3.3 billion
The most valuable art collection on the planet is joint-owned by two brothers: the Nahmads. Forbes quotes the chairman of Christie's New York as saying they have "sold more art than anybody alive."
The Nahmads' strategy is simple: make a profit. Buy a lot of art, hold it in a warehouse for a while, and then sell it for a ton more than they paid for it. This brutal, single-minded approach to art ownership has given the Nahmads a fearsome reputation in the art world. It also, ironically, means they're not known for being art lovers.
The extent to which they treat art as a stock to be gambled and traded on can put people's noses out of joint. But, with backgrounds in investment banking, and, in David Nahmad's case, a penchant for extremely high-stakes blackjack, it's hardly surprising. Business is business, after all.
The Nahmads live between New York and Monte Carlo, but they store their collection in a warehouse near Geneva Airport. And that means it is, of course, tax-free. It's been estimated that there are up to 5,000 pieces in the warehouse, of which 300 are Picassos. That's the biggest stockpile of Picassos anywhere in the world, and is valued at around $900 million on its own.
The reason for that? According to David Nahmad, huge, era-defining artists like Monet and Picasso "are like Microsoft and Coca-Cola. We know the return is less big than on contemporary painting, but at least it's more secure."
Bear that in mind if you're thinking about starting your own collection any time soon...
Words by Mark Edwards for Highsnobiety. The views and opinions expressed in this piece are those of the author, and do not necessarily reflect the position of Highsnobiety as a whole.