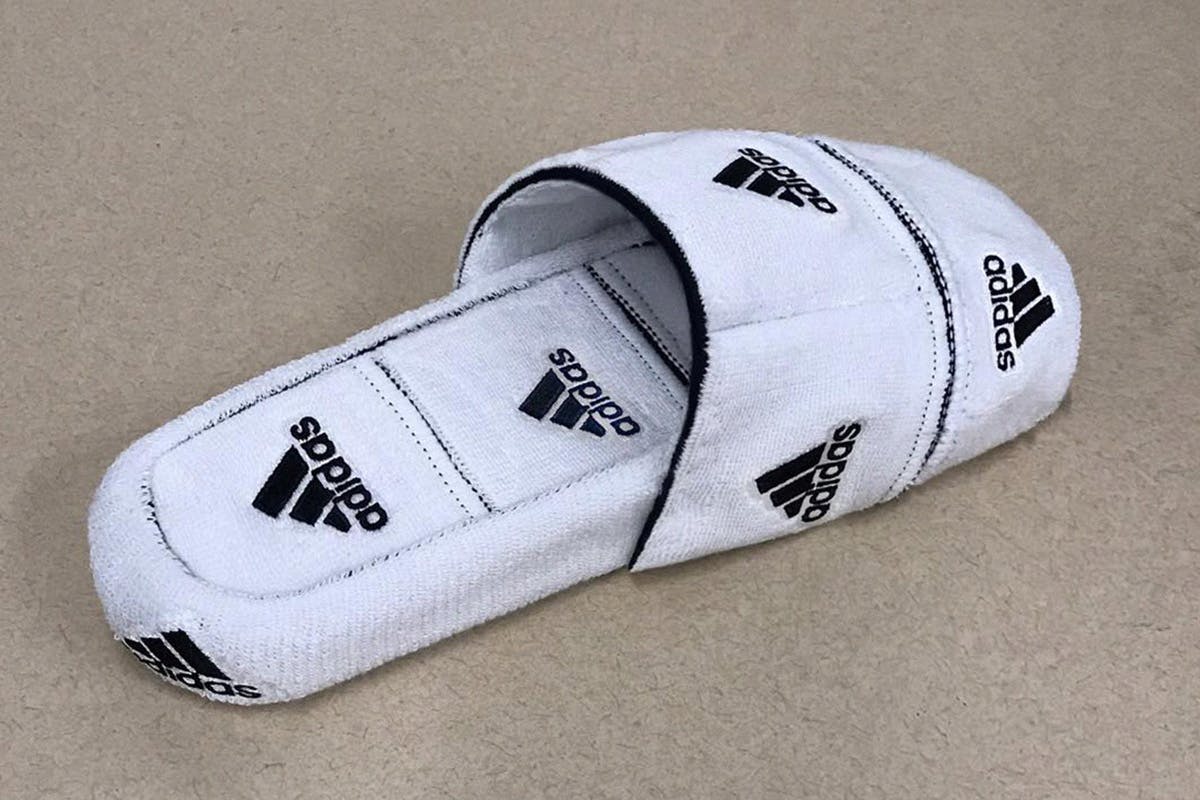 Even if you don't follow her yourself, it's likely you'll have stumbled upon one of Nicole McLaughlin's creations via the Instagram explore page or a friend who shared one of her images. That's because when looking at McLaughlin's insane work, you can't help but want to share it with people — even if only so they can join you in doing a double take.
Over the last few months, McLaughlin has made improbable-looking slides out of objects such as tennis balls, balloons, badminton shuttlecocks, and packing peanuts. She has also brought new meaning to the word bootleg, having reworked recognizable branding elements from Levi's, Patagonia, The North Face, and Ralph Lauren (to name just a few) into slides that take logomania to the next level.
Her design prowess isn't limited to footwear either. Nicole's very first DIY project was a shirt made using Dover Street Market tissue paper, and more recently she made a Whole Foods vest, a top made out of Carhartt beanies, and shorts constructed from Ralph Lauren shirt pockets.
We caught up with the 25-year-old creator, who also works as a graphic designer for Reebok, to find out how she makes her customs, whether she considers them part of the ironic fashion trend, and where she gets all of that spare fabric from.
Talk me through your customs. Why did you start making them?
I was getting these wild ideas that I didn't always know how to translate through my day job, so I would go home and physically try to make them by hand. It was refreshing to switch it up after being on the computer for most of the day. Once I started doing these projects, I realized how much I loved creating tangible items to show my ideas and then switch to digital, which is now something I've implemented in my work style.
Are you self-taught or do you have formal training?
Mostly self-taught. I didn't study fashion or industrial design, but once I started working at Reebok, I learned more about the process behind apparel and footwear. I started cutting up old samples or materials I'd find around the office. I took the experimenting home and I started making stuff out of random items in my apartment.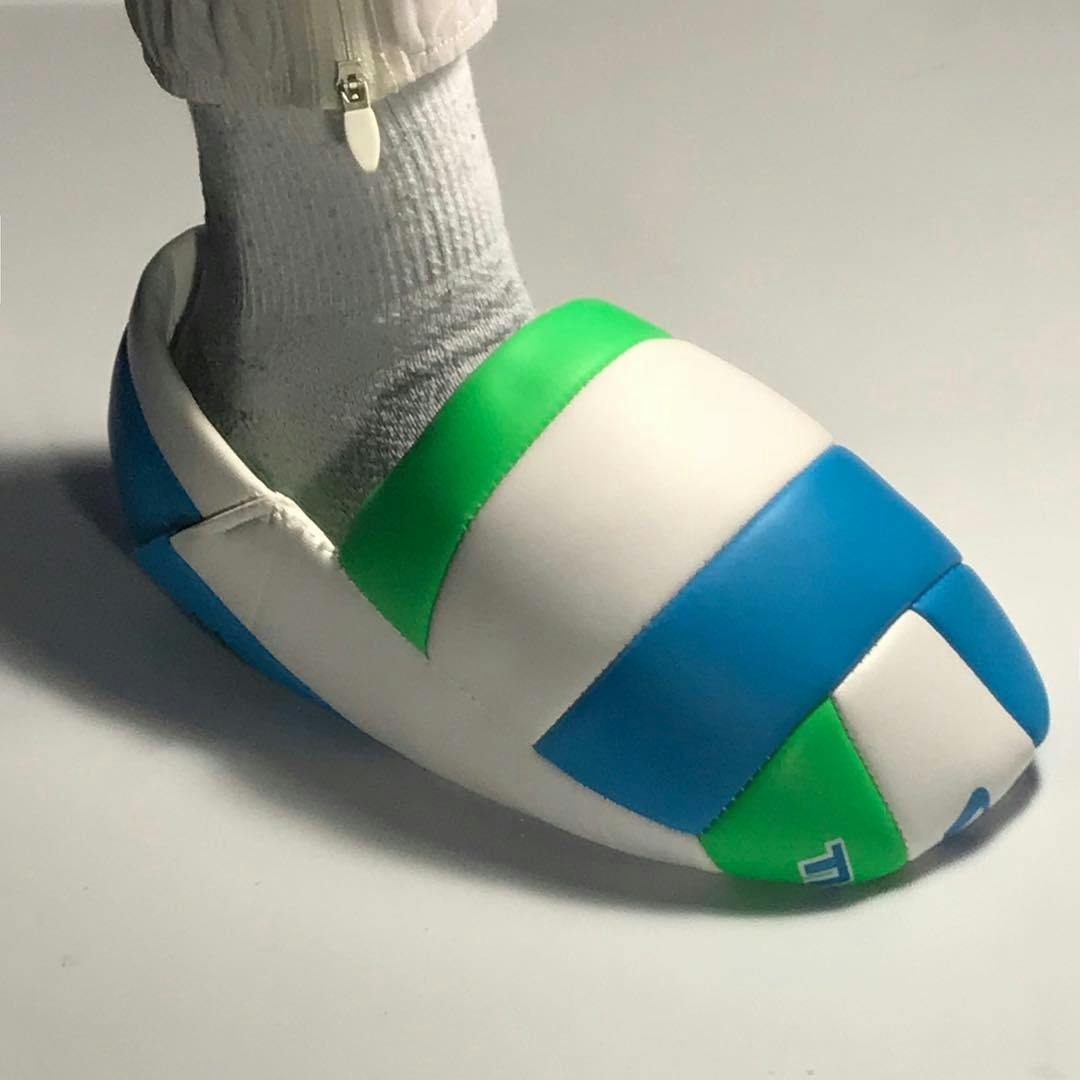 Do you plan the items you want to work with next or do you just see something and think, "That needs to be a slipper"?
The ideas just kind of come to me, but I definitely look at normal products sometimes and only see slippers now. When I'm out searching for a specific material, I usually end up finding something else that inspires my next idea, so it's basically an endless cycle. A lot of the time, my projects don't really go as planned — an idea for a shoe might become a shirt or vice versa. I just kinda go with it.
Where do you get your fabric from? Those Ralph Lauren pocket shorts and the beanie slip-on must have taken a lot of product to make.
I pretty much get everything at secondhand stores, eBay, or seek out damaged products. I rarely buy anything new because it could get crazy expensive and wasteful. Since I'm always cutting things up, I save the excess and make other items out the scraps, like tote bags or hats, and donate them back to places like Goodwill to keep it going.
How do you choose the brands you work with? Are they simply brands you particularly like? Is it about fabric access? Or is it a mix of playing with ironic fashion?
It's a bit of all actually! I like working with brands that we all know and can relate to in some way but they're not oversaturated. Sometimes it's a brand that's not even on my radar, but I find a cool piece in a thrift store that I have to use. My usual play is to take the item that is most recognizable from that brand, such as the reusable Whole Foods bag, the Gatorade bottles, or the JanSport backpack, and transform them, which can end up looking pretty ironic.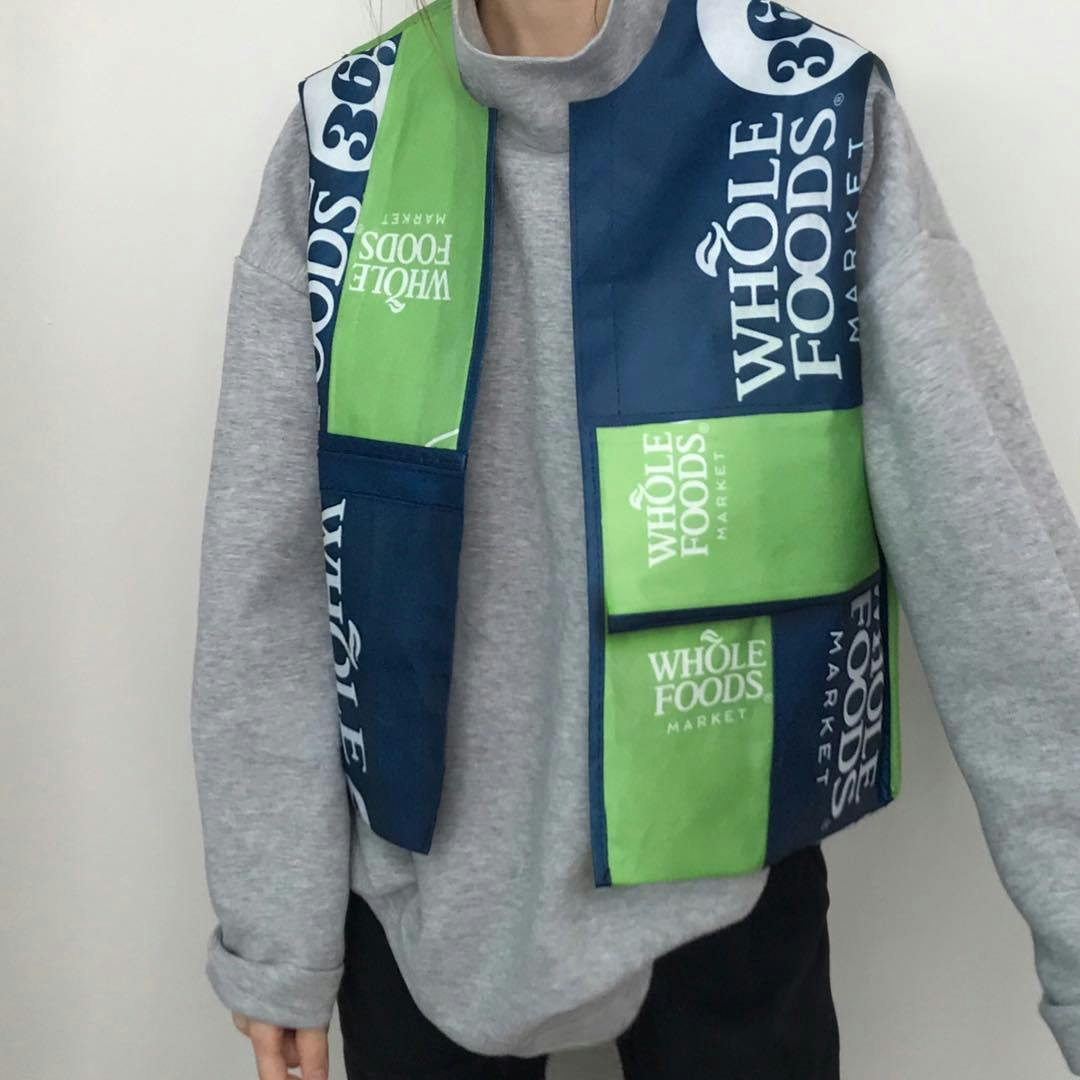 What was the first piece you made?
It was a button-down shirt made out of Dover Street Market tissue paper. I only had just enough to make it, so I had to be careful not to accidentally rip it!
And what's your favorite piece so far?
The volleyball slippers because that was the first super-conceptual piece I did. I was honestly surprised by the outcome, the shape it took and how comfortable they were. After that worked, I was like, "Okay, what else then?"
Do you actually wear your creations?
Most pieces are just experiments or me getting an idea out in a physical form. They are all pretty functional, but I don't usually wear them out. It's been more of an art form and a way to challenge people's perceptions of what they know shoes and clothes to be, rather than an actual fashion brand.
In other style news, Virgil Abloh's iridescent Louis Vuitton Keepall bag could be the hottest accessory of SS19.