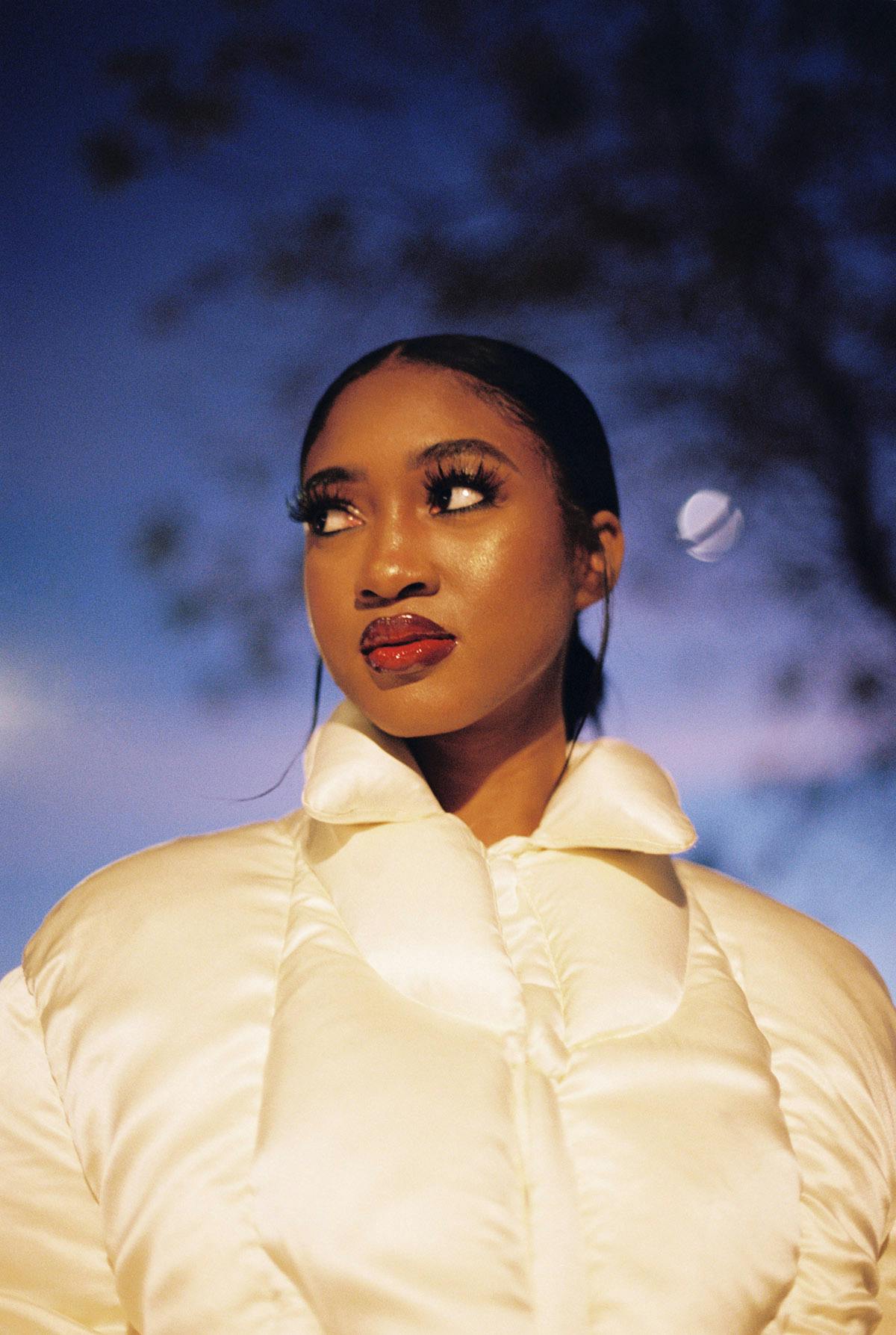 In this interview from the new issue of HIGHStyle, Nija Charles lays out her recipe for success.
Whether you know it or not, you've had a Nija Charles song stuck in your head recently. It might have been the entrancing hook to Beyoncé's Black Is King standout "My Power," or perhaps it was Chloe x Halle's commanding album opener "Forgive Me." Maybe it was "Rain on Me," Lady Gaga and Ariana Grande's pulsing club anthem for the quarantine era, or subsequently, Grande's slinky smash "Positions." If you caught yourself crooning along to the highlights on Kehlani's It Was Good Until It Wasn't or Teyana Taylor's The Album, Charles' touch was there, too. The 23-year-old songwriter is the common denominator behind many of the pop and R&B hits that benchmarked 2020 as a banner year for music (if nothing else) — and she's just getting warmed up.
Charles' discography is prolific by anyone's standards, but it's particularly impressive given that she only got her professional start as a songwriter about three years ago. Before she became one of the most sought-after writers in the business, Charles was a teenager living at home in New Jersey, where the seeds of her musicianship were planted and nurtured by her family. Nija's father was a DJ, and her aunt and uncle both worked as music producers. Her mother, a mechanical engineer, took Nija to her first concerts, including Usher's 8701 Evolution tour. "I remember those were the first artists that I was in love with," Nija says. "I was head over heels for that type of music, singing [their albums] from front to back." Another one of Nija's earliest musical memories is being driven to the Palisades Mall by her aunt around age six; she remembers gazing out the window at the trees, listening to "Why Don't We Fall In Love" and "Talkin' To Me" by Amerie.
Nija spent enough hours watching her aunt and uncle make beats at her grandmother's house that it eventually sparked her own interest in production around age 13. "I feel like the average kid is not seeing people produce music in the basement," she says. "They were like my older brothers and sisters, and to see them doing that all the time, I was like, 'I want to do that.'"
After hearing them mention the work of Ryan Leslie, Nija studiously took it upon herself to research him online. The thrill she felt discovering Leslie's studio videos inspired Nija to cut a deal with her mother: she would buy Nija her first keyboard, if Nija turned in a good report card. Each held up their end of the bargain, and soon Nija was teaching herself the tricks of the trade. "I was on YouTube every night, going to sleep at 5:00 a.m., just learning," she says. "When I'm invested and I want to learn something, I'll stop at nothing until I get it."
As she got older, Nija realized she wanted music to be more than a hobby. She set her sights on a career as a producer, and enrolled at NYU's prestigious Clive Davis Institute to formally study recording and production. She experimented with sharing beats on SoundCloud and posting snippets on Instagram. Once she noticed that her tracks got more buzz when she sang on them, using her own melodies and lyrics, it illuminated her hidden strength as a songwriter.
Nija's demos continued to circulate online, finding their way to artists, producers, and other industry players. They ultimately caught the attention of Christian McCurdy, who became Nija's manager, who in turn connected her with J Grand, SVP of RCA Records. McCurdy and Grand recognized Nija's talent and worked to foster it, helping her to establish relationships, book studio sessions, and secure her first writing placements. Nija flew back and forth between New York and Los Angeles on a weekly basis, juggling her course load and studio sessions simultaneously for nearly a year before she finally hit a crossroads: she could commit to her college education or to her burgeoning music career, but not both.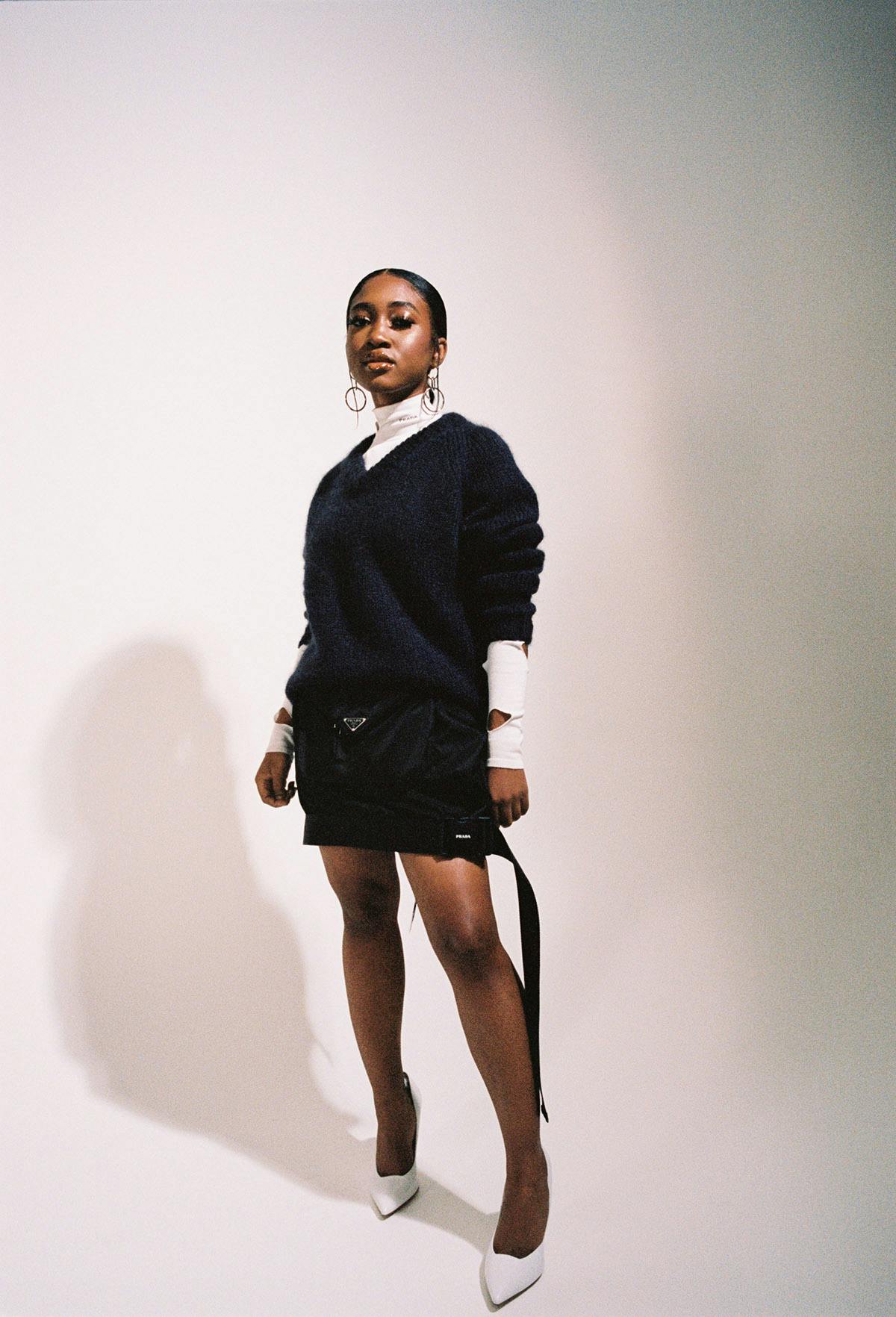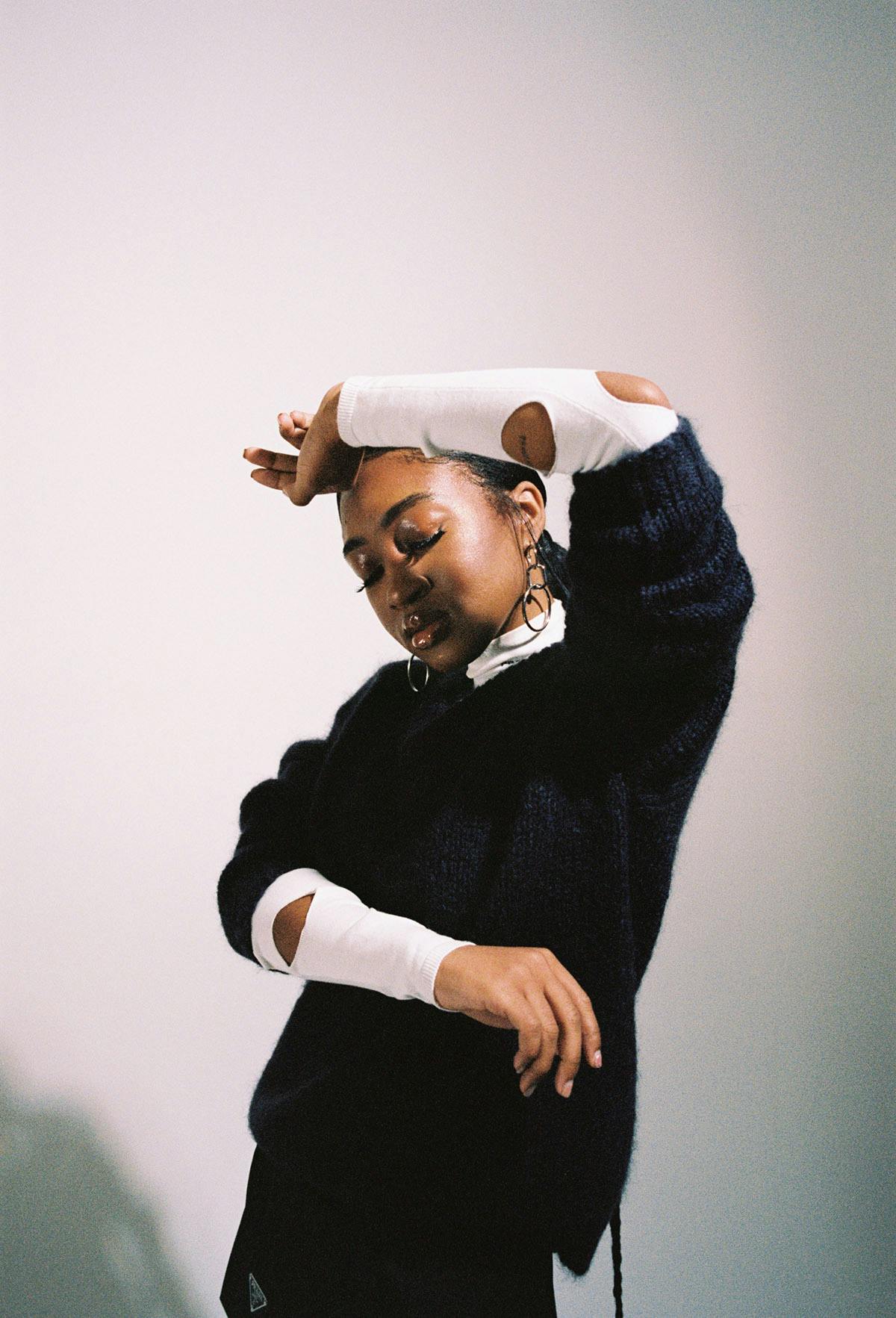 Nija struggled to get her mother's blessing to drop out of school. "It definitely took a lot of convincing," she says. Grand played a part in mitigating the reservations Nija's mother had about her daughter diverging from the set path and moving into the fast lane: "[He] told her, 'Nija is going to be one of the biggest songwriters, and she should really pursue her dream.'" What ultimately tipped the scales in Nija's favor was, poetically, the music itself. Nija had earned a writing placement on "Pull Up" by Chris Brown, one of the formative artists who ignited her passion for music in the first place. Her mother remembered bringing young Nija to see him perform. "To hear his voice singing one of my songs," Nija says, "that definitely changed her mind."
With her family's support, Nija was able to leap into her future with both feet and hit the ground running. She left NYU, signed a publishing deal with Universal Music, and relocated to Los Angeles to officially begin her songwriting career. She had barely turned 20. When asked whether she had any reservations about leaving home, Charles says she didn't think twice: "I just knew what I had to do. When I feel something is right, I don't question it."
"I'm really big on intuition," Charles shares. "I base all of my decisions off my gut feeling." Not only does Nija's gut empower her to take life-changing risks without fear, it also factors into her creative purpose. Songwriting calls on Nija to use her perceptive instincts to intuit what a song or artist needs, and then figure out how to fulfill it. "My process changes depending on my environment," she says. "When I'm by myself, I just do me. If I'm with an artist, sometimes I have to sit in the background and just help them get to where they need to be… I'm helping them get to where they want their music to reach." Nija's zodiac sign, Libra, is believed to excel at initiating relationships, solving problems, creating beauty, and maintaining harmony — all skills that Nija applies in her work.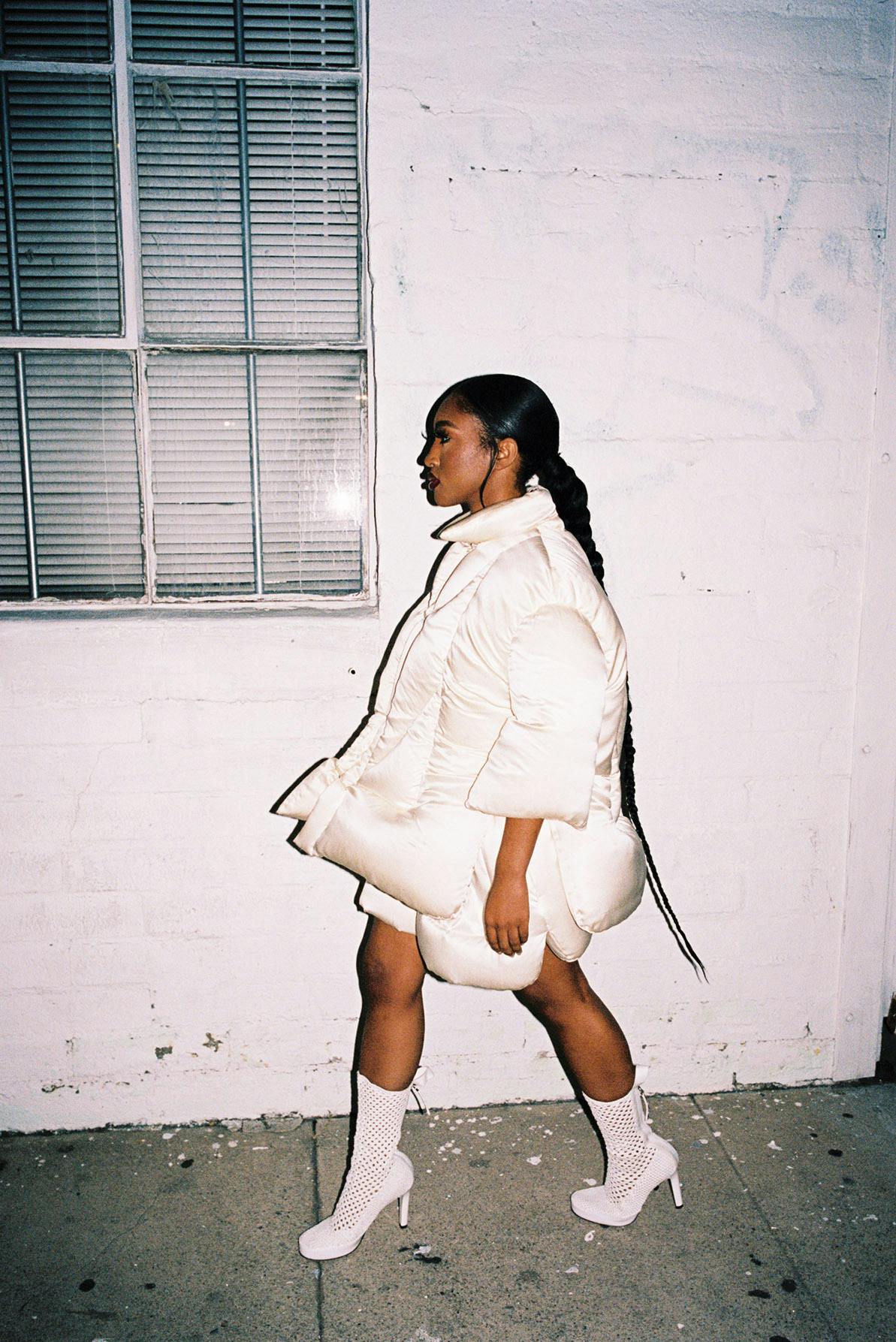 After taking a leap of faith, we implicitly hope the universe will reward us for our commitment, but hardly any of us experience it in the form of an endorsement from Beyoncé. Within months of signing her deal and leaving home, Charles was tapped to write for The Carters' 2018 joint album Everything Is Love (she landed two placements: "Heard About Us" and "LoveHappy") and in that same year, she also put her pen to work for Cardi B, 21 Savage, Meek Mill, and Jason Derulo. Nija hops across genres with agility: an Afropop track with Davido here, a dancehall jam with Sean Paul there, brooding ballads with Summer Walker — even a Maroon 5 song.
In spite of her daunting rate of productivity, Charles shows no signs of slowing down. In addition to collaborating with Beyoncé again on The Lion King: The Gift (Nija co-wrote both "Water" and "My Power," on which she is also a featured artist), Charles has recently been busy crafting soulful R&B with Ella Mai, H.E.R., and Ty Dolla $ign, turning out viral hits like Chris Brown and Drake's "No Guidance," and also staking out territory on the pop charts with songs she penned for Ariana Grande. In fact, 2020 saw Nija earn her first and second number one singles on the Billboard Hot 100 with songs she co-wrote with Grande — "Rain on Me" and "Positions" — a major career milestone for any songwriter to accomplish once, let alone twice in one year.
The success of Charles' pop placements makes it confounding that, up until recently, she has struggled to get opportunities in the pop sphere. "Being a Black woman, people sometimes try to pigeonhole me, thinking I'm just an 'urban writer,'" she tweeted in June, after "Rain on Me" hit number one. Nija knew she was just as capable of writing pop as she is R&B, but up until then, it had been a challenge to get other people to see it. "Getting into the pop world [was] as if I was getting into the music industry all over again," she says. Having two certified pop hits under her belt has thankfully availed more opportunities for her — "Now that I'm breaking that barrier, people don't come to me for just one thing anymore" — but it points to a larger issue within the industry in regards to the gatekeeping of pop music and the limitations imposed on Black artists; especially Black women.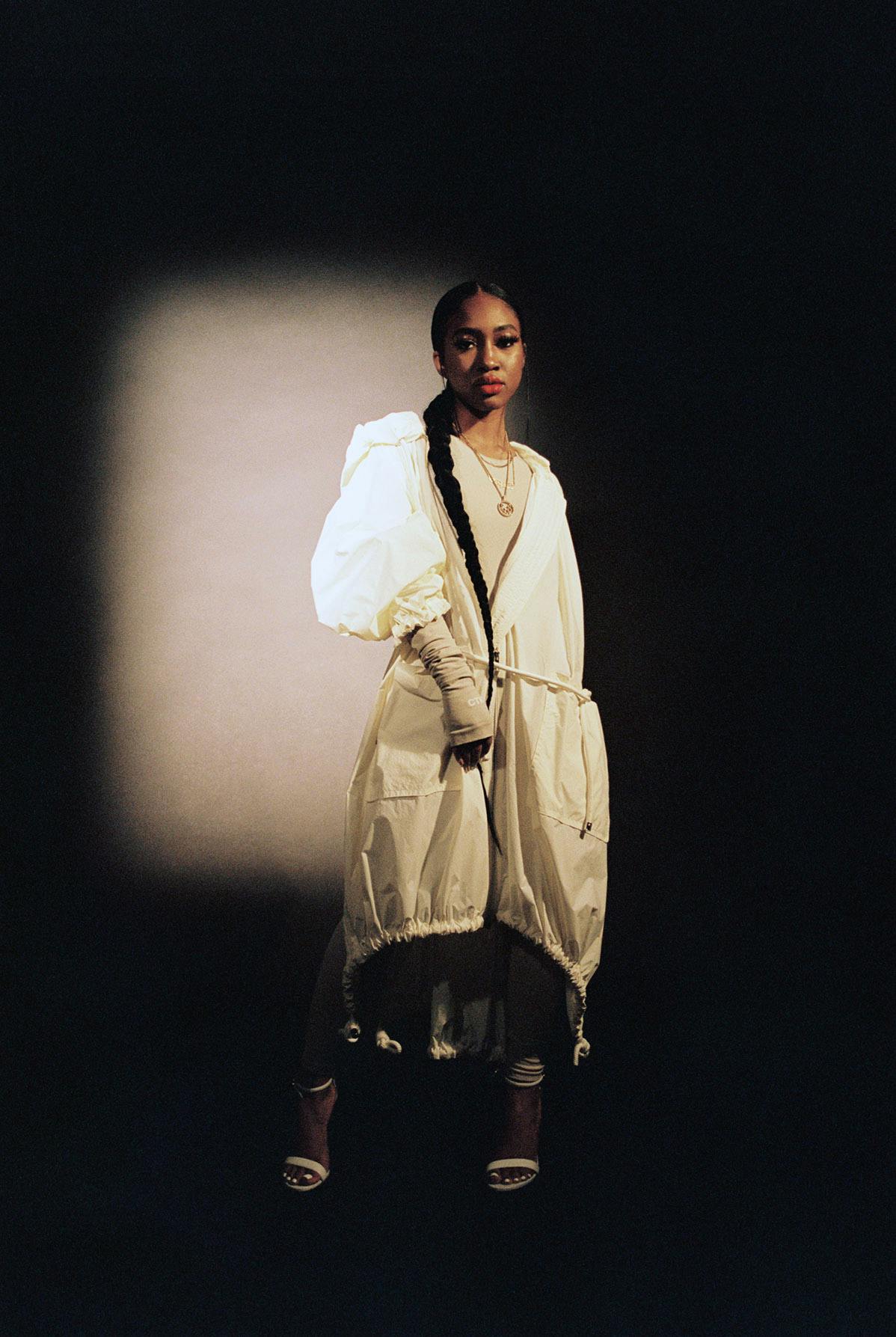 White artists who perform iterations of "urban" music, like Grande and so many others, are afforded broader commercial acclaim than Black artists who perform comparable material, or even music that would otherwise be categorized as pop. "'Positions' is an R&B song, and it went number one," says Nija. "It's sad that if that same song was given to Normani, it probably wouldn't do as well. I wonder where the disconnect is, because it's the same writer. I'm not really doing anything different when I'm writing for the R&B artists as compared to the pop artists."
That disconnect is further reflected by the Grammy Awards, which regularly incites controversy due to its marginalization of Black artists. It's well known that the Recording Academy has historically failed to honor Black artists on a broad scale, typically relegating their work to "urban" categories, while the biggest awards are all but reserved for white artists. Charles, a two-time Grammy winner herself, reiterates the dissatisfaction expressed by other Black artists about the double standard within the industry. "Just because you're Black doesn't mean that you have to get categorized into the stereotype of what they think is Black music categories, such as R&B and hip-hop," Charles says. "I would say Frank Ocean and Sam Smith are making the same exact music, yet they get divided into different categories."
Within those subcategories, which oversimplify and diminish Black artistry, the Grammys is also known to overlook work that is widely agreed to be impactful, particularly the work of Black women. Charles echoed the indignation many shared in November when no women were nominated for Best R&B Album. Kehlani and Teyana Taylor — both of whose albums Nija contributed to — were absent from the nominees, as were icons of the genre such as Brandy and Toni Braxton. "I was highly disappointed [that] there were no girls in the R&B category," Nija says. "Just seeing how much they pulled through this year, [it] was very disappointing not to see it."
Although Nija is grateful to be recognized by The Grammys — she has been nominated 11 times over the past three years — she knows better than to define her success by institutional accolades alone. "It's about how I see the consumer interact with the song. I remember being in the club one day and 'No Guidance' came on, and just seeing everyone saying the words — and when I mean everyone, I mean everyone," she says. "[When] artists go out to their concerts, and you see everyone singing those lyrics, that's success to me. That lets me know that I've done my job, and people really connect to that song."
With pride springing from the visceral connection people have to her work, Nija is undeterred by the semi-anonymity that can be a condition of crafting material for other people. "Everyone in the world won't know that I wrote or co-wrote the song, but for me, [it's about] being able to know that I helped make someone happy or to help heal someone," she explains. "I had an impact on somebody's life, whether they knew it or not."
Charles will get to experience that feeling firsthand very soon. This year, she's planning to unveil her own music as a solo artist and producer. After three years of toiling behind the scenes to bring other people's stories to life, Nija is looking forward to stepping into the spotlight and sharing her own. "When I'm songwriting, I feel like I'm an actress," she says. "But when I'm writing for myself, I can dig a little deeper, because it's the stuff that I'm going through as a 23-year-old." Nija is also starting her own production company, through which she hopes to help develop other emerging artists.
She will, of course, continue her regular songwriting work as well. While she's checked nearly every artist off her list of dream collaborations already, there are still a couple left to chase: The Weeknd and Stevie Wonder. What else can possibly fit on the vision board for 2021? "I want to write a country song," she says. "I want to get a hit with a country artist." At the rate that she has been turning her dreams into reality so far, it surely won't be long.
Experience the full story and others in HIGHStyle, a print magazine by Highsnobiety available on newsstands and the Highsnobiety shop now.