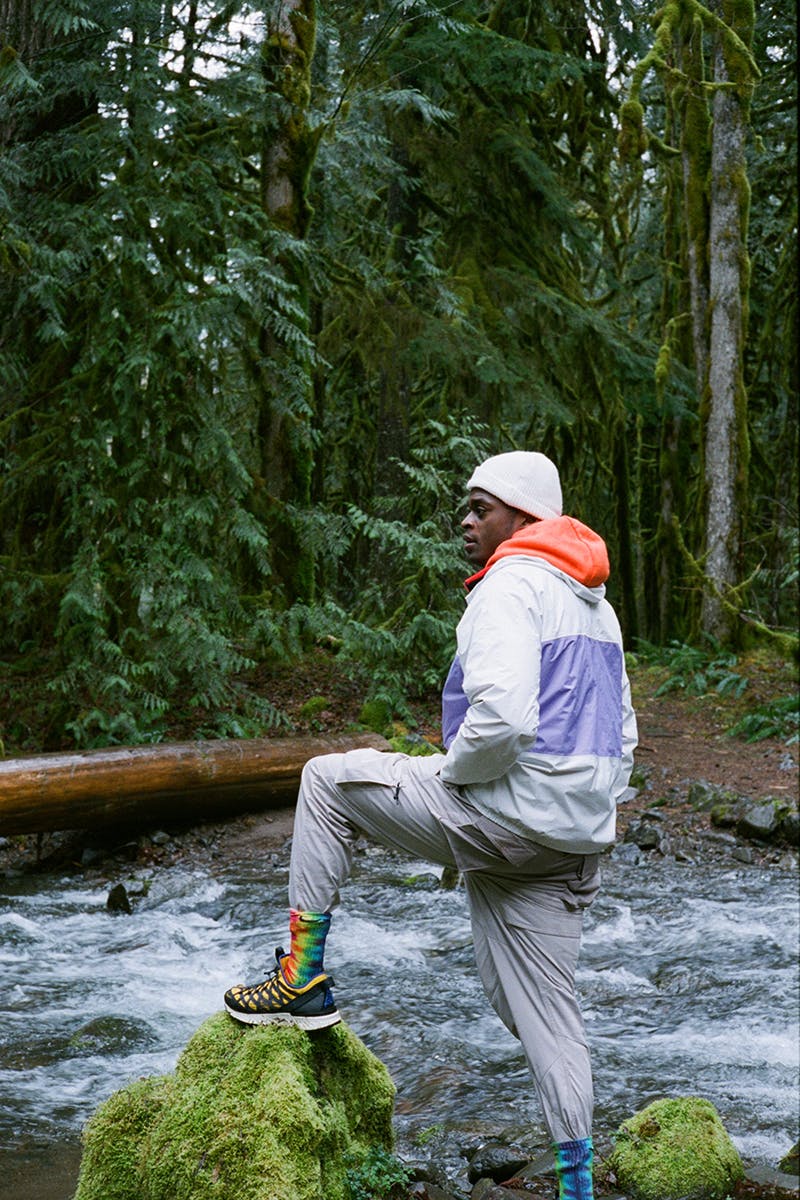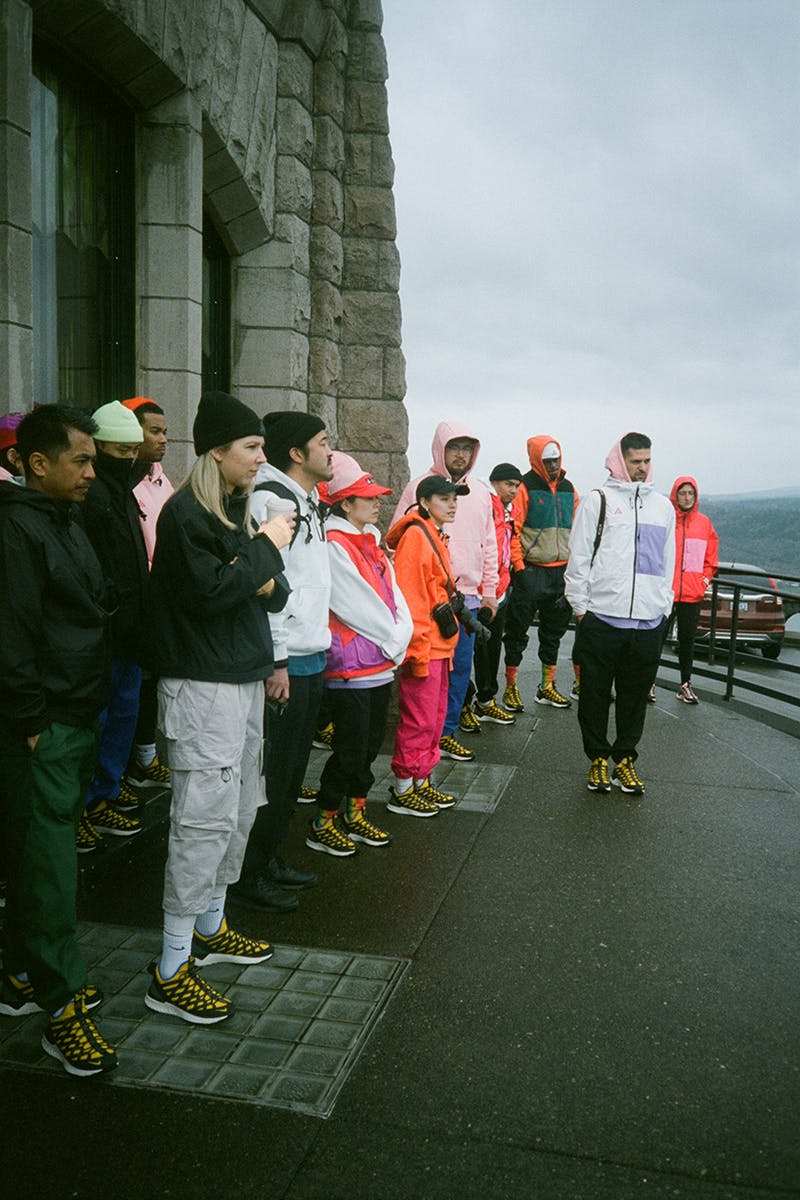 There have been big changes at Nike ACG in the last year. The revival of the All Conditions Gear line was largely down to ACRONYM designer Errolson Hugh, who in 2014 oversaw its reconception under the Swoosh's more tech-oriented NikeLab banner. But last summer, Hugh confirmed that his Holiday 2018 ACG collection, released in November and December last year, would be his last.
According to DJ Teki Latex, who broke the news of Hugh's departure, Nike wanted to take the line in a less tech, more "retro ACG sportswear stuff" direction. Into the breach stepped James Arizumi, the designer best known for his work at Nike SB, including the bizarro mash-up "What the" Dunks and Stefan Janoski's signature skate shoe. After a few years kicking around Nike's golf and tennis divisions, last year Arizumi returned to Nike SB as senior brand creative director — and took on the same role at Nike ACG.
With Nike ACG preparing to drop its SS19 collection, we were invited out to Oregon to test the new All Conditions Gear in all conditions. Arizumi and Nike ACG didn't want us to simply wander the brand's Beaverton campus for three days. We were heading out into the wild.
This included a three-hour hike around Latourell Falls, a drive to the beach at Hood River Waterfront Park, where we cooked salmon on a campfire, did a little kayaking, and ate our bodyweight in smores, and an hour-long drive to the snow-covered Timberline Lodge, aka the hotel from The Shining. From there, we jumped on snowcats for an overnight stay at Silcox Hut on Mt. Hood, 6,950 feet above sea level, before hiking Salmon River the next day.
The point being that Nike ACG needs to be in the great outdoors. It's literally what ACG was made for when it was launched in 1989. To discuss ACG getting back to nature and more, we caught up with Arizumi to get the lowdown on SS19 and how the line is rediscovering its heritage.
Talk us through Nike ACG Spring/Summer 2019. What's new?
For this season, we're trying to reposition ACG for where we want it to go and where the future of it is, which is literally bringing kids from the city out to the mountains, enjoying nature, and exploring and really being free. The collection is still based in technology and innovation to help you withstand the elements in terms of gear and design, but more so, it's designed for the outdoors, giving you the tools to explore.
What does Nike ACG take from other Nike divisions?
The best part about Nike being a part of ACG or us being a part of Nike is that we can take the best innovations and technologies that are designed for other sports, like basketball, baseball, football, soccer, and everything in between, and apply it to a new space, the outdoors.
[Outdoor wear] has never really looked at these technologies in this way, so in effect we can take the best of Nike and expand the usage of innovations that would traditionally just be used for running or basketball or soccer.
Sports are restrictive because there needs to be rules and guidelines, and everyone is trying to outdo the next person's goal or time. I think the beauty with ACG is that we're taking all this innovation and people that have traditionally been city dwellers to the mountains, and saying, "Hey, you know, same technologies, but you make what you want of it out here."
You can be what you want to be, climb how you want to climb. There's no real rules: hike, ride rapids — really [we're] just expanding people's universes by taking technology, innovation, and the foundation of Nike, and applying it to the outdoors to help people experience things in a new way.
You welcomed us with the phrase "look good, feel good, play good." Can you expand on that?
I feel that ACG will really connect with consumers that are already Nike heads or city kids because we're coming from that mind space. We're approaching designing for the outdoors very differently from other companies. More importantly, we're connecting with people [because ACG doesn't] fit the mold of what outdoor clothing or gear is supposed to look like.
In effect, we're taking kids that love the gear, and because they buy the gear, they are going to want to use it in the outdoors. I look at the apparel, footwear, and gear that we build for ACG as vehicles or bridges to get people to do stuff they normally wouldn't do in the outdoors.
What comes first, design or aesthetic?
Technical first. Good design is always led with solving a problem. And then great design is solving a problem and making it look good.
What kinds of problems were there for SS19?
I think it's really the reset of what we wanted the brand to look like, from color to shape and form. And in footwear, not making crunchy outdoor shoes but shoes that look like running shoes with technical details. You know it's not for running, but possibly for trail running, or hiking, or climbing. It's really about blurring the lines between who Nike is as a sports company and who we are as an outdoors company.
Really, for ACG, it's about carving our niche within the Nike portfolio as being a truly different brand with different goals, different mindsets, but still very similar to Nike in [that] we're a performance brand. We want to do product that performs, but now it performs in a different field.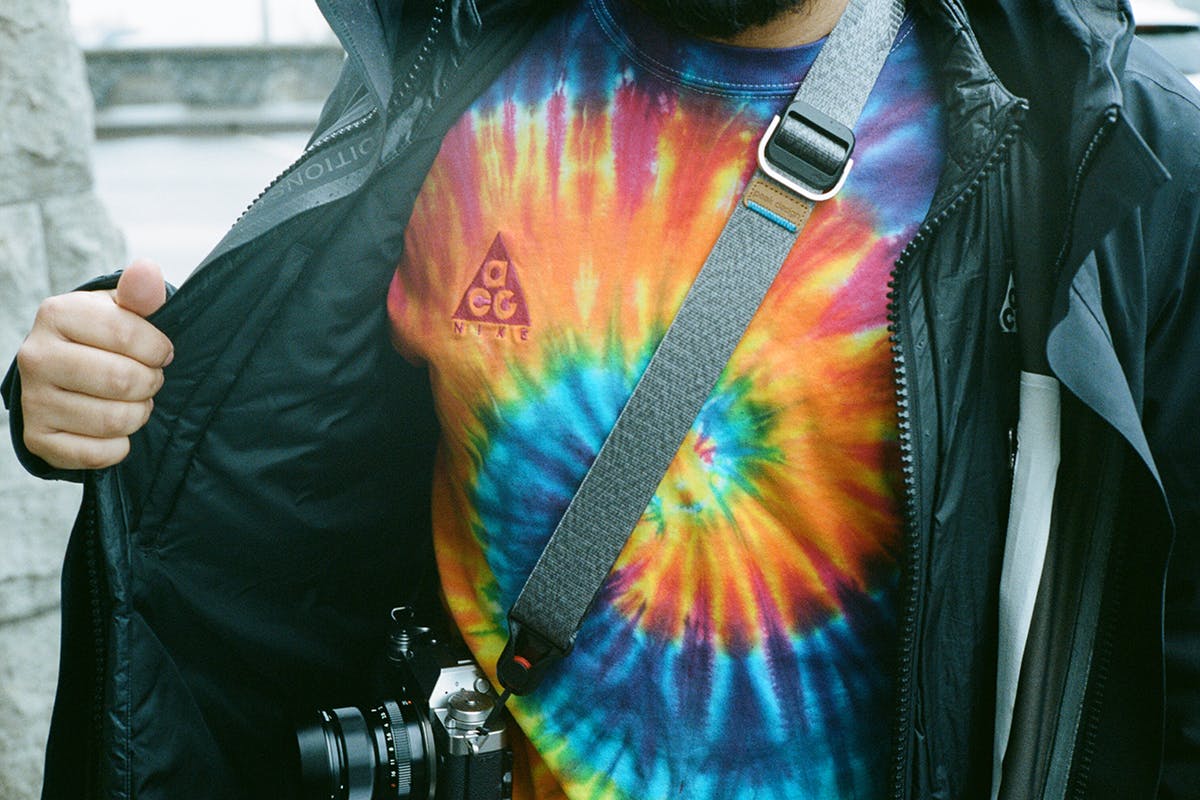 ACG has an extremely progressive outlook, would you agree?
Yeah, definitely. I think our biggest advantage is to bridge the gap between the city and the outdoors. The beauty of that is that, with this whole consciousness of sustainability, the Earth, and recycling, and being aware of what the planet means to us as a species and what our responsibilities are, we're able to get a kid in the city that has only been told about recycling and how it's good for the planet, but has never actually seen the real impact, to then live and see it.
By getting kids to understand and live the outdoors, we'll build new advocates, true advocates for the planet, and this is something that really is contagious.
What's your favorite SS19 piece?
I'm a footwear guy, so I really like the shoes. It's a huge challenge for the footwear team, particularly because ACG has such heritage signature footwear that Tinker Hatfield and a lot of the other gods have done. Nike is more recognized for footwear, so to redefine what footwear is in this day and age is quite a task.
The shoes are not only street-ready but mountain- and trail-ready. Using React [tech on the React Terra Gobe] and a lot of other technologies adds to cushioning and comfort as you walk the trail. To update the old ACG, so it looks fresh in the city but still performs dope on the mountain, is such an enormous feat. Two thousand hours of testing went into it.
Innovation is at the core of what you guys do, so what is the most significant innovation of SS19?
I think GORE[-TEX] is a big thing to have on our apparel pieces: it's a signature statement made for the most torrential conditions. And then the underfoot comfort on the React [Terra Gobe] as you hike. You'll notice the apparel is more relaxed, not compression fitting. These are all key indicators of comfort on the whole.
What do you hope consumers will see when they look at the new collection?
I would love the consumer to look at it as a new chapter. This is a new chapter for ACG that we are all passionate and very excited about, and we would love the consumer to feel like they can take this kit from city to mountain, or wherever it is, and not feel like they're putting on a uniform that doesn't fit them. We want them to feel like they're encouraged to do them, but also be taken to somewhere new. It's a new chapter for everyone.
Nike ACG's Spring/Summer 2019 collection is out this Saturday, April 20.