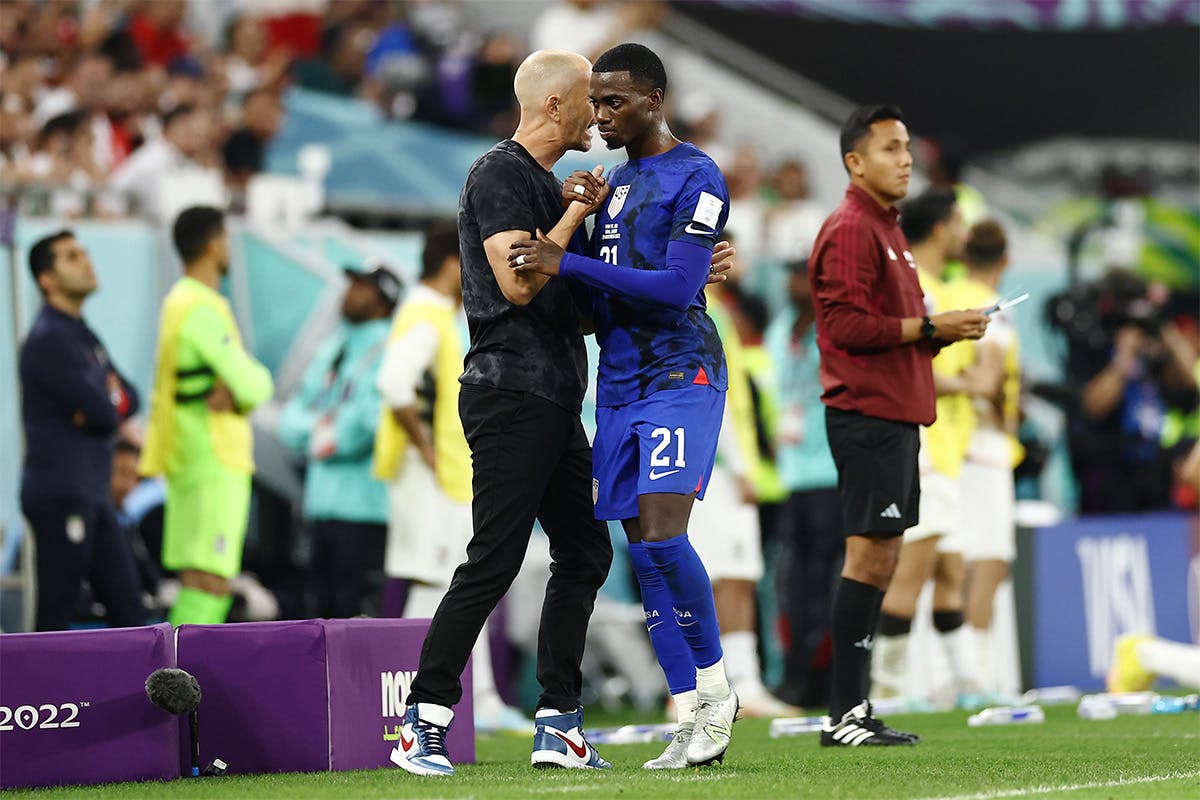 As the World Cup progresses from the group stage into the knockouts, USMNT puts its Iran game behind it with a 1-0 lead. While the ball passed across the pitch and into the back of the net, all eyes were, once again, fixated on Gregg Berhalter's choice of sneakers. This time around? A custom pair of Nike Tiempo Air Jordan 1s by The Surgeon.
This has been a World Cup like no other. Between the host nation, Qatar's back-to-back losses, shockers from Japan, Spain, and Senegal, a screamer from Brazil's Richarlison, and more drama from Christiano Ronaldo, it's been an entertaining ride.
It's been an unpredictable tournament, to say the least, with goals clutching wins in the final quarter of several games and underdogs pulling the rug out from favorites more than a handful of times. One predictably slick thing, however, is USMNT's footwear game.
Gregg Berhalter has kept things consistent, at least where his sneakers are concerned. As his side faced off against Wales in their opening game of the group stage, the coach rocked a pair of the highly desired A Ma Maniére x Nike Air Jordan 4s.
Stealing the spotlight on the sidelines, the coach set the bar high. While there was nothing too wild to take note of as the US faced England, he came back strong for their match with Iran.
In what turned out to be a 1-0 win, Berhalter rocked a pair of custom Nike Tiempo Air Jordan 1s by The Surgeon.
Fans of The Surgeon will remember this silhouette from 2017 and again in 2018 when he crafted a pair in celebration of France's World Cup victory. Perhaps signaling a win for the US this year (extremely unlikely – sorry folks), the pair came red, white, and blue pair also came with custom monogram Birkenstocks for the team's players.
As USMNT heads into the knockout stages, all eyes are on Berhalter's sneaker rotation to see what he pulls out next.
Shop our favorite products