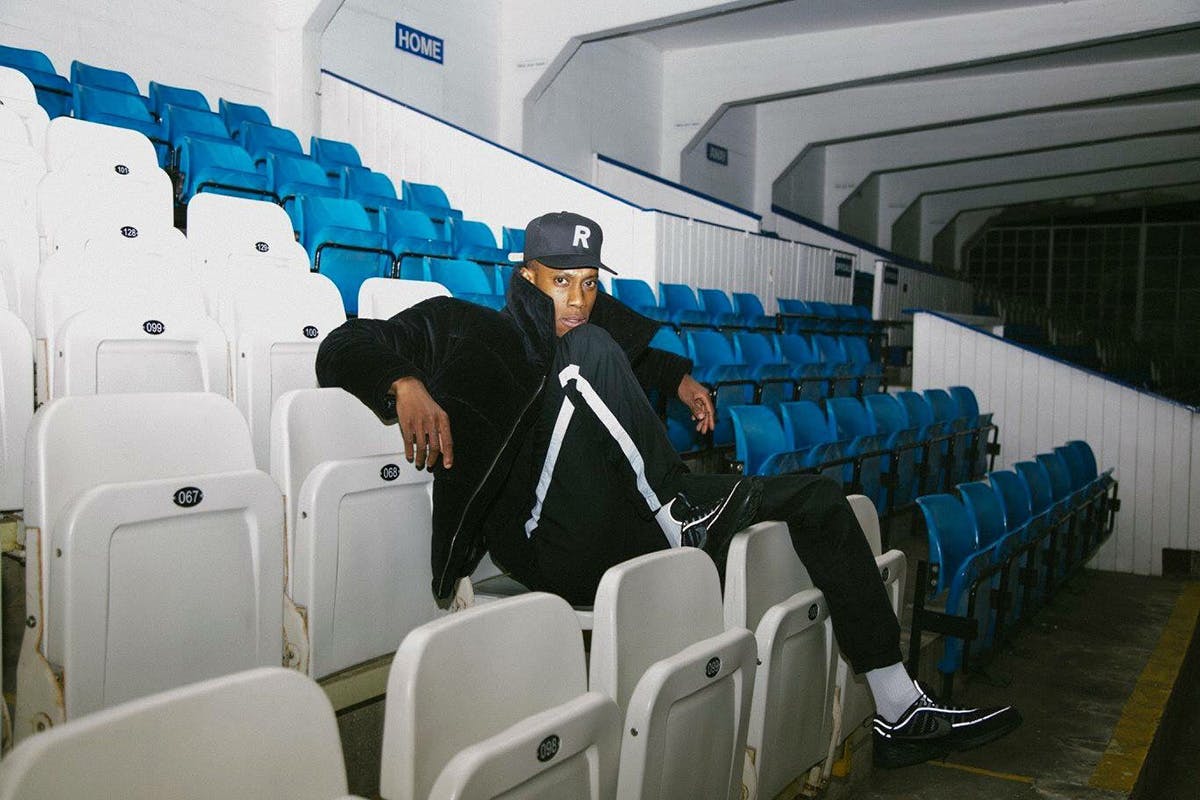 How do you define a sound like Octavian's? Since marking his arrival at the tail end of 2017, critics have tried in vain to categorize the young MC. Too British to be labeled trap but too American to be classed as grime, the East Londoner is a classic by-product of the internet era, soaking up a mish-mash of influences from its boundaryless landscape and distilling them through his own lens for a unique sound.
Hailing from the same parts as the likes of Stormzy and Novelist, inevitably, some have seen fit to label him similarly — but try telling him that. "I don't think my music is grime," he bristles down the phone. "For me, it's a fusion of different things. Maybe because of the London accent it's close to grime, but I personally don't consider it that."
He has a point — for proof, see "Party Here," his beguiling breakthrough track that took the U.K. underground by storm last year. "Be careful how you approach me and my bros," growls Octavian over a wonky, minimalist beat: the bareness of the 808 framing his half-sung delivery with even more menace. Suddenly, the music comes to a halt, and out of nowhere, the euphoric chorus explodes into life like a supernova: influences of garage, dancehall, trap and, — yes — grime all present. It's a heady mix of sonics — odd, almost.
"It's a very special song. We knew it was a golden ticket tune. We knew we needed to get out of our current situation — [the situation] was bad shit," says Octavian. "The lyrics [are about] what people say to you in life, but you shouldn't ever listen. Even your parents. Even my mum. I didn't listen to everything she said."
Octavian's incalcitrant attitude can be part-attributed to his rocky teenage years. Born in France but raised in East London, by his own admission, he was "a bad kid." (What that entails isn't exactly clear, but the fact his mum saw fit to eventually send him to a private school in France as punishment perhaps provides insight.) After two years, he'd reached a breaking point, feeling creatively suppressed at the institution, and moved back home. The pair's relationship disintegrated further and the youngster upped sticks, crashing with friends or sleeping rough. Rather than a hobby, music, as is so often the case, became his get out clause.
At just 15, Octavian moved into public housing with his friend who'd also been cut free from home. Effectively broke, the pair would shun attending scholarships at the prestigious BRIT school, ditching class to transform their living quarters into a studio. There, Octavian cut his two debut EPs, 22 and Essie World, honing his craft and experimenting with sounds which would inform future releases. Adept on both guitar and piano, Octavian has always been fiercely individual in his approach to production, and still eschews fancy studios for a rawer, stripped-down approach at home.
As "Party Here" kicked off and began to percolate into clubs across the UK, as well as grabbing the attention of tastemakers like Benji B and the Young Turks label, it would soon attract transatlantic interest. Hanging out at a Golden Globes afterparty, an amped-up — possibly worse for wear — Drake filmed himself singing along to the lyrics. When Octavian woke up the next day, the notifications on his phone were swamped. Following in the footsteps of Migos, Makonnen and Kodak Black before, he had become the latest artist to be gilded by Drizzy's Midas touch.
"I woke up one day and it was just like Drake singing the lyrics. Everything grew from there," he says, before checking himself. "But I don't personally think it was solely because of Drake that it grew. [All it did] was help the fans that I already had confirm the fact they liked the song."
Even if Octavian is quick to play the co-sign down, appearing on the radar of arguably the biggest musician on the planet right now has a knock-effect. Shortly after, the newfound exposure led him to a meeting with Virgil Abloh — arguably the biggest name in fashion right now. Endearingly modest, it was an encounter the 21-year-old took in his stride. "Someone told me that 'Party Here' was on his map. I actually didn't know who he was until I saw that he did OFF-WHITE. It was just a quick meeting and he basically clubbed me into his party in Paris."
As for his own line, Octavian is realistic. "It's definitely something I want to do in the future," he says. "I just want to be really careful. The fashion game is a bit mad right now, so I don't want to do it quite yet, I want to wait for shit to kind of die down for a bit." Given that we live in an age where Young Thug merch is being sold in H&M, such caution to the wind is probably wise.
Last month, Octavian unleashed "100 degrees," an altogether more brooding cut with House of Pharoes' Sam wise that again highlights his knack for traversing genres. "Realize broke ain't being alive so fuck it, dedicate my life to the money," he spits over the somber beat, belligerently nodding at his previous life. Burning with rage — his hardship to reach this point is evident in both the lyrics and music. This was followed up in March with "Hands", yet another perfect distillation of his irresistible sound.
"We're just going to try and put out more music and we've actually got a new EP coming soon," says Octavian, signing off. "It's called Revenge." Given his path to get here, the title couldn't be more appropriate.
For more of our features, check out our chat with super-producer Zaytoven on his long-awaited debut album.
Here are more British rappers to watch in 2018.