Warning: contains mild spoilers
With anticipated titles The Irishman, The Lighthouse, and Uncut Gems hitting cinemas this season, it's apparent the industry was saving some of its most anticipated releases until the end of the year. That said, the summer did deliver Quentin Tarantino's love-letter to the craft of film-making, Once Upon a Time in Hollywood, and the horror genre was flipped upside down with Ari Aster's sophomore Swedish nightmare, Midsommar. Both films were admirable (and polarizing) efforts from old and new-school auteurs to give audiences a cult movie that still feels relevant today.
However, it's Korean drama Parasite from seasoned filmmaker Bong Joon-Ho that has everyone talking. The film, which nimbly dodges any kind of reductive genre pigeonholing, won the Palme d'Or prize at Cannes Film Festival (the first Korean film to do so), and was the first to do so with a unanimous vote since 2013's Blue is the Warmest Color. 
Jonathan Hickman, writing for Daily Film Fix, describes Parasite as "a timely commentary about our era of the classist 'gig' economy, in which the transactional overcomes decency and humanity."
Elsewhere, in a review for The New York Times, Manohla Dargis writes "[Joon-Ho] has some idea in 'Parasite,' but the movie's greatness isn't a matter of his apparent ethics or ethos – he's on the side of decency – but of how he delivers truths, often perversely and without an iota of self-serving cant."
Parasite details a young man from a poverty-stricken family who begins tutoring a wealthy, upper-class family's daughter. At its core, the film is a scathing critique of class warfare, while the theme of deception (and infection) runs throughout. One interpretation of the movie assumes it's an exploration of stress and how we act upon it. In 130 minutes, Joon-Ho presents a deep psychological dive into the idea of overcoming unforeseen adversity by continuously – and manically – pushing on.
To alleviate the last-minute stress of putting together a look that resonates with the Cannes Film Festival crowd (the only people worth impressing at Halloween), check out our Parasite costume suggestions below.
Ki-woo
This one's easy. Just match this shirt with a simple black blazer and pair of nondescript pants and you're good to go.
Of course, to really get into the spirit of the film and be even vaguely recognizable, you will need to carry around a metaphorical rock slab. Rocks, thankfully, are free and available outside!
Mrs. Park/ Madame
Madame was the most naive character in the film and her costuming befitted that of an obscenely wealthy and somewhat clueless member of the upper class. Think white and tan silk mock-necks, elegant blouses, and checked woolen coats. Very elegant and conservative. Very The Row.
However, you don't need to fork out for The Row just for Halloween. Uniqlo has some deceptively expensive-looking pieces below.
To complement this costume you could add a couple of miniature breed dogs or a plush-toy substitute.
Ki-taek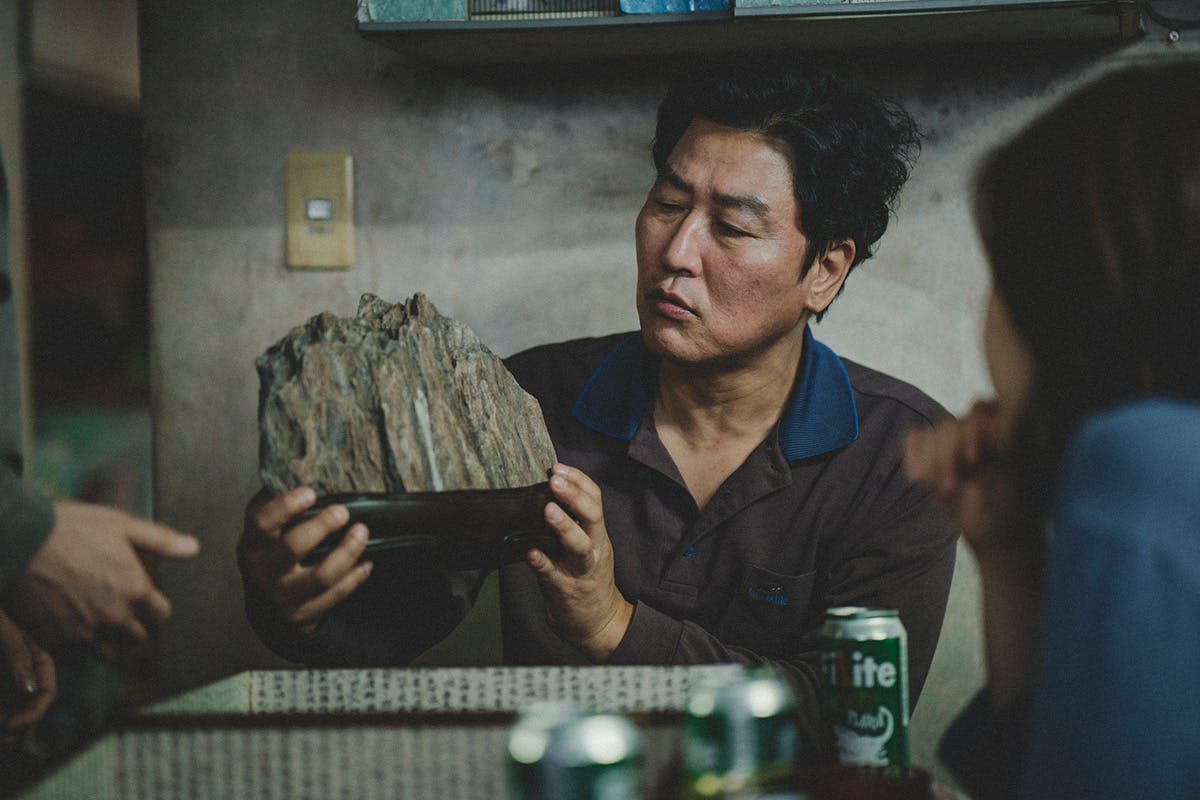 Song Kang-ho's character, Ki-taek, drives the emotional temperament of the film. He is presented as a patriarchal anchor and a practiced deceiver, but his working-class background causes him shame.
Ki-taek's costumes span a range of basic, almost-workwear-style shirts and a fancier suit worn during his time working as a valet. If willing, you could elevate the costume to a more multi-sensory level by rubbing it in some dirt or wearing it to the gym a few times to give it the authentic "subway smell" which haunts his character throughout the film.
Ki-jeong
To dress up as Ki-Jeong, you'll need a basic top, as seen below, paired with some patterned pajama pants, and a pack of cigarettes.
To replicate one of the movie's most memorable scenes you'll need some peaches. Buy five and throw them in a bag to sling over your shoulder or put some peach-fuzz colored dust in a plastic vial.
Parasite is now in theatres worldwide.