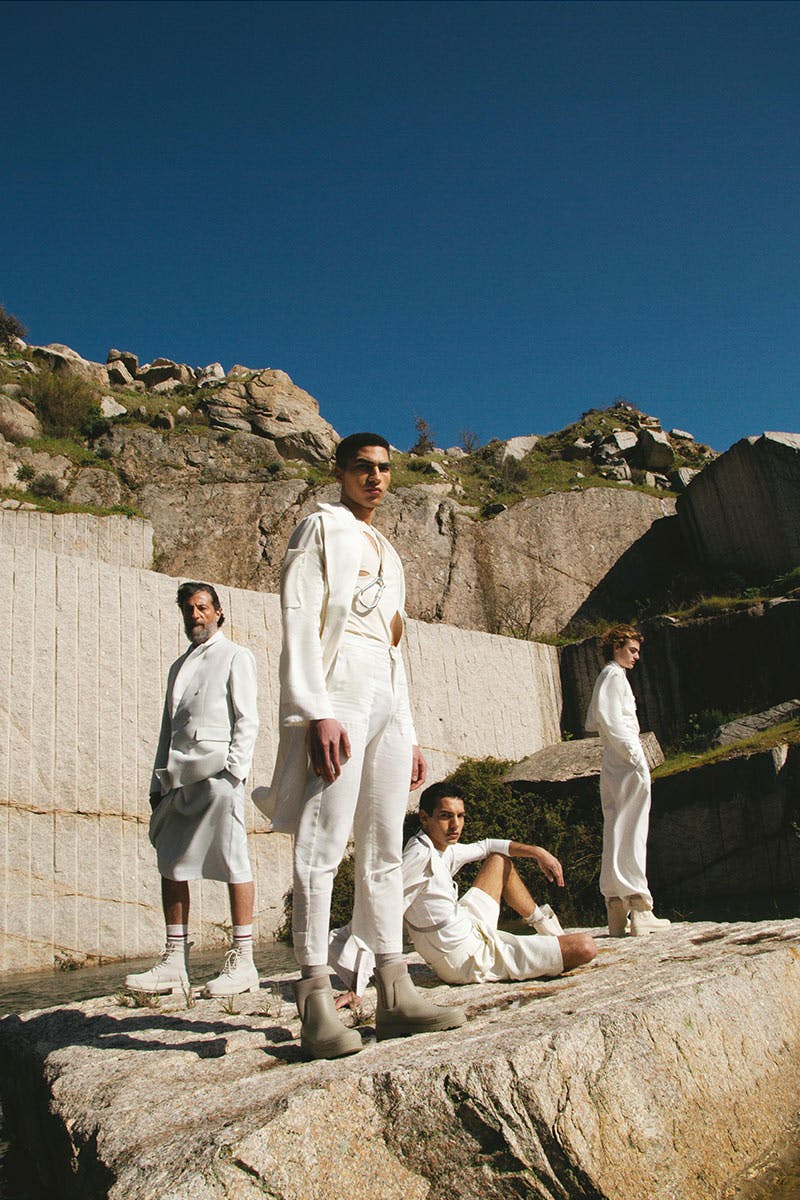 In June, Florence will once again be home to one of the year's most anticipated menswear trade shows: Pitti Immagine Uomo.
This year's event will welcome Ann Demeulemeester and Grace Wales Bonner as guest of honor and guest designer respectively.
These women form part of the avant-garde and are spearheading a new interpretation of masculinity in fashion through a female lens. Demeulemeester, with elegant tailoring and a dark yet glamorous aesthetic that mixes rebellion and sophistication, and Wales Bonner, through her collections, that, while playful, communicate a unique insight into Black cultural perspectives. Although they represent two very different stylistic approaches, both of their designs are genderless and fluid while still maintaining a definite masculine appeal. It is incredibly refreshing to see Pitti grant them their due ratification as pioneers in fashion, and for their contributions to menswear in particular.
Currently hosted at Fortezza da Basso, the 102nd iteration of the fair follows the theme PITTI _ ISLAND, a concept which was curated by its creative director Angelo Figus, alongside NARÈNTE founders, Lucio Aru and Franco Erre. The set is meant to replicate the sensation of an island escape as Agostino Poletto, general manager of Pitti Immagine, explains: "[it], will be an imaginary island, in constant exchange with the world. A land of selected botany, a land with a friendly and open nature, a land that can be fun and reflective, a land for meeting and being together before everyone sets out on their own journey."
Despite its historic Italian ties, the fair has an international focus and will play host to a myriad of global brands such as END CLOTHING, SAKS FIFTH, BROWNS, NORDSTROM, and KITH to name but a few. Adding to that are projects that look to keep the spirit of innovation alive including Spring/Summer 2023 presentations from SOULLAND and SAPIO and collaborative projects such as the "Scandinavian Manifesto," which features a selection of collections designed by up-and-coming brands and designers from Denmark, Sweden, and Norway.
There is a strong focus on inclusivity, dialogue, hospitality, and solidarity within the international fashion scene and this manifests in a noteworthy project that looks to spotlight a lineup of Ukrainian fashion designers including T. Mosca, Katerina Kvit, The Coat, Poustovit, Ksenia Schneider, Bobkova, Litkovska, and Yefimchouk.
Pitti Uomo 102 isn't one to miss as the event has expanded over the years to encompass a broad spectrum of tastes. Over 640 brands will be cordoned into five themed itineraries including "Fantastic Classic," a selection of traditional menswear labels focused on heritage and tailoring; "Dynamic Attitude," an assembly of streetwear and athletic labels that excel in their use of high-performance materials and innovative design; and "Sustainable Style," a category for those who are shaping the future with eco-conscious production and design techniques. The other itineraries on the list are "Futuro Maschille" and "Superstyling."
Pitti Immagine is considered to be one of the most important platforms for contemporary men's fashion and in its current iteration has drawn couture enthusiasts to Italy since 1972. The fair has a deep heritage that dates back further, to 1951, when it was conceived by Giovanni Battista Giorgini, who called it "The First Italian High Fashion Show," and to this day the fair draws in a plethora of guests — from brands to buyers, and doting fashion enthusiasts – and you can join them by RSVPing. Pitti Immagine Uomo takes place from June 14-17 at Fortezza da Basso, Florence.