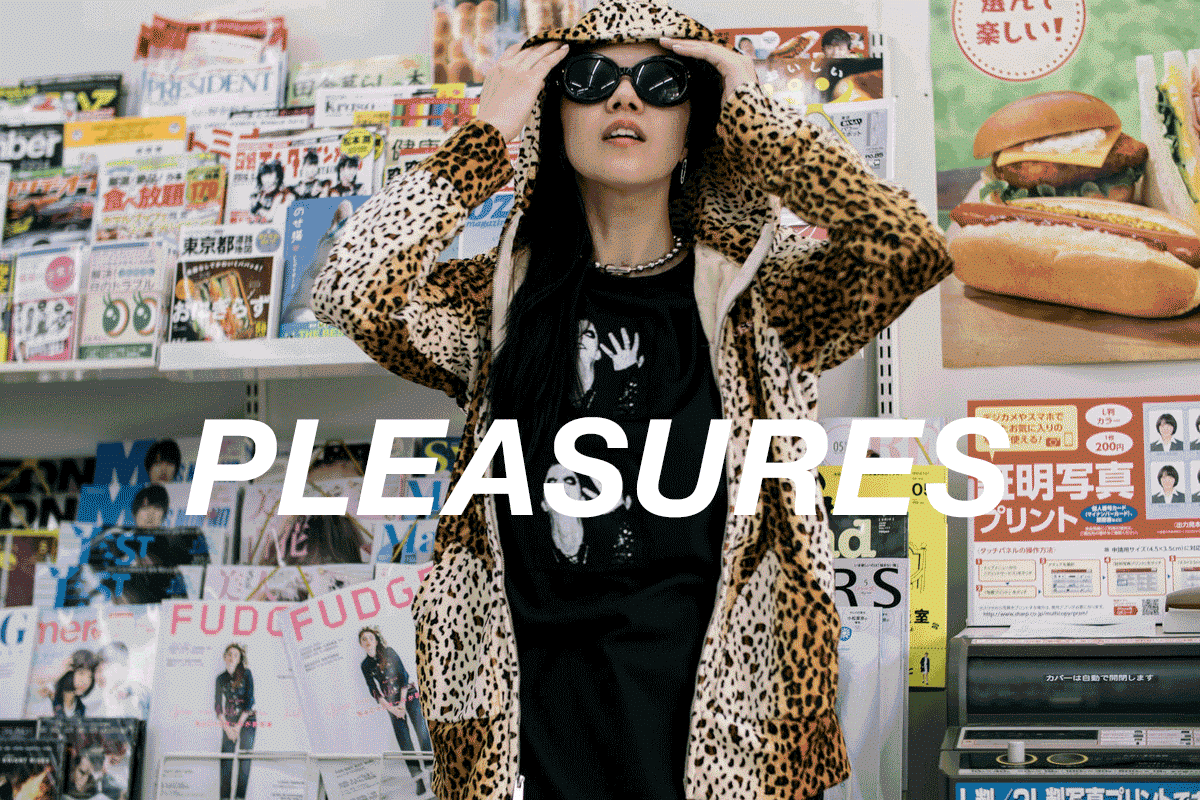 The grip that "hype" has on consumer culture is one so tight, not even a pair of titanium pliers could pry it. Coveting or adopting something due to its mass popularity or extreme exclusivity is not only something that's been scientifically-proven to be embedded in a person's DNA, it's a trait that's bracketed the fashion industry for years.
Let's take, for instance, PLEASURES, the latest craze to be hitting the streets at the moment. Inspired by various facets of grunge, metal and punk music, the LA-based streetwear imprint courted a substantial amount of controversy last summer after emblazoning Kurt Cobain's suicide note on a t-shirt. Though skeptics and grunge diehards condemned the fledgling brand's lack of sensitivity with brute force, the bold move skyrocketed PLEASURES' notoriety and placed it on the map - as well as the backs of many a fashion victim - unlike ever before. Upon discovering the label last year, my initial impression was, like many, a bit wary. Who were the people running this brand? Do they even listen to Nirvana or have any insight into grunge culture? Why would anyone think it fashionable to glamorize someone else's suffering and death? I'll get back to this in a bit.
Notorious for lifting and appropriating countless subcultural trends regardless of comprehending their ideologies or lifestyles, fashion has become, now more than ever, a free-ranging melee where interests refresh faster than the click of a URL page.
The internet's ability to transmit cultural congruence sans traditional constraints of location, demographic or distance has spawned a trend-obsessed generation ever-starved on being fed the "hottest new thing." But the superficial reasons for why post-internet society likes a particular trend, and not to mention the transitory shelf life on how long they like it, has been occurring even before, say, that time Marc Jacobs first laced Kate Moss and Christy Turlington in flannel and Doc Martens for Perry Ellis' über controversial SS93 collection.
The collection, which consequently resulted in Jacobs' termination from the American house, brought forth a furor of criticism, with many denouncing the designer's inauthentic and untimely attempt at pawing over grunge aesthetics to fit the mainstream fashion vernacular. The stunt also served as a sort of oxymoron, if you will. What first emerged as a movement in mid-'80s Seattle characterized by sludgy guitar music, angst-riddled lyrics and disheveled appearances became imitated by an industry whose focal agenda is bolstered by image and materialism. At the time of the collection's release, former Details Editor-in-Chief, James Truman, noted, "To me the thing about grunge is it's not anti-fashion, it's un-fashion. Punk was anti-fashion. It made a statement. Grunge is about not making a statement, which is why it's crazy for it to become a fashion statement."
Fast forward to the present, and you'll be quick to notice that sartorial trends affiliated with various genres of rock music are currently the flavor du jour (again). These days, everyone from A-list rappers and Hollywood glitterati to fashion industry folk and local streetwear kids can be seen wearing band t-shirts, ripped jeans, combat boots and plaid flannels tied around their waists. But while you don't necessarily need to be a full-time member of a particular subculture (or have even lived during its inception for that matter) to appreciate its look, a certain knowledge of the artistry, ethos and dress behind it would lessen the probability of you being called a poser - which would've been a grave insult during the time many of these rock subcultures thrived.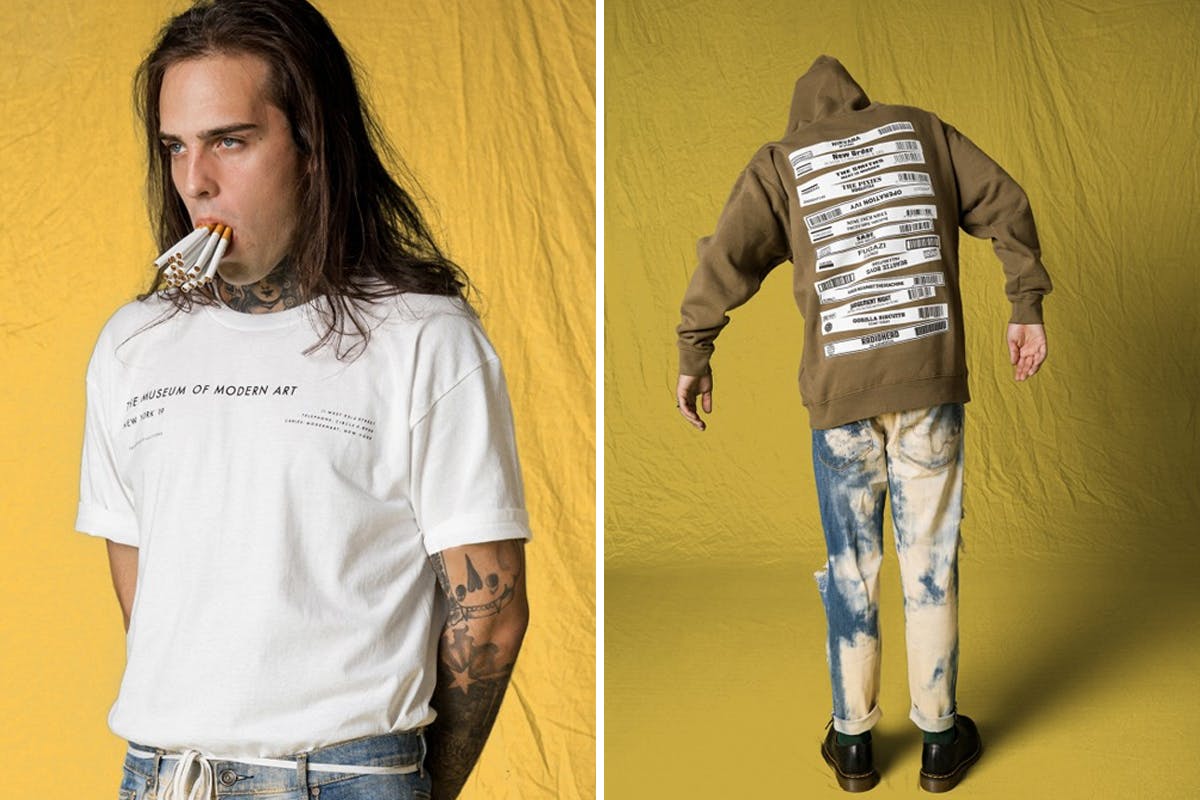 As a product of the '90s, I may have never partied at The Batcave, lined up for a Sisters of Mercy concert at The Haçienda or shopped for creepers at Kensington Market, but I still consider '80s post-punk and darkwave to be a seminal part of my personal style and music taste. So when you approach a teenager wearing a Siouxsie and The Banshees shirt at a Supreme lineup, ask him what his favorite song by the group is and get the response "I don't know any to be honest," well, that's the very personal qualm I'm addressing with the lackadaisical attitude many people have about what trends they choose to follow. (Mine's "Israel," for the record).
With so many brands eager to cash in on the fad cow, finding a label that actually has an astute understanding for the graphics it emblazons on its garms is like separating wheat from chaff. This leads me back to PLEASURES, who actually consider the act of rock and roll being capitalized for its "trendiness" to be completely distorted, believe it or not.
The brainchild of Publish Brand designer and former vintage reseller Alex James, the foundation behind PLEASURES' aesthetics calls on a DIY ethos affiliated with various music subcultures - punk, post-punk, metal, hardcore, new wave, goth - James grew up with. "Rock isn't a trend for me nor my brand. I don't wear a Slayer or Motörhead t-shirt because I think they look cool, I wear them because I've been thrashing to that music in my bedroom long before these lames were around," James asserts. "Streetwear is super cyclical and a decade ago everyone was wearing crazy rap shirts. Shit, I used to wear that Reason Diplomats shirt all the time. It was a sign of the times. Rock was around first and will be here forever."
Unlike many of the people currently riding the #grungewave, James, who launched the brand in June 2015, is a living byproduct of the scenes that defined '80s and '90s alt culture. "I grew up around NYC and pretty much spent a large part of my youth going to shows at CBGB's, Tramps, Maxwells, Coney Island High, ABC No Rio and places like that," the designer informed me. "As a teen, I was introduced to to a new world that was right in my back yard and it changed me forever. The scene introduced me to all walks of life like graff kids, starving artists, skaters, straight edge kids, punks, gays and everyone in between. Everyone hung out in unity. It was something really special."
If PLEASURES' Instagram is anything to go by, I'd say that I have a pretty clear idea of what James' bedroom walls looked like when he was a teen. The account tears at the heartstrings of every angsty Generation Xer's upbringing, peppering images of everything from old New Order concerts and Marilyn Manson interviews taped on VHS, to iconic scenes from cult films such as The Craft and The Doom Generation and candid snaps of '90s indie babes like Chloë Sevigny, Kate Moss and Kim Gordon. And while James' initial target audience for PLEASURES were the unspoken outcasts and weirdos that've hitherto inspired him, the brand's melding of audacious, rock-flavored graphics with au courant streetwear staples - all trending characteristics within pop fashion right now - have earned several big-name fans including The Weekend, Kylie Jenner, G-Dragon and Keith Ape.
Also contributing to the brand's success is its Los Angeles homestead, a city which has experienced a surge in fashion-related productivity in recent years. For James, the palm tree-laden Californian capital offers just the right dose of placidness and supportive energy to sustain his creative input. According to the designer, "In LA, the majority of people are chill and open to new things. This was the perfect platform for PLEASURES. LA has given me the right mindset to create without outside interference."
But while I personally laud PLEASURES for its cultural authenticity, the brand's choice to play with fire (i.e: the Cobain shirt) has led many to question its antics. "Everyone lives and everyone dies. Some just die too soon. Kurt never displayed his full potential to the world," says James. "That letter is a work of art. Who even knows if he wrote it. Backlash is always expected when something controversial is presented to the masses. Ask me if I give a fuck, because I really don't."
Sure, it's easy to dismiss something as brash as printing a suicide note on a shirt for being nothing but a cheap attempt to ruffle a few feathers and publicize your brand, but when you excoriate passed James' tough guy "IDGAF" demeanor, you'll realize that the shirt is simply a modest fanboy expressing his admiration for a childhood hero, which is what PLEASURES is at the end of the day - a manifestation of everything James idolized and cherished when he was younger. Could he have chosen something else to homage Cobain? Maybe. But for James, that note holds a potent connection to the singer, just like your favorite song, album, photograph or anything else that may pin down your fandom to something does. James' relics are just, well, a bit more eccentric than most peoples' I suppose (raises sign of the horns).
Thirsting for more rock-related think pieces? Delve into the history of wallet chains and why they're destined for a comeback.
The opinions expressed in this article belong to the author and do not reflect the views of Highsnobiety as a whole.
Related Shopping Tips