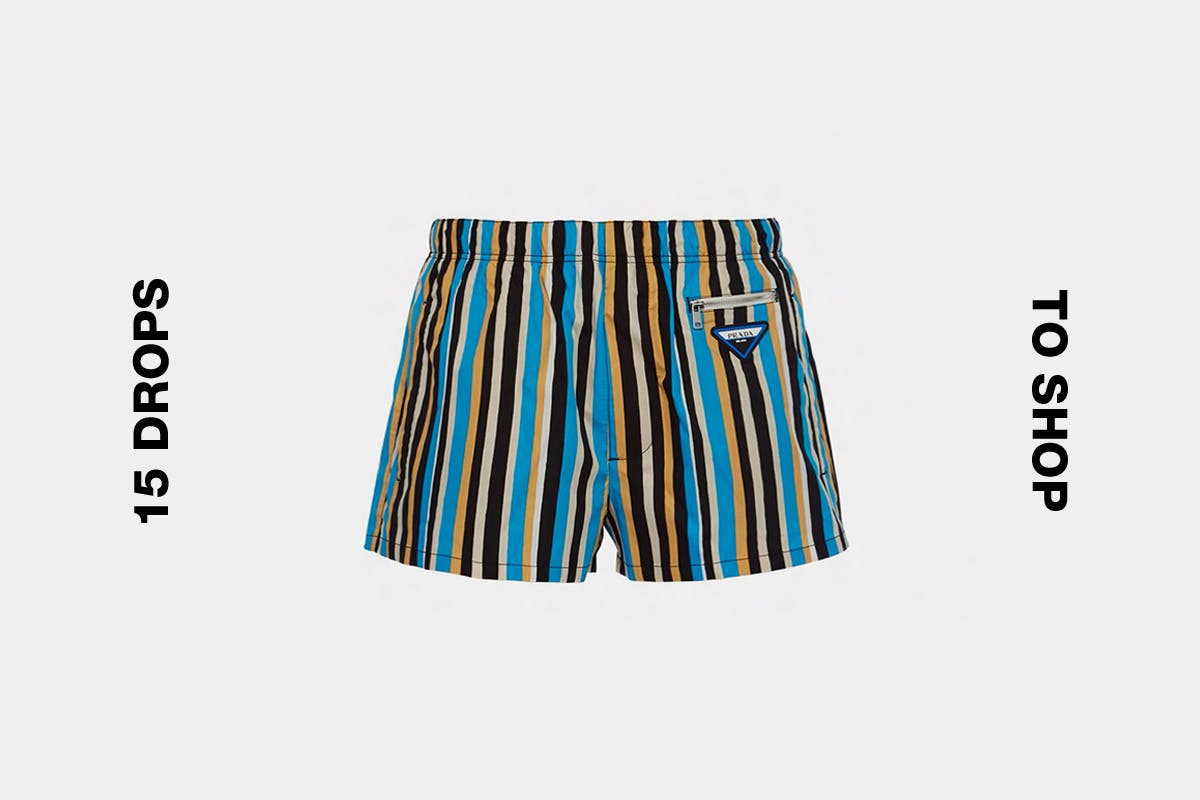 After another seven days, we return with the highlights from Highsnobiety's shopping channel, carefully put together by commerce content curator, Rhianna Matthews. After trawling through countless online stores, Rhianna has rounded up a concise selection of the latest and best in streetwear, sneakers, fashion and lifestyle products. For more of the most up-to-date shopping news, be sure to hit the button below.
This week was hot on accessories, with Dior's (somewhat unnecessarily) luxurious $350 AirPods Case paving the way for the 1017 ALYX 9SM Claw Belt and a standout piece from the recent sacai x PORTER capsule collection.And what would any accessory be without a complimenting outfit? To this, Rhianna has highlighted an incredible patchwork denim jumpsuit from BODE and a reinterpretation of Eytys' hugely-popular Angel silhouette. And provided you're not in the market for clothes or accessories, the official 'Carpool Karaoke' Singing Machine might be more up your alley.
So, without further ado, scroll through Rhianna's selection below to shop a pair of essential Prada swim shorts, and more of this week's best drops.
Levi's Made & Crafted Oversized Type III Jacket
"The latest release from Levi's Made & Crafted elevates the regular denim jacket with a modern and experimental twist. The piece is created from an amalgamation of premium fabrics and a volume of different textures, making for the perfect one-off wardrobe piece."
Sacai Floral Blouson
"Bandana prints are experiencing a steady resurgence, with the likes of Loewe, BODE, and other luxury designers working it into recent collections. This beautifully crafted corduroy and cotton blouson by sacai is a great piece to help you get ahead of the wave."
BODE Denim Patchwork Jumpsuit
"BODE continues to bless us with a selection of truly amazing products. A personal favorite would have to be this Patchwork Jumpsuit. The product features paneled, non-stretch denim mixtures, and a relaxed, straight leg fit."
Prada Swim Shorts
"These Prada swim shorts combine tailoring with a touch of much-needed eccentricity. A perfect statement piece for any respectable day at the beach."
Eytys Angel Stash

(Available at 10 Merchants)
(Available at 10 Merchants)
"Swedish imprint EYTYS just shook up the footwear game with a reinterpretation of its popular Angel silhouette. The pair features a creased leather upper, zip-like eyelets, and a small tongue compartment to store your... well, whatever small goods you might need to store."
Nike Zoom X Vista Grind

(Available at 3 Merchants)
(Available at 3 Merchants)
"Women's sneakers are absolutely killing it right now, and Nike has outdone itself with its Zoom X Vista Grind in a clean white, pink and black colorway. The sneaker's design is great, and is just as popular among men as it is among women... for those men who can squeeze into them at least."
Engineered Garments Mix Bucket Hat
"Outfitted in a patchwork of deep navy fabrics, the Engineered Garments Mix Bucket Hat is handmade in New York City, and promises to put the finishing touch on any summer 'fit."
ERL Nike Edition Cap
"As part of Nike's ongoing collaboration with ERL, this cap features embroidered graphic insignia by Jordan Wolfson over the front. A simple, yet effective piece."
Wacko Maria Medai Necklace


(Available at 3 Merchants)
(Available at 3 Merchants)
"Wacko Maria presents the perfect blend of streetwear and elegance with this silver medallion necklace. Reading, "FUCK DREAM PARADISE," the accessory is a statement piece form its latest Guilty Parties collection and a great addition to any jewelry collection."
Dior AirPods Case
"Dior's latest luxury accessory is this sexy $327 AirPods Case. Despite being a dangerous impulse purchase, this dainty little case could help you stop losing your AirPods once and for all."
1017 ALYX 9SM Claw Belt

(Available at 2 Merchants)
(Available at 2 Merchants)
"If you didn't mange to cop this week's Hero Necklace, this Claw Belt by 1017 ALYX 9SM might be the next best thing. Stepping up from the now-famous Rollercoaster Belt, the design is great for both casual and smart occasions."
sacai x PORTER Belt Bag
"sacai recently teamed up with iconic Japanese luggage maker PORTER on this luxurious Belt Bag. The piece has a padded harness waistband and lobster clip fastening with three detachable pouches. Nylon tape utility loops and D-ring attachments help tie the piece together and make for the perfect utilitarian drip."
Gucci Medium Logo Tote
"Another week, another dope tote bag. This time, a slightly more ostentatious offering from one of Q3's hottest brands, Gucci. This piece won't go a miss with its shiny finish and bold orange logo. The piece features a detachable canvas panel in off-white and a tonal leather logo patch."
COMME des GARÇONS SHIRT Canvas Tote Bag
"Simple and classic, COMME des GARÇONS SHIRT just released an essentialist canvas tote bag in a clean off-white colorway. The piece is made form 100% cotton and has 8 external pockets to carry just about anything."
Official 'Carpool Karaoke' Singing Machine
"Finally! The time has come for you to recreate James Corden's viral 'Carpool Karaoke' videos in the comfort of your own swagmobile. The product connects effortlessly to any car's FM tuner and can stream your own music via bluetooth or the product's own app. Driving to work is about to become your favorite part of the day. (Please use responsibly!)"
To stay up to date with more Selects content from Highsnobiety, follow @Highsnobdrops on Twitter.
Our designated Selects section features products that we love and want to share with you. Highsnobiety has affiliate marketing partnerships, which means we may receive a commission from your purchase.