When Pulp Fiction premiered on October 14, 1994, it marked many people's introduction to the work of Quentin Tarantino. The film's hard-boiled humor, witty dialogue, graphic violence, and brazen originality is often considered the director's masterpiece, with hallowed critic Roger Ebert once hailing it the most influential film of the '90s.
A quarter century on and the film's mammoth affect on popular culture can still be felt, from its infinite quotability, its soundtrack, its self-referential, cinematic style, and the strength of its characters. And while of course it was Tarantino's vision that conjured such an iconic array of personalities in Pulp Fiction, it was costume designer Betsy Heimann who helped to visually translate them.
In celebration of the film's 25th anniversary, Highsnobiety sat down with Heimann to discuss her work on the film. However, to fully appreciate the magic she created in Pulp Fiction, we must wind the clock back even further, to the early '90s, when Tarantino was readying production on his directorial debut: Reservoir Dogs.
It all started, Heimann begins, with Lawrence Bender, a producer who has worked on almost every Tarantino picture. "I met Lawrence way before meeting Quentin," she explains, "I would help him do [film] budgets. One day he sent me this script called Reservoir Dogs. I read it and I called him back and said, 'This is a really unusual piece of material. Who are you going to get to do the costumes?'" Bender told her he wasn't sure and he didn't have any money for the project. "I said to him, 'Well, I don't care.' That's how it started."
After that, Heimann would go over to Tarantino's apartment to watch French New Wave movies and get a deeper understanding of the cinematic style he was aiming for. "He hadn't ever directed anything before, so he had to visually communicate through films, which is how we communicated on both movies."
It doesn't feel like much time passed before the first eureka moment happened. "I noticed that in French New Wave films everyone was wearing a suit. Alain Delon, all these famous French actors. I said, 'Well, Quentin, here's an idea. Why don't we do suits? You could go to a thrift store and for a very small amount of money, you could get yourself a black suit. You could get a white shirt. You could get a black tie.' That was the beginning of the idea."
The black suit was particularly ideal as the Reservoir Dogs were all ex-convicts and needed to look anonymous for the heist. While that may sound like an easy ride for a wardrobe designer, Heimann explains that the suits were so effective because "each member of the gang had a different ensemble, had a different cut. The collars on the shirts were different. Steve Buscemi and Tim Roth wore black Levi's [jeans] and Beatle boots. Harvey Keitel wore a complete suit. It's not like I got 10 black suits from Sears and put them on everybody. They were customized, each one of them."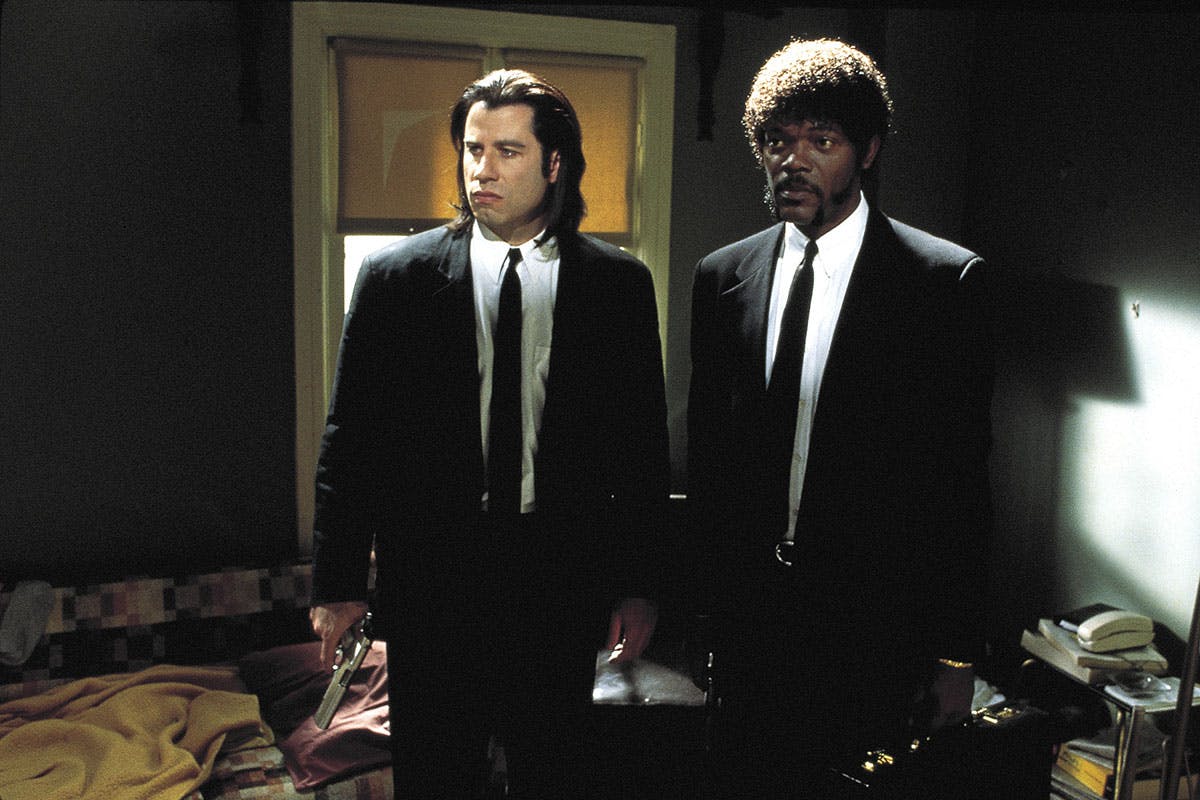 It's the nuances, the individual details, that built the long-lasting iconography of Reservoir Dogs and that, Heimann says, "paid forward in Pulp Fiction."
"I said to Quentin that I thought that Jules [Samuel L. Jackson] and Vincent [John Travolta] were Reservoir Dogs themselves. Quentin loved that idea. I said, 'So Jules is very uptight. He's kind of like a preacher in the movie. He's always preaching.' So I did a very short-collared button down shirt that was close to the neck, almost like a priest's collar, and an indestructible poly cotton, poly wool suit that wouldn't wrinkle. Then on the other hand, I made Vincent's suit out of linen so that he wore it for five minutes and it was all rumpled and schlumpy. That was more his more loose, relaxed character."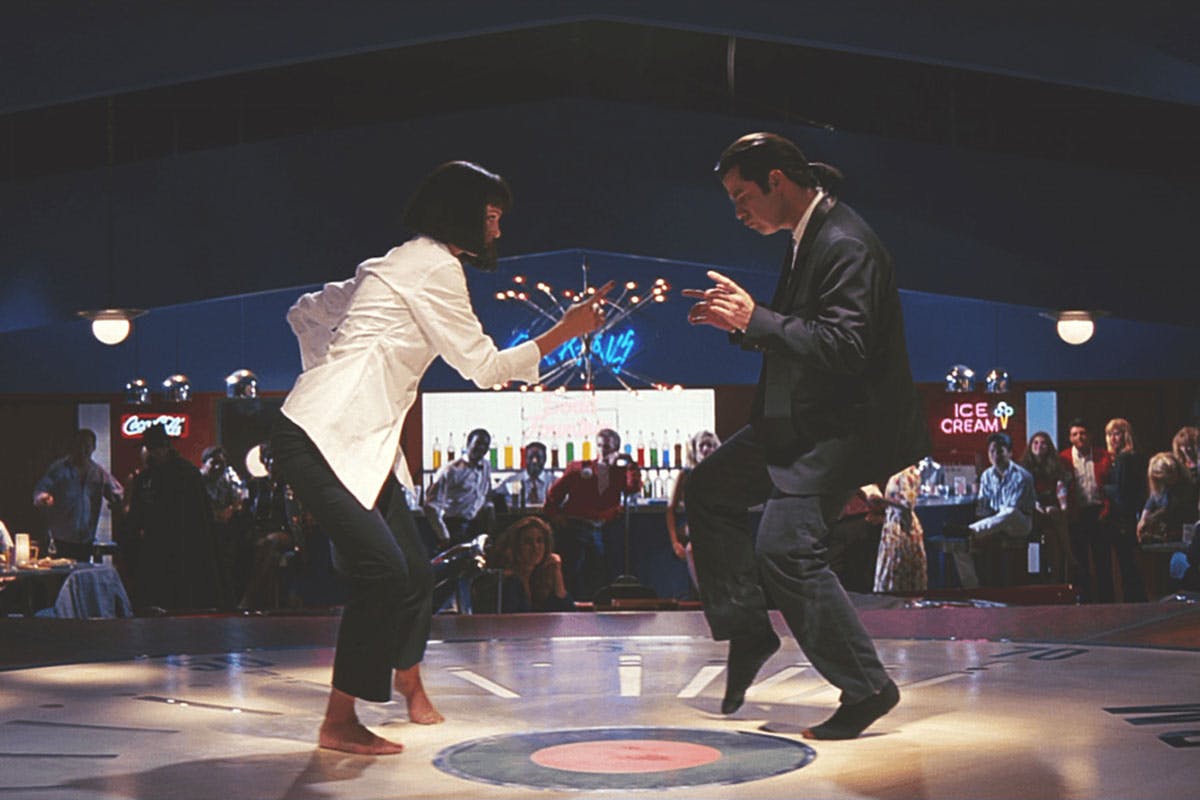 It was Heimann who dubbed Mia Wallace [Uma Thurman] as a pack-member, too. "That was also my take on her. I think that what Mia was trying to say was, 'I know I'm the wife of the boss and I'm untouchable and people just think I'm just a rich girl, but I'm not. I'm a Reservoir Dog just like you guys, scraping my way up to the top. This is a side of me that nobody knows.' [So] by putting on that type of outfit, again customized for her personality and figure, that was her statement to reveal who she truly was inside."
Talking with Heimann it soon becomes apparent that the stars aligned frequently while working with Tarantino. "It was a very creative, intuitive relationship that I had with Quentin. He would tell me what he wanted and I would know what he meant, and then I would add [to it]. Like, for example, Butch's [Bruce Willis] jacket. Quentin was like, "I want a leather jacket on Butch." And I'm like, "Yeah, a leather jacket like Harrison Ford in Hanover Street?" And he was like, "No, like the leather jacket Nick Nolte wore in Who'll Stop the Rain." And I'm like, "Isn't that the same leather jacket?"
In the end, the Schott jacket that Butch wears in the film is nothing like the leather one they discussed. "But it was the right one. [There's] this thing in costume design," she explains, "that you search for the apple and you end up with the pear. The pear is what's better."
If you didn't know the research that goes into identifying and sourcing items such as Butch's jacket, you'd be forgiven for thinking that Willis just turned up on set in that look and didn't take it off. When asked if that was the case, Heimann explained that she narrowed down the typical late '80s, early '90s billowing cuts and that introduced him to a "new silhouette." That shape, she considers, ended up becoming his signature style. "I've never thought of that before until just this minute. I remember working with Bruce again a few years later and he just walked over to me and said very quietly, 'You know, if you just put me in a jacket like you put me in in Pulp Fiction, everything will be just great.' I was like 'Ok.'"
"Just great" is a pretty accurate summary of Heimann's wardrobe work on Pulp Fiction. 25 years on and the looks she created for the film are as iconic as any aspect of the movie. For this designer, however, it's the memory of working with Tarantino that stands the test of time the most.
"We did Reservoir Dogs over breakfast at Denny's, but on Pulp Fiction we already knew each other and we already had this relationship," she explains. "It was so much fun going to Barney's Beanery, sitting down and talking about the movie and him saying to me like, 'What do you think of John Travolta?' And John Travolta, you know, his career was kind of on pause at that moment. And I was like, 'I am a huge fan. I love John Travolta.' And him saying, 'Yeah, I really feel like he'd be right for the part." It's just memories like that where you think, 'Look at that vision. Look at that vision.' And he was right."