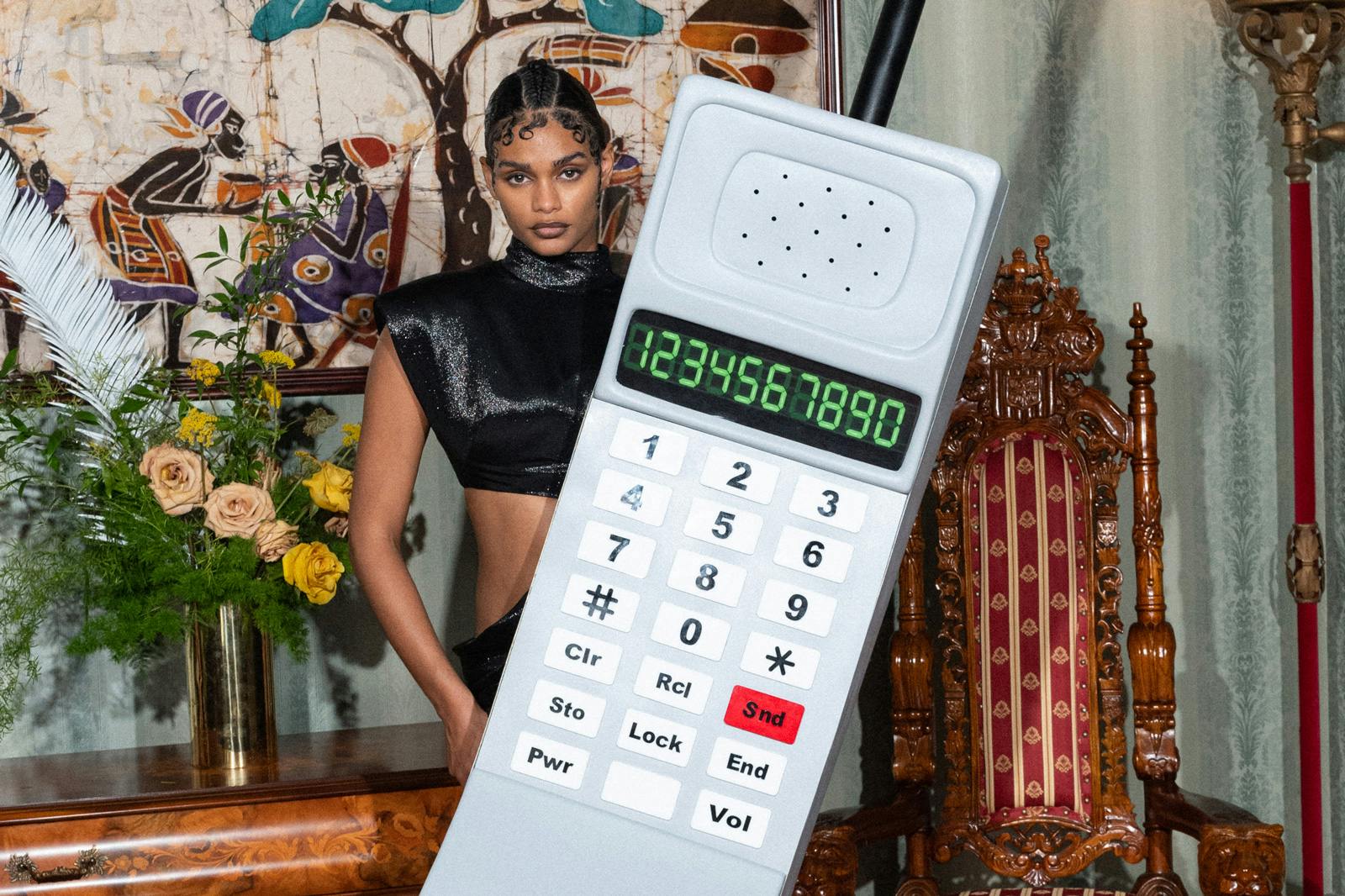 David Prutting / Pyer Moss
Rained out? No problem, Kerby Jean-Raymond and his Pyer Moss team can handle it. His Fall-Winter 2021-22 couture collection was supposed to be revealed on Thursday, but it poured cats and dogs in New York, preventing the show from taking place. A pioneer in his own right, Jean-Raymond is one of us. Starting out making streetwear, he's the first black-founded brand to be invited by the Chambre Syndicale de la Haute Couture to show a collection. But look at him now. The fearless designer is breaking glass ceilings in the City of Lights to showcase his collection on fashion's highest stage.
"The energy ain't it," wrote Raymond on social media, explaining his decision to postpone on Thursday. "I have a better idea… will make the ticket link tomorrow morning till the seats are gone… for now, we gonna go party and dance in the rain." Names from designer Sergio Hudson, who dresses Michelle Obama, to rapper A$AP Ferg, actress Tracee Ellis Ross, and former model and activist Bethann Hardison were all front row in the rain on Friday. They showed up again, as did Kiki Laynaye, who wore a sky blue Pyer Moss pleated dress. Entitled "Wat U Iz," the event paid tribute to Black inventions in American culture, but with an almost surreal, trippy bent.
"The stories the world tells us about us are about pain," read a press release. "The stories we tell about each other about our own lives are about how grandma loved us with bible verses and lemonade, how bloodlines never defined who our aunts and uncles were, how the house was always big enough to take in everybody we loved. We hold stories of glory in our bodies. Black imagination is this world's greatest technology."
Raymond chose Villa Lewaro, a large 30-room mansion that was owned by Madam C.J. Walker, the US's first Black female millionaire, who moved into the property in 1917. An entrepreneur and creative like Raymond, Walker, the daughter of slaves from Louisiana, created her own Black hair care products. A tireless proponent of Black American culture and its impact on American culture writ large, it's no surprise Raymond chose the symbolism of Walker's success and her ability to purchase her own mansion to showcase his collection.
Saturday's show was met with better skies with Villa Lewaro once again as the backdrop, symbolizing the fruits of Black talent, with members of the public arriving next to invited celebrities under the sound of a string orchestra. Raymond moves at his own pace — he's done so since before the pandemic, creating collections on their own terms. This show was no different. It's a collection that celebrates Black creative culture with a reminder of the 400-year struggle of Black Americans in the US and their lack of reparations.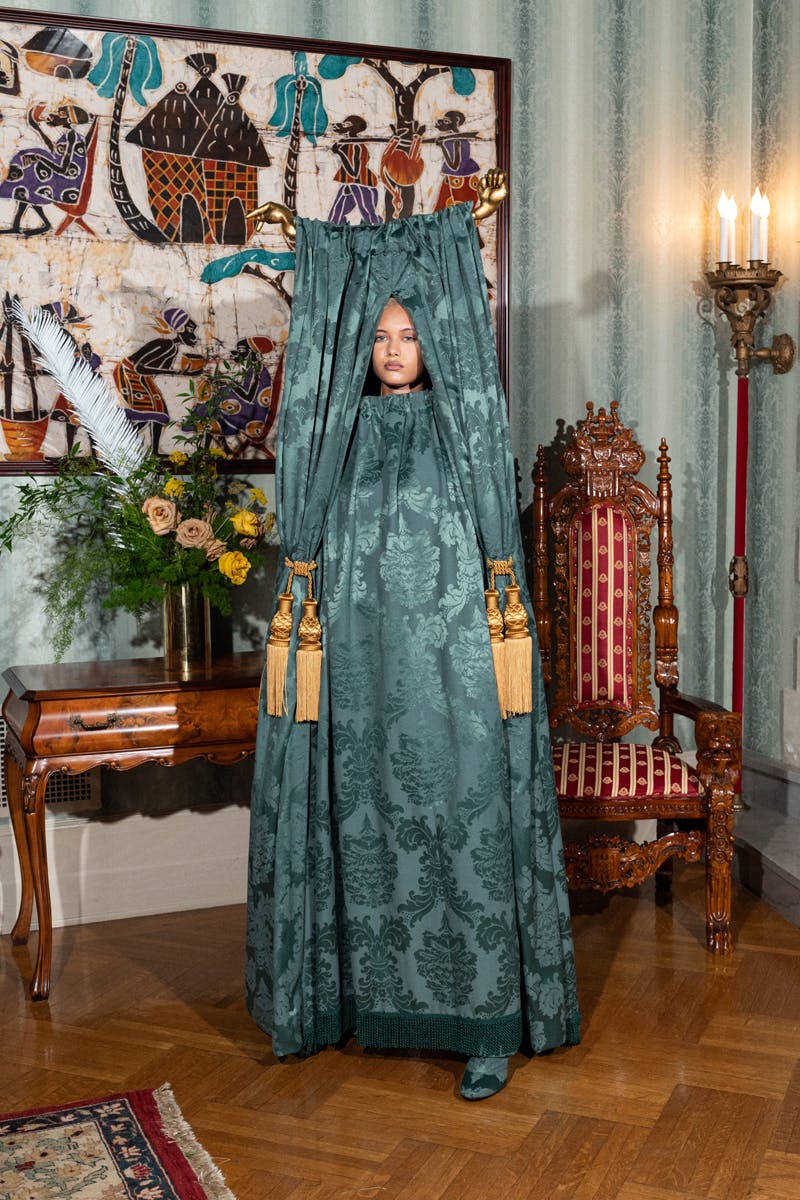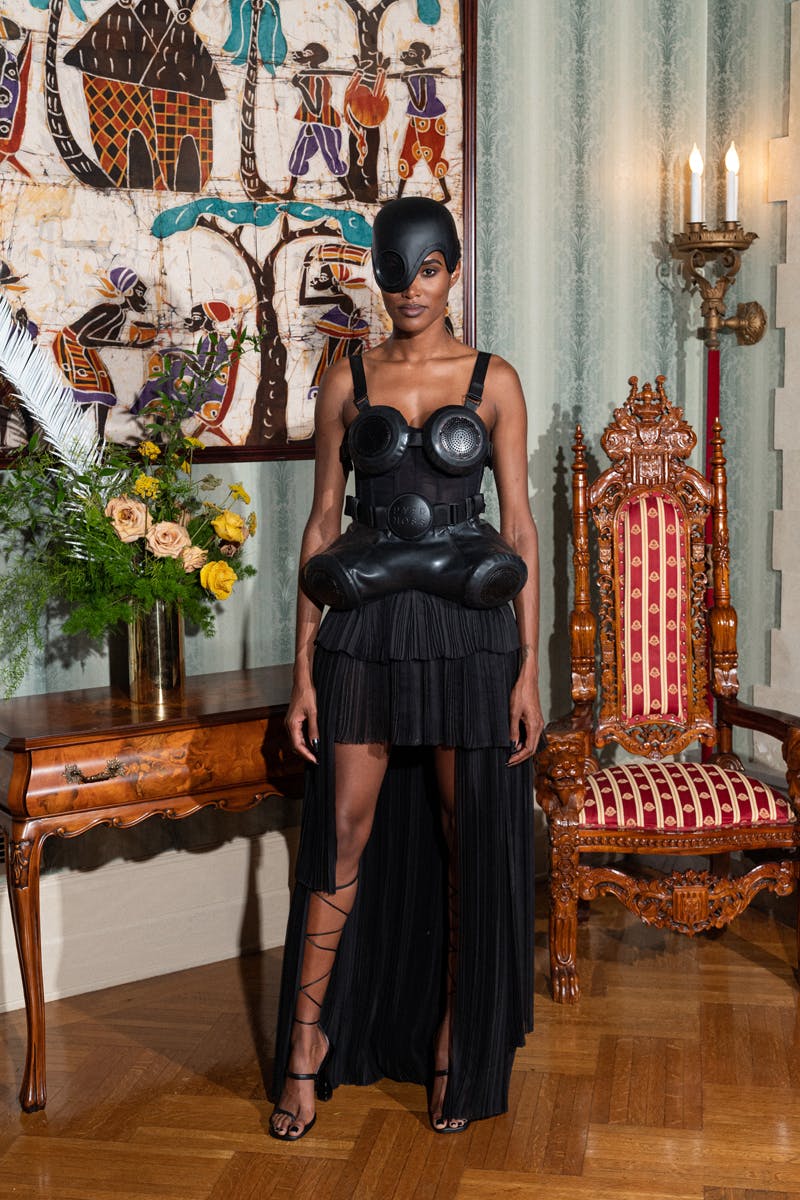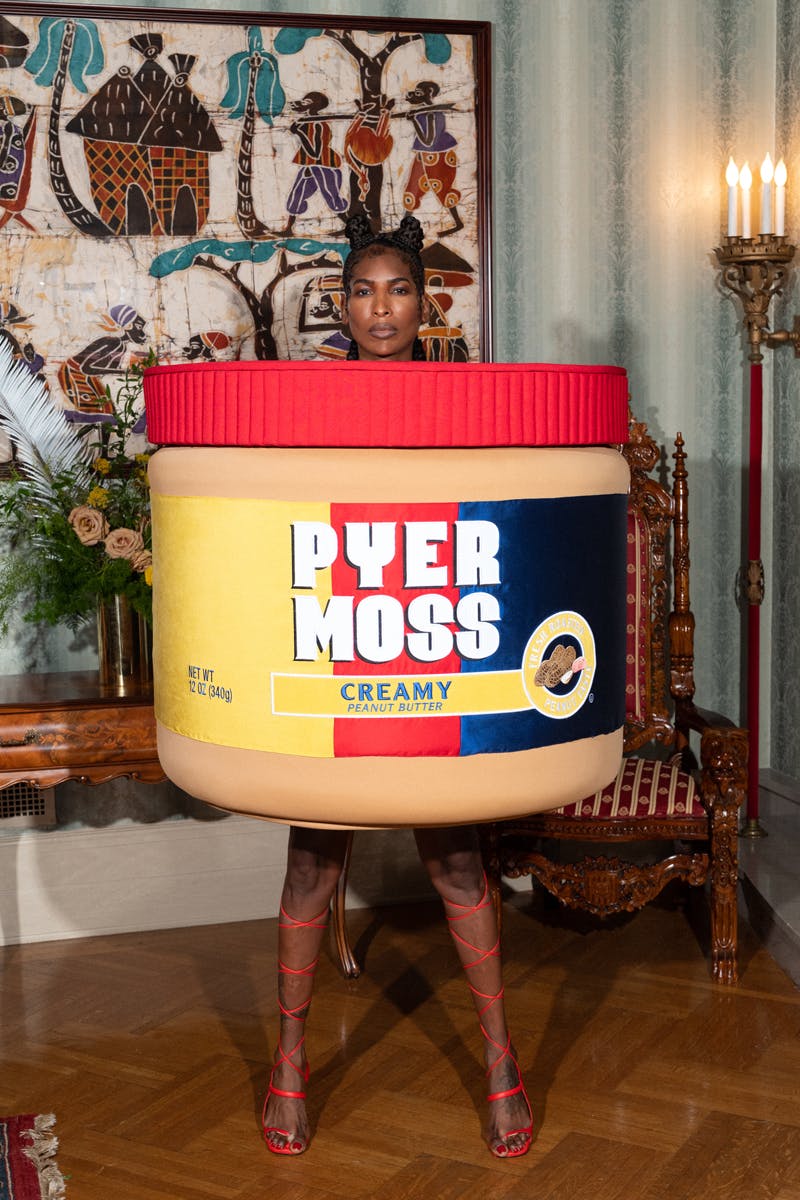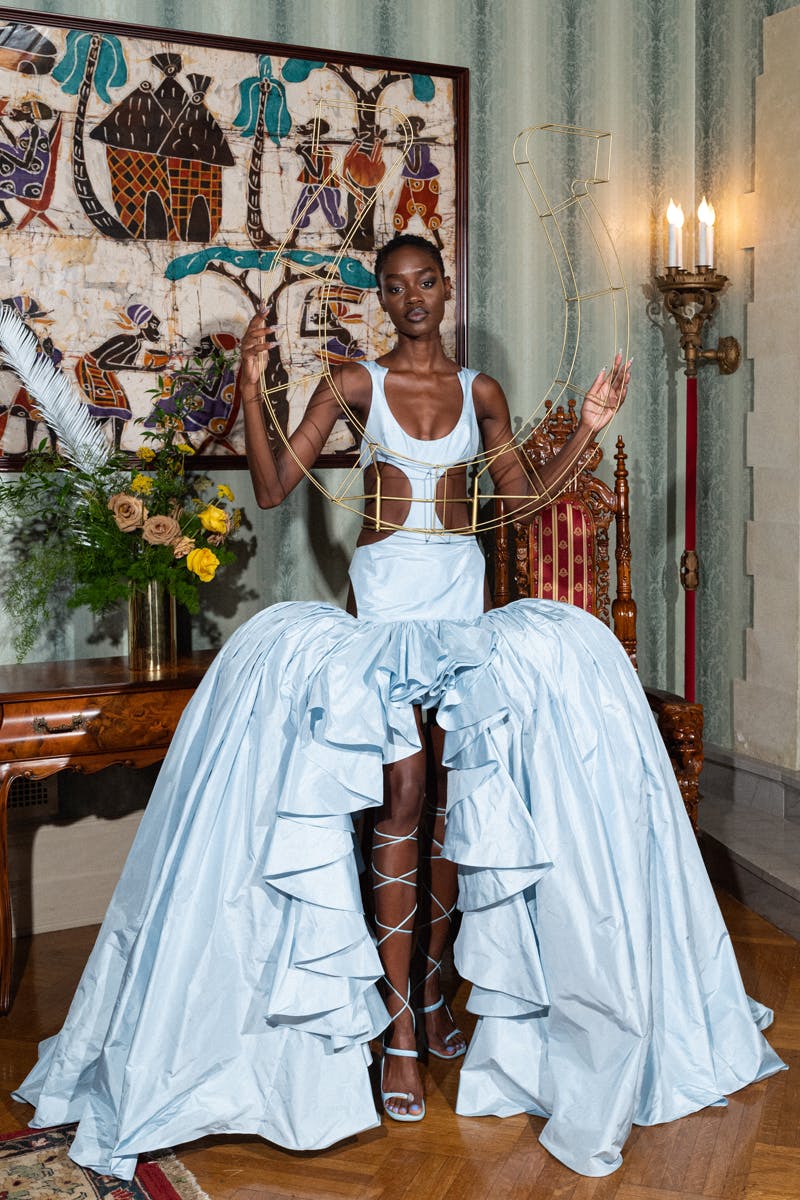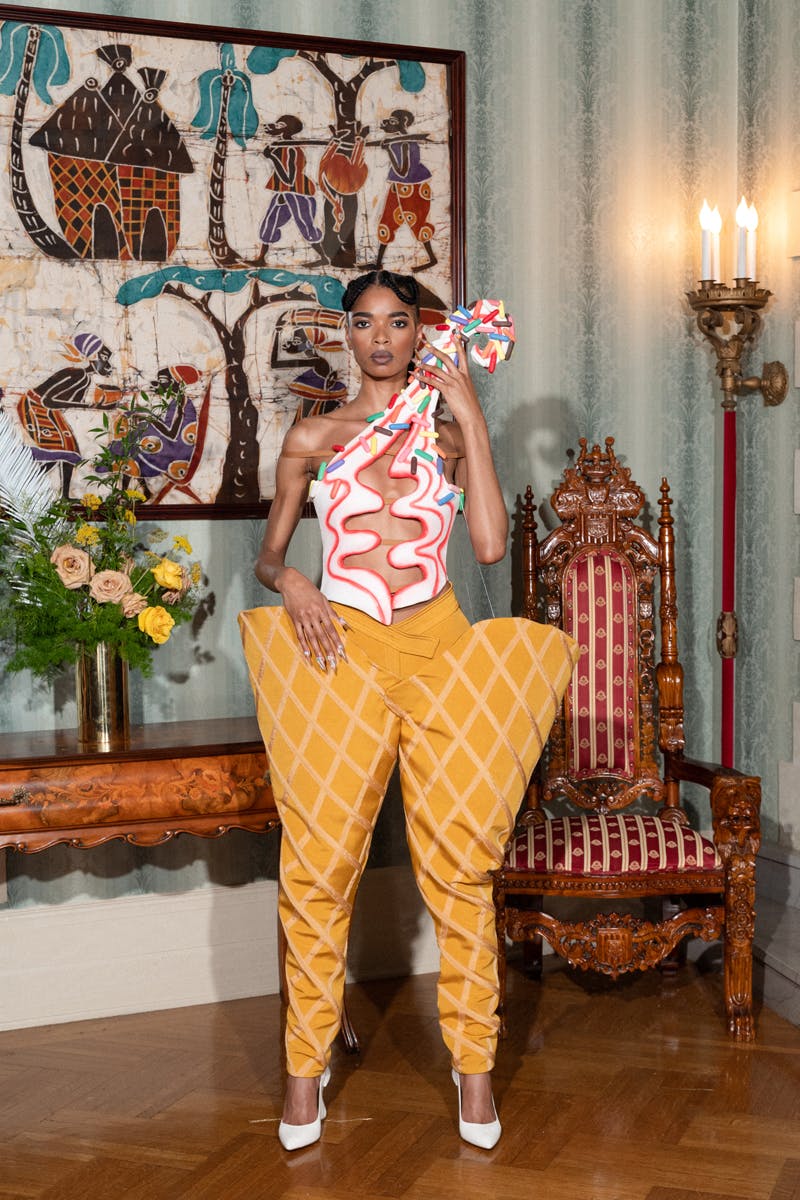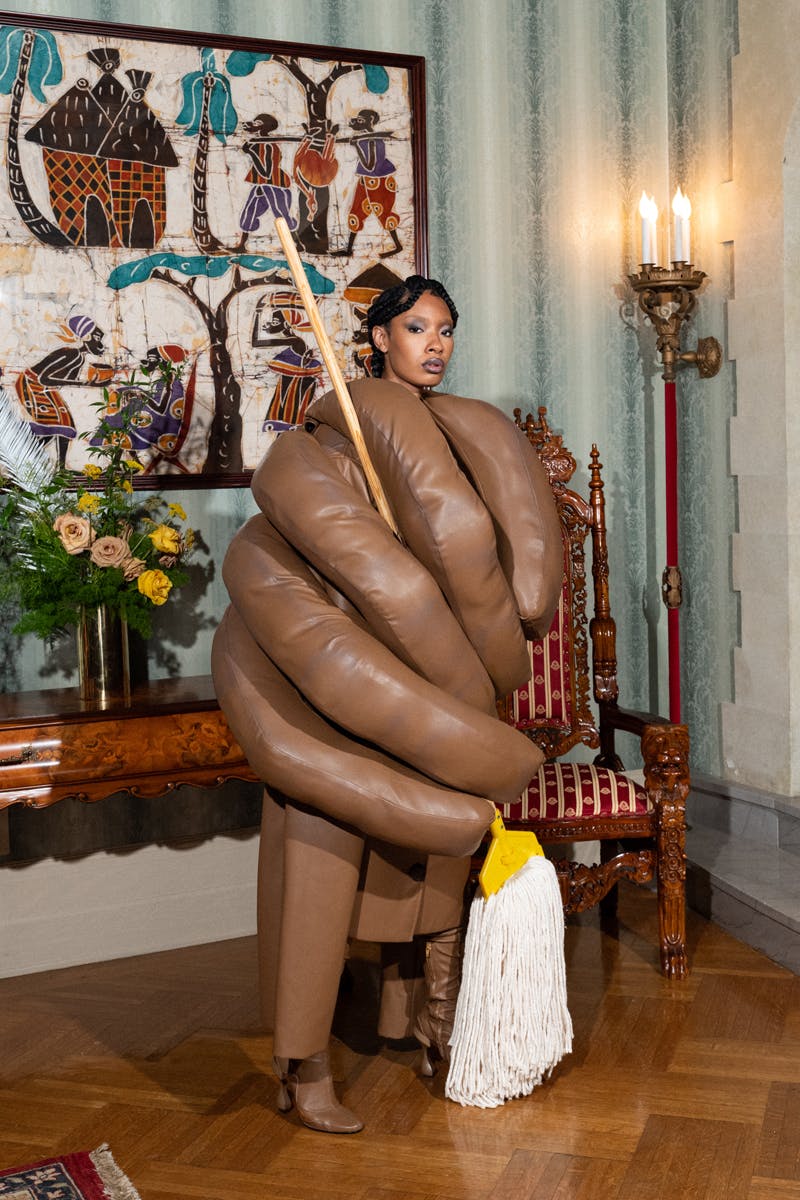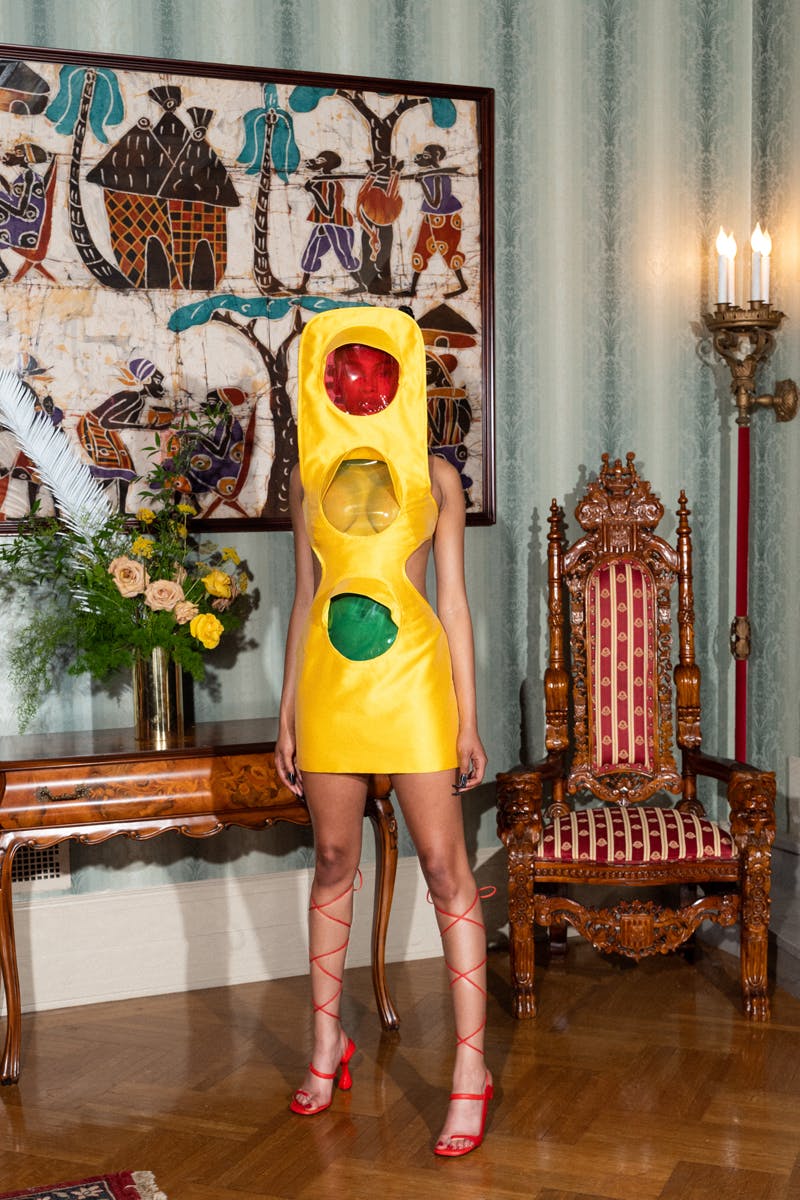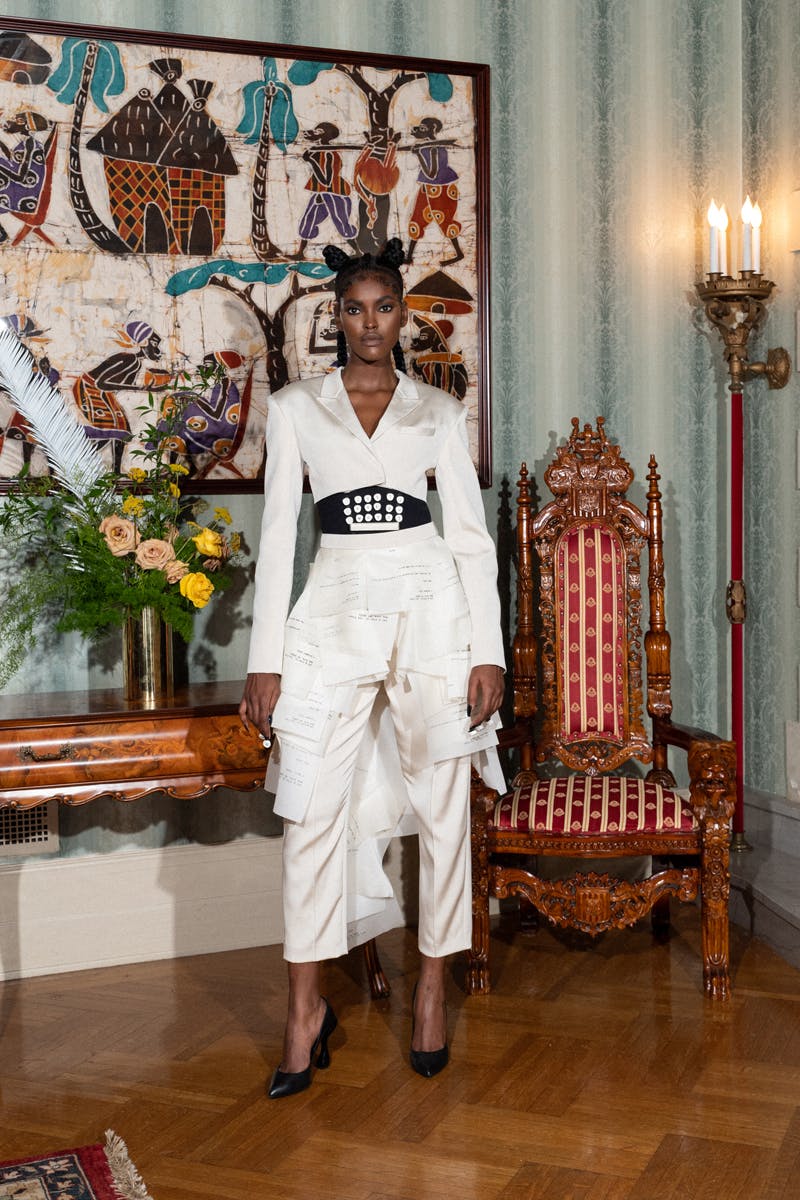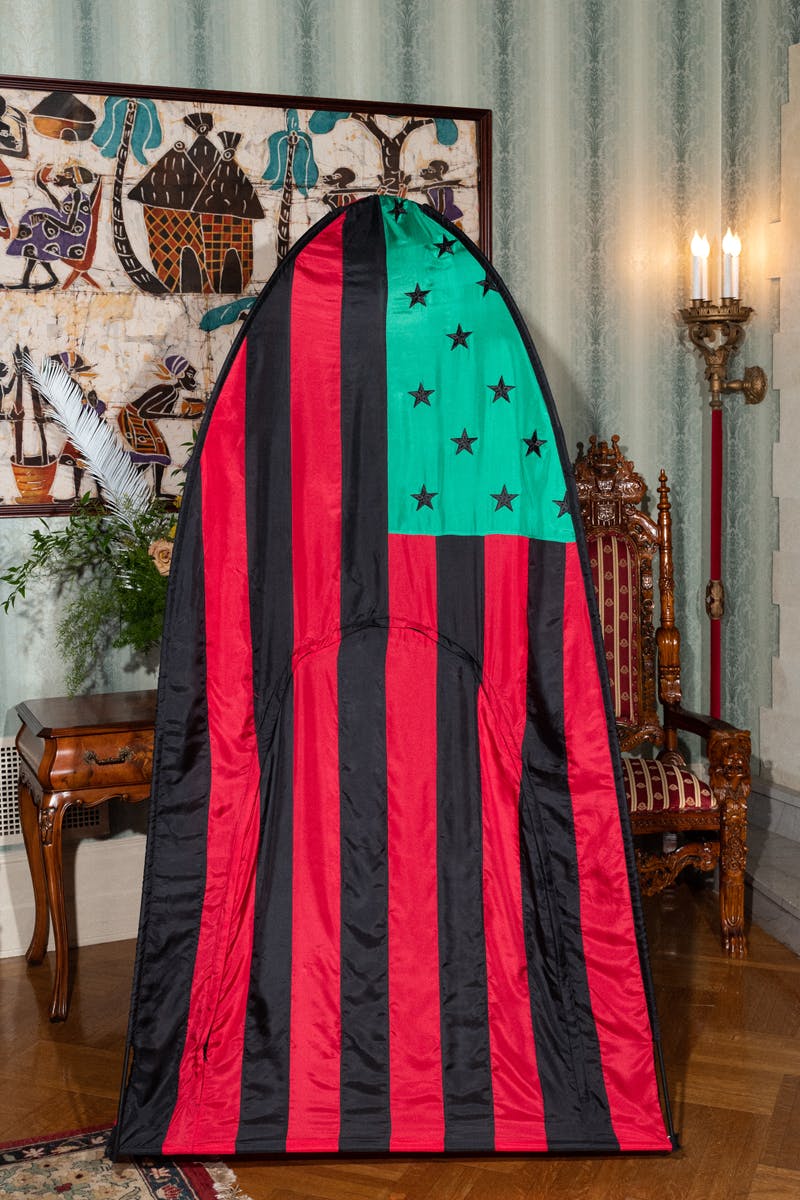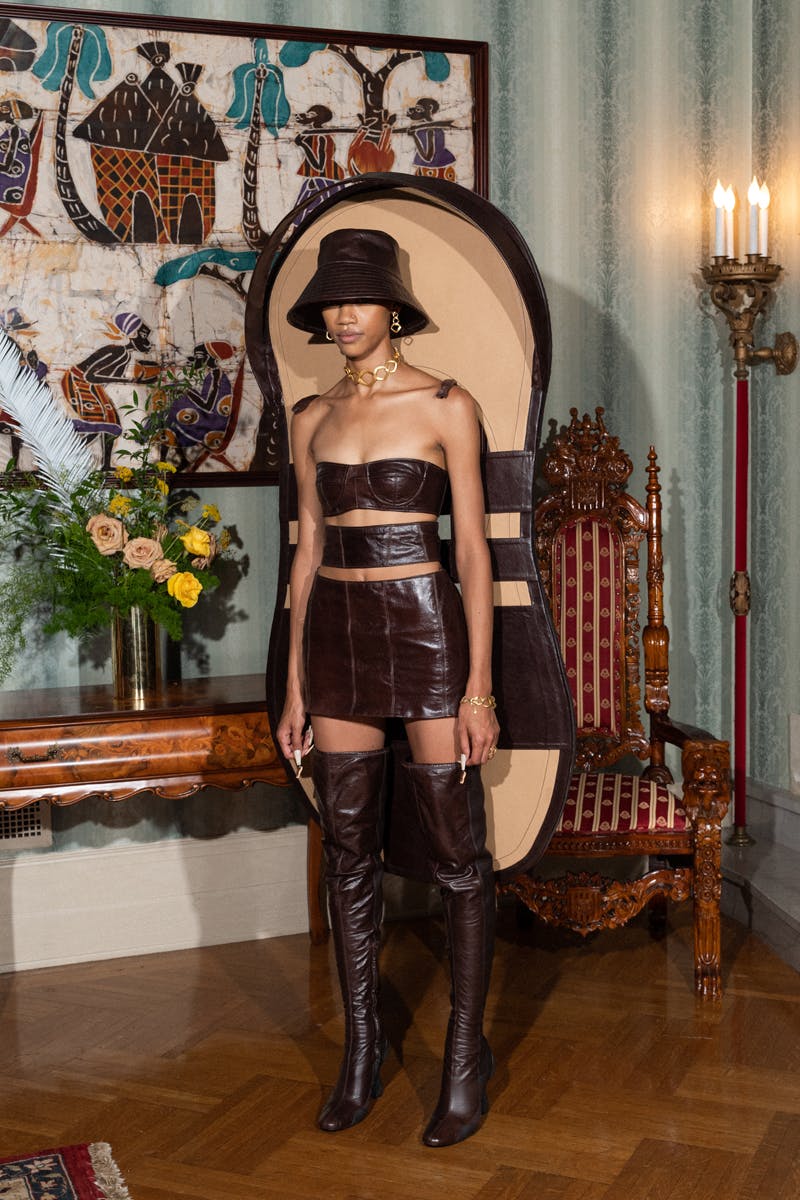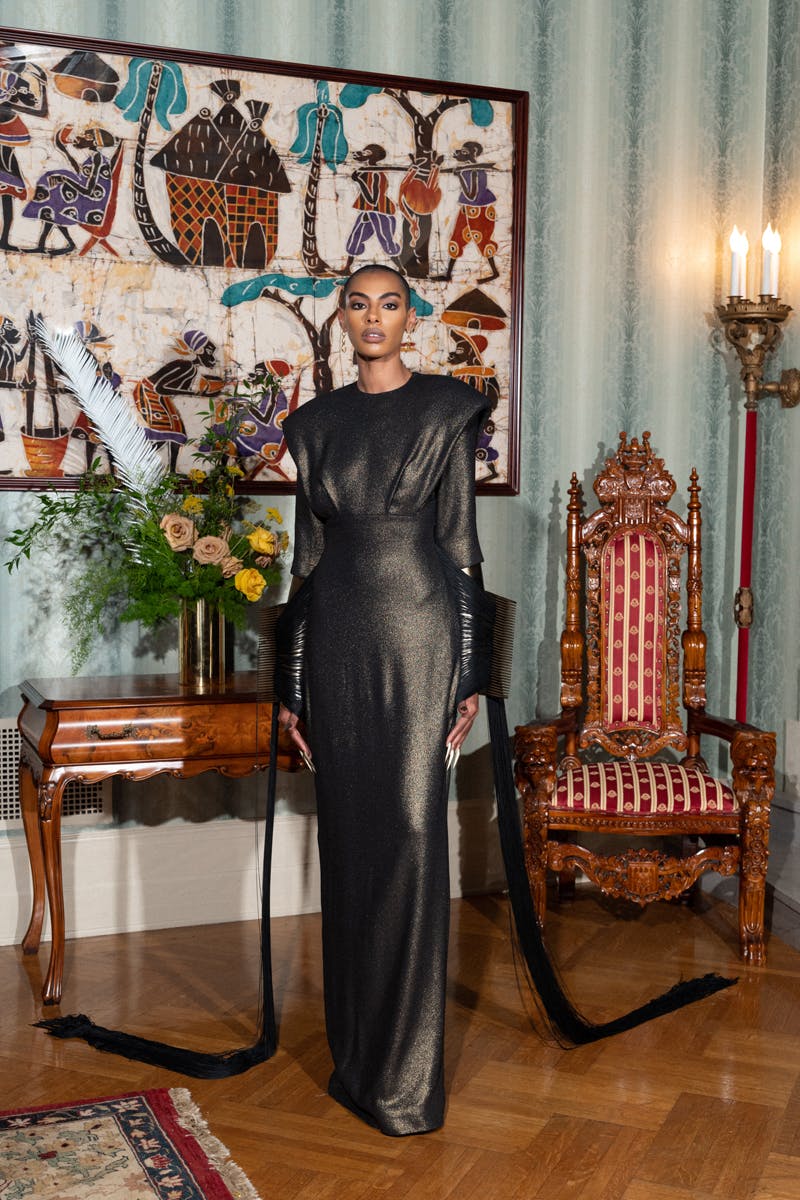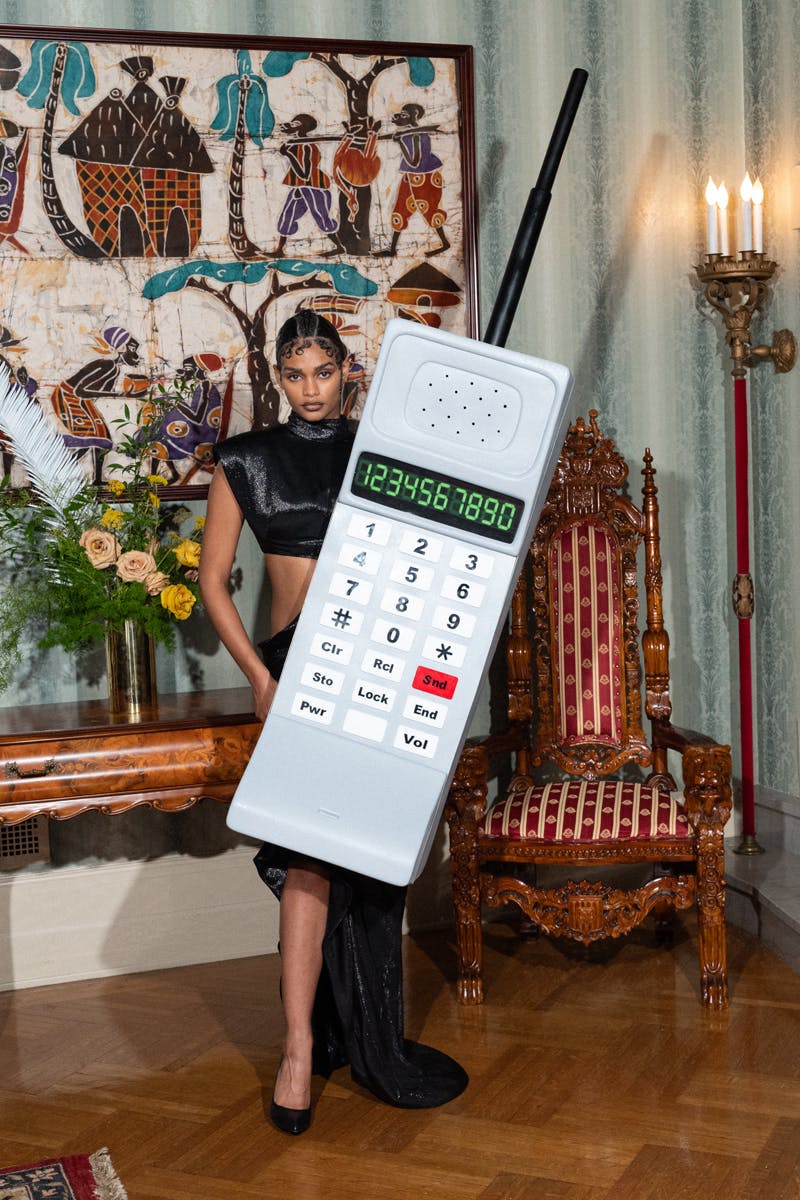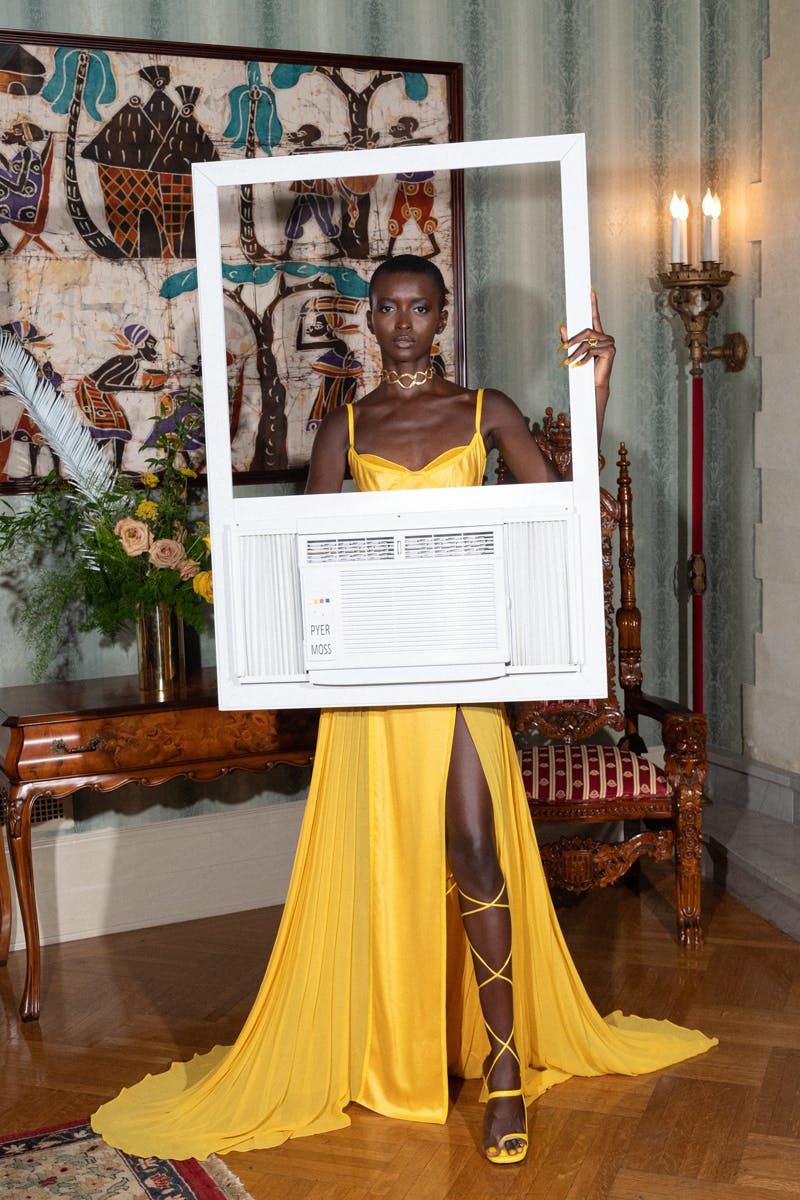 With every seat filled and many standing, a white circular stair platform in the center of a larger elevated circle blue runway surrounding it gave way to a longer runway with guests seated on either side of the whole structure. Starting the event was Elaine Brown. Wearing all white with chess board-designed checkered boots by the brand, the former Black Panther Party chairman spoke boldly on the struggle and progress of African Americans since the Civil Rights era.
A rapper entered onto the elevated platform in the middle, rapping while accompanied by the string orchestra. Surrounding him were 11 dancers on the circular platform dancing rapidly around the artist as he performed. Looks of gowns entered the runway with a mix of wearable items that impacted Black American culture mixed into the collection. A gold shimmery couture gown, and a white calf-length pantsuit, along with items like a life-sized wearable jar of peanut butter, a walking lamp, a hand carrying a mop, and a wearable hairbrush.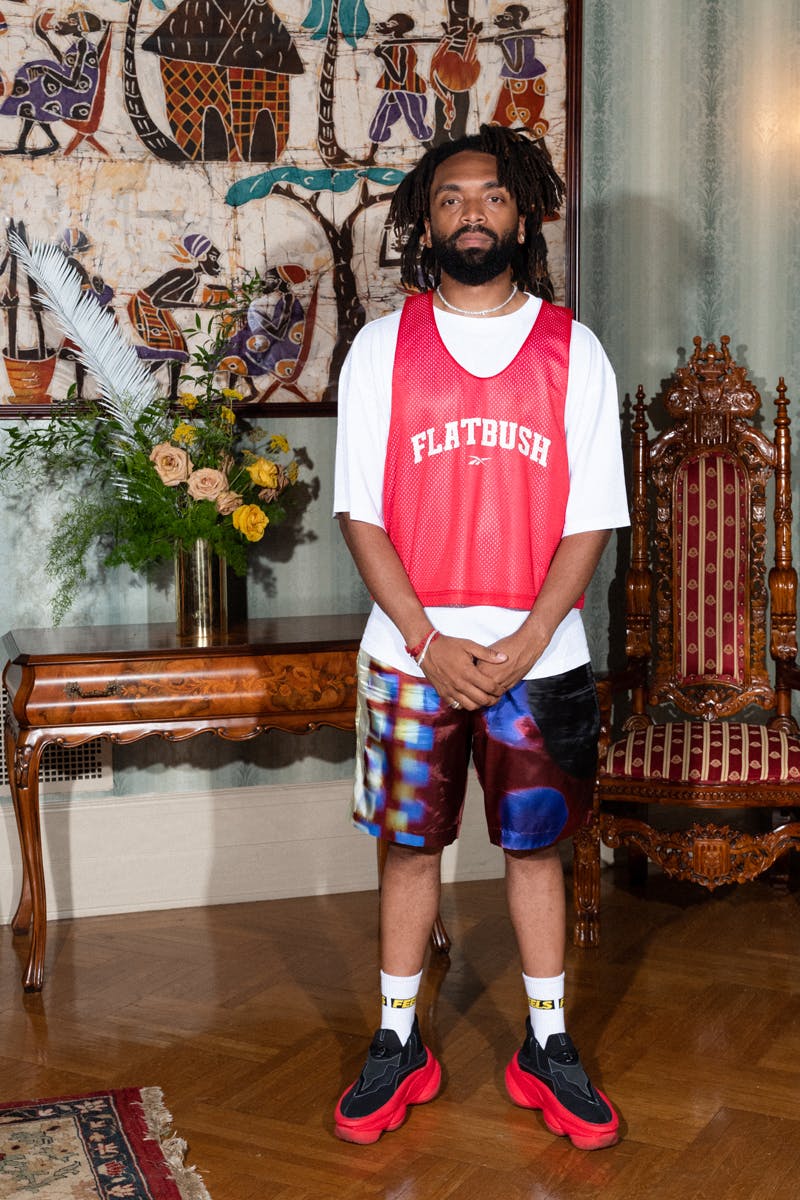 Raymond has always been a designer who makes a point of uplifting others. His sartorial skills have taken him from his humble beginnings to the White House. Worn by American royalty, the night before the inauguration Vice President Kamala Harris wore Pyer Moss' "New Wave" coat." But before Raymond dressed a woman in the highest office in American government, he got his designer ax sharpened under Kay Unger in New York, then went to work for Georgina Chapman and Keren Craig at Marchesa, then onto Theory and Marc Jacobs where he freelanced.
Hailed as luxury streetwear, Raymond's designs include details of astute tailoring, which he has translated to the couture arena. That he has combined this while serving as global creative director for sportswear giant Reebok only goes to show his versatility. Making fashion history last night in showcasing from NY during Paris' high fashion week is a foretaste to a predicted incredible fashion career for Kerby Jean-Raymond to come. While he has been in the game for several years, "Wat U Iz" is a sort of rebirth that shows the Pyer Moss story is only just getting started.