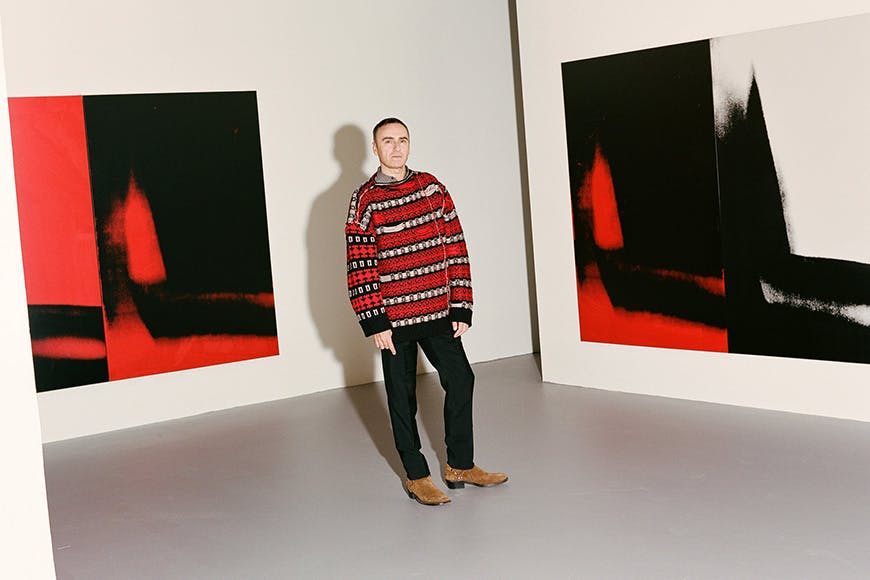 Later this week, a show featuring 48 of Andy Warhol's 102 shadow paintings will open to the public on the ground floor of Calvin Klein's headquarters on 39th Street. Ahead of the installation, Calvin Klein's chief creative officer, Raf Simons, sat down with The New York Times for an in-depth interview.
During the conversation, Simons dished on his appreciation for art, using Warhol's work at Calvin Klein, being a fashion designer, and those who have an opinion of him. Below we've highlighted the standout excerpts from the piece, which you can then read in full via The New York Times.
On merging Andy Warhol and Calvin Klein:
"I liked the idea of connecting an American major brand to an American major artist, whose body of work spoke about things very relevant to Calvin Klein. I knew Calvin had links with artists, but the names that always came up were Donald Judd, Dan Flavin — minimalists, because he was a minimalist. Andy Warhol stood in the middle of the contemporary environment. In his approach, his vision, his obsession with superstars and famous people, his sense of commercial product, he was very democratic. Calvin is very democratic."
On wanting to own Warhols:
"...the disaster work — any car crash or disaster or electric chair. I just think they are so … it's difficult to explain. When you say you adore that body of work, it seems like you are someone who adores violence and horror. With Warhol, I am more attracted to the work that doesn't deal with famous people, because my world is already dealing so much with famous people."
"Generally people don't like to live with complicated subject matter. But I have to feel the artwork stands for something that is important to me. I don't like the idea that it has to fit my environment at all. I think that's why I started looking at art and reading about it and embracing it — because it takes me away from my own work."
On his affinity for art:
"Of the top three or five things that are important to me, outside of family and love, art is No. 1. It's way more important than fashion. Sometimes I think it would be very attractive to be able to bring ideas out and not have to think about them in relation to a system or structure or commerce."
"I think about it often. I keep thinking of things I would like to do that are not fashion. Making movies, making art — the practice of making something. In fashion, the actual practice of being a designer has changed so much."
On being labeled a fashion designer:
"It's always on my mind. Is this what you do? In a way I don't think I'm a fashion designer. I used to be so upset when people called me that. Now it doesn't matter so much."
On using Warhol's artwork for Calvin Klein:
"I was thinking who could be a symbol for the body of work I'm trying to shape at Calvin Klein? So I thought I might now and then, out of Warhol's body of work, take people and reintroduce them to the audience as heroes of mine. Whether they are famous or not I don't care so much, and for what reason I also don't care."
"Dennis Hopper was an incredible representation of the American cowboy. Sandra is someone I admire as a person, and I like the connection with Ingrid and Andy and Interview. Stephen Sprouse was one of the few American designers who had a kind of approach I link more to Europe and the people who inspired me, because they were fascinated by youth and generational dialogues, like Gaultier, Helmut Lang."
On using art in fashion:
"If there's a link between fashion and art, the assumption is always it's the designer who wants to exploit it for commerce. Not the artist who is exploiting the designer."
On reactions to his work:
"I used to be very fragile about how people would react to my work, but I have become more and more at peace with the idea that bad reactions can also be good, because at least it's a dialogue. But in that way I have to split up my reactions to it, and the reactions of the companies I work for, because a lot of companies seem most interested in the reactions of millions of people that I hardly know who they are. And everything has to work on a tiny screen, instantly. It's not that difficult to make something that looks good on a tiny screen, and then in reality turns out to be a disaster on a person."
On the nature of fashion:
"The nature of fashion has changed. In Antwerp, I have more time to be quiet and to draw. Here, there's no time to write things down. Everything is organized and in the agenda. It's all talking. That's the scale and intensity of the work. At Dior, I had the same sense of running against the clock, the fire at my heels."
On continuing to join large fashion houses:
"It's my choice, my responsibility. Clearly, I am attracted to it. I imagine there are people who think I was selling out by coming here, but it's not such a problem for me. Not that I don't care. I care a lot. But I don't care so much about the fact people have an opinion. I actually admire people who have an opinion, even if it's against me. The problem now in fashion is everything gets judged immediately."
Now, head on over to The New York Times to read their entire piece on Raf Simons.
Up next, shop every look from Calvin Klein's new performance campaign.