Reuben Dangoor's art has skewered and celebrated his native London for some time now. From his 2010 earworm, "Being a Dickhead's Cool" to his oil paintings of Grime MCs exhibited at the Tate, his winking and prolific creative output comprised a series of uniquely British inside jokes that have continued to land overseas. Ironically, amid a global pandemic and progressive stay-at-home orders, an ambitious project turned his attention from the domestic to the future of the oceans.
Until recently, the weirdness and eccentricity of British culture had animated Dangoor's work. He tells Highsnobiety: "It's made up of so many disparate elements and cultures, and it's always changing. It's really interesting, because it's hard to pin down, and there are so many facets to it. And for me, it just kind of constantly provides interesting elements."
Thanks to Covid-19, there hasn't been the same demand for him to produce merch for the likes of slowthai, or memorabilia for Stormzy's Glastonbury headliner, but that hasn't stopped him from keeping busy during lockdown. Dangoor has worked on award-winning billboard campaigns for the BBC, illustrated newspaper covers, and even collaborated with adidas on the Predator football boot.
"As a football fan, doing a football boot, something really technical and specific — it was cool" he explains, "It's one of the few times I've seen my work on a 3D object. That was a really nice experience. There was a huge response when they first came out, and I think they sold out on adidas in 24 hours. A lot of people sent me videos of them playing football in them, from all over the world. It's been a weird disconnect because these boots are all around the world and I haven't moved."
Like many artists sequestered at home, Dangoor has used the creative possibilities of Instagram to engage more directly with his audience. "Because I am a Londoner and was born in London and I think like a lot of the art that I'm making, predominantly is just for me" he explains.
But in 2020, people around the globe found themselves experiencing the same ambient dread as they watched protest movements rise up against structural racism, and a global pandemic lay bare rampant inequalities. Though Dangoor approached these issues through a Londoner's lens, his output during the pandemic struck a universal chord.
He was already harnessing the potential of Instagram to comment quickly, honestly, and often humorously about contemporary life. "I started doing some sketches when England was in the World Cup and doing quite well back in 2016," he recalls. "People started really jumping on the regularity and the reactiveness."
"But weirdly, during lockdown, the images were less cartoony. We weren't going to be out of it any time soon. So it wasn't about having to seize a niche moment." Dangoor spent longer on some of these lockdown images, finding that audiences around the world were finding solace in his depictions of the new normal.
The disruptions brought about by the pandemic gave many pause to consider our impact on the environment. Lloyd's Register, a UK charity dedicated to research and education in science and engineering, contacted Dangoor with the idea for an exhibition that would illustrate what the seas of the future might look like if more sustainable practices were embraced.
The project asked him to contemplate the largely invisible impact of the global shipping industry, which contributes around 2.9 percent of total greenhouse gas emissions. The idea was to reimagine some of the most famous maritime paintings of the 17th and 18th century armed with the most cutting-edge technology being conceptualized for the seas of the future.
Dangoor produced a six-piece "Future Seascapes Collection," inspired by the works of J. M. W. Turner, Vincent van Gogh, and Claude Monet, and modified to depict more sustainable vessels, emerging infrastructure, maritime technologies, and futuristic concept ships that would address shipping decarbonization challenges.
The first piece reimagined by Dangoor was Turner's The Fighting Temeraire (1838) — one of the most beloved paintings of the period, it depicts the last voyage of the warship HMS Temeraire, as she is towed by a coal-powered tug down the Thames to be broken up for scrap. "Turner's one of my favorite painters and that work is obviously incredibly well known," Dangoor tells us, "so that was quite exciting, being able to work on it and change his original."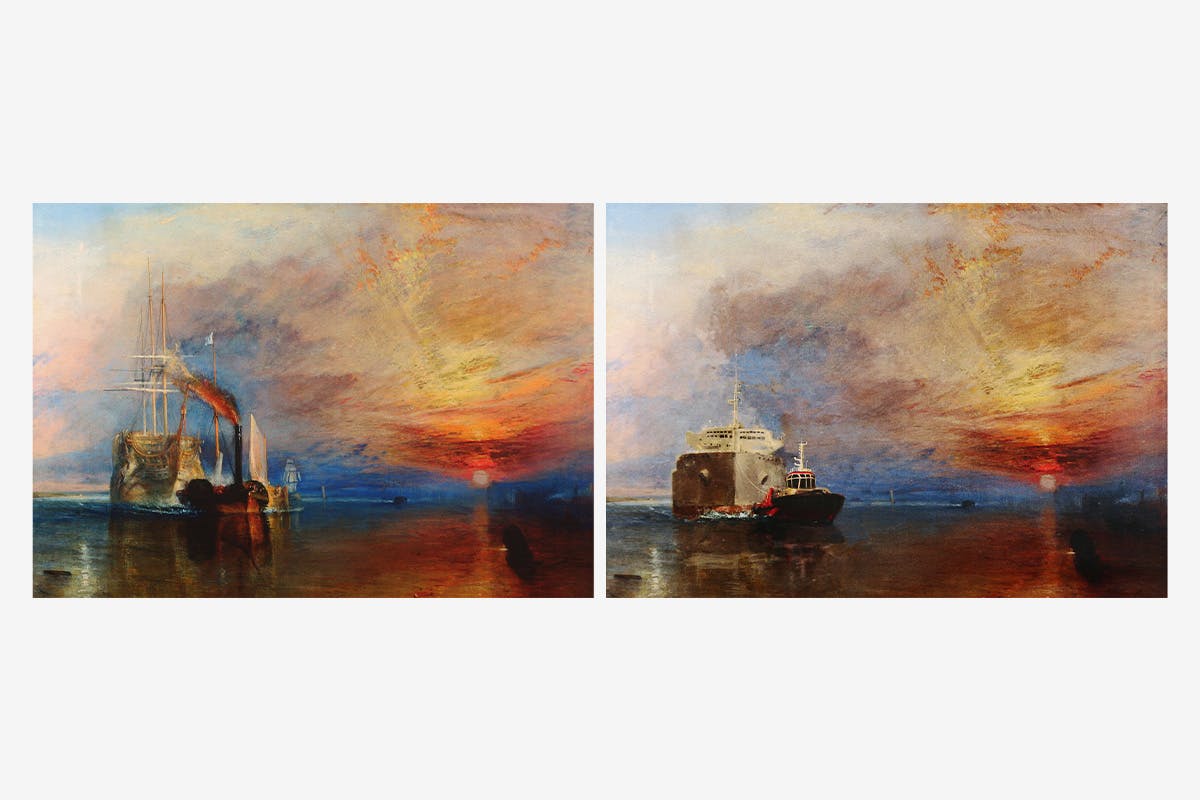 "I guess that painting probably sums up the whole exhibition quite well, in that it's got an older boat, the Temeraire, which is no longer in use, being towed by a modern, steam-powered tugboat. But it's old being replaced by new."
The paintings take vessels of centuries past, replacing them with the carbon-neutral ships of the future, illustrating the accelerated advancements in technology that could lower the environmental impact of global shipping in the future.
Dangoor worked with naval architects to reimagine Claude Monet's Ships on the Seine at Rouen (1873), Thomas Whitcombe's A Trinity House Yacht and a Revenue Cutter Off Ramsgate (1810), Tingqua's View of Hong Kong (1845-1855), Edward Seago's Harbour Scene (1910-1974), and Vincent van Gogh's The Sea at Les Saintes-Maries-de-la-Mer (1888). "I loved Lloyd's Register's concept of reimagining seascapes of old to depict a future that is both greener and cleaner," the artist notes.
Due to the pandemic, "Future Seascapes Collection" was translated into a 360 degree, virtual exhibition. Dangoor suggests that showing the works via a digital, technologically advanced medium aligns with the ambitions for the shipping industry to reach their climate goals by 2030.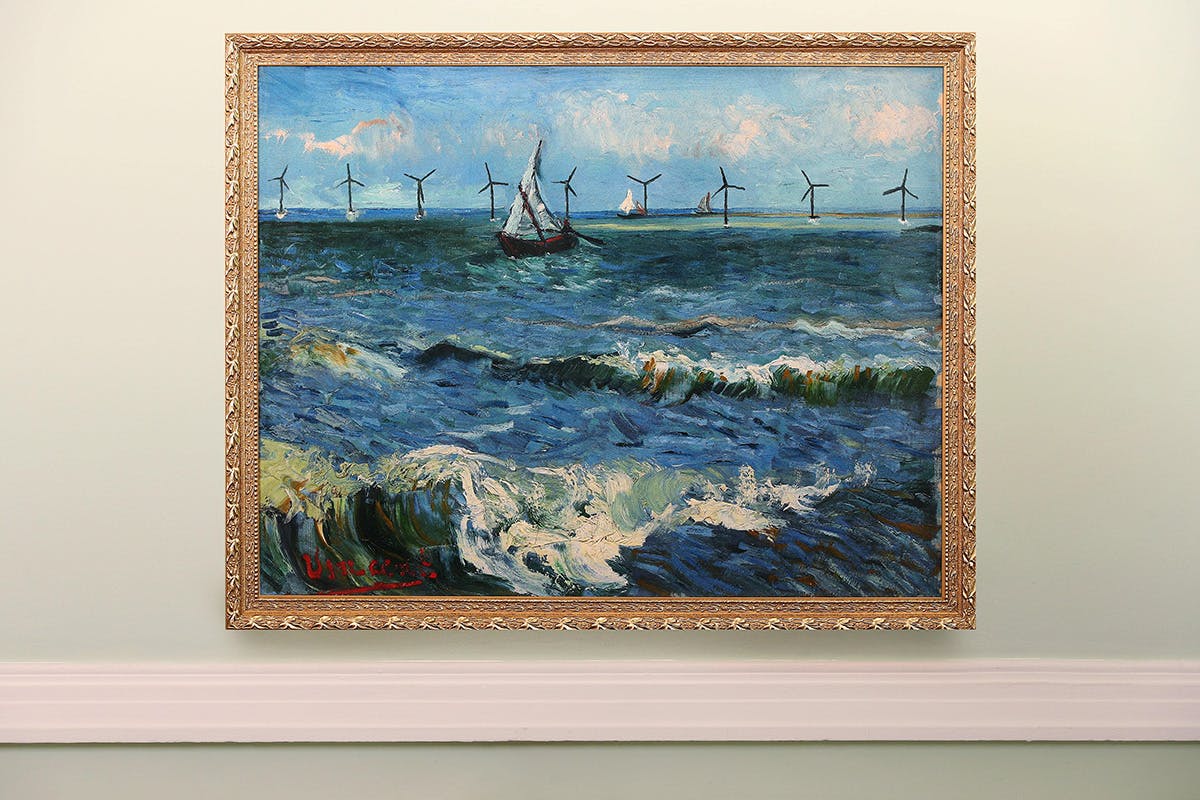 Displaying the collection online rather than in the traditional, IRL gallery setting might have other benefits. Dangoor tells Highsnobiety that he himself had felt intimidated by the exhibition space: "When I was a bit younger going to galleries, particularly more contemporary galleries, if a work didn't necessarily speak to me, I felt like, 'Oh man, am I stupid?'"
"It wasn't like this was my first experience with art, but it was probably my first experience where it felt like there might be a barrier to entry for some art," he continues. When Dangoor's "The Legends of the Scene" series was displayed in the Tate, younger audiences with less art world expertise became the experts.
"They are the ones who recognize the artists in the portraits, recognize the subtle details and the little nods to parts of these MCs' careers," he recalls. In "Future Seascapes," audiences may not have in-depth knowledge of maritime painting or naval architecture, but the interactive nature of the virtual exhibition lets anyone explore the collection at any time, from anywhere in the world.
The "Future Seascapes" exhibition is a showcase of how Lloyd's Register's Maritime Decarbonization Hub can help drive the shipping industry transition to technically feasible and commercially viable zero-emission vessels by 2030.