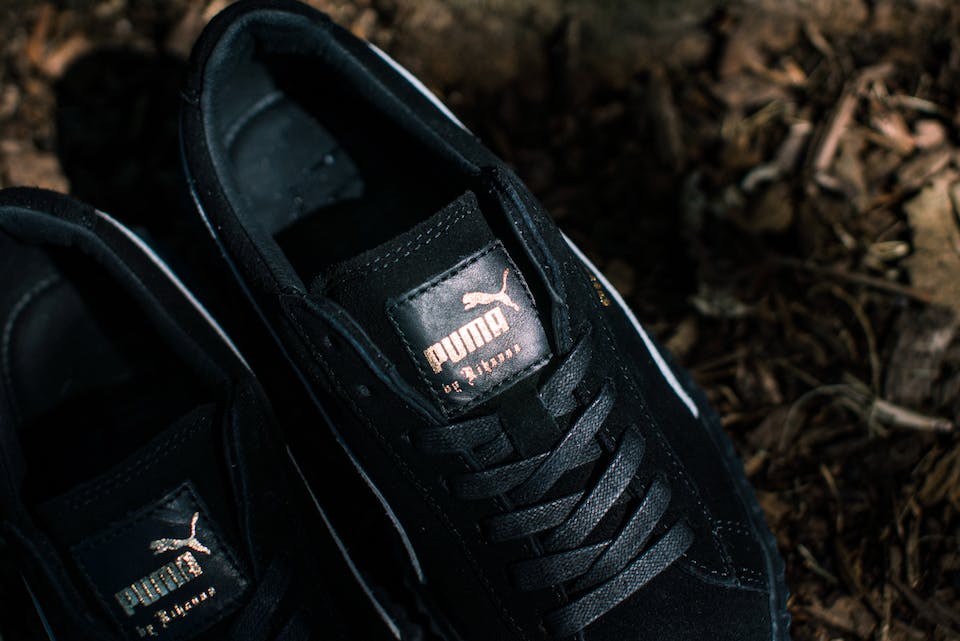 With so many kicks on the market, finding the best of the best calls for a little bit more than just strolling into the shoe store with some spare change. To help you isolate the best of the bunch, our Sneaker of the Week is a chance for us to highlight some shoes that you need to add to your rotation. Thanks to some help from our partner Finish Line, we're calling out the best sneakers on shelves today.
It's hard to miss musician-related merch these days. No matter where you look, nearly every popular artist is providing their own spin on apparel and shoes. Naturally, when a generation-defining creative like Rihanna decided to step into the ring, sparks were going to fly. Showcasing a runway collection last February, it was clear that one of the collection's biggest talking points would be RiRi's Fenty Creeper. While other versions have dropped in the months following—including versions in leather or camo-prints—the latest iterations (especially the option in black suede) are sure to take the top spot.
A combination of the classic PUMA Suede and the creeper sneakers that ruled mosh pits in the '80s and '90s, Rihanna's modern take on the design features a luxe suede upper with an accented suede formstrip. As you'd expect from a creeper, the shoe boasts a textured rubber platform outsole, giving a bit more height than PUMA's more traditional trainers. Waxed laces and gold embossed logos make sure this shoe stands out on the sidewalk—if the silhouette wasn't doing that already.
While the shoe is sure to raise the stakes when it comes to your style, it should be incredibly easy to assimilate into any wardrobe. Sure the sole is something different, but the marriage of a muted color combination with one of PUMA's most accessible styles makes this more of a trainer with a twist than an overtly conceptual shoe. Worn with shorts, worn out jeans, or even tucked under an extra-long dress—there's practically no kit combination that won't benefit from the rebellious edge that Rihanna's creepers bring to the table.