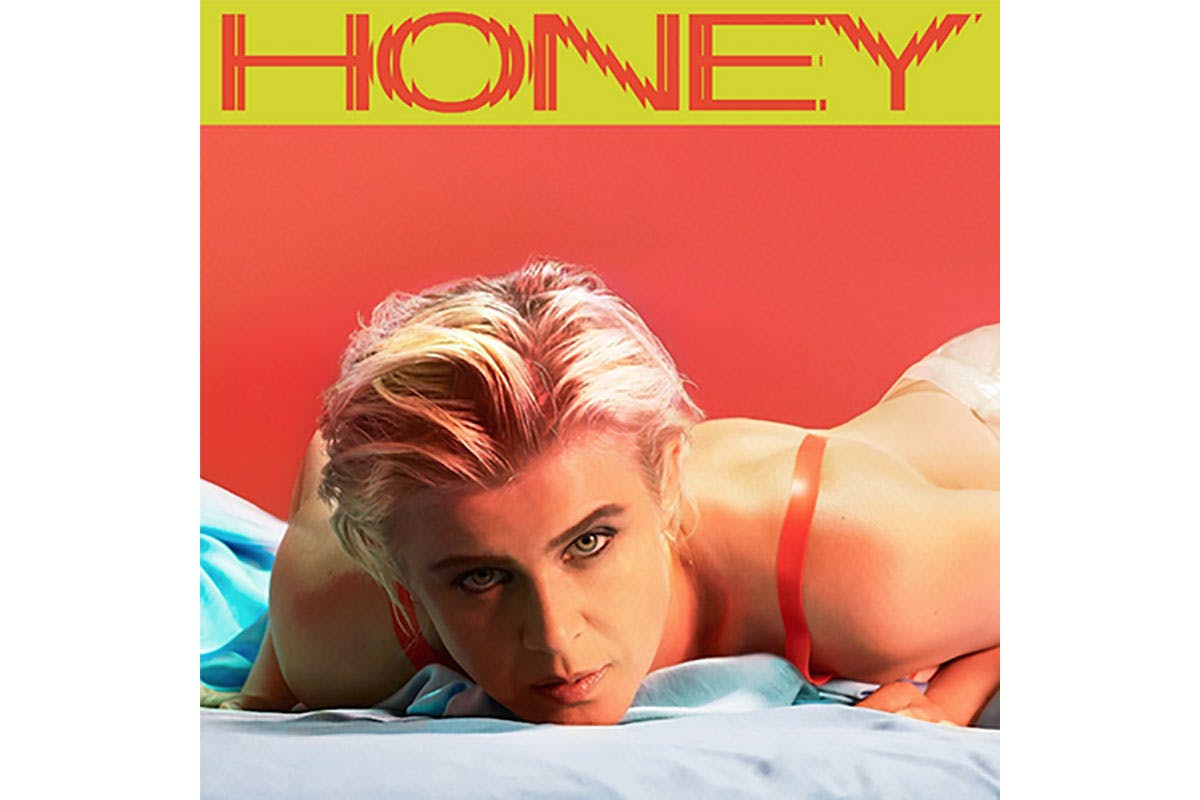 5.0 / 5.0
Have you ever felt the blood in your body rush to your toes in a heartbeat? It's the sensation you get when a person you've lost saunters back into your life unexpectedly: passing them on the street, or seeing them pop up unannounced on your Instagram timeline. Sometimes we can't help it, but often we find ourselves actively seeking that feeling out: dwelling on a time we assumed we were happier and mercilessly revisiting it, always toeing the line between damaging ourselves and desperately trying to find some sort of catharsis. That's the feeling you get listening to Robyn's Honey: a miraculous pop record that ruminates on death, love, and the loss of it.
Eight years in the making, the Swedish trailblazer's closest fans once thought Honey would be a boisterous poppy follow-up to one of the genre's most acclaimed records: her three-part magnum opus, Body Talk. But the endless wait for her comeback has been excruciating to say the least, and while we've been treated to a steady trickle of strong collaborative projects (her storming EP with Röyksopp, Do It Again, comes to mind), we've sorely missed hearing a record that came straight from Robyn's soul. An album like this – sparse, relatively brief and yet brimming with so much unresolved emotional turmoil – was realistically the last thing any of us expected.
Instead of being a soul-baring pop record shaped by polished, stratospheric production, Honey is relentless and open-ended in structure. Earlier this year, Robyn said in an interview with The Guardian that she was interested in songs that "didn't have a beginning and an end". Clocking in at 40 minutes, but with a fairly conservative nine-track setlist, it has the breathing space to make even the simplest of ideas feel profound.
On the lead single and opener "Missing U," Robyn finds herself trying to come to terms with a loss of two kinds: the death of her producer friend Christian Falk, and the sudden breakdown of her relationship with her fiancé, Max Vitali (who she's since reconciled with). "All of the plans we made, that never happened," she reminisces. "Now your scent on my pillow's faded – at least you left me with something." It's an emotional knockout that, despite being so personal in subject matter, manages to bury itself beneath your skin and speak to you in a way few pop songs can. And with it, the floodgates to the past eight years of Robyn's life open.
Over the unwavering – almost robotic – drum synth beat of "Human Being," Robyn repeats the song's title so often it's as if she's trying to convincing a lover who's wronged her that there's flesh beneath her steely exterior. Like most of the tracks on Honey, it spins at the same tempo throughout and doesn't attempt to throw you off with bells and whistles. Instead, it rolls on and on, luring you in like a comfort blanket until you're so close to the lyrics that these songs start to feel like past lovers themselves.
Its aching, most honest crux, however, is "Baby Forgive Me," a song about how being in love makes us delusional, begging for mercy even when it's not possible. The song's second verse might be the most miraculous morsel of pop delivery we've heard this year. "You say you want to be happy, then you've got to put your love on the line. Just let me make you smile again, baby," Robyn begs. "I know we can work it out, yes, I know we can." On the mournful song it segues into, "Send to Robin Immediately," a ceaseless, quiet violin chord is played repeatedly beneath a throbbing, heartbeat breakdown. It feels like her efforts were fruitless.
The title track is the closest thing we have to Body Talk Robyn, and it's still a remarkable cut of potent, visceral club music. "At the heart of some kind of flower, stuck in glitter, strands of saliva / Won't you get me right where the hurt is?" she begs on Honey, the way she recklessly plays with intimacy taking us to a desolate dance floor with each listen.
There are slithers of post-disco pop in there to break up the melancholy. "Because It's in the Music" is one of Honey's chirpier moments, and the sprightly, Wii menu-slash-Samba beats of "Beach2k20" – which feels sort of comically out place on a record as heavy as this – might just be what the future of pop actually sounds like. But amongst these loose-limbed intermissions, it's Between the Lines that really shines. The song relishes in the pleasures of getting close to someone on a nightclub dance floor; a moment of release. But even with these, the idea of any of Robyn's heartbreaks being reconciled feel so far off. If Honey was laid out to replicate the highs and lows of a night out, this up-tempo section would be the point at which you're too drunk or high to care about whatever's on your mind.
Because when you step back and listen to it from start to finish, Honey still feels like the sonic version of someone you love slipping through your hands, as if you're desperately trying to regain some kind of control over a situation you can never really rectify. It saunters into some emotionally dismal places and feels singular in the sense that listening to it doesn't necessarily have to be a pleasant experience. On occasion, feels so in touch with humanity rather than the sugary fantasy of mundane pop that it borders on feeling surreal; like it's managed to coax its way into your veins.
Still, it ends on a somewhat welcome note of blissful ignorance – a reminder that we can only spend so much time in the pits of our emotions before finding an excuse to pull ourselves out of it. "Never gonna be broken hearted – ever again," she chants on the song's closing track - "that shit's out the door!" Deep down, perhaps Robyn knows that making such a grandiose promise to herself is as unpredictable as the nature of love itself, but for the first time – on a record that's bound to go down in history as a future pop classic – she's willing to put pain to the side for once.
Robyn's 'Honey' is available to buy or stream. For more of our reviews, head here.