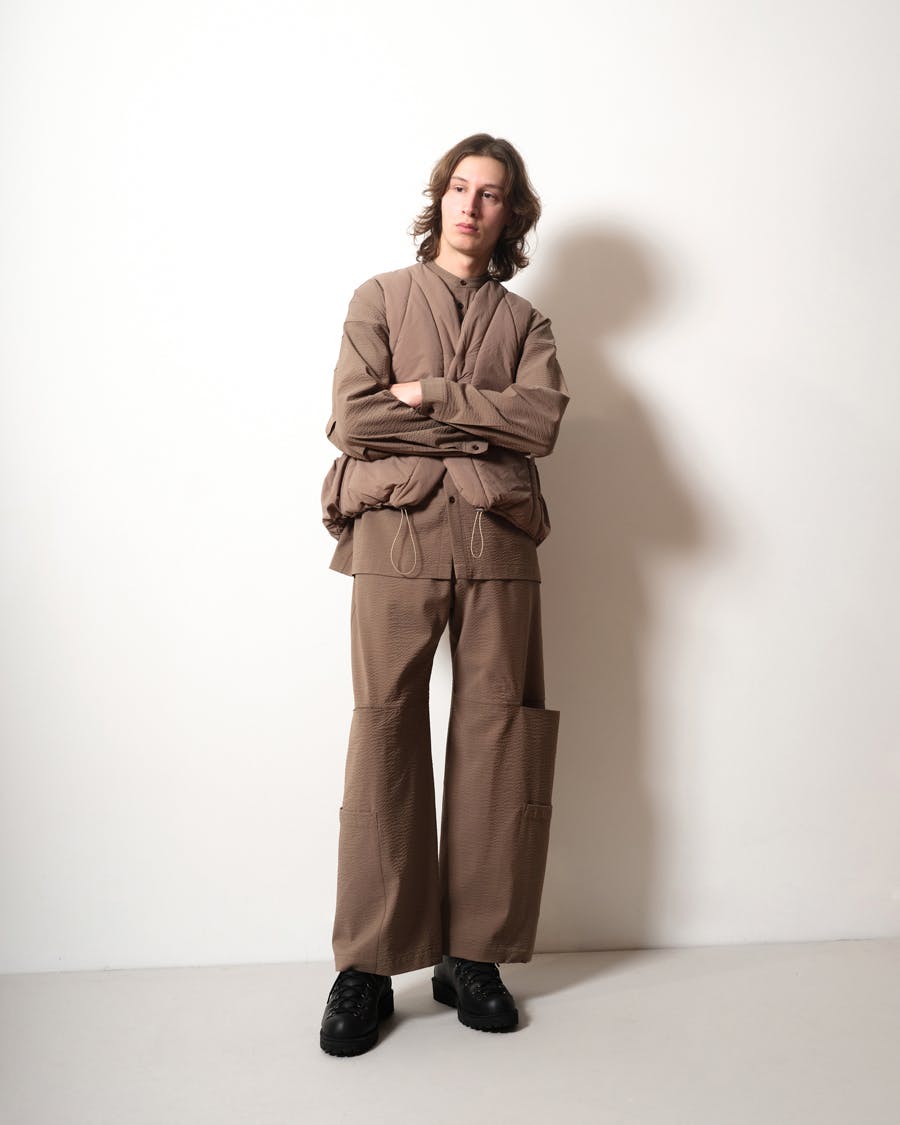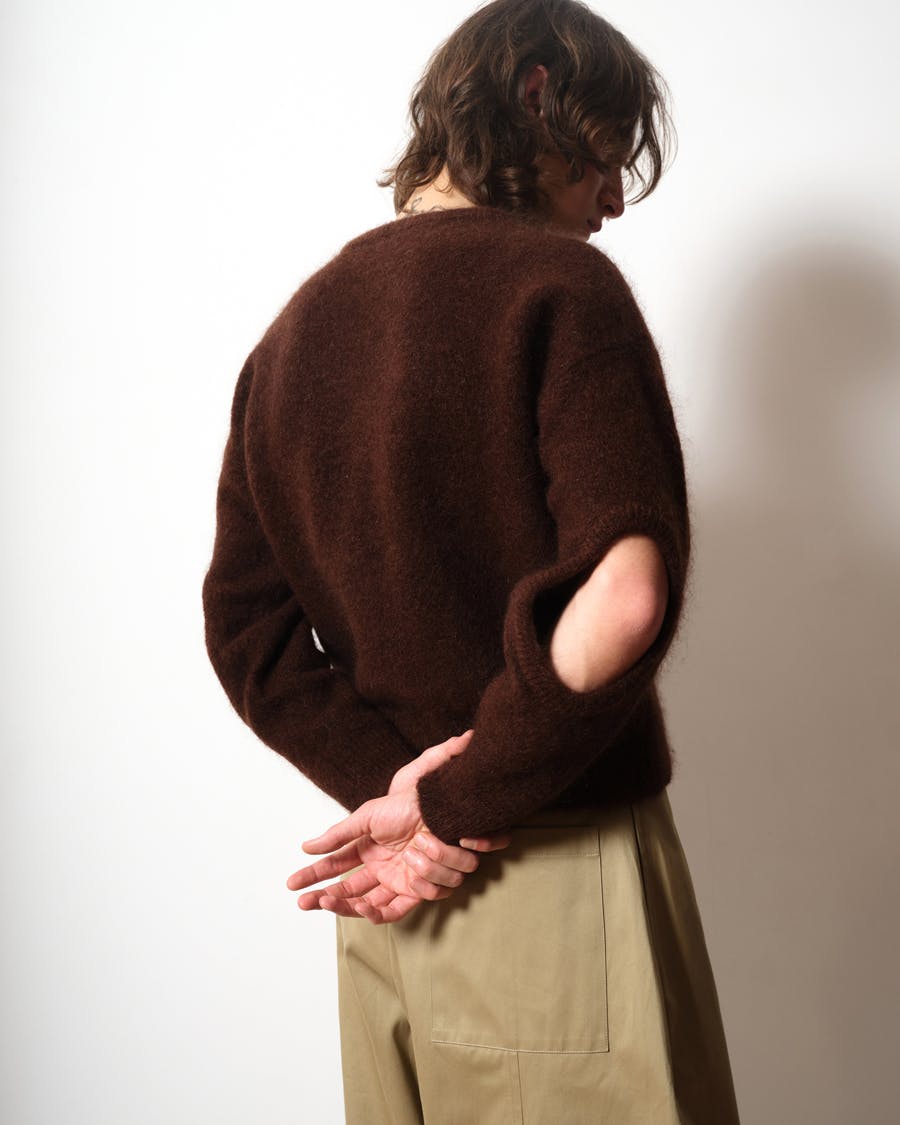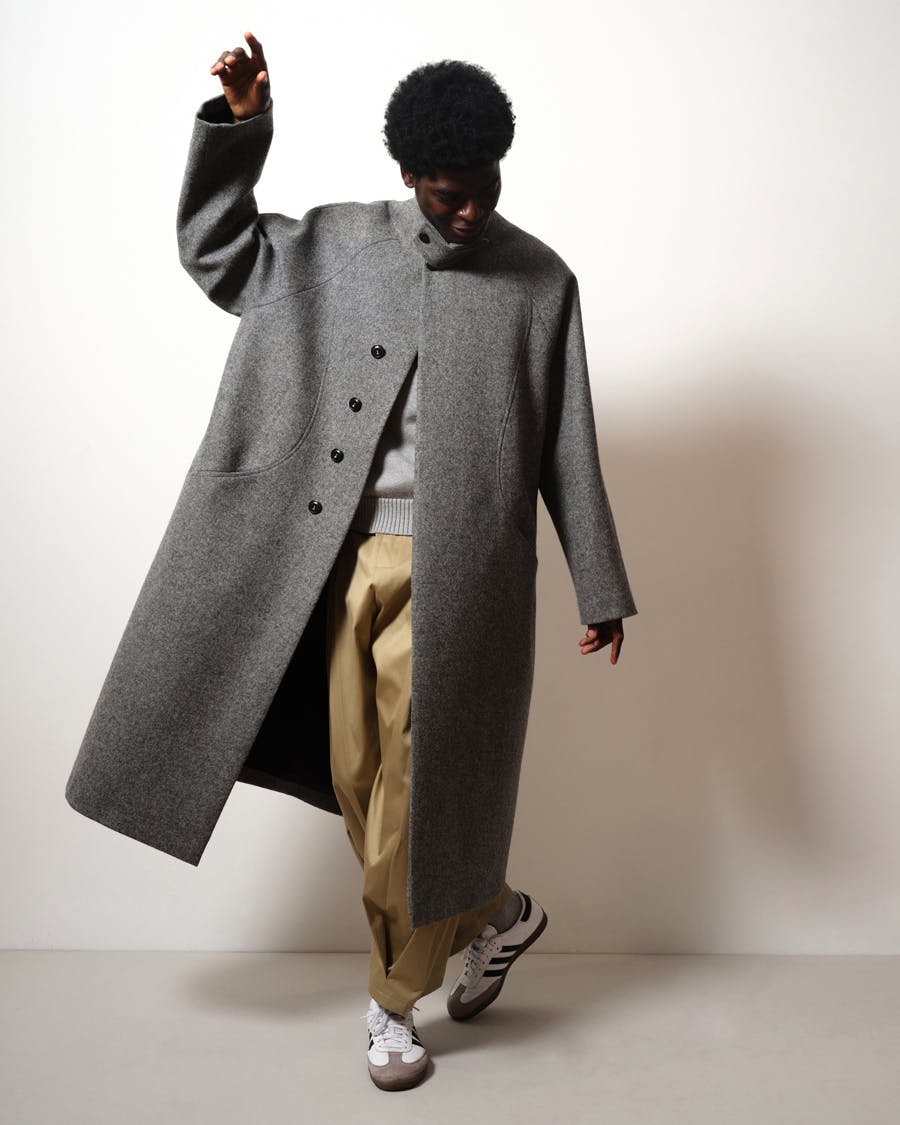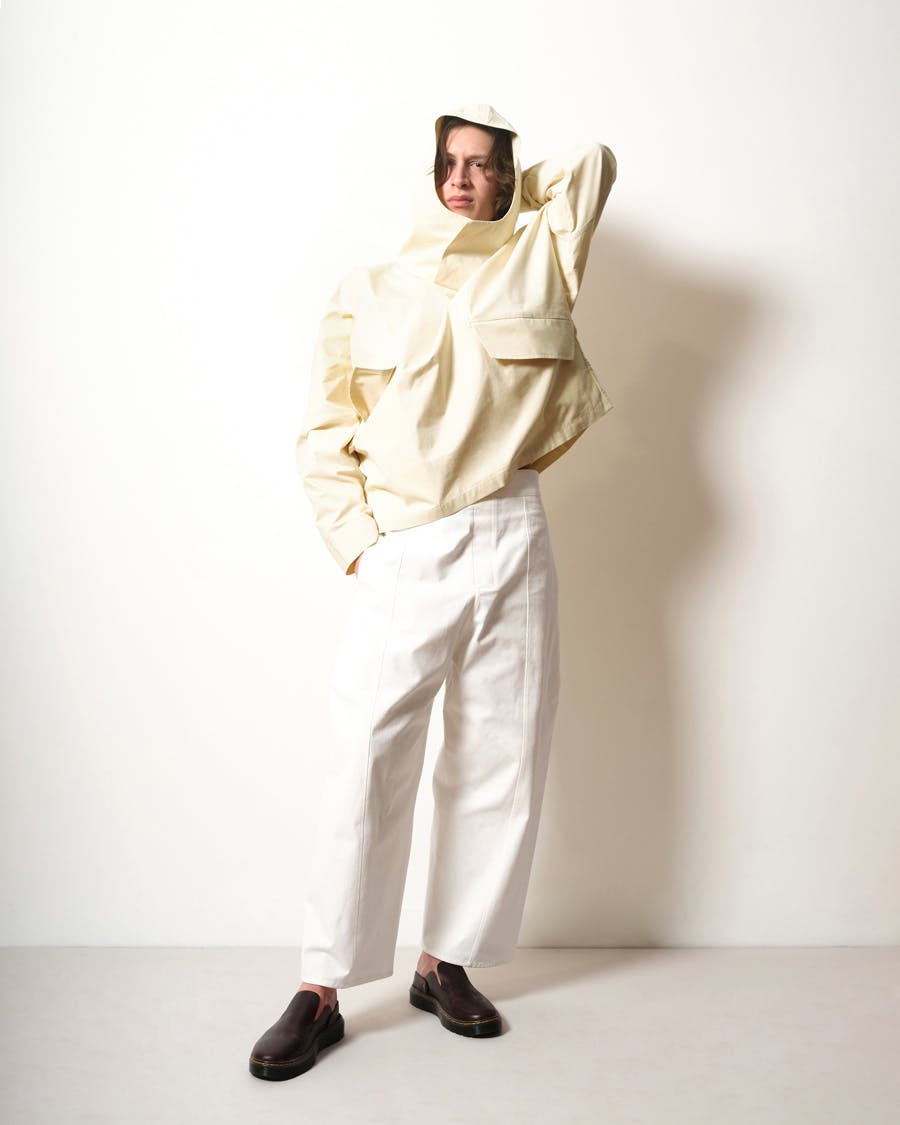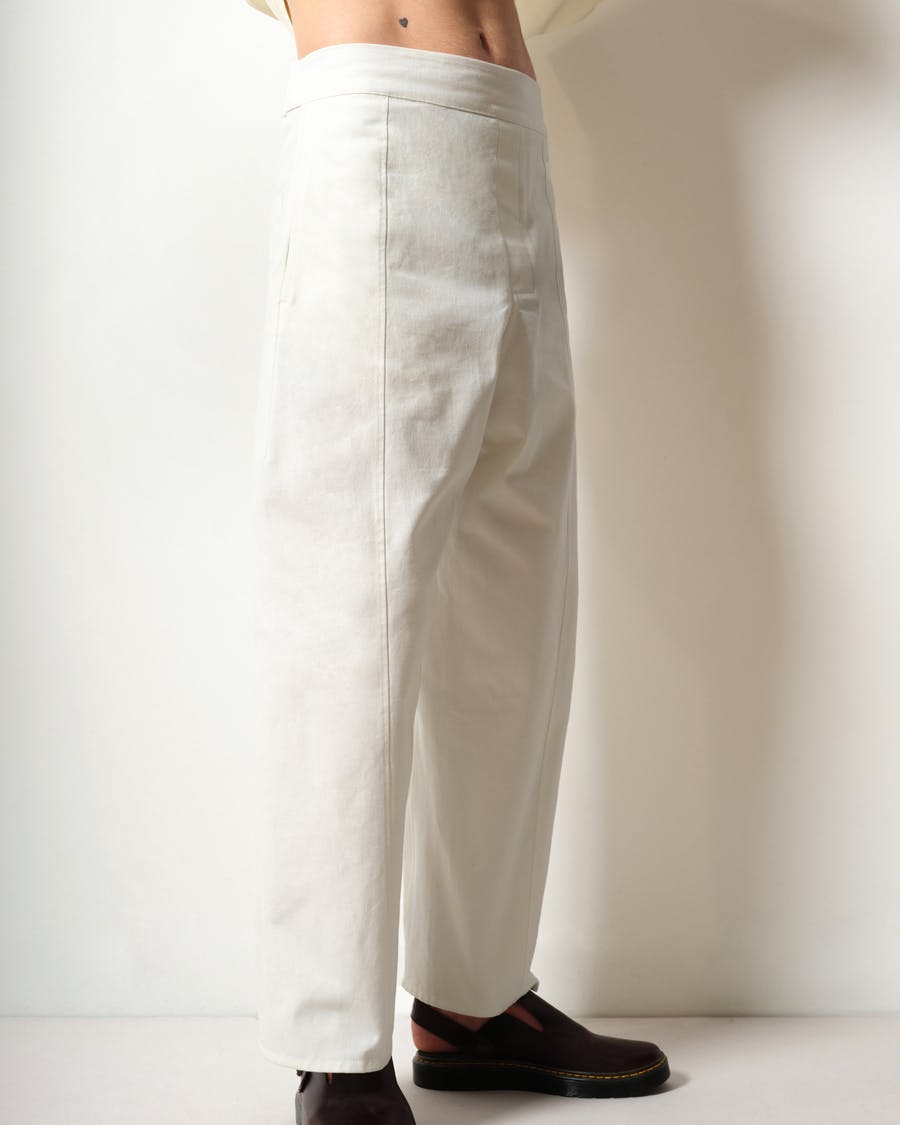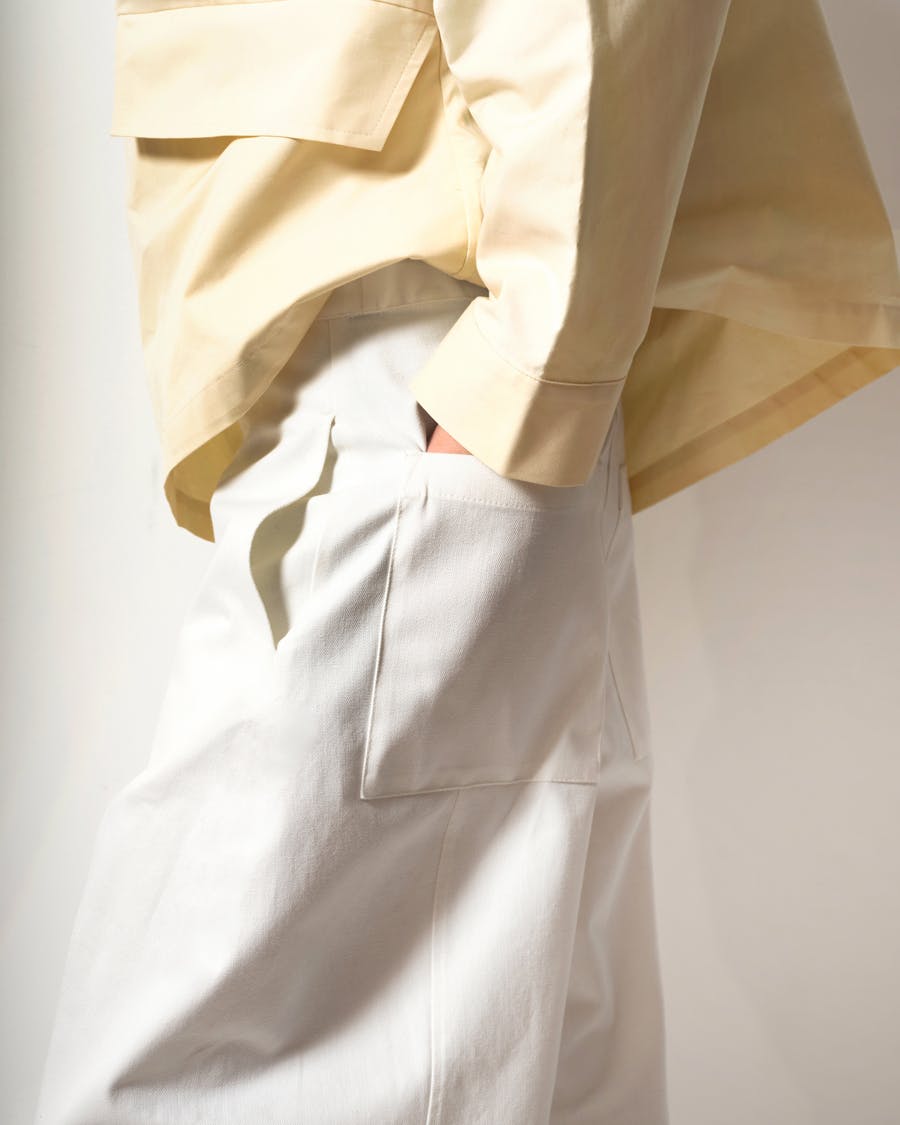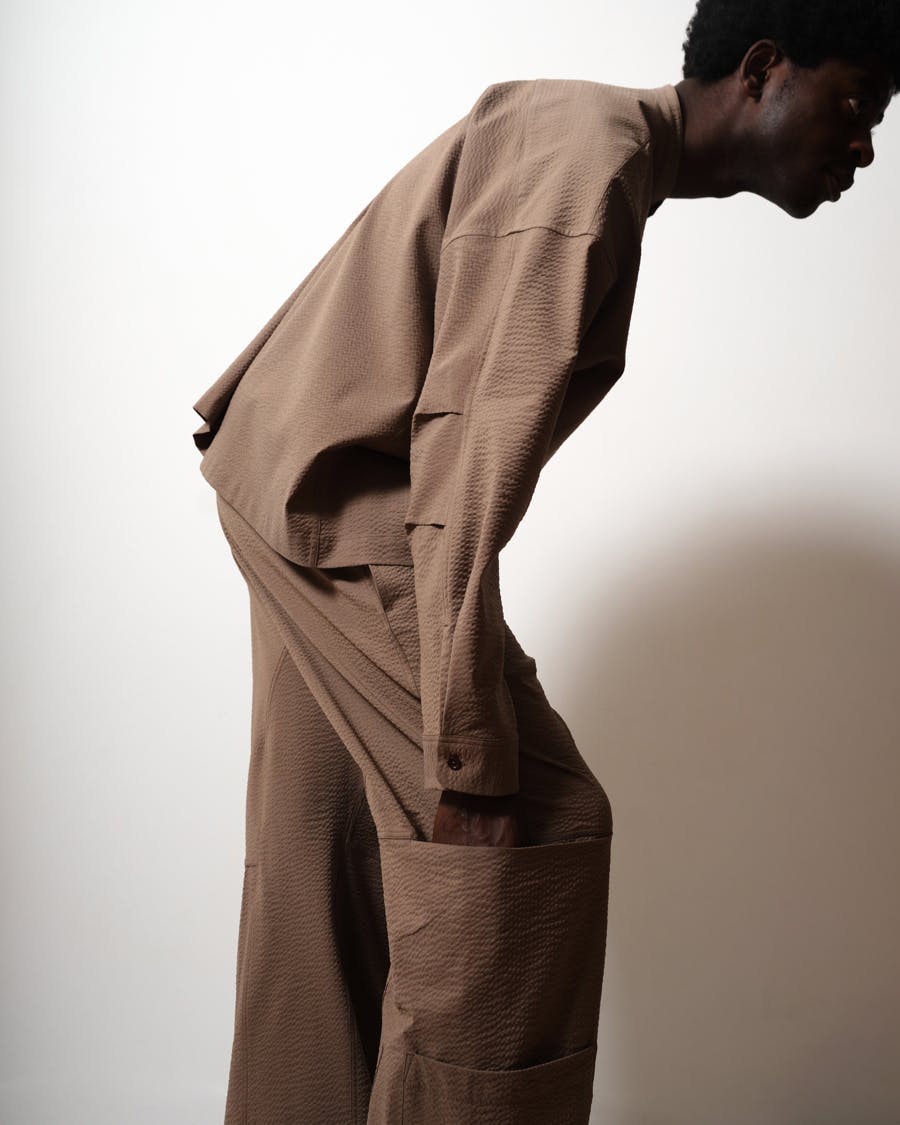 British designer Sage Nation cares little for labels. Menswear, womenswear, both, neither: who cares? All that really matters is quality, wearable apparel designed for real life.
That's what Nation creates with his eponymous brand, though he's long since discarded conventional menswear silhouettes in favor of meticulously sculpted new forms that're on full display in his Fall/Winter 2022 collection, "Formally Casuals."
"[This collection] felt like going back to basics in a way — really thinking about what the child in me gets excited about," Nation explained to Highsnobiety. "In my head, when forming this collection, I had this image of a Japanese salaryman meets Liverpudlian football hooligan. It makes no sense but so much sense at the same time."
Nation, who was born in Japan but grew up in the UK, has enjoyed surprisingly swift acceptance in the East, with his Spring/Summer 2022 collection picked up by a bevy of tastemaking boutiques after he began working with a Japanese showroom.
Perhaps its Nation's multi-cultural practice that makes his work so appealing to stylish folks on either side of the planet.
"Both worlds play a part in my upbringing and memories," Nation continued. "This is why the collection is called "Formally Casuals": Casuals referring to the British subculture of "Football casuals" that has really informed many of the archetypes we see today in fashion."
Like he demonstrated with a recent Helly Hansen team-up, Nation is particularly fond of terracewear, though he filters that inspiration through a lens shaped by Japanese streetwear and rendered exquisite by Japanese and British fabrics.
Nation renders these advanced shapes accessible through refined cuts.
This ethos is epitomized by his FW22 collection's lookbook, where his signature pieces are styled with future classics.
For instance, Nation's trim shirting — now fitted with scoop pockets — and generous trousers are layered beneath boxy chore coats in a surprising seersucker (it's not just for summer anymore) and delicate knit sweaters fitted with elbow cut-outs, unexpected ventilation for an insulating mid-layer.
One piece in particular stands out to Nation: "the body warmer/gilet made from 100% recycled Japanese nylon was a joy to bring to life," he said.
"It was really informed by a WWI military life jacket: we took the shape, stripped it back and used a Thermore lightweight down. This vest is very light — a great layering piece with texture and volume."
Of the staple pieces that're returning for FW22, few bring Nation as much pleasure as his Box Pleat Trouser, a loose-cut pant fitted with a cavernous box pleat on each leg, allowing for a shocking amount of volume in a relatively concise package.
"People have really started to associate the silhouette of that trouser with Sage Nation which brings me a lot of joy as a designer," Nation said. "That's really when you feel like you're getting somewhere with a certain design language — when someone can see a certain shape or a finishing and associate it with the brand. This is when you really start 'communicating' through design, as people say."
This reception hasn't changed Nation's approach to creation, admirable given the pressure that relative success often places on young independent designers.
"I wouldn't say [that the brand's expansion] has affected my creative process, really," he said. "I think good work is good work and the right people will be drawn to it regardless. However, my clothes are for people so it is important for me to stay in tune with what people's needs are in the contemporary world."
"I think good design comes from understanding people more than anything."