The opener of slowthai's biggest tune "T N Biscuits" is catchy. To angsty, full-bodied beats, it goes: "Drug dealer. I wear Nike, not Fila. Lean like Tower Pisa, I smile like Mona Lisa." There is indeed something about the 23-year old rapper from Northampton which makes you think of the Mona Lisa smile — the sense of mystery beneath the surface like he's the only one who's truly in on the joke. The vision of Mona Lisa with gold grills is spot on, but so is taking something from the grand corridors of the Louvre and dropping in into the context of estates and sweat-drenched grime gigs. slowthai is one of the sharpest voices of young Britain in these dark times, but what makes him so truly of the here and now is the ambiguity – he's a trickster with a swift punch of post-meme culture, but he is also unbelievably sincere, both in life and in music.
The day I chat with slowthai, he's on the phone from a train station, having just missed a train from London to his native Northampton. Located in East Midlands about 60 miles from London, the city has a special place in his heart. "Northampton is my home, there are so many things I love, my surroundings, the people who I grew up with. The air is clean, and there's no traffic," he muses. "I grew up on an estate, so it's a lot of kids just messing about, trying to make the most of what they have. There is not much to do, so you just have to be creative. I love everything that London has to offer but home would always be my place. The vibe that is, Northampton nets, it's just something in the air, in the water."
Not only does Northampton have the air and the water, but it also has a burgeoning grime scene which inspired slowthai from an early age. He remembers that everyone he's ever looked up to around him was doing music, although he's probably the only one among his mates who's stuck to it. Music has always been a part of the community, but for slowthai, it also has to deal with something deeper and more personal.
"I've always messed about with music, since I was a kid, but started doing it seriously from when I was like 20. It was always for fun innit. I always strive for happiness, and music was something which I found took away a lot of stress, allowed me to go into my head and actually get out what I was feeling," he says.
The punches and parables which end up on slowthai's records are very much part of his day-to-day existence; the words would come when he's walking down the street or making a sandwich. There is a springy energy to the way he speaks, frequently bursting into infectious laughter. Padded up with bitey tunes, his voice sometimes breaks into a rasp or reaches a high pitch like someone's shaking a glass cabinet. But on the phone, it's more like just chatting to a very excitable mate who you haven't heard from in a bit.
"For me, music is self-explanation, understanding shit," slowthai admits. "I get angry, and I'm that kind of person, I'm either really happy or really mad, there is no medium state. It's just how I feel, and I gotta express it. It's a release. If you've got it built up inside, you gotta release it: cry, go boxing, go scream into a pillow, bite your hand if it makes you feel better. But never bottle the shit up because it just gets worse."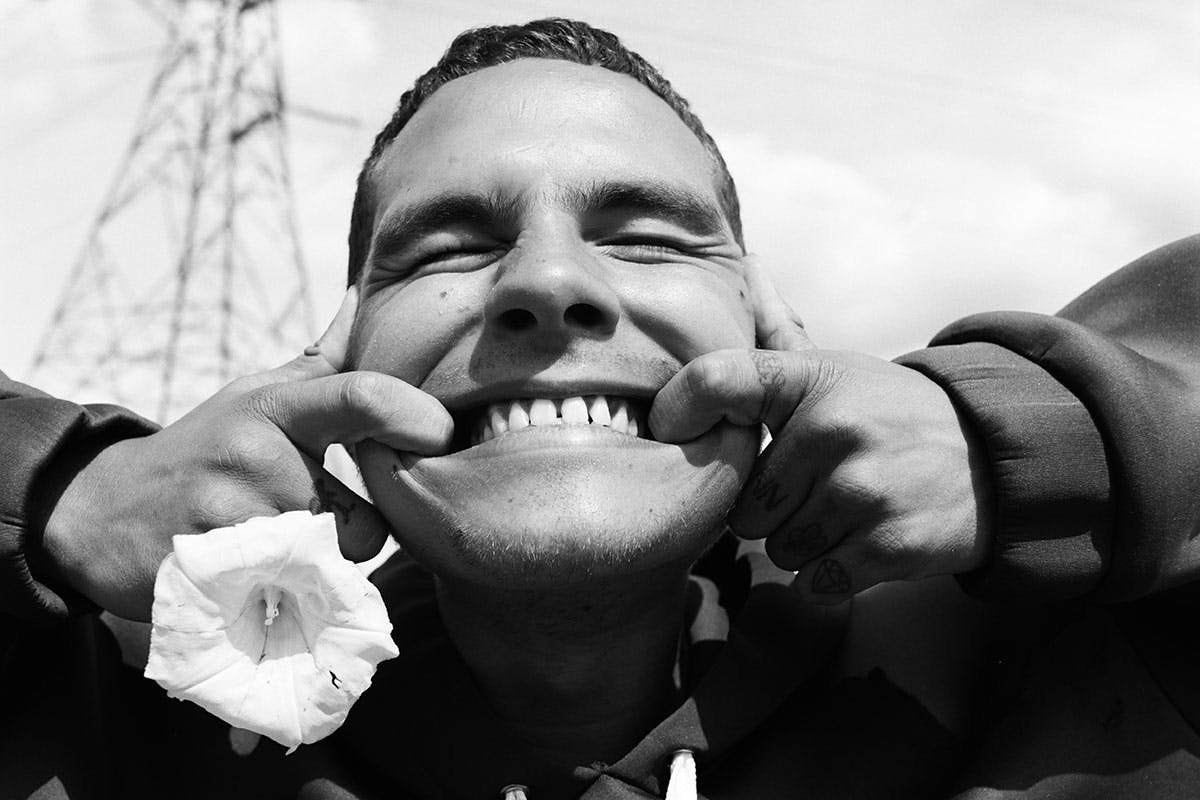 He considers the spectrum of polarized emotions for a moment; all the things mundane, beautiful, and infuriating which eventually end up in his tunes. "I'm most angry about stereotypes, the class system, people telling you the way you should live your life. You're born for a reason, and no one can tell you how to live!"
In the landscape of post-Brexit Britain, there is certainly a lot of bottled up anger. Unaffordable housing, inaccessible education, completely unreliable and non-relatable government — as a young person walking the streets of Northampton or any other city, you'd probably see a fairly grim future ahead of yourself. Social inequality in Britain is persistent both as a system which strips many of opportunities, but also as a set of toxic cultural myths. A few years back, then-prime minister David Cameron described the post-war housing estates as "brutal high-rise towers and dark alleyways" which were "a gift to criminals and drug dealers." For the ones in power, it's not about the real places and real people but the completely estranged periphery of society — and the hollow silhouette of the burnt Grenfell tower can be considered its devastating monument.
I think of slowthai on a train to Northampton, the person checking tickets probably getting a bit suspicious about a lad in tracksuit bottoms, rings, and tattoos across his fingers. Wherever he goes, he probably frequently faces social preconceptions. The dark determinism of one's origins lingers in slowthai's creative world. On "Drug Dealer," he raps "Teacher said 'what you gonna be when you're older?' Drug dealer - what else can I do?" In the video for "North Nights," he tries on aliases from A Clockwork Orange and La Haine in addition to a Stone Island jacket — all hints to violent boys abandoned by the system ("I've always worn tracksuits, tracksuit bottoms, the Air Max Nike, I've always been a Nike boy, always like street rags,", he adds about his style, both now and when he was younger). At the same time, slowthai easily dodges stereotypes. The universe he creates with his videos (with THE REST collective run by his cousin) and words is ambiguous and artistic. He acknowledges the circumstances he lives in and has the deepest love for his community — but he also proves that you can create yourself through your art.
At the end of our chat, I ask slowthai about his plans — one of those questions which we often drop mindlessly without thinking much. But the routine conversations are clearly not for him, he's got too much energy, too much vigor paired with a low tolerance for bullshit.
"My plans are, I'm just gonna literally fuck shit up," he explodes in laughter. "Then one day I no longer could exist, I'll be like an enigma I was once, and then I'd go to my shallow grave, it's only gonna be a foot deep, so I could rise up again. Then I'm gonna live happily ever after wherever's energy, whenever there's none of this classist bullshit!" I can sense he's grinning happily, waiting for his train to pull up at the station and take him home. "That's what the future holds."
For more of our interviews, read our chat with Ryan Hemsworth here.