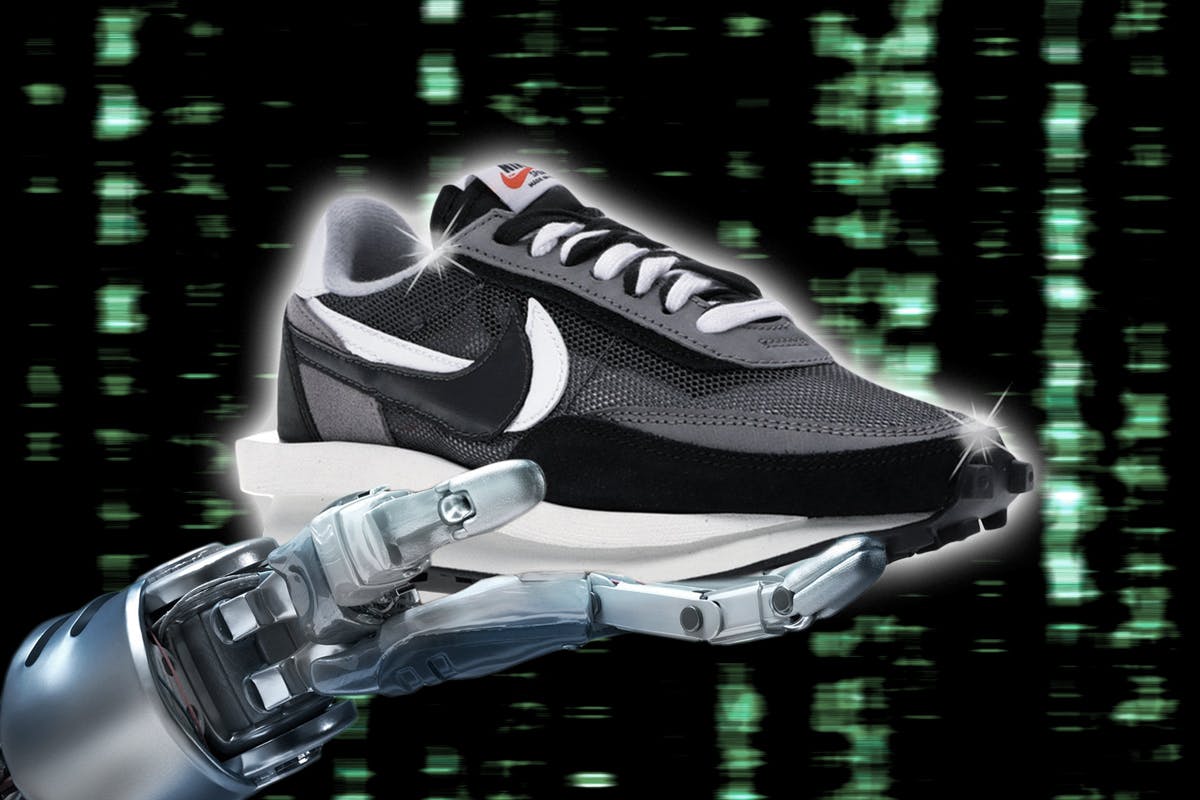 The easiest analogy to explain the reselling of sneakers is concert tickets; they often sell for more then their retail price, and some people use automated bots to buy them. The ticketing industry and the footwear industry are both plagued by the issue of bots.
Retailers, brands, and designers often speak out about the issue, including KAWS who recently posted saying he was cancelling and blocking orders made by bots. Berrics tricked one bot user into spending $11,000 on one shoe, while Kith used a similar bait-and-switch tactic to dupe someone into buying 21 pairs, or $1,700 worth of "Wheat" Jordan 1s.
All the while, bot services abound, as well as YouTube tutorials on how to use them. It's an ongoing grapple, with both sides consistently re-positioning to gain new ground.
So who is on the front lines of the sneaker bot war?
What are sneaker bots?
A sneaker bot is an application, or an automated script, which is used to speed up the checkout process when buying products online. While any computer can run a bot, servers are commonly used for speed.
Sneaker bots facilitate the purchasing of extremely limited items; in some cases these products make their way to the aftermarket where they are sold for profit. Many of these items are nearly impossible to buy without using bots, given that others are simultaneously "botting" the same items, so they sell out very fast.
The most commonly botted sites are Supreme, Footsites (Foot Locker, Champs, Eastbay and Footaction), and Shopify stores like YeezySupply and Dover Street Market, given that they regularly drop covetable items.
How do sneaker bots work?
In a nutshell, you enter your information into the bot (like your credit card details, name, delivery address etc) and then instruct the bot what to buy – this can be done in multiple ways, but the most common is to enter a URL link or keywords into the bot. Buyers will often search for early information (like the product URL) from so-called "cook groups," which provide support to botters.
Once the bot is initiated, it will automate the checkout process and purchase items quicker than is humanly possible – bots can checkout items in as little as 0.2 seconds.
As Erik Fagerlind from Sneakersnstuff previously pointed out to Highsnobiety: "In order for any release to actually be fair, everyone has to be using the same speed of internet. Moreover, everybody must be the same physical distance away from the servers, as that also effects the amount of time it takes to be first in line."
Although it sounds fairly simple, using sneaker bots can actually become quite complicated, as you usually have to use proxies and a server alongside the bot. A server is a virtual PC that you can use to run bots on, increasing their speeds and connection to the site. Proxies are unique IP addresses that can be used to make you seem like you are multiple people. If you wanted to mass-enter into an online queue to buy YEEZYs, for instance, more entries result in higher chances of completing your purchase. If you don't use proxies to appear as multiple buyers, the site is able to identify all entries are coming from one source, resulting in an IP ban.
Do sneaker bots guarantee you success?
No, they don't, as botters are now competing with other botters. Some site, such as adidas, YeezySupply and Nike, release their products with a raffle-based system. Each buyer enters a queue and then a small amount of people are randomly selected to purchase the item. While this might sound like it could eliminate the success of bots, this isn't the case, as they are also used to put mass entries into queues and raffles. So, while bots do not guarantee success, they drastically increase your chances of success.
Are sneaker bots illegal?
Bots aren't illegal, but they do go against a lot of sites' terms and conditions. Most sites actively make changes to try and combat sneaker bots. Supreme, Shopify, Nike, and adidas are very aware of bots, and regularly update their online protection against them. However, bots are usually quick to update their operating software, too, in order to bypass any new protective measures. These updates usually entail changes in coding that aim to tell the difference between a bot and a human user. Although sneaker bots are legal, this must not be confused with ticketing bots, which are illegal in the USA.
What are retailers doing to combat sneaker bots?
We spoke to Simon Lister, the marketing director at End Clothing, who says that sneaker bots are a "big focus" and that they've "implemented a number of solutions designed to make life more difficult for bots." When End release limited products, they do so through their new Launches Platform. Instead of having manic FCFS (first come, first served) online releases where bots will triumph, End have decided to let their customers enter a raffle – the lucky winners will be able to purchase the limited item. Simon asserts that releasing limited products like this is a way of "ensuring fairness for customers." A lot of other retailers have since followed suit.
Chris Bone, general manager of Livestock, shares a critical outlook on sneaker bots, referring to bot users as "vampires" who "suck the life out of whatever it is they're trying to make a buck off." Bone mentions that in-store releases and raffles are the way forward to combat the issue, stating that Livestock is constantly "working to get these releases into the right hands."
Some retailers are now also implementing CAPTCHAs onto their site to try and stop bots. Supreme recently tried this tactic, though it wasn't successful – bots now allow you to login to Gmail accounts, and if enough activity is monitored on the email account, the site will not ask you to solve a captcha.
We also spoke to Simon Bus from SNIPES, who mentions that the brand "uses a market-leading system to successfully block bots," and that "suspicious orders, which were classified technically flawless, are edited by our staff." This means that even if you manage to get passed their anti-bot protection, your order is still at risk of being cancelled.
Highsnobiety also reached out to JD Sports, Dover Street Market, and Foot Locker, who all declined to comment on what measures they are taking to combat sneaker bots.
How are bots staying ahead of retailers?
The best sneaker bots are sold out. One well-known example retails for £300 and is one of the most popular and successful bots; it is so hard to get that you will probably end up paying at least £4,000 to buy the bot from a reseller. Ironically, all of the best performing bots are extremely hard to get at retail – it is actually harder to purchase the best bots at retail value than it is to get an average pair of collectible sneakers like YEEZYs. Though the bots occasionally restock, due to the unprecedented demand for them, they sell out in seconds.
We tapped a UK-based bot developer who chose to remain anonymous, to ask what steps bot services are taking to stay ahead of retailers and brands. "I don't think that retailers will ever truly win this cat and mouse game of anti-bot protection. I put it down to 2 main factors. The first being that it is difficult and time-intensive for retailers and brands to tackle "patching" the plethora of bot methods out there. People working on bypassing bot protection systems will all have their own unique take on how to get about cracking it. This is the biggest pain point for anyone providing security against bots. Secondly, where there is money... there will be a way. There is so much money to be made in the botting industry, and with bots like Cyber boasting the fact that their users collectively spent over 30 million dollars in the last year, the money is definitely there."