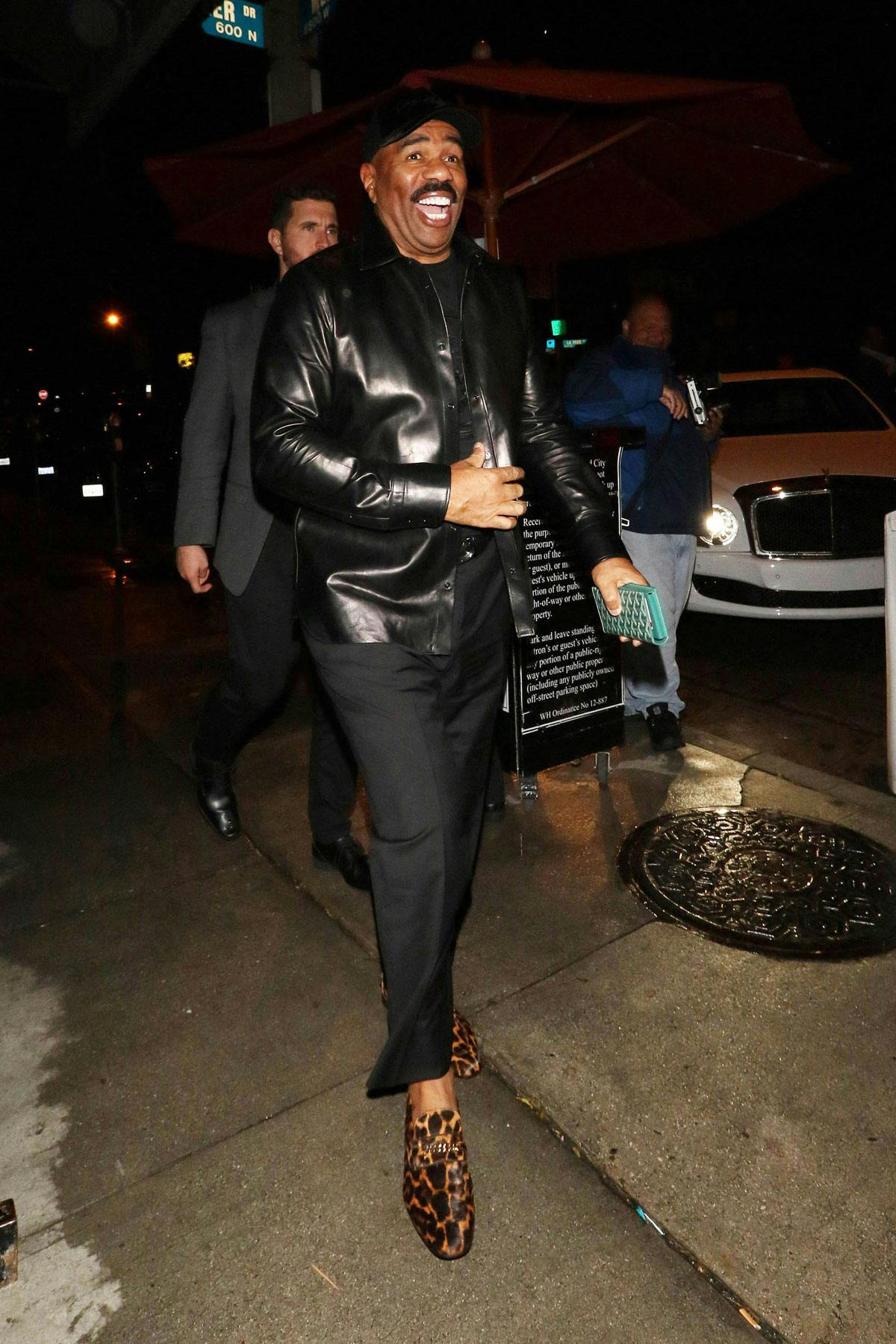 I can't believe I typed "Steve Harvey" and "Zaddy" in one fell swoop, but it must be said: Steve Harvey's style is peaking.
The Family Feud host has entered a stylish new era, one in which Berluti, Bottega Veneta, and Saint Laurent serve as his sartorial touchpoints.
Last week, Harvey inspired memes aplenty with an emerald green ensemble, courtesy of Daniel Lee, that made him look like a very suave supervillain.
Since then, the talk show personality has stepped out (in Paris, no less) wearing a satin Fendi coat, pastel Dolce & Gabbana (we'll forgive you, Steve), and head-to-toe Tom Ford.
Judging from Harvey's Instagram, he's feeling his oats, grains, and cereals.
We have stylist Elly Karamoh to thank for the star's modernized wardrobe, a far cry from, say, 2018-era Harvey — a dark year that saw him accessorize with a pork pie hat and a B.A.B. (Big Ass Backpack).
Karamoh, who also works with Tyler Perry, appears to have taken on Harvey as a client around 2020.
"Mr. Harvey has never being afraid of reinventing himself," an Instagram post by Karamoh from January 1, 2020 reads. "Stay tuned for @iamsteveHarveytv 's new 2.0 image. I am very excited and blessed to have been chosen to be his official new stylist."
Since then, Harvey has bodied iconic looks including but not limited to: post-rehearsal Balenciaga, this high-waisted Dubai 'fit, Amoako Boafo x Dior, a Dunhill kimono, and his most recent win, a royal blue Berluti jacket paired with extremely tight leather pants and Bottega Veneta combat boots.
Also noteworthy: whatever it is he wore to D&G's insanely tacky Alta Moda show (Once again, I'll give Steve a pass).
If you're thirsting for more Harvey hits, he very helpfully posted an Instagram sizzle reel, complete with a perfect caption: "THEY CALL ME BLUE CHEESE, CAUSE I BE DRESSING!"