When most people are in the market for a new candle, they make their selection based on the scent. But that's not the appeal of the Goober, a candle collaboration between Talbot & Yoon and Areaware that presents a charming collection of unscented paraffin wax with a burn time of 40 hours. The blobs have been a "runaway success" due to their distinct style and shape available in four offerings. Last year, Vox predicted that these types of "blobjects" would take over home decor and it seems that the prophecy is now being fulfilled as the Goober fills the shelves of the coolest concept stores in New York—it even made a special cameo in the Maggie Gyllenhaal-starring drama The Kindergarten Teacher.
When product designers Mark Talbot and Youngjin Yoon conceived the Goober in 2015, they were determined to "create an object that people would have some sort of feeling for as if it was a pet." Talbot describes their work as a split between "things that can get designed and modeled in the computer and things that get really worked out by hand and that are actually made and produced by hand." Yoon, a sculptor-turned-architect, has always been very hands-on when it comes to this particular line of work and in this case, she endured a vast amount of physical labor during an strenuous trial and error process based purely on emotions to get the Goober right.
The Goobers are almost like little characters with their own set of personality traits—Eph (pink) is "lazy" and likes to be seen on a window sill or bedside table, El (purple) is "curious" and thrives on mantles or coffee tables, Em (green) is "laid back" and opts for the ledge of a tub or a side table, and Eh (blue) is "apathetic" with no personal preference.
"It's almost a pet rock, but the single crease gives it what people feel like is a face, the arch of a back, or a belly," Talbot says over the phone. "Something that gives it a little humanity maybe, a kind of connection to people's bodies."
This charming detail is something that Lori Keong, commerce editor at SELF, picked up on as well. "The first thing that drew me was that they reminded me of the Venus of Willendorf," she stated. "They're undulating, come in soothing colors, and have a playfully feminine quality to them that resemble soft, fleshy bellies. They're almost disarmingly cute."
Keong sees the Goober as playing a larger role in pushing the "chubby design movement" forward because "the candle's rounded, pudgy design evokes a sense of cuddliness and warmth: it's a visual teddy bear." She also points out that blobby designs are thriving with a new demand for "sculptural, jar-less candles" with a less overpowering aroma.
Deirdre Braun, a New York-based motion designer, was also drawn to the shape of the Goober with its heavily stylized features. "The liquidy appearance is very satisfying," she wrote in an email. "They look like they're made of icing or jello, which makes them very playful and unexpected, knowing that they're solid forms."
At the moment, Braun is more interested in candles for the purpose of interior decorating. She immediately took a liking to Eph as a symmetrical piece above the fireplace in her new apartment. "The color is so pretty and I love her beautiful curves," she says. "Whenever I look at it, I ask myself if I'll ever actually light it. She's just too precious, but I'd love to see her glow! I guess I feel... conflicted?"
When Talbot & Yoon initially introduced the candles at craft shows and flea markets, they were surprised by some of the negative responses to the Goober. According to Talbot, "some people had these reactions to them where they looked at us as if we were perverts, like we were selling smut or pornography at these flea markets for children." Instead of looking at the shapes as cute, friendly, and harmless as originally intended, they were being viewed as erotic objects.
"What's kind of interesting about them is that although the shapes of them are extremely specific and we feel about them a certain way, it definitely does not translate to everybody," Talbot laughs. "I know this is a very judgmental thing to say, but I would actually say that people that think that they're perverse have a problem."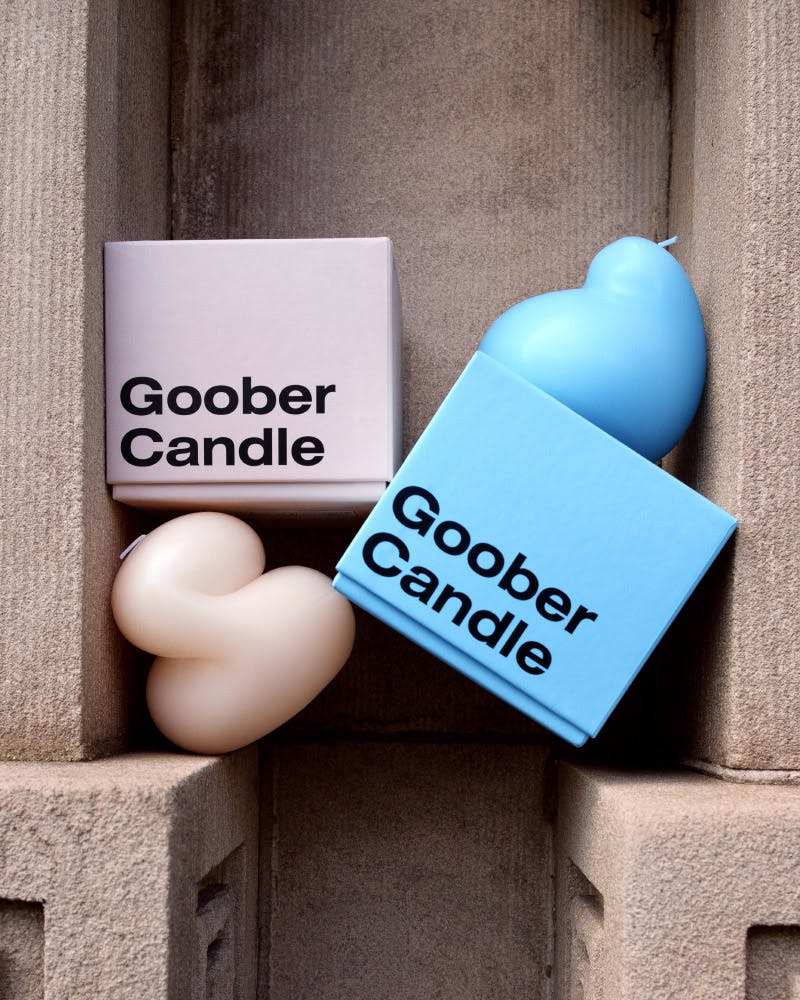 Coming Soon owners Fabiana Faria and Helena Barquet are equally obsessed with the "little sculptures." Barquet describes the shapes as "so yummy" that you just want to bite them. "They're like little pets," she squeals. "They're so cute, you don't even want to burn them!" She also points out how "it's a very personal thing to give somebody a scent" so the Goober is an ideal gift, especially if the receiver isn't your stereotypical candle lover.
Faria insists that the most exciting element of the Goober comes from burning them because the wax gets even weirder as it melts. "When the candle is burnt inside of it, it still has a little bit of a shell," she adds. "It has a really nice glow so they're worth burning."
Someone once told Talbot that the way in which the Goober glowed from the inside sort of "looked like they had souls," an idea that the couple now finds endearing. The concept supports Talbot & Yoon's value proposition to put more empathetic objects into the world as opposed to random items that simply look nice for the sake of it.
"It's not hard to get something that can fulfill the function of a nice candle or a nice vase or a nice candlestick holder... There's not a ton of stuff out there, at least in my understanding, that makes you feel any specific way about it other than that's nice," Talbot explains. "The place to start is by making things that look kind of human-ish like bodies or animals, things that are curvy rather than rectilinear, smooth rather than faceted. I think those are the types of shapes that bring those feelings out of people a little bit more because let's face it, the most interesting things to people is people, it's always been true."
While the lack of scent could be observed as the driving force for a new direction in design, the overall aesthetic of the Goober speaks to something bigger that digs deeper than candles.
"I'm not adult enough to actually purchase expensive objéts d'art, but this candle pretty much serves as that," concludes Braun. "I think a lot of millennials want sophisticated decor that isn't pricey, and I would direct those in search of such an item to the Goober candle selection."