Under the Radar is Highsnobiety's weekly celebration of upcoming talent brought to you by Avión Tequila. Each week, we're spotlighting an emerging brand that's bringing something new to the worlds of streetwear and fashion.
"Good design is often achieved when something is stripped of embellishments and superfluous details. So much of the technical performance of a piece already exists just in the fabric, so this liberates me as designer from the preoccupation of function," says Rob Maniscalo, one of the founders of Australian-Belgian outerwear label Templa. "The key function is in the fabric. This allows me to design entire stories focusing on silhouettes and shapes knowing that the function is built-in before I've started."
Founded a little under two years ago by Maniscalo, Dellano Pereira, and Anati Rakocz, the three know a thing or two about making true "designer" gear—they cut their teeth working for acclaimed designers like Ann Demeulemeester, Haider Ackermann, and Claude Maus. With Templa, the three bring a new perspective to snowboard performance clothing.
"Our vision is simple: We want to create thoughtful collections, aptly engineered for extreme alpine sports, with an attitude and aesthetic that can be worn off the mountains," says Dellano Pereira. "This is the Templa signature. It looks and feels like fashion, but it performs like technical outerwear."
Templa's raison d'être is to speak to snowboarders and skiers who don't just want their gear to withstand the elements, but also look really good. In the same way people take the sheer amount of technology embedded in today's smartphones for granted, Templa's approach to outerwear assumes that function is already expected by consumers in their clothes, but form can help enhance the relationship between the two.
"It should look and feel effortless, like a ballet dancer is trained to smile and gracefully finish their pirouette," adds Rakocz. "We all know it's hard work and nothing is for granted."
Pereira cites the myriad of luxury ski-inspired labels that speak to this type of consumer. He's a snowboarder while Maniscalo is a skier, and Rakocz admittedly hasn't been on the slopes since a trip to St. Moritz as a 12-year-old, so it's safe to say she represents the more casual consumer. These varying perspectives inject a bit of elasticity into Templa's brand ethos. In the same way a label like Supreme touches skating without being defined by it, Templa similarly straddles the lines between snowboarding, skiing, fashion, and outdoor apparel.
Consider Templa's third collection, a techwear nerd's dream. It melds taped seams with weatherproof fabrics, clean lines, and design details like subtly oversized zippers that turn a standard MA-1 bomber silhouette into a true object of desire. In the same vein that brands like Arc'Teryx Veilance and ACRONYM make garments that seemingly "overperform," Templa also strikes that sweet spot between innovative prowess and forward-thinking design codes.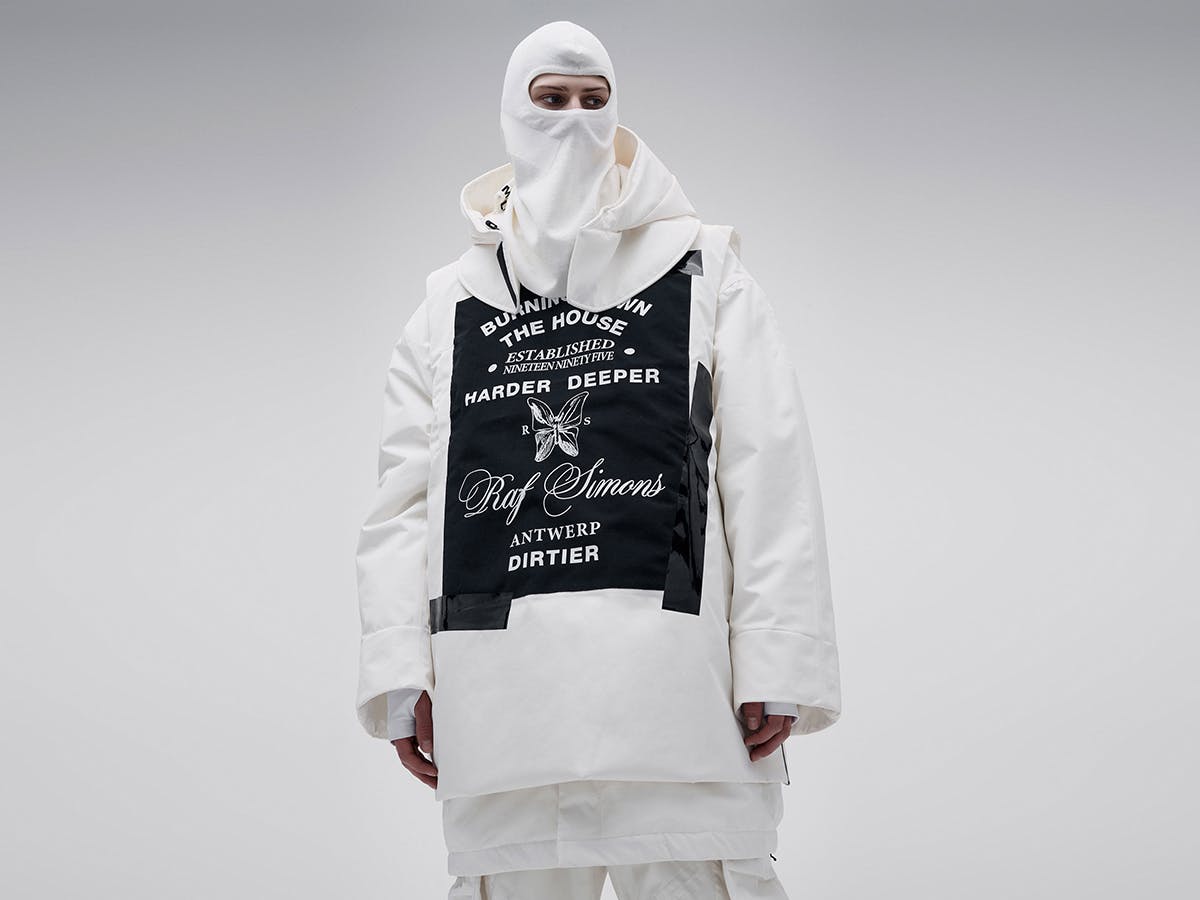 "I like pieces that focus on minimal shapes that don't look functional or technical," says Maniscalo. "The knowledge they'll keep you dry and warm in an ice storm is a hidden benefit."
To Templa's credit, their clothing has proven to exceed the standards of the demanding outdoor industry. In 2018 it won the ISPO Brandnew Award in the apparel category, an honor bestowed upon promising start-ups by one of the industry's premier trade fairs. Previous winners include GoPro and Nixon.
"When we won the highly respected ISPO award, it was a tremendous acknowledgment for our brand," says Rakocz. "These juries see so many innovations and design, it was really a highlight in our brand's evolution."
For Maniscalo, the impetus to start Templa came from a desire to really merge the worlds of outdoor brands and fashion, so the ISPO win certainly helped prove the label was going in the right direction. A fifteen-year fashion industry veteran, he admits that he questioned whether the world truly needed another clothing brand.
"I wanted to only start something if it had a true unique point of difference. Something that challenged standard conventions about fashion, function and usability. I've had a love affair with mountains, equal to that of fashion, so I started to work on the idea of a brand that merged both," says Maniscalo.
Building on the desire to merge an appreciation of nature with an appreciation of aesthetics, Templa is also following in the footsteps of other acclaimed outdoor labels by championing environmentally-sound practices as best they can, remaining hyper-cognizant of how they manufacture their garments, and ensuring they work with the best partners to keep them accountable for those goals.
"I think sustainability and being purpose-driven go hand in hand. The fashion and apparel landscape is evolving towards considered consumption," says Maniscalo. "Sustainability should be a critical factor for all brands, but especially to a brand that celebrates the outdoors."
"As an outdoor performance brand, the preservation of our environment is both an ethical and commercial obligation for our team. There are many inspiring companies out there pioneering new technologies and new processes who share our values regarding sustainability. It just takes commitment and a curious nature to find them," adds Pereira.
Some of the partners Templa works with include specialized mills like Sympatex and Primaloft, who are at the forefront of sustainable textiles while also offering some of the highest-rated materials in weather resistance and breathability. Sympatex's fabric membranes and laminates are 100% recyclable and in many cases carbon neutral. Further, Maniscalo believes we're just scratching the surface of sustainable technical textiles. It's a lane where he hopes Templa can really push innovation further.
But perhaps one of Templa's most high-profile partner to date is acclaimed Belgian designer Raf Simons. During the men's shows in Paris in January, Templa debuted its first capsule collection with Simons. Built as a system, the pieces are essentially a modular approach to snowboard gear. Wadded overcoats and shell jackets can be paired with merino wool balaclavas and oversized technical fleece tanks emblazoned with some of Simons' trademark graphics.
"Raf is a pioneer in the exact principles I'm exploring with Templa," says Maniscalo. "I think the reason this collaboration was appealing to Raf is because he enjoys newness. The first thing Raf said was: 'What do you want to do?' It set the agenda for an unhindered explorative journey."
Maniscalo spent several months bouncing between Simons' Antwerp studio and working with very specific textile manufacturers and knitting mills in Italy. Some nights the two would work together into the early morning, before Maniscalo had to catch a 4 a.m. flight to meet with Italian factories. Simons is no stranger to pushing the boundaries of textile production, as evidenced in his days at Dior spent turning Sterling Ruby's colorful gradient art into show-stopping couture dresses.
"The whole premise of Templa is to challenge and disrupt notions of purpose and function. Raf opened up my understanding of how limitless that concept is. Working with Raf brought on a fearlessness that quashed any concerns about the antiquated establishment," adds Maniscalo. "The challenge was to design a collection that was equally uncompromising conceptually and aesthetically and still maintain the highest level of function for skiing and boarding. Raf said the designs are not to be compromised, we just needed to work out how to integrate everything."
In order to do so, Maniscalo and Simons chose fabrics that looked more natural and technical, exploring different kinds of yarns and leathers but putting them in a performance context. Items like the wool tees from the capsule are made from merino wool, but are finished with a special eco-teflon that adds the same tape-like flourishes seen in many of Simons' latest collections.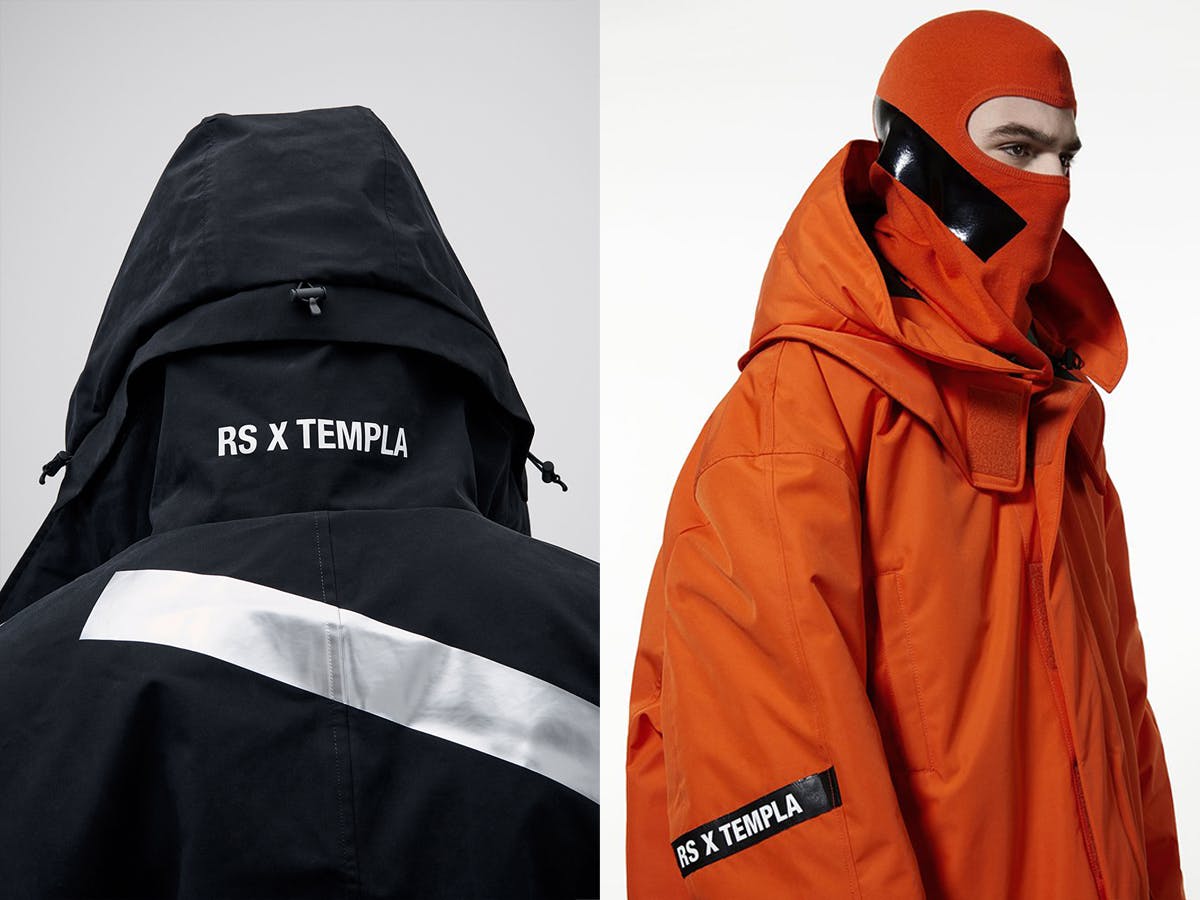 "To see the collection come to fruition has blown my mind," beams Maniscalo. "I have worn some of the pieces in cities and tested them in brutally extreme alpine conditions. In both these environments it became apparent just how different and unique this collaboration is."
And Maniscalo isn't alone in seeing how truly special these pieces are. The entire Templa x Raf Simons collaboration has already sold out on its website. As a fledgling label, Templa's well-defined identity, strong sense of purpose, and ability to elevate performance-built products to a new level of luxury show why it has serious staying power.
"Customer's don't buy brands. They join brands. Brands are tribes and they are defined by the collective perceptions of audiences that elect to either join or reject them," says Pereira.
He believes that for any brand to reach its full potential, it must answer four key questions:
1. What do we do? 2. Who are we creating it for? 3. Which other brands are competing for the same customer with a similar offer to ours? 4. Why should our customers choose us?
"The answer to the fourth question is an organization's reason for existing," he continues. "It is the hallmark of any coveted brand and it requires conviction and consistency to bring it to life. It's not what we are creating that is unique. Rather, it's who we are creating it for and why that sets us apart from the rest of the competition in our space."
Avión Single Origin Tequila is the ultra-premium tequila that defines a new standard of quality and taste. It is from single source rare Blue Weber agave, in the highest elevations of Jalisco, Mexico – Jesus Maria. Avión's distinct flavors are created slowly in small batches using a meticulous, time-intensive distilling process and proprietary ultra-slow filtration.