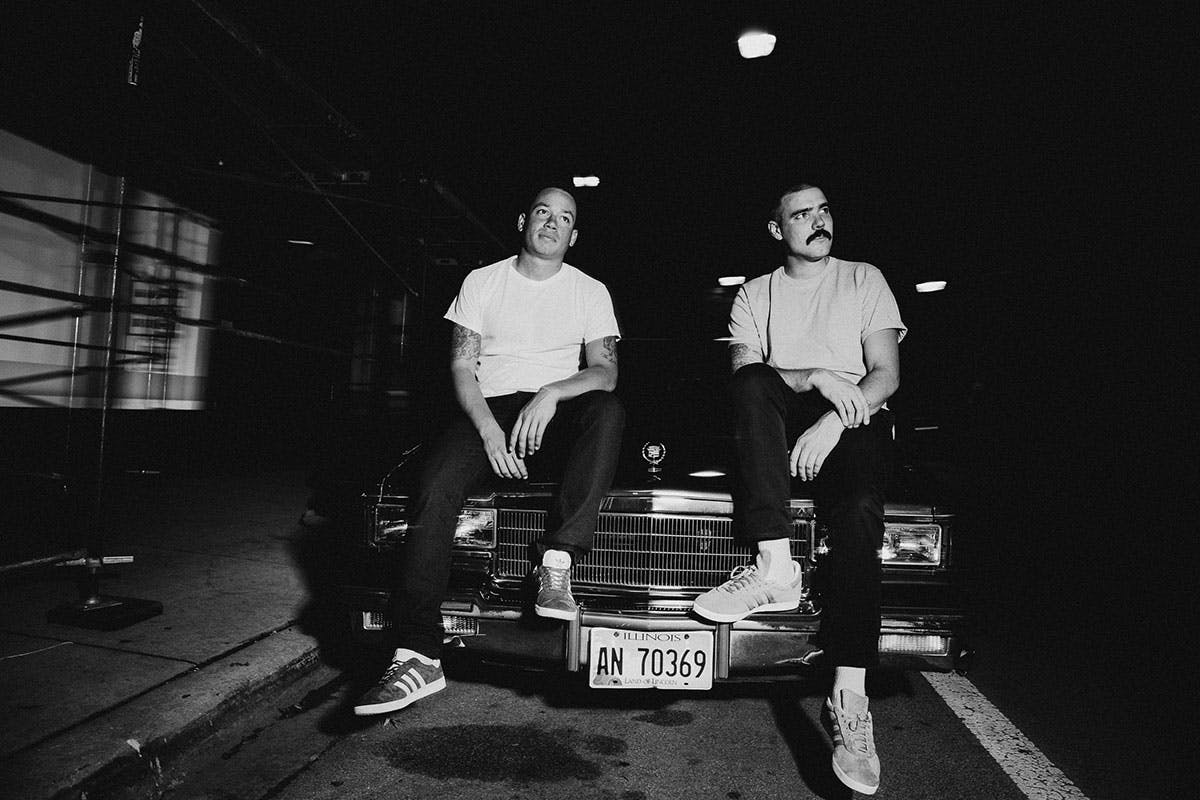 Under the Radar is Highsnobiety's celebration of upcoming talent. Each week, we're spotlighting a rising artist who is bringing something new to the world of music and is capturing our hearts and minds (and ears). This week, we're featuring The O'My's, a soul duo at the forefront of their hometown Chicago's artistic renaissance.
The falsetto that welcomes listeners on "Starship" feels as close to heaven as we can imagine. As the chorus parts like pristine white clouds, the singular, soulful voice of Maceo Haymes emerges with a simple request: "Blessings when we both meet, we just want to be free." From this gentle, angelic opening, eleven tracks of pure Chicago soul music flow free across The O'My's latest album, Tomorrow.
Crafted with love by Maceo and bandmate Nick Hennessey, their return to music could feel almost sonically confusing to the casual listener. Besides a few punches of high-energy vocals from the likes of Saba and Chicago superstar Chance the Rapper, the music of The O'My's feels like a time capsule from a bygone era. An era where soul music reigned supreme and lyrical craftmanship left us with songs that felt as sensual as a bearskin rug in front of a fire. It's a far cry from our modern embrace of tracks about "fuckin' ho's" and buying a woman a "sick truck" in exchange for a quick "dick suck."
That isn't to say there is no time and place for that kind of lowbrow lyricism but, listening to the luscious, emotionally-laden lyrics that accompany The O'My's' mellow music, it's easy to see why the duo have found such a devoted following in their Chicago community. In the decade since they began the band, Maceo and Nick have maintained a steady consistency and, with a sound as sweet as a slow dance, they've endured through a near-constant upheaval in the landscape of modern music.
As they prepared to go on tour to celebrate the release of Tomorrow, we caught up with Maceo and Nick talk the albums that shaped their childhood, working with Chance the Rapper, and nearly taking on a career in carpentry.
On your new album, 'Tomorrow,' you have Chance the Rapper on a track. He's one of the biggest artists from Chicago right now. How did you first meet him?
Nick Hennessey: The first time we met him was at the Kids These Days [show]. We were opening up for them, and I think it was a private show for some kid's high-school graduation. We were in the back and I remember the first thing he did was introduce himself to Maceo as a soul singer, so he must have known Maceo already. He said, "Hey I'm Chance, like the soul singer," and everybody laughed in the room, I didn't know it was a joke until all of his friends laughed. He was rapping with Vic Mensa, who was [in] Kids These Days, on stage throughout the whole night.
That was before I knew the song "Nostalgia." That had already come out, but 10 Day hadn't come out. "Nostalgia" had come out originally as part of 5 Day. A couple months later, he was coming out with 10 Day and we were working on a project called Chicago Style, and he came in the studio and completely understood the story and the song that Maceo had written and added a perfect piece to it. That was our first time working with him and that was the beginning of a long relationship.
What is it like working with him?
Maceo Haymes: It was pretty effortless. We've collaborated with Chance a number of times and when you've been working on a song for a while, and it holds a lot of significance to you, but you know that you need another voice on it [and] there's another part of the story that needs to be filled… to trust somebody to do that is pretty hard to do. Fortunately, it's a testament to what a great artist and collaborator he is — he never missed the mark. He's always gotten to the meat of what the song is about.
Your music sounds like it came out of a different generation. What albums influenced you when you were kids?
NH: Growing up in my house, we weren't allowed to touch the stereo. It was whatever my parents were listening to and it was mostly old soul, James Brown, and Curtis Mayfield — a lot of disco and funk and Latin music. That definitely influenced my musical tastes and interests when I started giving in to it.
MH: I had a little bit more control of the sound system, but definitely my Dad was really into music and had a huge music collection too. Everything that he was playing was a huge influence. Two of the main records that my Dad had on vinyl that didn't make sense to me at first were one by Sly and Family Stone and Boogie Down Production's Criminal Minded. Those were two [records] that I had to know everything about. I needed to figure out what was going on.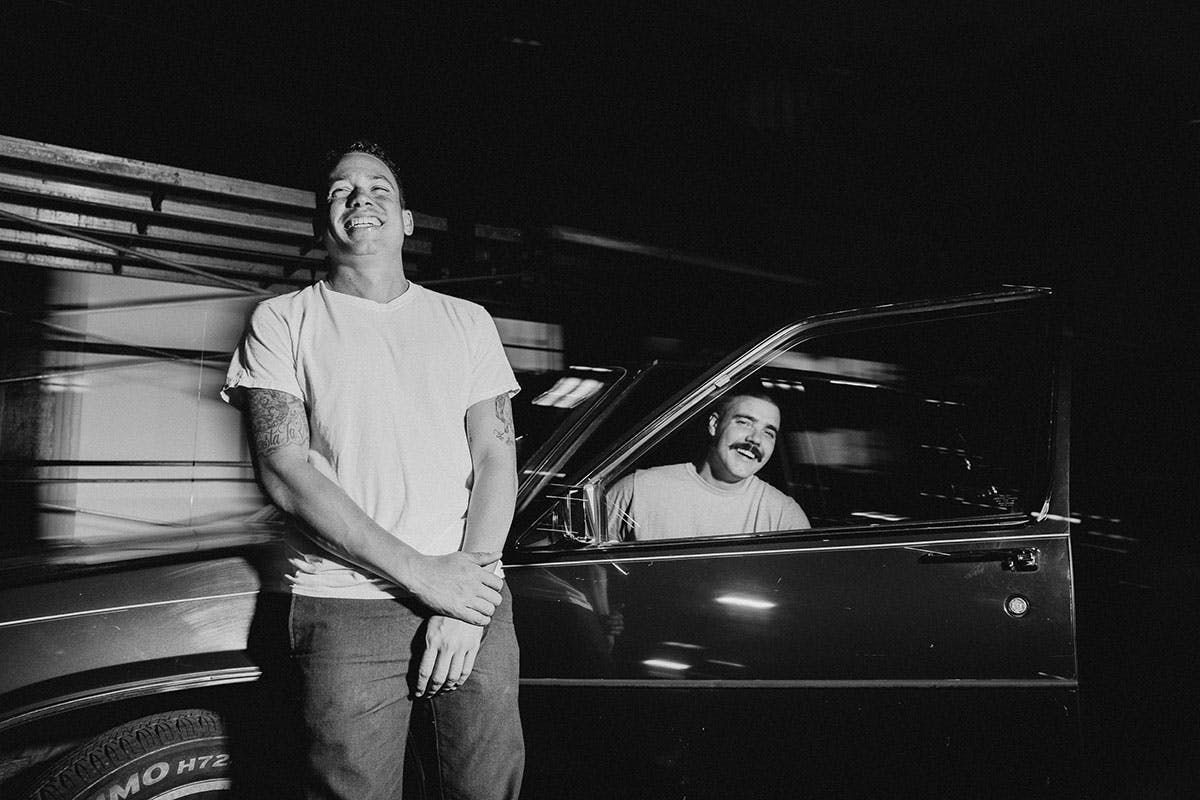 Was there any album in particular that made you want to create music?
MH: Yeah. I think Nick and I, before even knowing each other or decided to make music with each other, had an album called Humble Masterpiece by Cody Chesnutt.
NH: Headphone Masterpiece.
MH: Oh, sorry. Headphone Masterpiece, yeah, I apologize. We both found it separately, but it had all the elements. It was soulful, honest, really intimate, but then spread across a bunch of different genres. The thing that drew me to it the most [and] made me want to start making my own music was that it was really accessible.
You could tell that he was making it himself in his home. Some of it was crude, some of it was really beautiful — all of it was really beautiful. I was like, "Oh wow, this guy can be making this amazing music by himself in whatever part of the world. Let me try my hand at it." It made the recording process feel possible.
How would you describe the vibe of the album in one sentence?
MH: I think it would probably be: nostalgic, joyful, love songs from the living room. That's where they all started from.
NH: Yeah. I like that. I would go in a different direction, like… sincere and honest. Direct lyrics with expansive and lush music.
If each of you could work with an artist, living or dead, who would it be?
MH: I would love to work with Curtis Mayfield. He was a voice that I grew up with my whole life, and I know that whatever I was working on with him, it would translate to an abundance of knowledge and wisdom.
NH: Yeah that's a good one. I think other than Curtis, [who] popped into my head also, it would be André 3000. To actually get to sit down and pick his brain and make a song with that man would be… wild.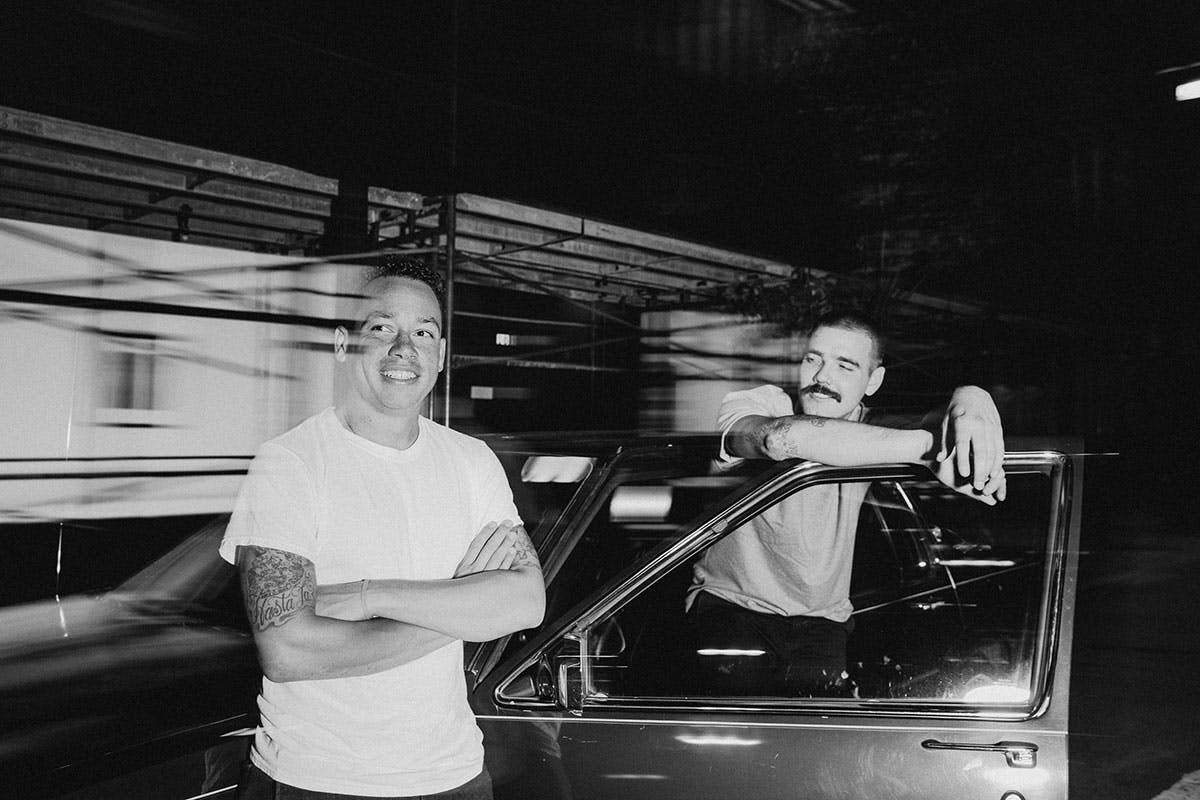 I'm curious… if you hadn't gone into music, do you know what you would want to do instead?
MH: I've been a musician or only thinking about making music for so long that I'm not sure what else I would be useful doing. I couldn't imagine clocking in everyday to something else.
NH: Yeah, any of the other options that pop into my head are other struggling artist things. At a younger age, I envisioned myself being an artist of a different kind. I love visual arts. I've always liked murals [and] graffiti, but always actually played music and that was the one that was the most promising. So that's where I'm at now. Other than that, I think I'd just be doing carpentry, which is a beautiful thing to do, but it's hard, hard work and not the type of schedule that I'm as prone to enjoying.
You guys both grew up in Chicago. How did the city's music scene influence you?
MH: I think it's been one of the biggest blessings. When we started making music together, we didn't really know what we were trying to make. As we started to put our music out there, [and] start playing shows, we started to see a community of other artists. Its grown exponentially since and it's helped us grow — it's a really fluid and collaborative community. Everybody knows each other either through music.
Tell me about how you met.
NH: That was all the way back in high school. We both went to different high schools in the same neighborhood, and one kid ended up getting kicked out of the school that Maceo was going to, [and then] he ended up at the school that I was going to. His previous crew of friends, and his new crew of friends all got thrown together.
Maceo and I were in the same room for a year and a half before ever making any music together. A mutual friend of ours just kept pushing us to sit down and share each other's half-finished songs that we'd been working on, because he'd been hearing them from both of us. Maceo got studio time from some kid, and convinced a kid at his school to invest in a band that he hadn't actually made yet and help him make a project that he hadn't written yet. We ran into each other at Lollapalooza in 2007 and I wrote my phone number on his arm. Two weeks later we recorded our first demo.
That's the way it goes sometimes. Chicago gets a lot of bad press and the media tends to focus on violence there. What's the side of the city that you know that isn't shown in the media?
MH: In the summer, you see every community within the city come out and enjoy each other, love each other, help each other grow. There's a lot of really beautiful people that do a lot of positive work here. Our music wouldn't be here without any of that.
You can catch The O'My's next week on October 17 at Rough Trade in Brooklyn. For more info, head here.
Be sure to check out the previous edition of our Under the Radar series with Mahalia.