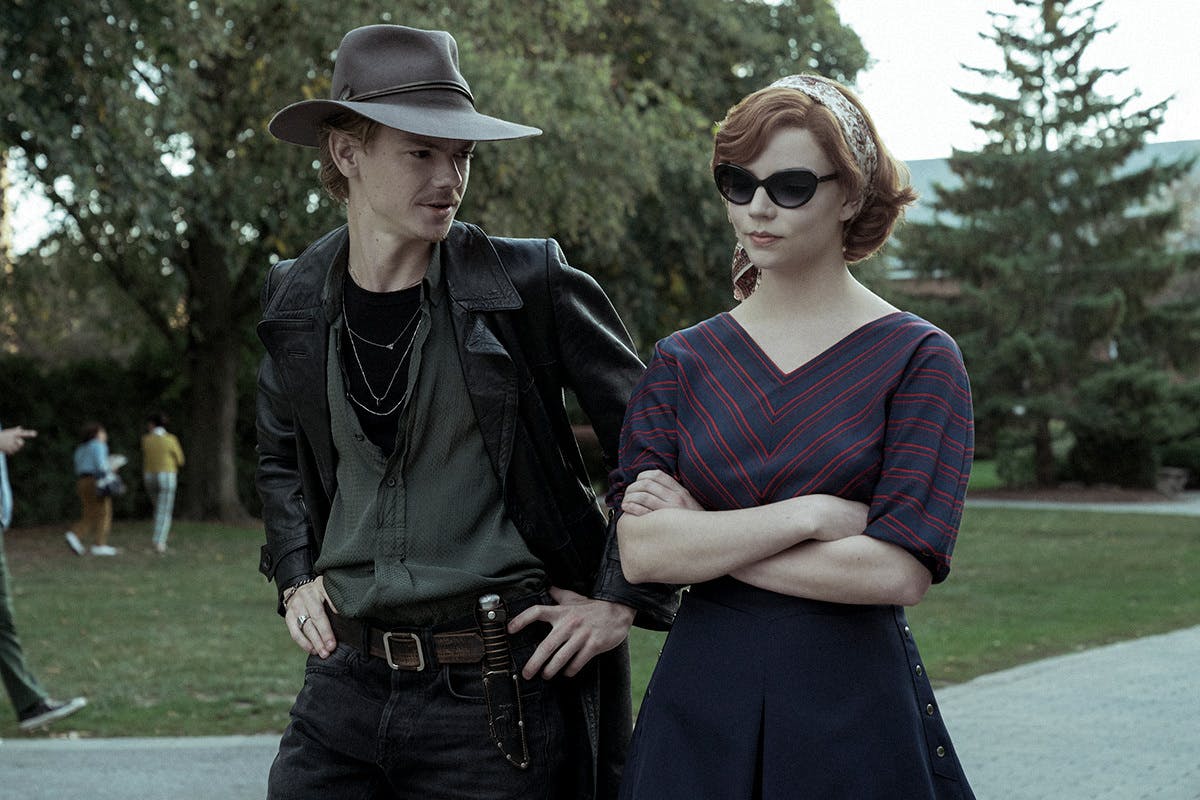 From Ingmar Bergman's The Seventh Seal to DJ Muggs and GZA's Grandmasters album, or that time Arcade Fire randomly name-checked Garry Kasparov on The Suburbs, chess never strays too far from the pop culture conversation. But now, thanks to a new TV show, it's officially popping off.
After the comically-bad-but-weirdly-watchable sensation that was Emily in Paris, Netflix has come through with the ideal palate cleanser in The Queen's Gambit. Not a cellphone for selfies in sight, just people playing wholesome board games.
The mini-drama, which currently boasts a 100 percent approval rating on Rotten Tomatoes, follows orphaned chess prodigy Beth Harmon (Anya Taylor-Joy) throughout the fifties and sixties as she battles all kinds of smart alecks, many of them misogynistic dweebs, during her ascension to the game's summit. The storyline is good, but the period costumes and styling is even better. Think of the Mad Men era, but with added Librium and cool kids who look like they've time-traveled from a Noah lookbook.
While Taylor-Joy's character has been stealing the fashion headlines with her Pierre Cardin-homages and impeccable coats, when it comes to the guys, there is one wildcard who shuns the geeky, prep de rigueur of the times in favor of something else entirely. His name is Benny Watts (Thomas Brodie-Sangster) and you might call him the Omar Little of chess.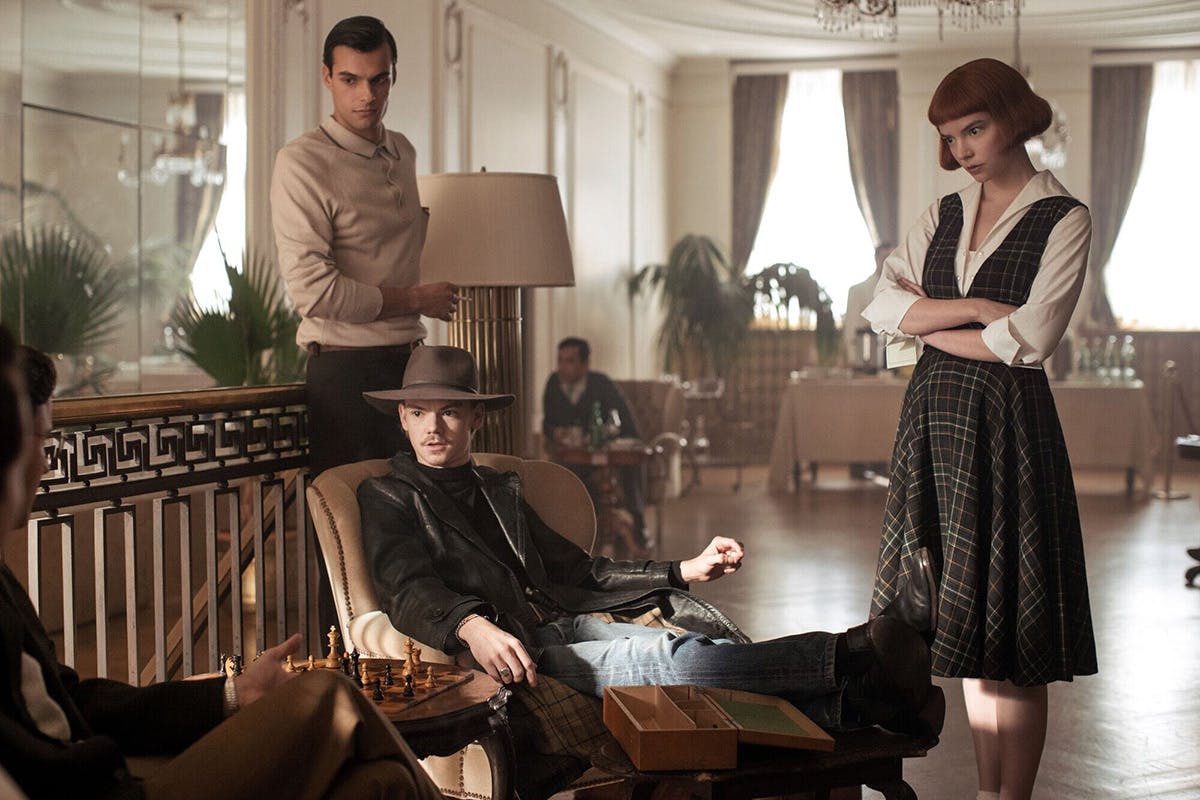 Appearing as Harmon's first real rival, Watts is a brilliant mind, a US chess champion, and the type of fellow who is always strapped with a hunting knife because, well, he's from New York, baby! With his fedora, numerous chains, signet ring, and black leather trench coat, Watts is like a cross between Crocodile Dundee, The Undertaker, and a Queens of the Stone Age guitar tech. He is what Anthony Vaccarello sees when he goes to sleep at night. Yes, he can be obnoxious on occasion, but wouldn't you be if you were the nation's champion and dressed like that?
Of Watts, Gabriele Binder, the costume designer behind the show's looks, told Vogue: "I imagined Benny Watts be connected to Andy Warhol's Factory, and part of the era's art and music scenes. He's so different from everybody else; he is not the 'chess geek' like the other guys—as with Beth, he is an outsider." In that case, maybe The Velvet Underground and CBGB's is more his bag.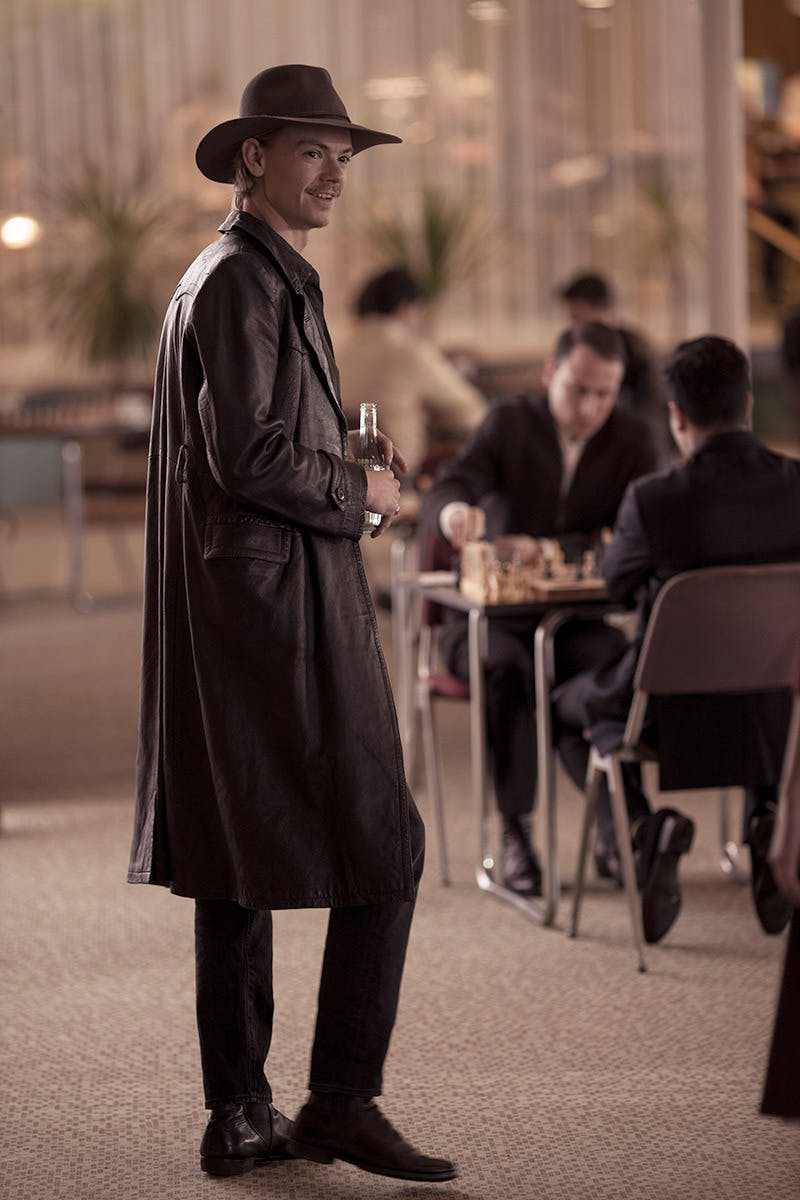 Now 30 (!), it's crazy to think was over 10 years ago when Brodie-Sangster first appeared as an adorable Paul McCartney in Sam Taylor Wood's Nowhere Boy. Now in his prime as the bold hustler that is Watts, the British actor has given us one of Netflix's most stylish characters yet. (Fit) check and mate.