Jewelry titan Thomas Sabo launched his namesake brand in the '80s and thanks to his signature designs, the line flourished. Sabo quickly grew into a household name. Decades later, he's introducing a new jewel into the Thomas Sabo crown, but this time around he's brought his family with him. Together, Thomas and his son Santiago are launching SABOTEUR, a clever play on their last name that introduces a new line of elevated, edgy, and unapologetic jewelry.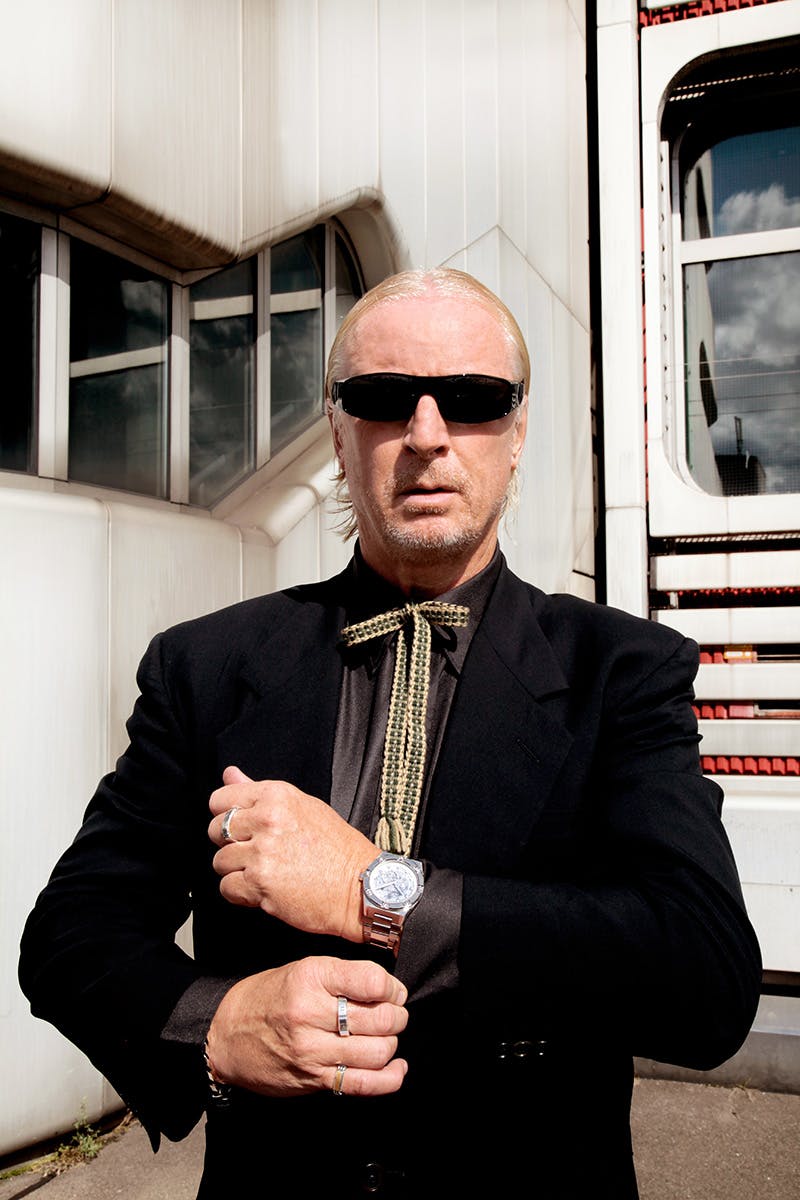 For the launch, SABOTEUR will introduce two inaugural collections: "Elemental," designed by the father-son duo of Thomas and Santiago and "Sacra," spearheaded by Rita, Thomas' wife who assists in the creative processes and design of the brand. The two-pronged approach ensures there's a little something for everyone in SABOTEUR's initial offerings.
"Elemental," unites two generations of Sabos. Thomas' 37 years of expertise coupled with his son's connection to youth culture allowed the duo to work expertly together. The ensuing line features solid link chains and geometric shapes throughout. All SABOTEUR pieces are made of 925 Sterling silver, 18k yellow and white gold, unique minerals, and white and black Fairtrade diamonds. All the watches are crafted with Swiss expertise.
In her designs for "Sacra," Rita, an artist in her own right, incorporated a variety of spiritual elements, drawing inspiration from the cosmos and sacred geometry. Rita found strength in her own conception of divine feminine energy to inspire her designs: "My focus was on its strength and protective character, not on what is commonly thought of as feminine in the modern-day context." Her favorite piece from the collection is titled Sacred Planet, a dangling pendant the marries the spiritual and natural worlds.
Who, exactly, do the Sabos envision wearing their newest proposition? For them, the answer is boundless: "It's mindset over appearance," explains Santiago. "She could be in a punk band, or he could be an elegant older man: their thoughts are what make the SABOTEUR." It's only fitting that for their first campaign, the team has tapped a range of talents to sport their newest designs. The first faces of the brand include DJ Hell, the legendary German DJ, who rocks heavy-duty silver watches and a skull necklace, Bernard Koonsom, founder of the Berlin-based collective deadHYPE, and Parisian model Raya Martigny. The brand has already begun to tease the appearance of more talent in the near future.
Overall, the creation of the SABOTEUR brand has allowed for the formation of stronger familial and creative ties between the Sabos, a link that can be felt in the collection itself. Featured throughout, for example, in the sigil rings are the Sabo family's crest. They are, quite literally, embedded into their designs. 37 years later, and with a new offering under his belt, Thomas' desires remain unchanged: "I want to give customers the perfect piece of jewelry: one that they will want to keep around and have passed along for generations. I want to offer a lasting experience."
The new brand is available for purchase on their global web shop.