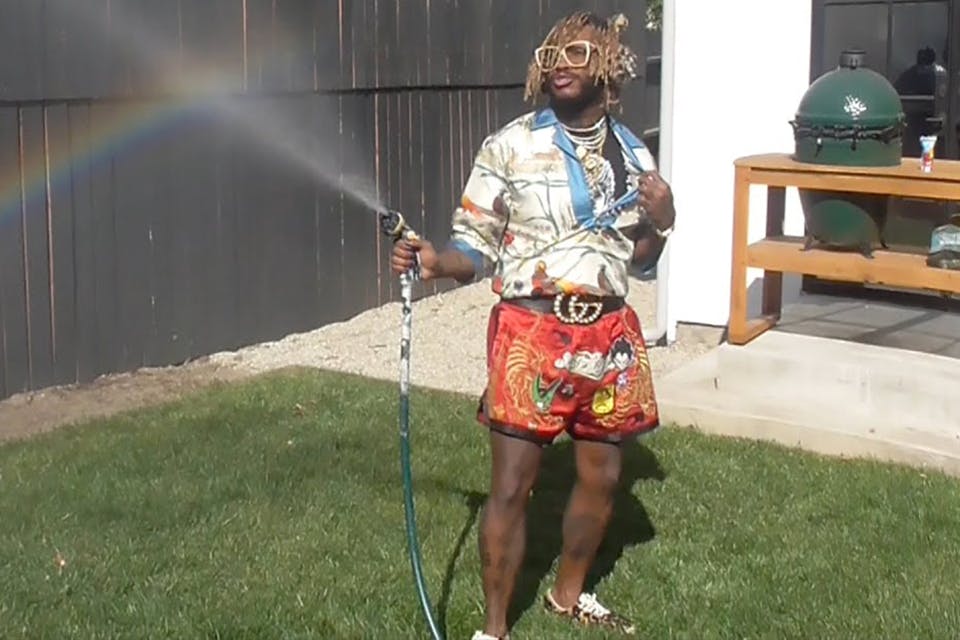 After releasing the track earlier this month, Thundercat returns to deliver the official music video for his latest tune, "Dragonball Durag." The clip is directed by Zack Fox and features cameos from Kali Uchis, HAIM, and comedian Quinta Brunson, and it's absolutely ridiculous.
In the video we see Stephen Bruner aka Thundercat out and about on a sunny day in Los Angeles, as he has one thing on his mind: finding a playmate. After gaining confidence from finding the titular durag, Bruner attempts to charm the ladies with a song and dance. First, he shoots his shot at Quinta, before moving on to Kali and then the Haim sisters. Does the durag give him the extra mojo he needs? Absolutely not, but he gets an A for effort.
"Dragonball Durag" is the latest single from Thundercat's new album, It Is What It Is, due out April 3 via Brainfeeder. The video for the track arrives as Thundercat is embarking on a 25-date North American tour tomorrow, February 28.
Press play below to watch "Dragonball Durag," which Twitter already cannot get enough of. Underneath you will find the best Twitter reactions and the dates for Thundercat's tour.
Twitter thinks Thundercat's "Dragonball Durag" video is an entire mood: