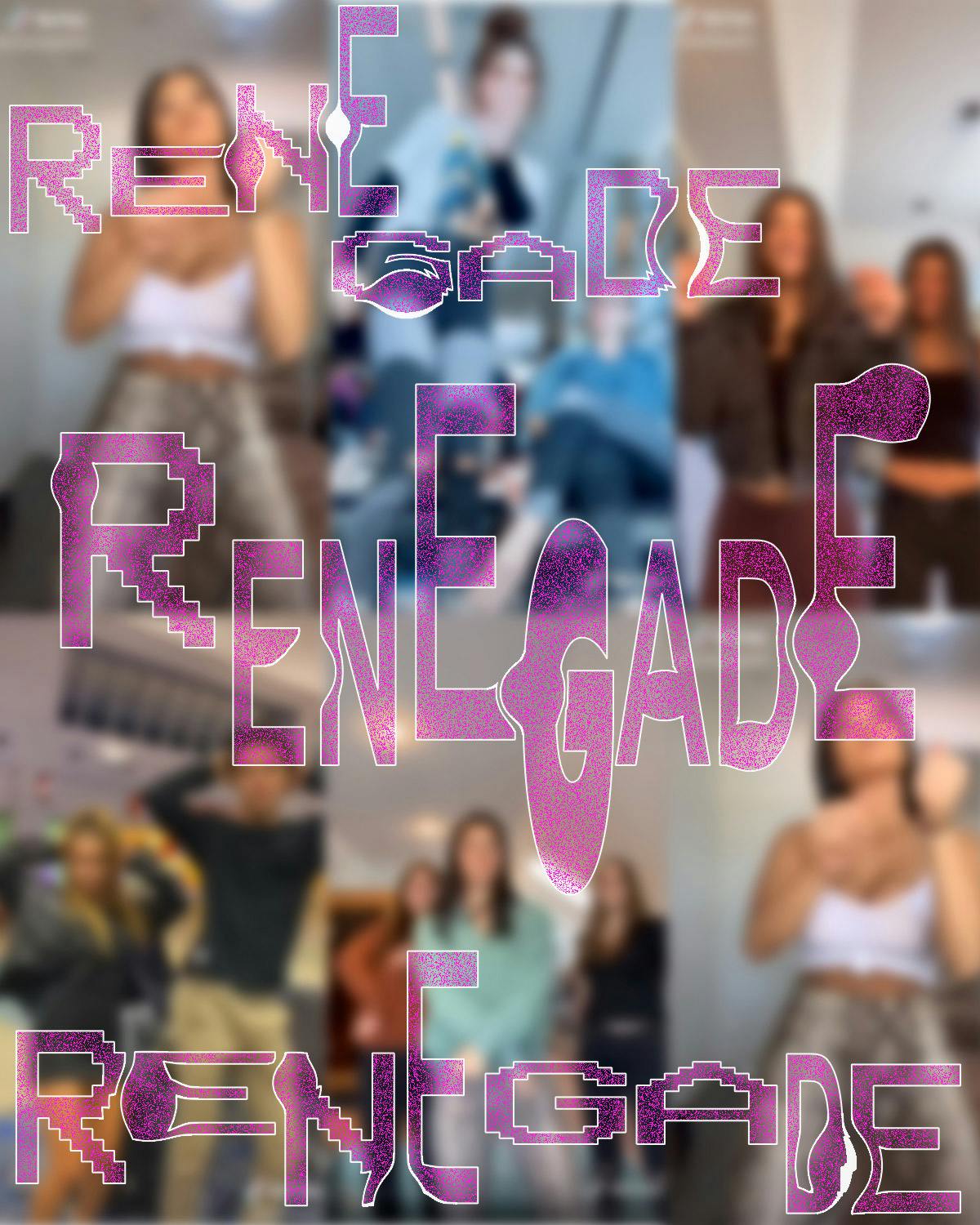 Say "renegade" to anyone under the age of 25, and watch what happens to their face. Generally, you can expect one of three responses: a wry smile (they've done it already), an indignant nose scrunch (scorn towards the youth), or blank-faced confusion (what is this word that everyone's talking about?).
Aside from its dictionary definition, the word "renegade" signifies nothing in particular. You hear it as part of rapper K Camp's song "Lottery," which features the three-word sequence "renegade, renegade, renegade" — the producer tag of Reazy Renegade. But what was once just a beat-maker's logo has now become the primary hook, to the point where the song has been retitled "Lottery (Renegade)."
In short, "renegade" has taken on new life because a 14-year-old named Jalaiah Harmon devised a complex dance to the song, which went viral on TikTok. Now, everyone's doing it.
"Lottery," though, is not your typical pop tune — in fact, it's the last thing you'd ever expect to blow up the way it has. Stripped-down to hi-hats, kick, clap, surging bass, and exhale sound effects, it's shockingly minimalist. Outside of TikTok and the Internet, it's gained virtually no traction. It's nowhere on the charts. The average music fan finds music like this — dark, dissonant, lacking melody and harmony — grating and unlistenable.
TikTok is fundamentally changing how young people enjoy music, trading fully-fledged songs for bite-sized morsels of sound. Each clip is only 15 seconds long, so the music must match the rushed intensity of the video. From a cynical viewpoint, the rise of TikTok is a symptom of diminishing attention spans and increasing dependence on immediate gratification — music as nothing more than a flashy Superbowl ad, optimized to capture your attention for a hot quarter-minute.
The app strips away all context: there are no timestamps on videos, no sense of categorization, no breaks between clips. The chaotic freeflow of clip after clip turns TikTok viewing into an addictive blur of passive consumption. On the flipside, from a creator's perspective, everything — the room, the people, the music — must jump out if they want to hook helpless #ForYou page drifters. It's Mad Men-turned-Gen-Z: only the best ads conquer the algorithm.
In this paradigm, what music wins? Bass-driven rap.
Sure, a panoply of pop and chillwave has gone viral — girl in red's "we fell in love in october," Doja Cat's "Say So," Justin Bieber's "Yummy." But disproportionately compared to its lack of success in the charts and on the radio, grisly bass-rap dominates TikTok. And it's not just one or two tracks. The swarm of brutally stark aggro-rap is growing exponentially.
Before TikTok, this music, sometimes called "no-melody" rap — or "no-mels" — was niche. It found modest popularity on SoundCloud and in local scenes, like South Florida and Texas. The Lone Star state is where Splurge, Quin NFN, 10k.Caash, GUN40, TisaKorean, and a legion of other no-melody rappers hail from. Spotify statistics point to Dallas, in particular, as the genre's epicenter.
We can trace the sound as far back as 2015, when XXXTentacion and Ski Mask the Slump God unleashed classic industrial-screamo bangers like "Take a Step Back" and "Rip Roach." Raw and angry, these tracks felt like a direct backlash against melody's sugar-coated dominance of mainstream rap: the proliferation of Autotune, rappers singing as much as rhyming, etc. No-melody brought rap back to its roots but retained three crucial innovations of the 21st century: trap drums, bass distortion, and the shorter song lengths characteristic of the streaming era.
Since then, the sound has developed, becoming marginally more sophisticated. Rather than blow out your subwoofers, new artists place bass notes in such a way as to create a groove in the moments between each blare, instead of solely relying on a constant stream of noise to provide the bump.
Quin NFN's "Talkin' My Shit" is an extreme example of a barebones no-melody track: there's distorted bass, occasional claps, and a cowbell effect. You might almost be listening to a metronome. On the other end of the spectrum, you have tracks like K$upreme's "FORREAL," which has an eerie synth creeping in the back, and Lil Boom's "Caillou," which samples Caillou's TV theme song. These two still qualify as no-melody because the bass is flared up, brutally overpowering the rest of the beat.
Somewhere along the way, TikTok users embraced this sound. It began in 2018, with bass-busted fan remixes of tracks like Desiigner's "Panda," Rich the Kid's "Plug Walk," and Comethazine's "Walk," and has since taken over the app. There are several reasons why bass-driven songs are so popular: meme culture's love of distortion, dance psychology, and TikTok's structure itself.
No-melody feels like a logical continuation of Gen Z's infatuation with distortion. Since the mid noughties, "ear rape" (a phrase used to categorize distorted, or otherwise obscenely loud audio) has been a constant meme. Initially, trolls and cheeky friends used distortion as a prank resource, from shock-gag screamers like "Jeff the Killer" to early YouTube poops — send the link to someone and obliterate their ear drums. It was the decibel equivalent of a rickroll.
Soon, though, internet-creators began to use it artistically. In the early 2010s, the montage parody scene made memes out of distorted audio remixes, like Sonic the Hedgehog's "Green Hill Zone" and Call of Duty reaction clips. Vine creators also experimented with bass-heavy music like Denzel Curry's "Ultimate." In time, hundreds of bass-boosting YouTube channels would spring up, promoting blown-out remixes of popular songs, which many people realized they enjoyed more than the originals.
Today, distorted audio is ubiquitous in the meme zeitgeist. This kind of unpleasant audio aesthetic, like LazyTown's Sportacus dabbing to what sounds like a nuclear bomb exploding, has become completely normalized.
Over time, TikTok has become the focal point for both meme culture and dance crazes. It's on TikTok, also, that these two spheres have merged into a single form. No-melody rap seems to be so popular on exclusively TikTok because it's a peculiar blend of meme and dance: you get the comedy and slapstick absurdism of blown-out bass and the extreme groove power that bass-boosted chords offer.
Some dances, like the infamous "woah," rely on only one note — a strong 808. You can hit the woah (which includes any hand motion that ends with you suddenly freezing at the bass drop) to any track with a strong bassline. Other trends are a bit more involved: Ambjaay's "Uno," for example, spawned a dance involving a series of arm swivels, finger flicks, hip thrusts, and head bops. "Lottery" is probably one of the most complex dances to come out of TikTok — a kinetic body-storm of arm swirls, booty shakes, punches, exaggerated exhales, body twists, and more.
Some aren't even dances proper: ZaeHD & CEO's "ALL IN" went viral as the soundtrack to people tying a knot with their tongue. It felt like putting bass on display as a museum exhibit, a textbook example of why — no matter how silly or absurd the move — it's immensely satisfying to watch someone synchronize with thundering low-end.
Perhaps the most crucial component to no-melody's success is TikTok's structure itself. TikTok's format doesn't allow for the unfolding of a verse-chorus three minute pop song, it goes straight for the pleasure-rush. TikTok zooms in on the moment of max impact — and then cuts off. If it were any longer, it would be unbearably dull and abrasive, and no one would listen. But as a 15 second burst, no-melody is just right. It's addictive.
The most recent wave of no-melody rappers are different from those who started the trend. Born-and-bred out of TikTok, they've started crafting tracks specifically with the intention of going viral on the app — creating that "clippable" moment, a potentially dance-craze igniting 15 seconds. In many ways, it feels like a descendant of SoundCloud rap, which already prized short song lengths and instantly-gratifying bass drops. Call it "TikTok rap" — likely to be even more offensive to older hip-hop fans than "SoundCloud rap" was.
TikTok rappers have begun releasing full-length albums, like 10k.Caash's PlanetSwajjur and TisaKorean's Soapy Club and A Guide To Being a Partying Freshman. They sound more like FL Studio drum kit demos than coherent projects, though: you get the feeling they're just slinging these skeletal beats against the wall, hoping one sticks as the next certified TikTok banger.
Some of the more creative artists, like TOKYO'S REVENGE, LIL MAYO, and bbno$, incorporate lip sync elements into their raps, coming up with chanted catchphrase micro-memes like "Good morning, my name is Tokyo!" and "Aloha, yes, yes! I smoke gas no stress, yes!" Users can add their own funny twist depending on how they say the lines.
Going forward, we're likely to see music conventions explode. Trend-by-trend, TikTok is acclimating young people to freaky sounds. As well as no-melody, you have purely bass-busted tunes. like a distorted remix of Undertale's "Shop" and an 8-bit remix of Panic! At the Disco's "I Write Sins Not Tragedies" dominating the app. As long as it's intoxicating for 15 seconds, any song or sound can go viral.
Increasingly, no-melody artists will start catering to the app and its users by TikTok-izing their music from the start. They won't bother with albums or even normal-length tracks, they'll churn out scores of TikTok-ready tunes of a minute or less, just a bass thud and maybe a hook. They'll test-run them directly in the TikTok community, as if presenting to a focus group. The sound might devolve into pure low-end noise — a sustained spasm of dirty bass.
TikTok's short-length clip structure and potential to make songs viral has birthed a new age of music and marketing. As the success of no-melody proves, it's no longer about creating songs that are meant to be played on the radio or listened to in their entirety. Like injecting a drug, TikTok offers its viewers an instant buzz: the music moves beyond any kind of build-up and goes straight to the climax, compressing Andy Warhol's 15 minutes of fame to a frenetic 15 seconds.