If Curb Your Enthusiasm perfected the art of anxiety as comedy, Uncut Gems perfected the art of anxiety as aesthetic. For the entire two-hour fourteen-minute runtime of Josh and Benny Safdie's new film, Howard Ratner, played by a career-best Adam Sandler, makes one questionable decision after another that leads him down a rabbit hole he has every opportunity to climb out of. It's a train wreck you can't look away from and the audience is complicit in his erratic, compulsive behavior: you simultaneously want him to cut his losses and walk away from the table, and double down. What takes place is a vicarious endorphin rush and it's not until the credits are rolling do you realize how seductive and dangerously addictive a lifestyle like Ratner's is.
If you've kept up with the work of the Safdie brothers, you'll know that the smallest details contribute to the claustrophobic atmospheres they create. In Uncut Gems, it's the score from similarly minded anxiety-as-aesthetic musician Oneohtrix Point Never. In Good Time, it's the confined spaces, like a crowded Manhattan shopping mall or a local amusement park after-hours.
In both films it's easy to overlook the styling—or "costume design" in entertainment industry parlance—since the looks are so natural and such perfect reflections of the eras the films take place in. They're the kind of looks that will pop up on style-dedicated Instagram accounts 10 years from now when hobbyist historians recount movies from the 2010s that defined the decade in style.
It's fitting then that the film releases on December 25, 2019, the last big movie day of the decade. Uncut Gems takes place in 2012 and it's a reminder of how far fashion - particularly men's street style - has come. In a number of recent features, Highsnobiety looked back at the most important moments in men's style and sneakers from 2010 to 2019. These pieces help us understand the cultural shifts that have occurred over the last 10 years, from Givenchy and street goth to Louis Vuitton x Supreme and Dior x Stussy.
Uncut Gems reminds us of these changes out of necessity and, intentionally or not, offers up among the most concise definitions of style ever committed to film: a set of aesthetic choices unique to a person, culture, time and place. Because Uncut Gems is able to do this on such a grand scale, it delivers the best runway show of the decade. It's the street style version of Karl Lagerfeld's ambitious shows for Chanel.
The mastermind behind this stylistic time-capsule is New York-based stylist-turned-costume-designer Miyako Bellizzi. Also contributing his unmistakable aesthetic to celluloid is self-proclaimed "reluctant anthropologist" Mordechai Rubinstein, better known by his Instagram handle @mistermort. The two previously worked together on Good Time in similar roles: Bellizzi crafting the overall wardrobe direction with occasional expert insight from Rubinstein.
When we dial in to our conference call to discuss Uncut Gems, Bellizzi is on-location in Hawaii working on Taika Waititi's upcoming film Next Goal Wins. Over the course of 45 minutes, we talk about everything from custom-made Italian trousers for Adam Sandler to Passover dinner.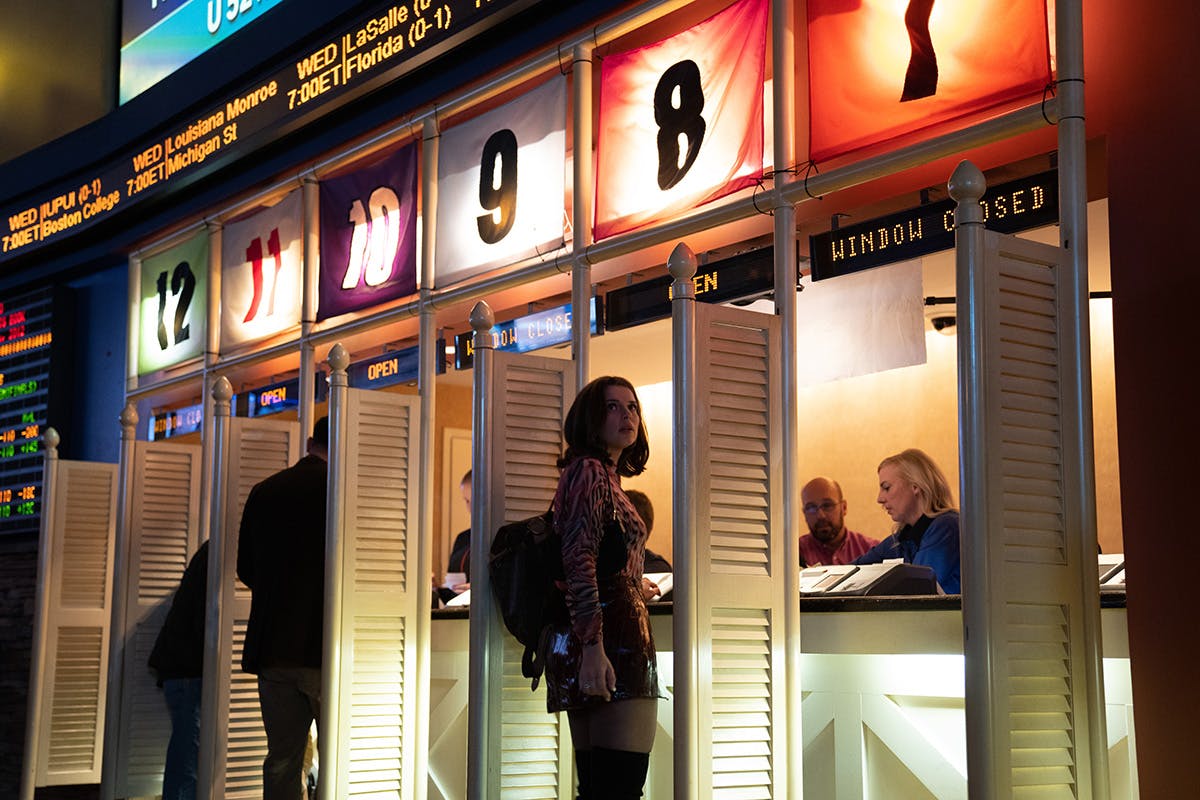 So you're in Hawaii now working with Taika Waititi. Tell me how your career brought you there.
I started off working in men's fashion so that's my base. I live in New York and I really love doing music videos, but it wasn't until about five years ago that I started working in film. It was one of those things where someone asked me to work on a movie and I was like, "Yeah, I can do that." I had never been on a movie set before and didn't know anything about continuity so I just jumped straight in and did it. I loved it. I loved it so much and learned so much on that first film and then really kind of catapulted.
When I met Josh and Benny, they were getting ready to do Good Time and they hadn't worked with a costume designer before, so I met with them to work on that because I had worked with the same production designer. I was like, "I'm down. I want to continue this."
I think I've found my true passion in life doing this and I love that as hard as it is, I'm always learning. I didn't go the natural route of working in film or starting as an assistant. I just kind of did it. I just kept going and now here we are. It's been a whirlwind, these last few years. Pretty incredible.
What was it like working with the Safdie brothers? They stayed for a Q&A after the screening I saw and they seemed like very collaborative artists and like they'd listen to just about anyone on set.
Definitely. I think we work together so well because we worked through a lot on and off set, even in prep. They're so heavily involved but at the same time they trust me and my decisions. We talk through everything and that's one thing that I really love about them: it really feels like a collaboration when we work it out character by character. It's just as important to them as it is to me to figure out who these characters are and what they wear; figuring out what colors they wear and what would be the best on camera.
You've seen Good Times and Uncut Gems, so you know their films are hectic. That kind of energy is on set too but I love it. If something's really important to me, then we sit down and talk about someone's look because we need to figure it out. They make the time because it's just as important to them and that's something I love about working with them. I've had the opportunity to work with other directors and it doesn't always happen that way. I just love how much they care.
What was the process of working on each character one by one like? Let's start with Adam Sandler's character, Howard Ratner.
Howard's look was really just referencing other real jewelers in the Diamond District and going through photos and seeing real people we found on the streets. I was out on 47th Street taking photos; I'd go back and share with them different ideas based off of other people's outfits and find little details in his look that could make him a unique character.
A lot of the looks feel very accidentally on-trend. Things like billowing trousers, rimless Cartier glasses, leather jackets with a polo…was this on your mind at all when you were creating these looks?
It's really interesting that you say that because this movie takes place in 2012. Yes, it's all very popular today but it wasn't then so it's really interesting that it's trending again. At the same time, it's also a very classic look. That's something that was really important to me. I wanted him to be someone that was behind the trend because I wanted it to look like he had been wearing the same thing for the last 10 years.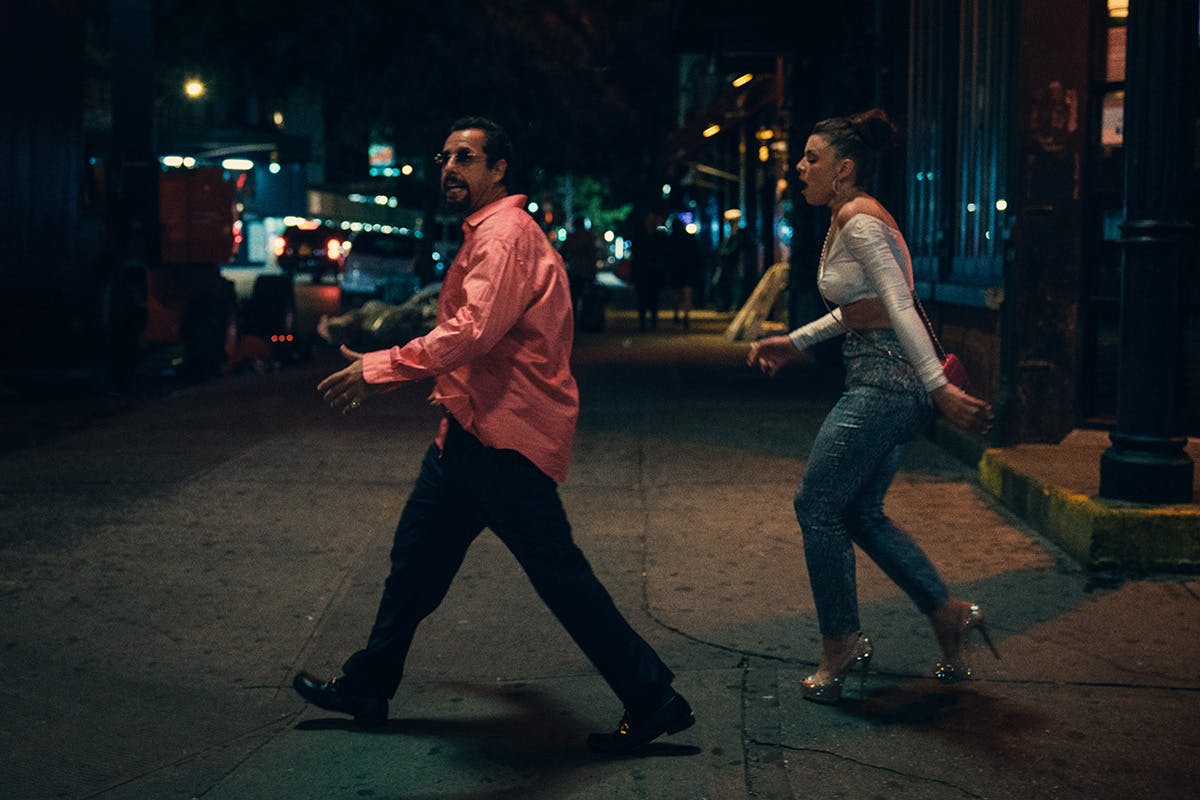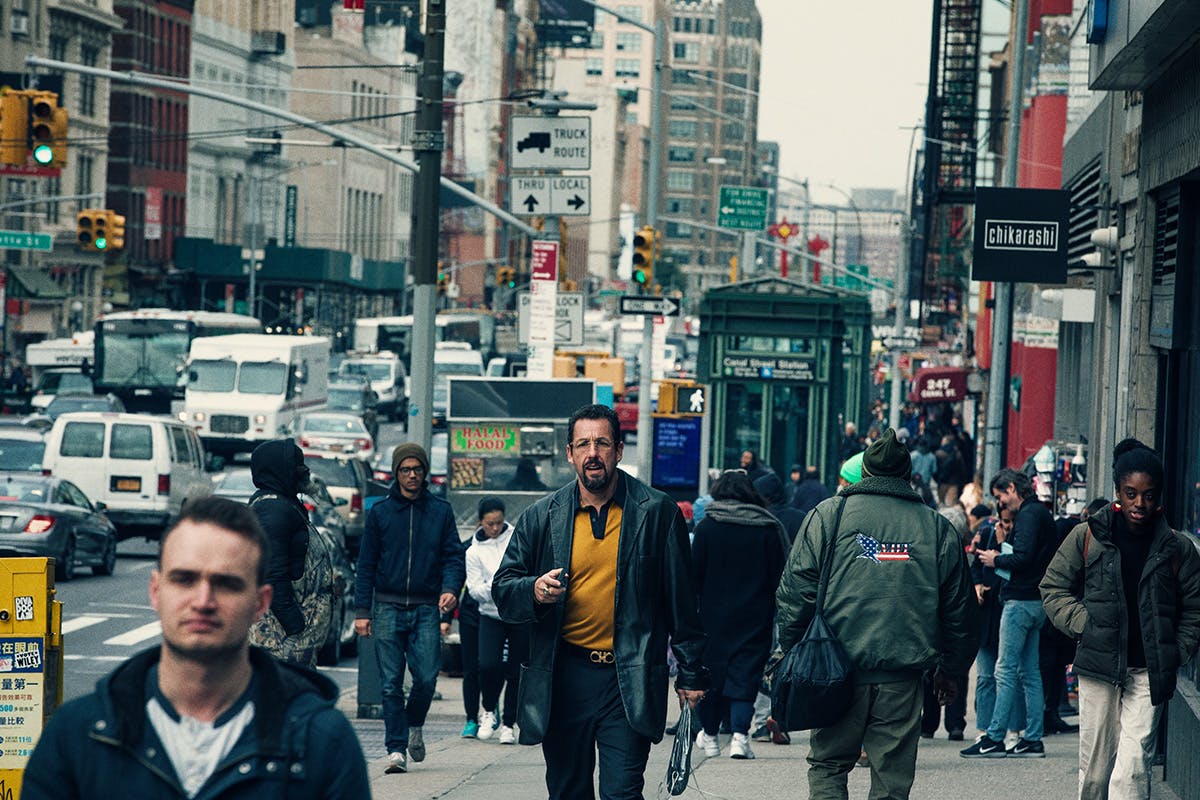 What about with jewelry? What did you want to communicate through those choices?
Like in fashion, there's jewelry trends, so in terms of my research, it was just as important as knowing the clothing trends of that time.
With Howard, we wanted him to have studs, but not big studs. Not like Kevin Garnett. That's because he's a jeweler. Jewelers don't really have earrings but if they do, they have a small diamond. The thing about jewelers is they flex in certain ways. He flexes on his glasses, he flexes on his watch, but other than that they keep it low profile.
Whereas someone like Kevin Garnett, they flex on the pieces that everyone sees. His flexing moment is when he gets interviewed after a basketball game and he's wearing diamond earrings. No one's looking at his watch because people can't see his hands.
Julia [Fox] also always wear diamonds but her flex is showing off the pieces that she's selling, so she wears a lot more jewelry than most.
What about the city? To what extent did New York play a role in these stylistic choices?
New York is all about the clashing of cultures in everyday life. You could be on the subway and live in Brooklyn, go up to Midtown for a meeting, go downtown and have a dinner with friends, go out in the Meatpacking District and see all different types of people throughout your day. I was familiar with a lot of this already and other stuff I had to research.
It's not that far back in the past but it's enough that a lot of things have changed and a lot of things haven't changed, so it's deciding what you want to showcase in this film. Like downtown streetwear, the club scenes, that changed dramatically. Hip-hop culture has changed and what they wear has changed but in Howard's world and the jewelry district that hasn't changed. That's constant. Long Island-Queens' style, that's changed a little bit but not so much.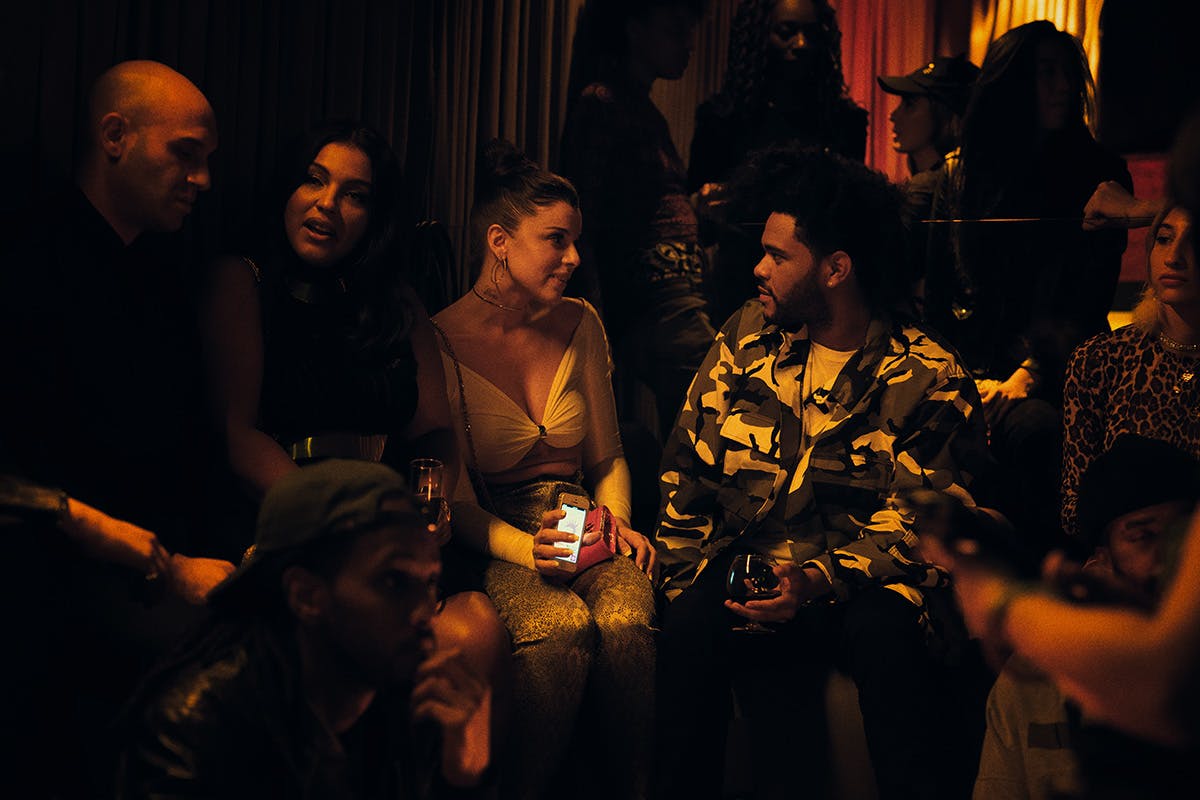 What have big some of the bigger changes in streetwear and hip-hop between when this film takes place and now?
It's the decade of designers creating streetwear. It's the beginning of designers noticing that streetwear could be the next big thing. Most stars of today are wearing a lot of designer clothes that is streetwear-inspired, whereas then that didn't exist yet.
So what were they wearing before? They were wearing more classic styles. With jewelry, it used to be more about having one big pendant but now you see people with three diamond chokers on their neck. The way people show their wealth outwardly is a big difference.
Tell me about those amazing trousers Sandler is wearing in the film.
Those are probably the most expensive trousers in this movie. He's an expensive guy. He wants to show his wealth in subtle ways. They were custom made in Italy because no one was making double-pleated wide-leg trousers at that time and they still aren't.
His leather sport coat I found on eBay because that didn't exist either. I couldn't find the right one. It was a very specific one that I wanted and no one was really making classic ones. All the cuts at that time and even now are super slim cut, whereas I wanted him to be more like that early 2000s wider, comfy style.
What about Julia Fox's character? It seems her clothing acts as an extension of her hustle.
That was really important for me to show: that she is a strong, powerful woman that knows how to get what she wants. I wanted it to be authentic to a real girl in the Diamond District.
It was really important to not make her overtly sexy because I wanted people to not just look at her body, which is amazing, but look at her as a character and make her stronger by covering up or showing a little bit here and there.
She's Howard's right-hand man. She's the one that's making all the money for his business. She's the one that's closing all the deals. She's the one that has all the money.
How did you and Mordechai work together?
He came on as a consultant and it was really helpful to have him on. He's an old friend of mine and we've worked together on other projects over the years, so it's a natural thing. He has so much knowledge on what a Jewish guy wears. The community, the Passover scenes. There're certain aspects of the film that I couldn't do without him.
Uncut Gems opens in theaters nationwide December 25.