When considering the most influential, heritage-rich, and culturally relevant luxury houses operating in the fashion space today, few tick as many boxes as Ralph Lauren, a label that stands as much for the philosophy of community and aspiration as it does for globally coveted design.
Yet while the label itself is known around the world, less is known about the man behind the brand. Ralph Lauren is one of those enigmatic public figures that feels familiar, yet his personal journey from growing up in the Bronx to creating a multibillion-dollar empire has, for the most part, felt somewhat veiled. Until now, that is.
Lifting the curtain on the enigma of who Ralph Lauren is was the primary goal of Very Ralph, a new HBO documentary helmed by Emmy award-winning director, Susan Lacy (Spielberg), and created in celebration of the brand's 50th anniversary.
Earlier this week, Highsnobiety had the privilege of participating in that celebration. Before the documentary's German premiere, which was held in a decadent art-deco Berlin theater, our publication's CEO and founder, David Fischer joined David Lauren for a discussion centered in and around his father — it was, to put it simply, Very Ralph.
Later that evening, we caught up with David Lauren again, this time for a deeper conversation pertaining to the world Ralph Lauren created, how that impacted the brand's luxury products, and what life was like growing up in the Lauren fold.
You mentioned that the Lauren family is very private. What was it about Susan Lacy that made her the right person to open up to and tell your father's story?
We were watching as so many brands told their story, but we had not done that. So we met different documentary filmmakers and when we met Susan, she just was a true professional. She was not a fashion expert. She had never made a movie about the fashion industry and in many ways that was captivating. She had just finished a film about Steven Spielberg, which won an Emmy— she's one of the most awarded documentary filmmakers ever.
I think she saw Ralph Lauren in a way that we understood Ralph Lauren to be. He's not just a fashion designer. He is taking from the world and writing through his clothes in a very personal way, the way a songwriter would or the way a filmmaker would. He's got a bigger philosophical understanding about what the purpose of his clothing is. Unlike other designers who may look at a fashion trend, a fabric, a cut, a silhouette, there's a different philosophy. [Lacy] seemed to understand that intuitively and I think she was making a movie that really was not about fashion, but kind of just a different way of looking at art.
Were you quite close with Susan Lacy throughout the entire process of the filmmaking?
We knew along the way that her sense of the brand was going to evolve and change because she came in to this project without much knowledge. We [also] learned about filmmaking. She was a great storyteller — she builds a story by asking a lot of questions and by meeting a lot of people, and by learning she was able to layout a storyline that was shaped as she built it.
The best thing that came out of it is that we learned to trust her. She understood how to pull the story out of people and build that through-line. What's fascinating to me is that she interviewed most of her subjects for hours. There are many, many more hours of footage of Karl Lagerfeld, Kanye West, Ralph Lauren, and so many other personalities that didn't even make it into the movie. She could have made an eight part mini series or longer — you are talking about 50 years of someone's life and experiences.
Are there any aspects of the finished documentary that stand out for you as particular favorite scenes? Any that you particularly love?
For me the film is very personal. It's the first time a lot of people have seen behind the scenes, how my father works, and just how kind and thoughtful he is with his team. It's also wonderful to look at my family and to see all that wonderful footage. I think in many ways, perhaps selfishly, this is a movie that I can show to my own children, to our employees, and to my grandchildren. And while I'm thrilled that people around the world will be able to see and get to know my father, for the people who know him and work with him and love him, I think it's a gift that we all have to share.
Would you say that understanding your father's roots and philosophy is integral to understanding the empire that he's built?
I think it's always important know who somebody is. In reality, Ralph Lauren did not have a master plan when he was a kid or when he was in his twenties, or even in his thirties and forties. What he was able to do as he evolved was to keep connecting dots, meeting interesting people, seeing interesting things, and keep building stories upon stories. And so his philosophy grew and changed as he got better and more experienced.
[To begin with] he didn't know how to design clothes. He knew how to design a tie. But after making a tie, he figured out how to make suits. When he married my mother, he learned that it would be great to dress her, he began to be interested in women's clothes. Then when he had children, when we were born, he thought it'd be nice to give us clothes. When he started buying homes, he thought 'I should design a home.' Things evolved naturally.
I think at the beginning of his roots, there is a sense of integrity. There's an understanding of a style and a sense of taste that he understood, even as a child. Maybe that came from things he had seen in the movies, from personalities he looked up to, from something innate that he couldn't understand.
So family is a central point to the brand's creative evolution.What did that look like for you growing up? Were you completely enveloped in this Ralph Lauren, Hollywood lifestyle, or was the business kept separate? 
In many ways Ralph Lauren is not a typical designer, personality, or celebrity. He's very much a family man. What I think Susan captures quite beautifully in the film is that he really did not go to a lot of parties. He was not out on "the scene," there are no pictures [of him] partying at clubs. That wasn't the life that Ralph Lauren lived. My father was home at night, playing games with us after he was working on designing a collection. After a big fashion show, we'd go out and get hamburgers. He knew my friends growing up. He cared about our homework. He wanted to be a family man. And from that I think he was able to stay current and connected to different generations.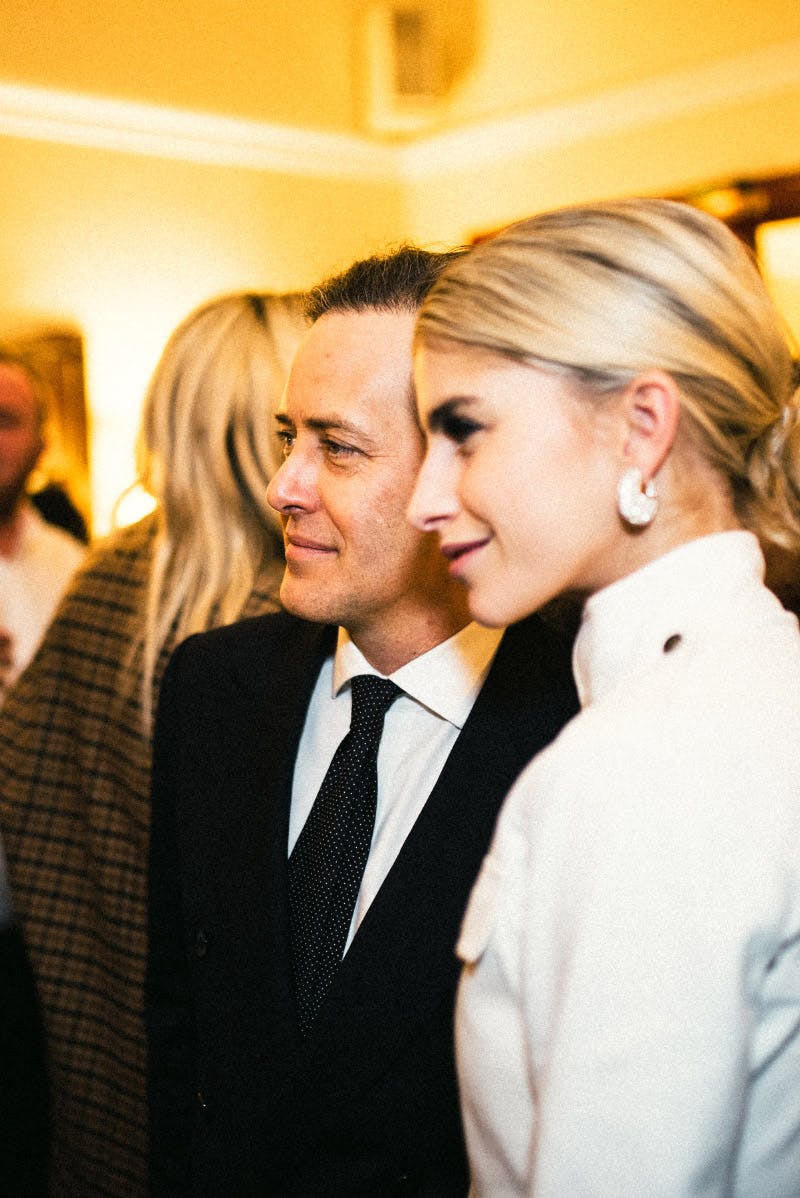 In many ways, seeing how my friends dressed, [hearing] the music we listened to and seeing the worlds we lived in kept him connected to different worlds beyond those of his own friends. He took the life that he lived with us as a family — traveling, going to interesting places, going horseback riding together, riding around in a Jeep on an old beach — and from that, he would come into work and he'd say, "I had this great weekend with my family. We were riding horses to the woods and my wife was wearing a great plaid shirt and the kids had these blankets wrapped around them and it just inspired me. I think we can, this can be part of how I communicate with my own customers. Tell them the story of how I'm living."
[What's more] he was one of the first social media stars. He was the face of his own campaign. He told stories about how he was living, and people identified with his life, his family, and his belief of how the world should look. He was doing that was authentic and personal. People identified with that. So I think what separates Ralph Lauren is that he wasn't trying to create something from nothing. He was creating from what was in his heart and what was real in his life.
Did those stories of family and personal experience always form the basis of Ralph Lauren?
What I find amazing is that, at the same time, he created amazing collections inspired by safaris, but he had never been on a safari. He created amazing inspirations about the American West before he had ever bought a house in the West. He had a sense of what life in England should look like before he had ever gone to England. He was designing clothes the way he imagined these worlds should look. In many ways, he created such an authentic understanding of the dreams he had, looking at history, looking at pictures, looking at into his own imagination.
The irony is that so many of the people who lived in these places love his clothes because [they are] reminiscent of a time and a spirit that we all crave and want to connect with.
Where did the inspiration and information come from when he was creating collections inspired by unfamiliar worlds?
Just by living and looking and asking questions. I think the magic doesn't come from the air, really good artists have a unique way of connecting dots. They see things that some people don't see and connect them to other things. He will see someone walking down the street and like the way they walk, or will like the color of the sweater they're wearing. In another moment he'll look at a painting on the wall and the music playing; he'll connect it all and build a storyboard of what he thinks is a movie.
From there, he'll design clothes that he thinks will fit this movie. Then he'll create an ad campaign around that dream, which ultimately comes to life in a store window. And then people want to live in that world. You buy a Ralph Lauren product, a bag, a shoe a dress, because it's a piece of the movie. Very much like Walt Disney.
What's fascinating about Ralph Lauren is that he's taken an American sensibility or spirit, but Polo is an international sport. What he creates is uniquely interesting and popular around the world because it resonates on a global scale because America is really a melting pot of all these different countries, dreams, and ideas that have come together and unified by a search for a sense of a better life, a quality life, the dream of a better dream, a sense of optimism. As Jefferson would say, "The pursuit of happiness." I think he captures a spirit and a philosophy that is in fact interpreting the American dream through clothing, but in some ways is international at heart.
How does that play a part in the relationship between hip-hop culture and Polo Ralph Lauren? How do you feel about that unlikely friendship?
I think it's fantastic that different people from all around the world, from every kind of nationality, from every kind of background and culture have identified with Ralph Lauren's clothes. I think they're identifying with an emotional connection to a product that is much bigger than that shirt or that dress. I think what Ralph Lauren has imbued in his products is a sense of dreaming and hope. A sense of quality; a way of living. It's an emotion that makes the product ubiquitous. There are very few products in the world that you buy that carry that emotion. You can buy a shirt that looks similar, there are many copycats, but the reason people choose Ralph Lauren is because they're buying a piece of a dream, a philosophy that is imbued in these products. It's wonderful to see the people are believing in something. There's something truly philosophical about it.
-
Very Ralph is available to stream now on HBO.