Virgil Abloh's OFF-WHITE label and Nike Football have today released their long-awaited "Football, Mon Amour" collaboration. It's big, bold, and littered with classic Abloh hallmarks — your eye is never allowed to drift too far from a stripe or quotation mark. The collection doles out a nice injection of World Cup fever with the tournament a little under two weeks away.
But aside from being an obvious crowd pleaser (especially among the guys at Mundial), the collab is also a high water mark for football's streetwear cred. We've seen shirts and scarves slowly work their way into the fashion world over the last year, but this is surely the final stamp of approval. Football is officially cool.
Although he no longer plays, Abloh was once a keen football player himself. His enthusiasm for the game takes in long-sleeve Chelsea shirts and the ostentatious sponsorship branding found on jerseys from the '90s. Ahead of the collab's release, Highsnobiety Fashion Director Atip W sat down with Abloh to learn more about his history with the game, how the Nike Football collaboration came about, and who he'd sign to play for his OFF-WHITE dream team. Read the interview below.
Your collaboration with Nike Football took a lot of people by surprise. How did it come about?
You know, I've been playing football since I was eight years old. It all comes from sport. I was one of those kids in high school that played every sport. I didn't look at sport as individual games — everything was just a skill to learn and get better at. Football is probably the sport that I played the most all the way up through to college.
Was that a personal choice?
Yeah. I wasn't handcuffed to playing soccer. It was the 1990s — I was DJing, I was skateboarding, I was playing basketball. This was the Jordan era, after all. But I was probably better at soccer than anything else.
Which uniforms did you like as a young football player?
I was interested in a Chelsea long-sleeve kit. Or Manchester United, obviously. I was always intrigued by the sponsored logos on the front — JVC, Carlsberg. Now, in hindsight, thinking about the graphic placement, there is something unique about football jerseys. It's just the same as race car driving. There is a language to it. It's definitely something that I was intrigued by.
Paris Saint-Germain and Juventus jerseys having been pretty popular recently, but what do you think is lacking in football merch these days?
I don't know. Nothing is lacking. I think it's just in modern times there has been this return to mundane things that mean something. Jerseys mean something and they can be worn in a different way. It's like military. It's a theme that kind of works for actual military and then it's something that can be adopted in the street, so I think it's just a modern context that's changed [rather] than the jersey itself.
Footballers aren't generally seen as style icons in the same way rappers are, but that seems to be changing. Which footballers could you imagine being future style icons?
I don't know. I wouldn't single out anyone in particular. That's the beauty of fashion now — it's anyone's game. You can be famous, or you can be on Instagram with 10,000 followers and influence someone with 10 million followers with just one photo. I like that sports stars who have grown up with fashion being second nature are now influential in our world. It used to just be the rock stars. They were expressive on stage. Now a 17-year-old kid who is making tens of millions of pounds playing for a top team can also be an influence with his style choices and with his personality.
That's what this collection is. It's like a merger of me having a brand that is steeped in the street being applied to sport.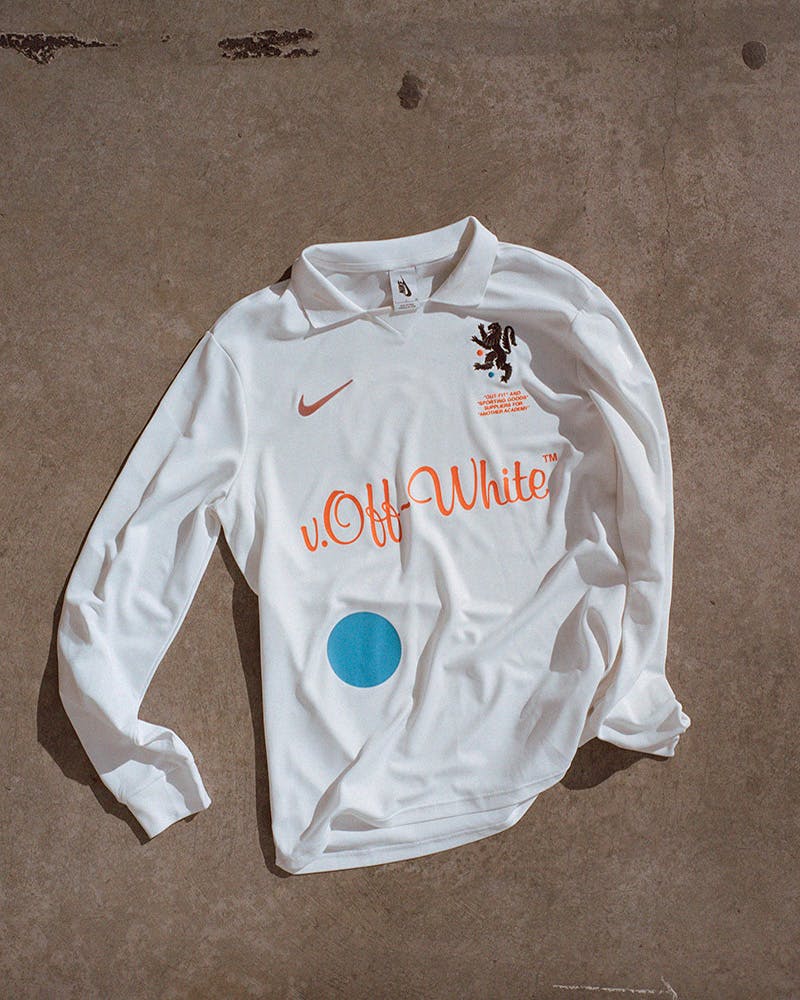 I suppose there is a sense of responsibility for footballers and designers now?
Yeah. It's also funny, too, when I think about it in those terms. When I was growing up, all I was obsessed with was Michael Jordan, Pharrell Williams, Steve Jobs. I thought of myself as being super interested in a million different fields and that made up my muses. Now, a kid that's just following me or my friends — in one person you're getting an authenticity in football or architecture, fashion, music, and art, all in one. That's the nature of our culture.
Talk us through your thought processes in terms of the designs.
The thought process was: Let me understand the history and technology of the Mercurial. When I design anything, it's a series of questions and then the answer leads to the design idea. It's not necessarily like, "Hey, design it." I was looking up the lineage of the Mercurial, understanding not just its place in Nike history but also the technical development of it.
It's not like back in the day when the focus was just good leather. Now with this Flyknit technology mixed with TPU and all these other things, the ridges and grooves control the ball. There are certain locations on the boot that are optimal for striking a ball. I know that from experience, so what I do is I put dots on those places.
A visual guide.
Yeah, with this OFF-WHITE graphic language. I did the color palette in this sort of micro-to-macro intrigue that became the overall aesthetic, which is informed by "The Ten" but for the pitch.
But still, while you're running errands or you're going to the grocery store, you still have the same guide system, so you're working on your game 24/7. You always have that foot-eye coordination, even subconsciously. If that becomes even 10 percent more crisp, then your game will hopefully improve, too. That was the larger ethos and then that gave me a visual language to spread across the whole thing.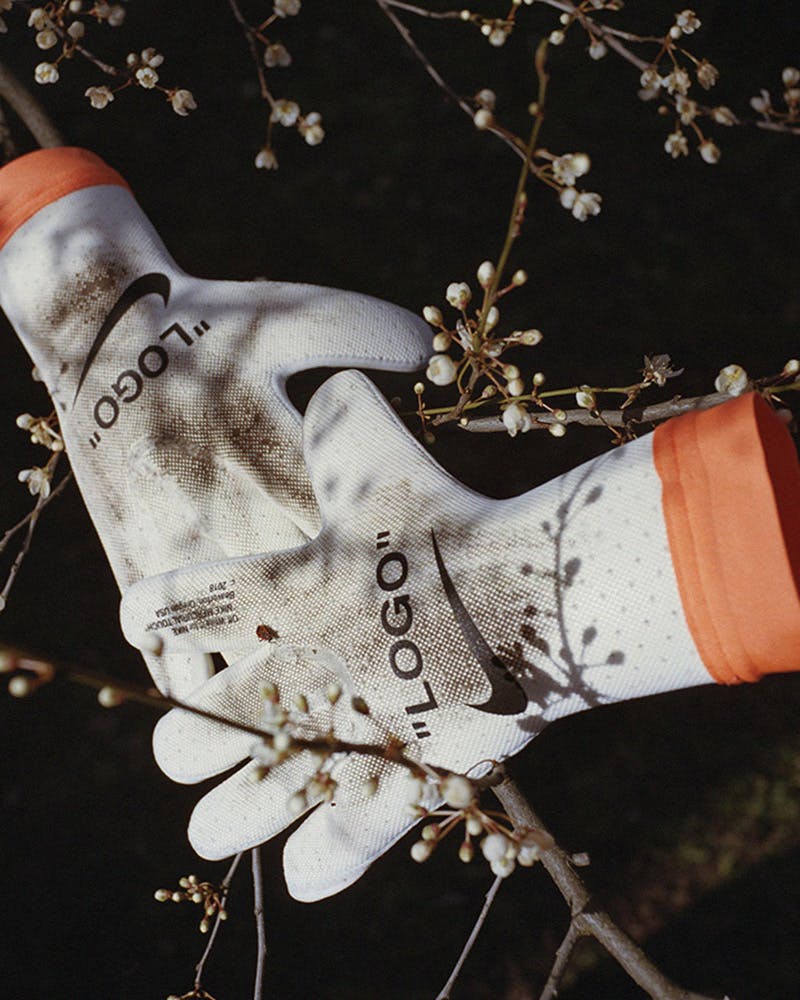 If you could do one uniform for one team in the world, who would it be?
Ghana, my parents' national team. I feel that it's mine as well. That would be cool.
KITH launched a football team recently. Who would be on your OFF-WHITE dream team?
Wow. Who would be on my OFF-WHITE team? It would be all the young kids that wanted to be a part of it. I would make it a team that's not necessarily about the best skill, but personality. I'm a creator, so that's a weird question to ask me because I'm not interested in winning. I'm interested in the style of play. I would much rather shine light on the kids that are evolving the game with a new style of play.
Who's a better player, Drake or Skepta?
I don't know. I haven't seen either of them play in real life. But they'll both be on my OFF-WHITE team. Put that in print. Those are the first two players.
Next up, here's what went down when Skepta launched his latest Nike sneaker in Paris.