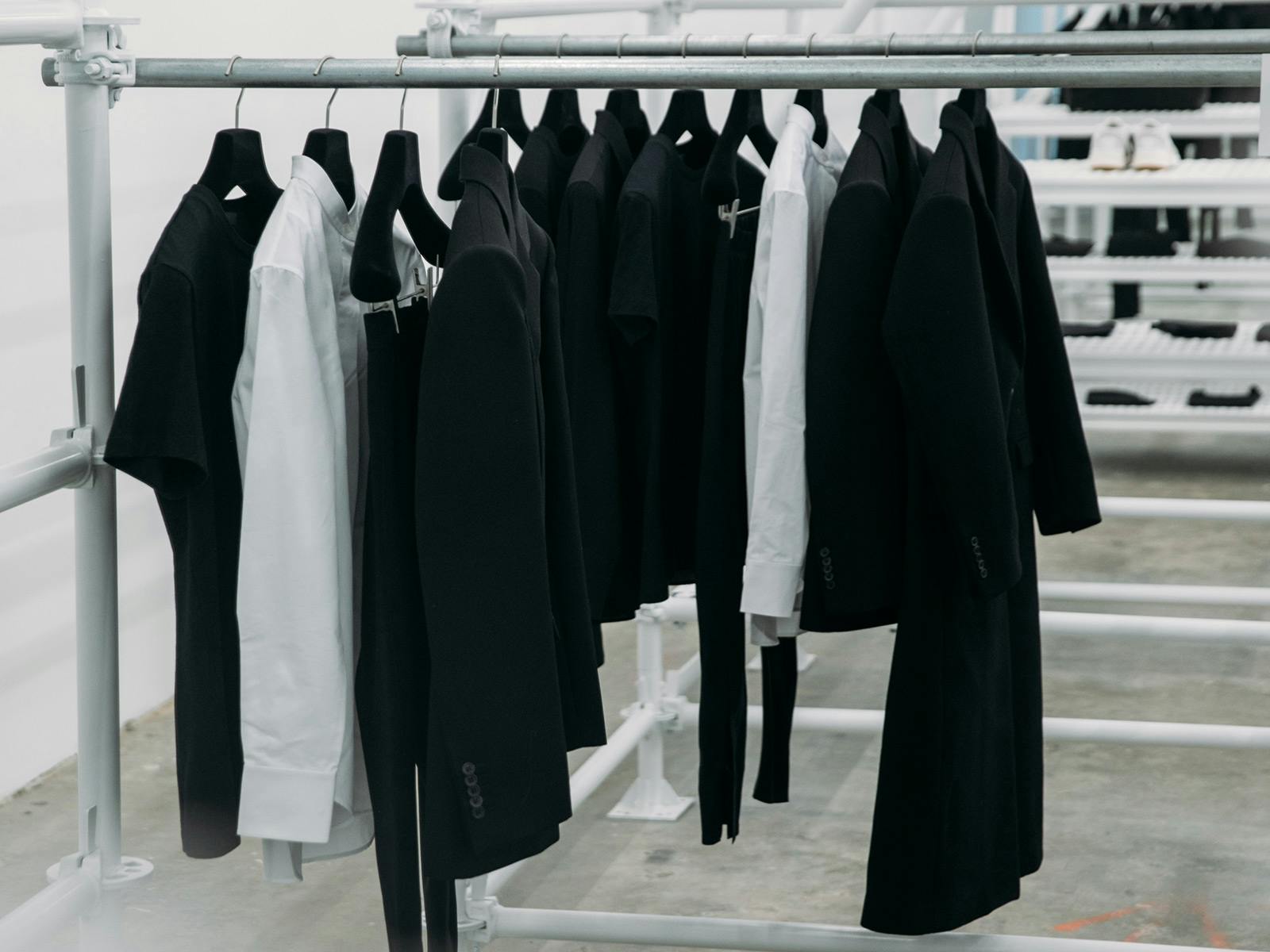 This story is taken from Issue 18 of Highsnobiety magazine. You can buy the new issue here.
Founded in 2017, WARDROBE.NYC positions itself as "the world's first true-luxury direct-to-consumer concept." Instead of selling collections piece by piece, it bundles them into multiple-piece monochrome "wardrobes" of high-quality staples. Designer Josh Goot and stylist Christine Centenera believe their approach speaks to a sense of luxury that has become more fluid than ever.
There's a 2014 interview between legendary street style photographer Bill Cunningham and New York fashion fixture Fern Mallis that remains especially prescient. In it, Cunningham cautions that the fashion industry is long overdue a paradigm shift, one in which a new generation will search for meaning and authenticity beyond what clothing can offer.
"I think the fashion world needs to come to grips with reality," says Cunningham. "You have the whole country electronically connected. They're educating the insides of their heads, as they should, and not the outside."
Cunningham proposes that "simple clothes" cater to the notion that fashion is a problem that needs to be solved, and falls in line with the uniforms of some of the tech world's most famous thinkers. There's the Issey Miyake mock turtleneck, washed Levi's 501s, and slate gray New Balance 990s of Steve Jobs, the stand-collar Dior Homme shirts and casual Rick Owens garb of Twitter founder Jack Dorsey, and Mark Zuckerberg's reliable closet of heather gray T-shirts.
Couple that with the rise of Japanese author Marie Kondo, whose book The Life-Changing Magic of Tidying Up and Netflix series are inspiring people to clean out their closets and rid themselves of useless clutter, and "disruption" is suddenly framed in a different way. It becomes about filtering out the distractions so we can focus on what's important. That's the premise behind WARDROBE.NYC, a label founded in 2017 by Australians Josh Goot and Christine Centenera.
Goot is a lauded designer known for the kind of easy-wearing essentials that characterize a number of Los Angeles-based lifestyle labels — think soft T-shirts and go-to knitwear such as hoodies. Centenera is the fashion director of Vogue Australia and a renowned stylist who also works with Virgil Abloh at Louis Vuitton. WARDROBE.NYC builds on their collective experience and takes luxury back to its roots, speaking to a more mobile urban consumer with a shared mindset and aesthetic.
The line is designed in NYC and manufactured in Italy using elevated materials and at ethically minded factories. Instead of selling pieces on an individual basis, the label offers curated "wardrobes" of four, five, eight, or 10 items. These are divided into categories like "TAILORED," "SPORT," and "STREET."
Prices range from $500 ("SPORT" five-piece collection) to $3,000 ("TAILORED" eight-piece collection). If IKEA is offering the world ready-to-assemble furniture at great value, WARDROBE.NYC does the same but for outfits. Built on a muted black and white color palette, offerings range from a cashmere sweater, long top coat, white button-down shirt, and full suit to casual staples including a puffer jacket, track pants, and exclusive cream adidas Yung-1 sneakers.
The founders recently feted the release of the "STREET" collection by opening a concept store in Manhattan's SoHo neighborhood. The minimal interior and exposed piping let the primarily black clothing take precedence, while summing up the brand's soft-spoken premise.
Designed by Jordana Maisie, the space is inspired by New York's cityscape and scaffolding, drawing a parallel with WARDROBE.NYC's distillation of those things worth paying attention to amid the chaos — both in a city and the fashion industry. It mirrors the minimal design of the brand's website, and customers who wish to buy something in-store are invited to find their size and then order the product online.
"Disruption" is as much an abused term in the fashion industry as "luxury." The meanings of each word have become more fluid than ever. It's hard to introduce true disruption to an industry in which the manufacturing practices and logistics haven't changed all that much in a century. Even with the advent of e-commerce, online shopping is only a means to an end — an easier way for the buyer to access the physical product. But perhaps WARDROBE.NYC is on to something truly novel: the idea that it's selling a lifestyle, with well made and thoughtfully designed clothes meant for any context.
Inside the WARDROBE.NYC concept store, Goot and Centenera are fired up. Goot is on his second cup of coffee and it's only 10 a.m. Centenera is fresh-faced despite having flown in from Chicago on a 2 a.m. flight. They both look impeccable in the muted clothes of their own making. The fabrics have an excellent hand, and on their bodies the cut is flattering without being too tight, with the required je ne sais quoi in the designs to let onlookers know these aren't your run-of-the-mill high street offerings.
As we sit down for our interview, it's hard not to wonder: what's their secret?
How would you define "disruption"?
[Josh Goot] I mean… change.
[Christine Centenera] Breaking the mold.
[JG] Innovating. But also, I think that part of the understanding of that term has to do with technology. That's a big part of it.
[CC] For sure, but I think disruption is a progressive way of thinking and doing things differently.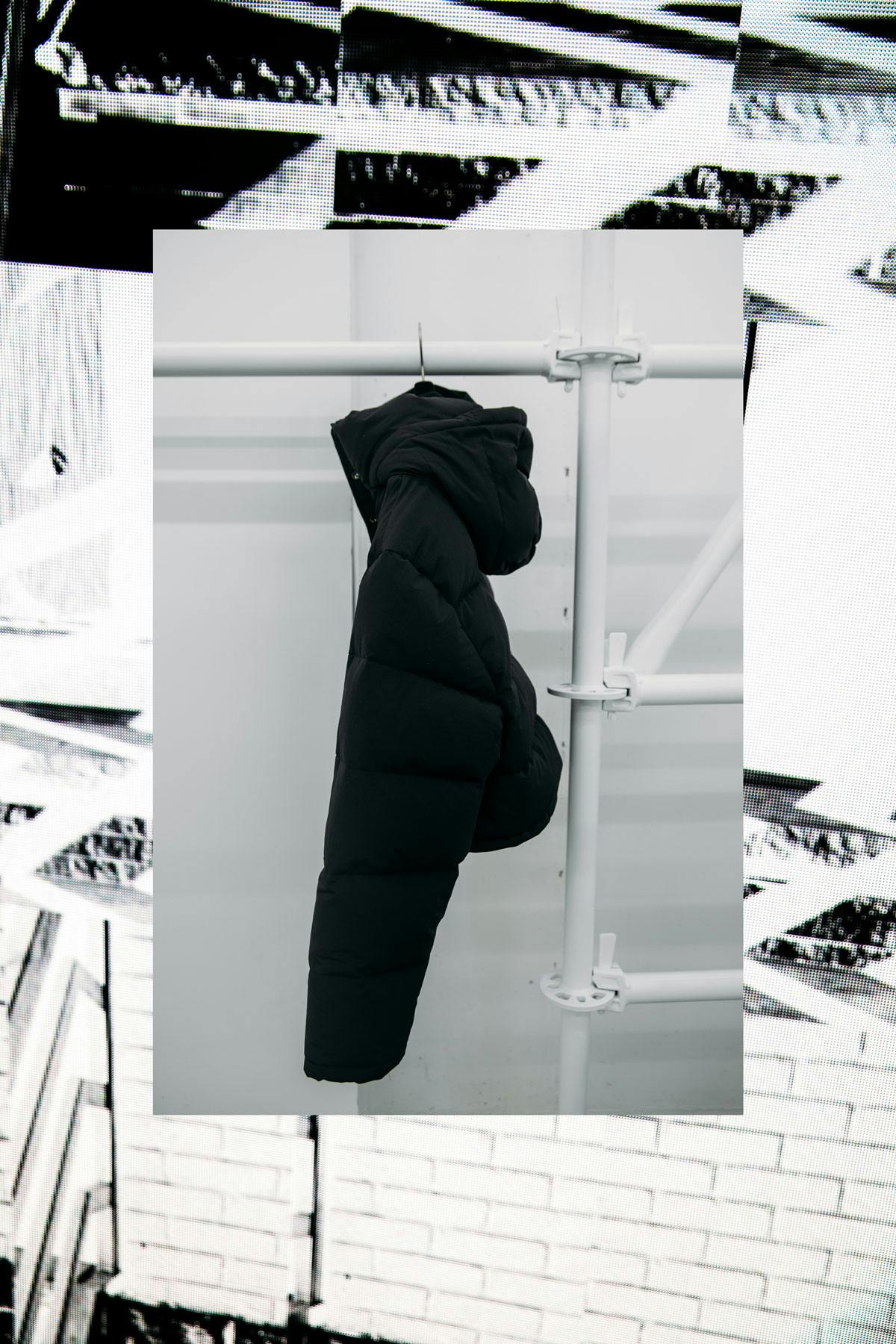 Christine, as a stylist, you also work with Virgil Abloh at Louis Vuitton. And what he's doing there — like the "BOYHOOD" campaign, for example — 
is disruptive in a sense.
[/subline]
[CC] I just think it's not conforming to what the norm is. If that's disruptive, that's what WARDROBE is. That's what my work as a stylist with Louis Vuitton is. And I think that's important, to keep pushing things forward, to keep on making change.
[JG] To use the example of that campaign, maybe that's just creative. To me, the term "disruption" has taken on this colloquial presence in our current dialogue. I do think it goes back to the times and I think that what's enabled a lot of this disruption is technology.
[CC] And people's craving for something new, and the want to understand the newness, whether it's technology or… I don't know. People don't want to become dinosaurs and get left behind.
Steve Jobs had his Issey Miyake sweaters. Jack Dorsey has his $400 Dior shirts. There's a younger generation seemingly more interested in tech than fashion, but they still need to clothe themselves. Do young people see fashion as a problem that needs to be solved or more as a form of self-expression?
[JG] There's both. I think that the new generation is hyper-switched-on to fashion, and in fact is changing the face of fashion and luxury.
[CC] They're also becoming a bit sustainably minded, which goes hand in hand with being more mindful of how much they consume. I think WARDROBE plays into that ideal the new generation has.
[JG] We're all so super-connected to the other generations as well, and that's really important to us because we sit on the bridge — probably more to the older edge of that — and we feel that our peers are certainly toward the mindset you just described. We've lived through the trends, the fashion, whatever it is, and you kind of get to a point in life where you've worked out who you are and what you like, and you start to focus on other parts of yourself. I think that experience is true of a lot of our peers. And I think that this concept speaks to that generation as well.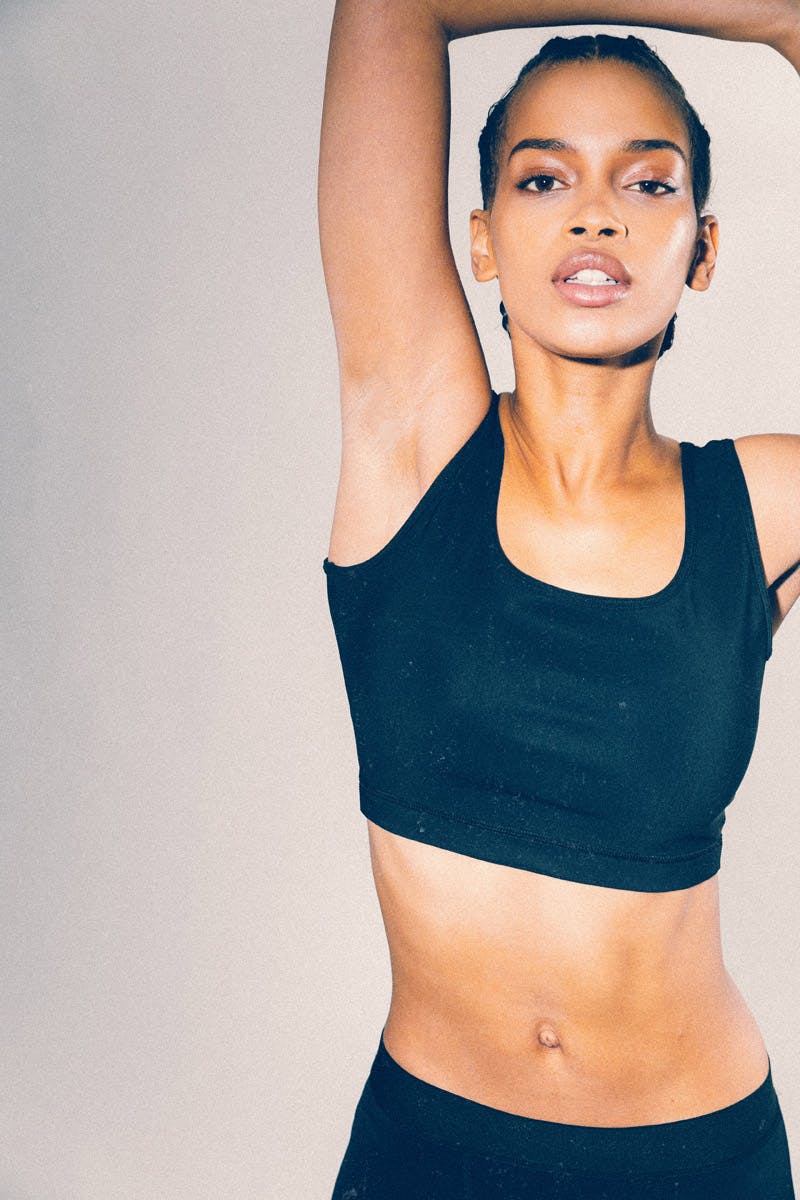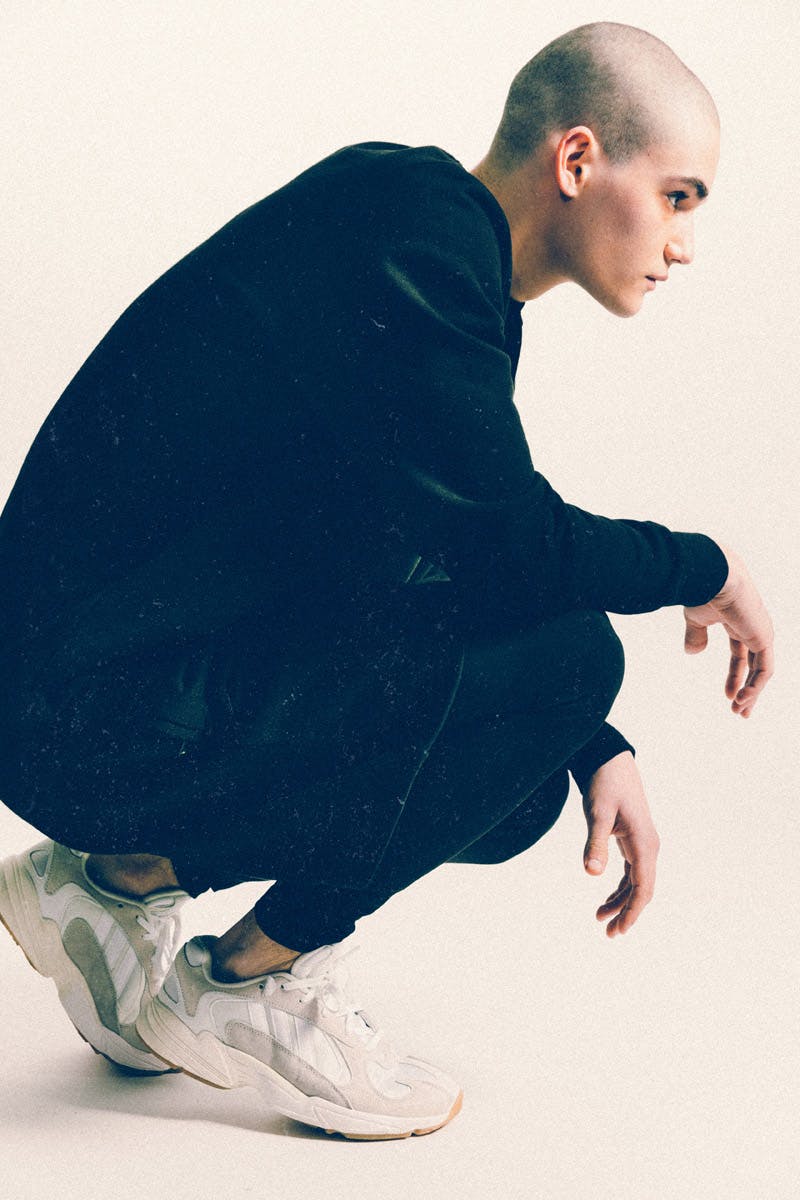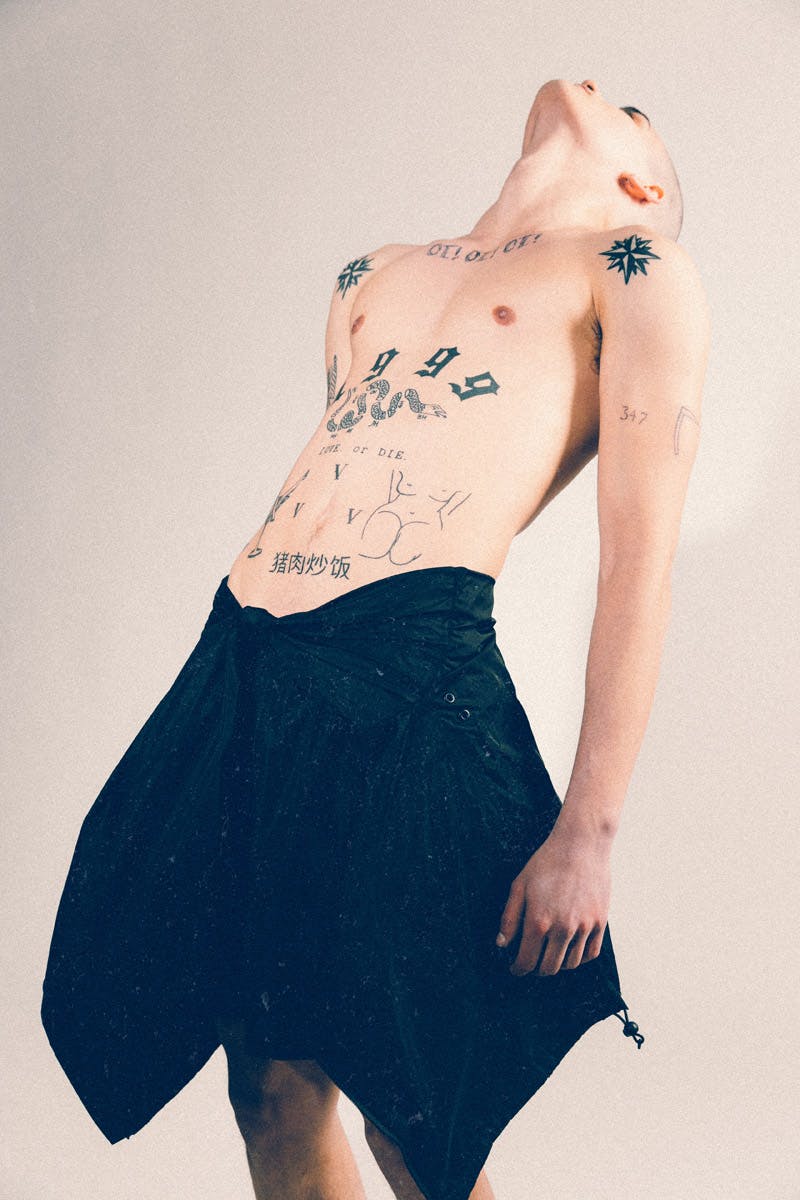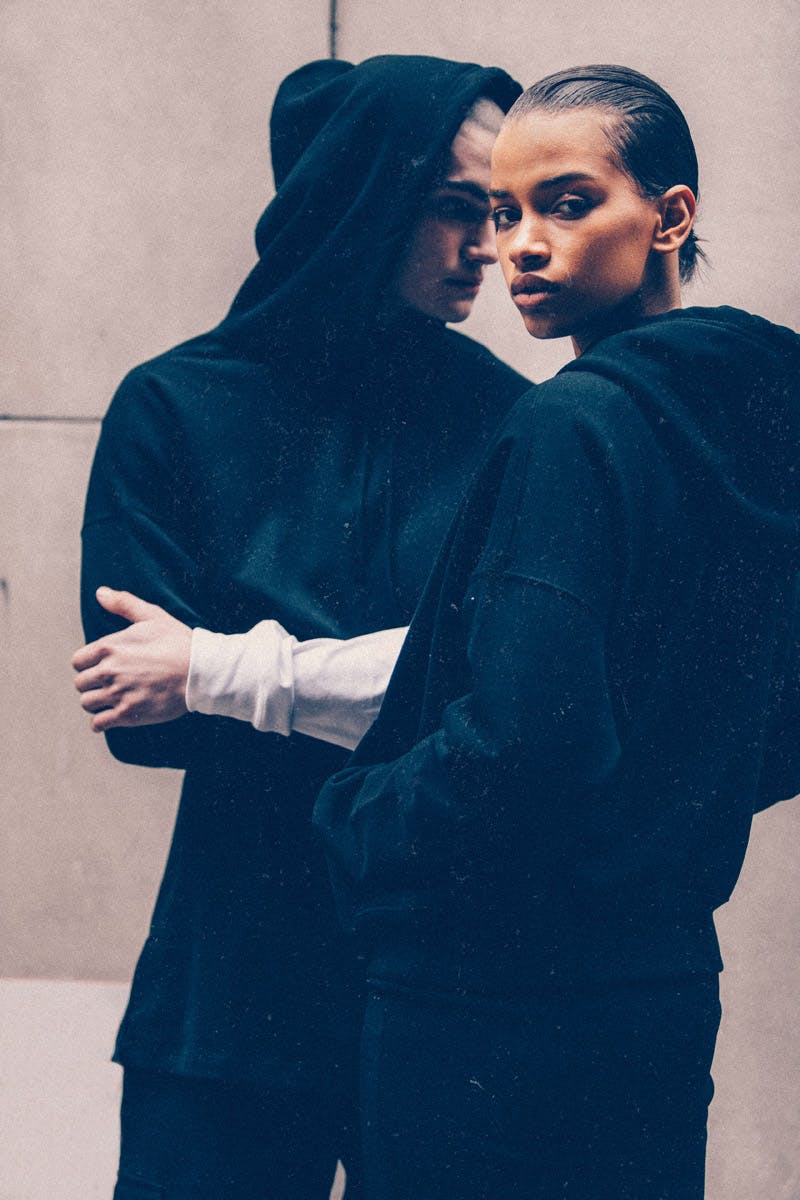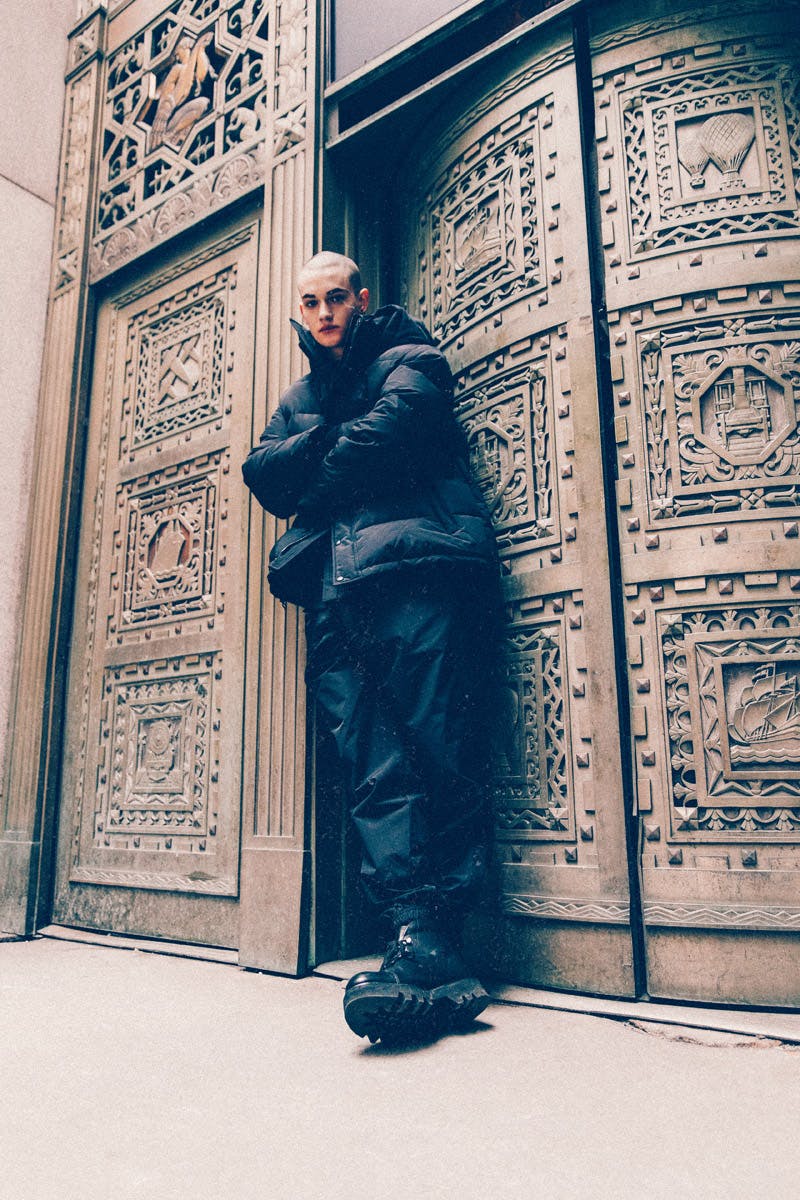 Do you feel like you each embody the archetype of the WARDROBE.NYC man and woman?
[CC] We look at ourselves and what pieces work the hardest in our wardrobes, and what I think a modern, urban woman and man needs in their lives to get them through different things that they need to go to. This is us, this is how we dress, and this is how I think other people should dress to feel good about themselves. I think we often take that for granted. Maybe it's superficial what you're wearing, but when you walk out that door feeling good about yourself, you can conquer a lot with that feeling of confidence.
[JG] The design is certainly connected to our own personal style, but we put a lot of thought into it as well. Really what we try to do is distill down and simplify the pieces. What are the pieces that you need in your wardrobe at this time of year? We consider that, and we also try to work into the kind of urban archetypes of style — tailoring, sport, street. There are these iconic modes, and so we try to capture those with the releases and purify the pieces. It's really about the textile, the cut, and the finish.
[CC] And the fit.
[JG] It's not about branding. It's not about tricks. It's super-simple and pure.
[CC] It's not about recognition either. One thing you can't ignore is that we want these pieces to be as democratic as they can be in shape and fit. As part of our process, we try them on many different ages and sizes to ensure that the fit has broad spectrum. I think that's important. Funnily enough, when we launched the first collection, what sold out immediately was the largest and the smallest size. I think those ends of the spectrum find shopping difficult, so I think it's nice that they've been able to discover this brand and feel like they can be looked after.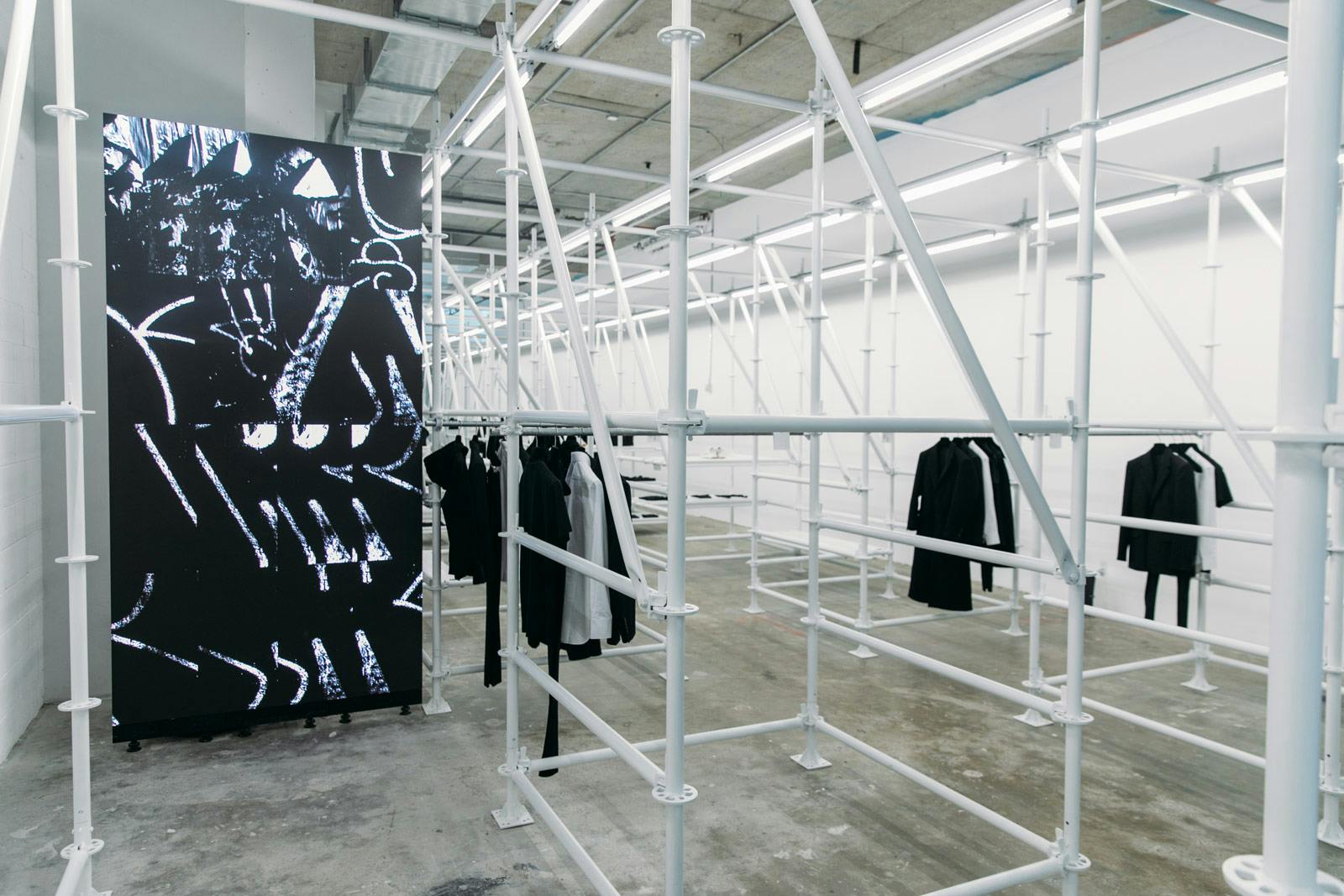 What's the process behind each release? How many pieces do you start with before deciding what the quintessential eight pieces and quintessential four pieces are?
[CC] It starts off with the concept.
[JG] We have a conversation, sometimes a long conversation, and we instinctively know what the pieces should be and what the shape of those specific pieces should be. What does the neckline look like? What does the backline look like? Is it oversized?
[CC] What's the fabric? What's the cut?
[JG] We rarely develop more than 10 to get to eight. We know instinctively where that should go. And sometimes, when we're not 100 percent on the perfect eight, we might develop 10 and then work it out through a styling process.
You define the label as "the first true-luxury direct-to-consumer brand," but in many ways "luxury" has become as fluid of a term as "disruption." What does luxury mean now?
[JG] Well, for me, the real luxury is time.
[CC] What does luxury mean? In a fashion sense, when we say that…
[JG] It means a commitment to design and quality. To true process, to originality in design and development, and also to a story that is aspirational. I think that's what luxury means in a fashion context. What's been the challenge for us is forging that story as a direct-to-consumer brand. That's new. Because unlike other luxury brands, our luxury is not conveyed by the price tag. It's conveyed by its true meaning.
Time is absolutely a luxury, as well as leisure and the freedom to travel. To what extent does travel play a role in WARDROBE.NYC?
[JG] I'm so glad you raised that. What's been really interesting for us is that there is a global citizen. We really noticed this when customers place orders to ship to one location and tell us they're going to be in the next location in three days, and then the next location in four days, and so forth. You notice just how mobile the customer is, which I think is a super-modern trait. Certainly Christine, it's how she lives her life, and we believe that practical urban style should be globally relevant. I think that speaks to something deeper, which is how connected we all are and that we all share similar lifestyles.
[CC] On a practical level, I'm often in Paris for three days and it's all I need. I have a wardrobe in Australia when I go back and forth to Sydney, and it just takes the difficulties out of packing. I know I'm always going to look good because I have these pieces either with me or wherever I'm going.
[JG] I've gotta say that Christine's life and my own packing style have informed that characteristic a lot. You can just grab your wardrobe, put it in your case, and walk on to the plane.
[CC] I'm a consumer of fashion. I love fashion. But what I wear often day-to-day in real life are the same pieces, or I'll wear one of these pieces as a foundation to everything else I wear.
[JG] Which goes back to uniform dressing. And the funny thing is most people do the same thing. Whether they know it or not, everyone has their uniform.
Clothing is one of the last bastions of physicality. Even if you order something online, it's simply a means to getting the product in hand and on your body. There's a difference between how the items look online and in real life, but your average men's order is $1,300 and you have a very low return rate of 15 percent, whereas most brands hover around 30 percent. You guys are clearly doing something very right with the brand. What do you think it is?
[JG] We're offering unprecedented value for true luxury goods. We don't underestimate that. We understand that it's still a high ticket price and we take that on board and want to give the customer the best experience and product we can.
[CC] When building a brand, one of the most important things is what the consumer sees and making sure that all the touch points are as slick as they can be. We have a bar and it always needs to reach that.
Value isn't just about price. There are factors like cost per wear and the money saved through buying whole collections versus single pieces. How do 
you define the value you create with this 
business model?
[JG] Beyond the actual quality and design of the clothes, I always want to buy into a brand where I connect with the broader values, whether they're aesthetics or the underlying point of view, which is one of the things that really intrigues me about fashion. We're trying to do that, too, so people feel like they're connecting with something — a community, an outlook. One of the big hidden values we're offering is the looks. That's where Christine plays such a big role, putting things together in a way that feels really fresh and modern.
[CC] There's an expertise to how we put these things together. I work with a range of different bodies, shapes, and sizes, across men and women, and I feel like I really know what works on a variety of different people.
[JG] Christine's eye and experience in putting these wardrobes together is a big part of the value we're passing on to the customer.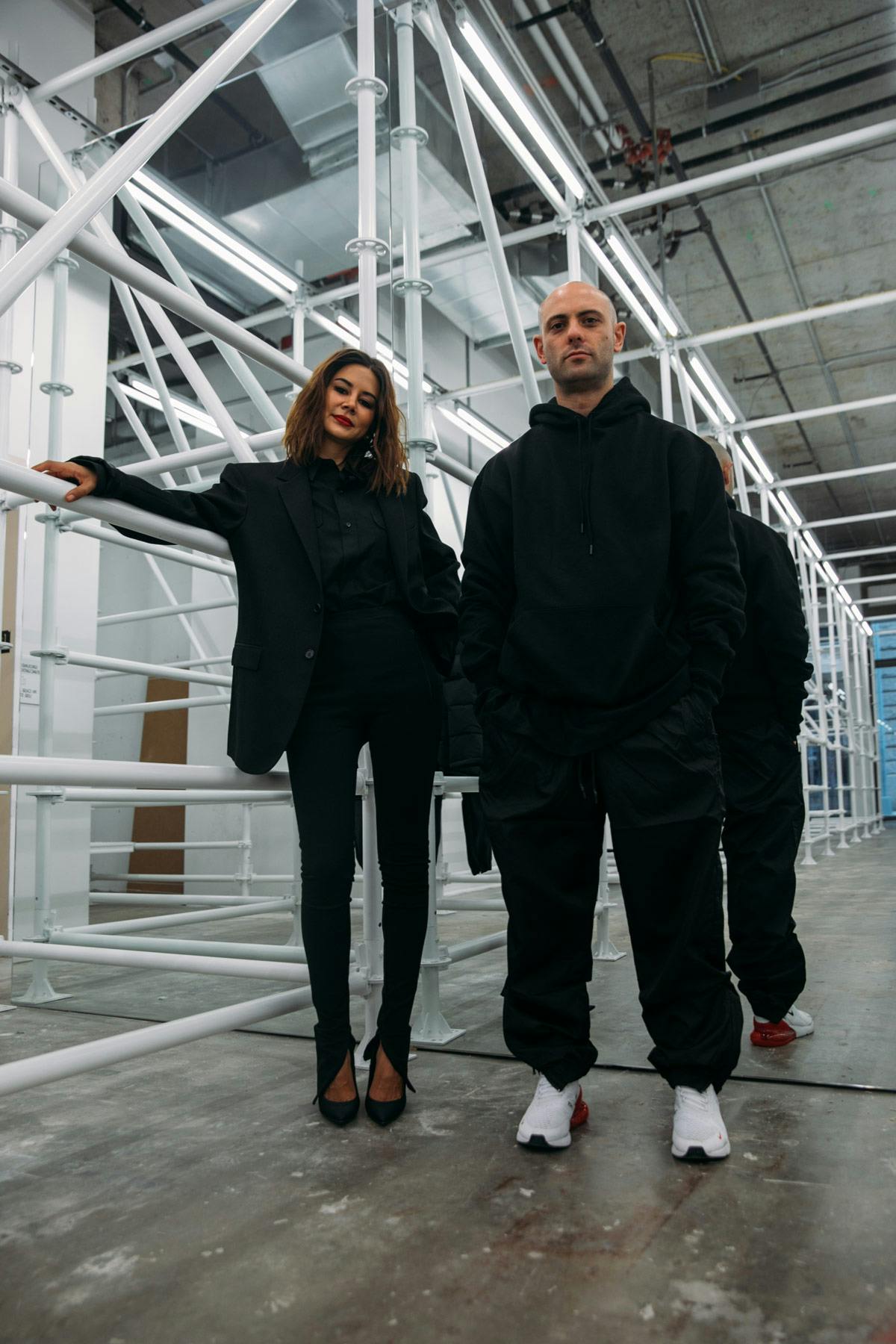 Your circle of friends and supporters includes people like Virgil Abloh and Kim Kardashian, both of whom have worn your pieces to events and on social media. How important is it to channel a sense of community through the label?
[CC] We're lucky to be part of this community, and both of those people you mentioned would never put anything on their bodies unless they really believed in something or really liked it. Or were paid a fortune — which we would never do. They're not wearing things as a favor to us,, but it's important to know that they really support what we do.
[JG] I think we've been really blessed to have had the support of some really high-profile people in this world, and it's certainly helped us build our brand and grow our business. It's also a double-edged sword, because we also have to connect to a community who may not follow or be part of that world. I think that this concept affords both. So we're at an interesting stage in our storytelling and approach to marketing, and we're conscious of that.
[CC] These days, community is absolutely a part of brand building, and these influential people can help build a brand. And that has been the case with us, but like Josh says, we need to tread a fine line.
[JG] What's become clear to us is that the single biggest driver of interest and information for the business is social media. So therein lies the rub.
Social media has quickened the pace of fashion. There are always new products, collaborations, 
and style trends to be seen while scrolling through 
a feed. I feel like WARDROBE.NYC is for people 
fed up with chasing that and want to break the fashion cycle.
[JG] We kind of see ourselves as being in and out at the same time. We, on the one hand, are a fashion business; on the other hand, we're kind of an anti-fashion business. We try to be true to both without confusing everyone.
[CC] Well, it's not really anti-fashion. I think it breaks from the current norm of how a fashion brand lives in our world today. We're not wanting people to constantly be buying more, week in, week out. Every few months, we're dropping a collection and saying this isn't necessarily all you need, but this is building a solid base.
[JG] We're not approaching design for fashion's sake, which is very different to a fashion brand. Fashion has purpose, for sure, but this has a different purpose.
Have either of you read Marie Kondo's book The Life-Changing Magic of Tidying Up or watched her Netflix show?
[CC] I've been given that book twice.
It's pushed along this zeitgeist for people clearing out their lives and cleaning up their wardrobes. Like hitting a reset button on their closet.
[CC] This is exactly that. This is buy less, buy better.
Highsnobiety magazine Issue 18 is available now from our online store and at select premium stockists and boutiques worldwide.