Wes Anderson's career in cinema needs no introduction. Nothing short of illustrious, the American filmmaker has crafted a style so unique, the world couldn't help but be gripped. Alongside their distinct visual style and affinity for mischievous, even whimsical narrative, Anderson's films are a feat in fashion.
Ensuring each character is dressed to the nines, the modern-day auteur enriches his cast's style with his own need for experimentation. The outfits Wes Anderson chooses are so hypernormal, that this very normality almost makes them excessive. The cuts are expertly tailored, the accessories seemingly box-fresh, and everything ironed to perfection.
Ever since the release of Bottle Rocket in 1996, Anderson has essentially helped make cinema costume an attainable stylistic resource for the everyday man. Despite others having popularized key silhouettes — think Steve McQueen's leather A-2 jacket, or Travis Bickle's M-65 field jacket in Taxi Driver — Anderson was one of the first to extend past this singularity, stipulating full outfits and color codes. And while his films draw parallels to his child-like outlook on the world, each new outfit is a grown-up, sartorial masterpiece, supported by a seemingly infinite capacity for story and play.
Concealing a lot of his jokes inside each character's clothes and style, the fashion of his films is a perpetual exaggeration, softened with elegance and an unwavering wit. From Zero Moustafa's drawn-on mustache complementing The Grand Budapest Hotel's failed attempts at being a luxurious establishment, to Jason Schwartzman's yellow bathrobe in Hotel Chevalier doing much the same, Anderson is an incontestable style icon.
To shine some light on the pieces that served to make his characters so fantastically stylish, we have rounded up a selection of stills from our favorite Wes Anderson movies.
Shop the defining looks from some of Wes Anderson's best movies below.
The Darjeeling Limited
Max Grobe:vThe Darjeeling Limited follows three emotionally stifled brothers trying to reconnect a year after their father's passing as they ride railways across India to meet their mother. Starring Owen Wilson, Adrien Brody, and Jason Schwartzman, it may as well have been called Men With Distinct Noses. The Darjeeling Limited did for gray suits what The Matrix did for trench coats, as well as emphasizing the characters' suppressive personalities against the colorful backdrop of the Indian countryside.
Wes Anderson tapped Marc Jacobs (who was artistic director of Louis Vuitton at the time) to create the gray flannel suits for the main characters as well as the vintage-style monogrammed trunks. The heavy — but perfectly aged — luggage acts as a central metaphor in the film about letting go of one's emotional baggage, as you can see in the short clip below.
Fantastic Mr. Fox
Max Grobe: Anderson's first foray into stock animation saw the director employ his twee and anachronistic aesthetic into animal puppets, which only served to emphasize Anderson's eye for fabrics, patterns, and color combinations.
Among the shrunken corduroy suits worn by the titular character, there were also some very wearable looks, notably from the villainous Rat voiced by Willem Dafoe. Rat's casual combination of straight-leg denim and stripy knitwear makes a strong case for high-contrast outfits — although it is borderline Where's Waldo. As for translating this look from the screen and into real life, I would pair it with a thick-heeled chunky boot.
The Life Aquatic with Steve Zissou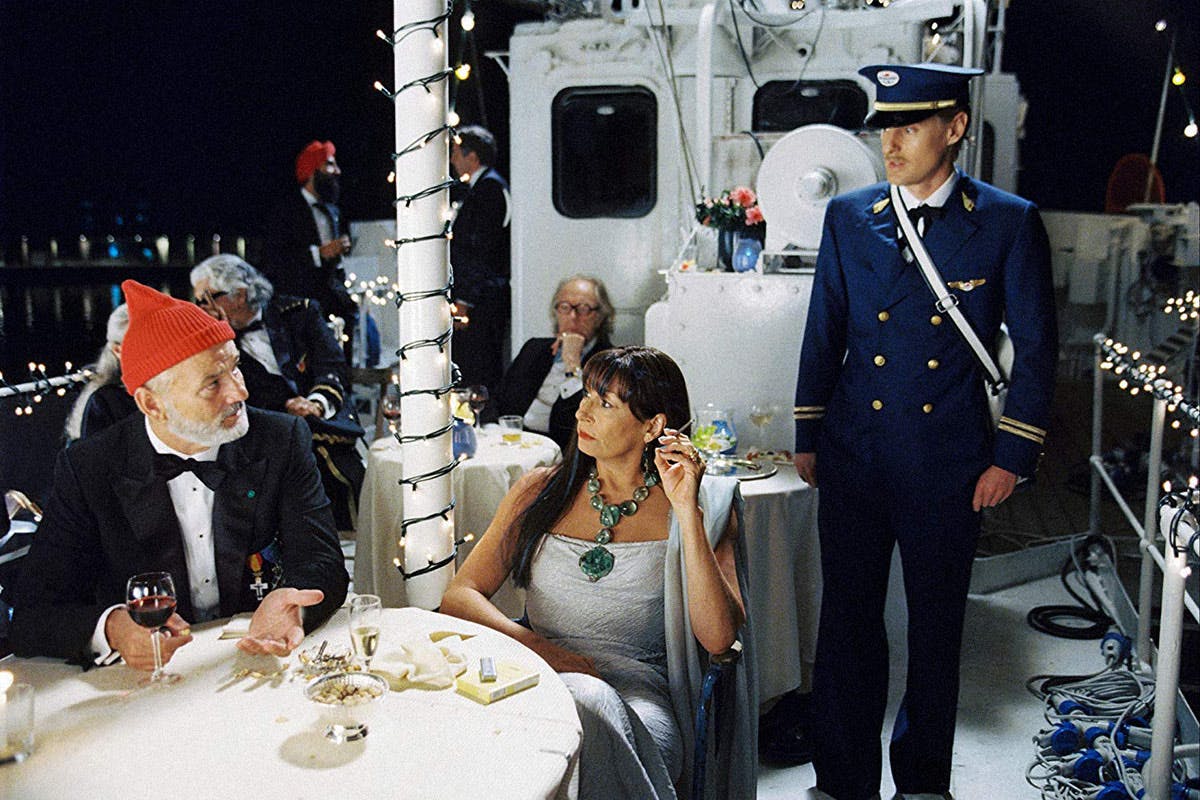 John Lockett: The driving force behind The Life Aquatic with Steve Zissou — besides a blood oath for revenge against the mythic jaguar shark — is teamwork, in all its dysfunctional and idiosyncratic glory. As with most teams, a uniform is involved.
In the case of Zissou & Co., it's a mix of 1970's-era baby blue turtlenecks, track pants, custom adidas sneakers, and neoprene dive suits that wouldn't look out of place on the runway. Everything is tied together with a simple red beanie, which serves as an homage to sea-faring legend Jacques Cousteau (along with just about every other motif in the movie). But the film's standout outfit is Zissou's tux-beanie combo, which really pops during Anderson's signature slow-mo finale through the back streets of Italy.
Bottle Rocket
Adam Barnard: In addition to Bottle Rocket being the debut feature for brothers Luke and Owen Wilson, the film highlighted the more amiable sides of normcore fashion.
Despite Dignan — the scheming reprobate played by Owen Wilson — sporting a shirt far too expressive for the wider normcore community, it is Luke Wilson's character that deserves an accolade for being so unapologetically basic (in a fashion sense). Sporting a pastel camp collar shirt, gray suit-like pants, and a pair of white dad sneakers, protagonist Anthony Adams is a bonafide normcore god.
Castello Cavalcanti
Adam Barnard: Financed by Prada, the Castello Cavalcanti short film is a masterclass in Wes Anderson wit, cluttered with non-offensive stereotype plays.
As Jed Cavalcanti — the failed race car driver played by Jason Schwartzman — crashes his car in an Italian village, he spends the majority of his time justifying his poor performance. Despite coming in last, his outfit is primed for pole position. As he walks away and demands "a shot of the local hooch," we are treated to a look at Jed's full-body leather suit... in yellow!
The Royal Tenenbaums
Adam Barnard: The Royal Tenenbaums is one of Anderson's biggest hits, with its clothing playing a particularly important role. Running hand-in-hand with the film's narrative, the styles are as varied as the talents and personalities of each family member.
Although disparate, the interplay of each character's unique style is a physical representation of their personalities blending. With this unsuspecting collage of styles mainly supported by Margot, Richie, and Chas Tenenbaum, Owen Wilson's Eli Cash cannot be overlooked as another one of the film's best-dressed characters. Cash is a shining example of Western-inspired outfit mastery.