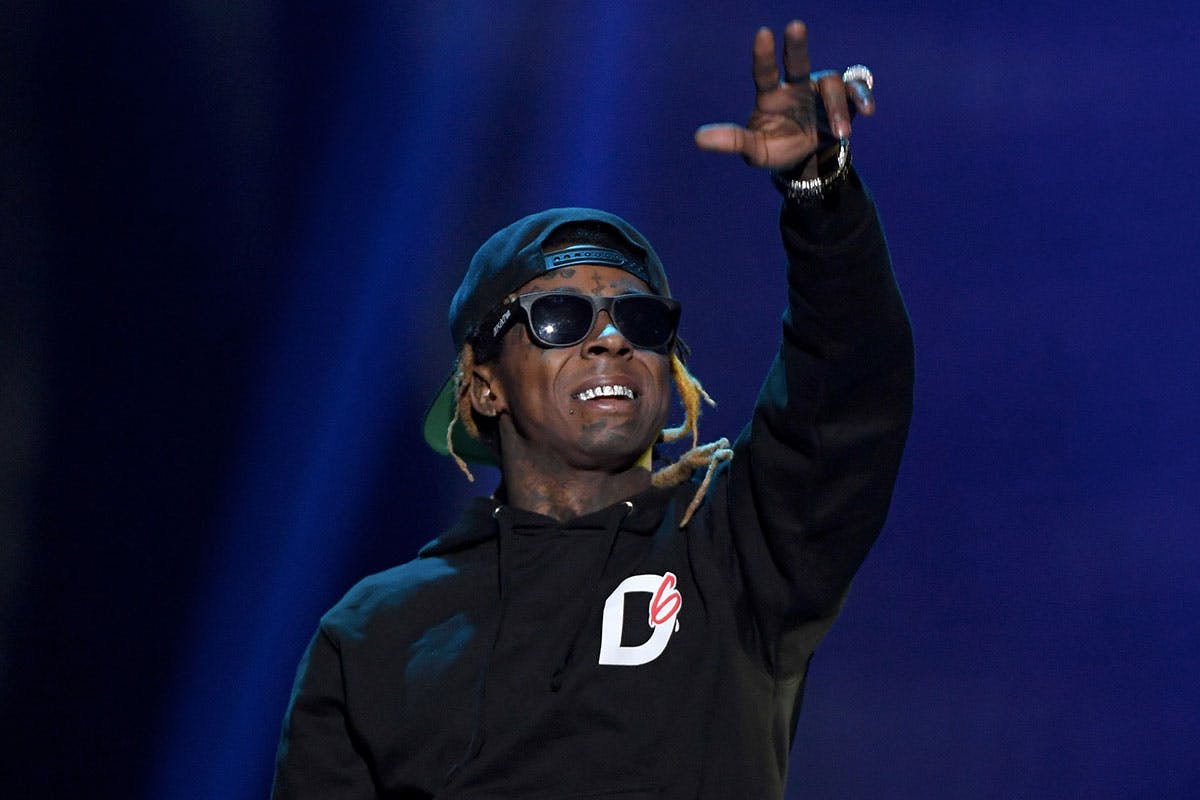 It was May 2008; times were simpler then. Trump wasn't in the White House (Obama was on his way instead), everybody was watching Iron Man at the movie theater, and Britney Spears was in the headlines for her tumultuous life crisis, chronicled carelessly by gossip blogs the world over. Meanwhile, the Billboard 100 was in the stronghold of a rapper who'd spent the past two months crawling up the charts with a tongue-in-cheek, fellatio-fueled anthem that made your parents wince. Lil Wayne's "Lollipop," an auto-tune heavy banger, would have experienced a viral, spin-off following on social media, probably catalyzed by a Viner of some sort, if we'd fully understood what that entailed back then. Instead, it achieved the only success that mattered: a spot at number one, and the enviable title of being the top downloaded ringtone of 2008.
We were witnessing the marathon career of a hip-hop stalwart edge towards the first place podium. Lil Wayne seemed like the most influential figure in hip-hop for the first half of 2008, his face seemingly everywhere while the reigning kings – Yeezy and JAY – were waiting in the shadows to debut major projects towards the end of it. The "Lollipop" hype lasted for the year, gaining Weezy four Grammy wins, and nominations for four more.
He was, for all intents and purposes, a rapper at the top of his game. The four records that followed the chart topping, award winning Tha Carter III were well-received, if not by critics than by his fervent fans; each album nabbing a number one or two spot on the Billboard Hot 100. That's not far off Yeezy and Jay's number-one streaks, but while their rap notoriety has continued to grow, Lil Wayne has spent the past half decade fading into the hip-hop backdrop.
The reason? His follow-up record, Tha Carter V, has spent five years in stasis, teased and prepped for release but nowhere to be seen. When it eventually drops – which could, in theory, be tomorrow or in a decade's time – Weezy fans will be treated to the record he once said would be his final body of work; a magnum opus featuring collabs with Kendrick Lamar and Drake, as well as a rumored 31-strong tracklist with a verse or two from Soulja Boy, DJ Mustard and even Justin Bieber.
But those rumors were swirling when Tha Carter V's release was a few months away, and with the record indefinitely shelved, Wayne has tried to fill the silence with innumerable mixtapes and EPs that have failed to match the kind of success his past work so readily received. The album is now a thing of legend; listened to by label bosses, pharmaceutical crooks (more on that later) and pretty much no one else. It all comes down to one of the most talked about beefs of the 20th century: Lil Wayne vs. Cash Money Records, the former's coveted album stuck in the middle.
"I am a prisoner and so is my creativity," he tweeted, somewhat sadly five days before the record was due to drop on the revised date of December 2014, already seven months off schedule. Tha Carter V wasn't coming anytime soon, and Birdman, apparently, was the one to blame. Cue an intense court battle between Weezy, Cash Money and Universal. In early 2015 – mere weeks after the record was delayed again – Lil Wayne took Birdman to court, suing Cash Money for $51 million for violating their contract by withholding the record.
A month after the lawsuit, Wayne told Rolling Stone that Tha Carter V was "a dead subject right now", "a jewel in the safe" and "stash-house money." After months of legal battles that wound up taking him nowhere, he dropped an album exclusively through JAY-Z's TIDAL, collaborating with friends and artists that worked on it pro bono; a move that we all know isn't necessarily a surefire route to highly-publicized success. The move backfired, and got JAY-Z sued by Cash Money.
The breaking of the silence held between Birdman and Weezy broke at the beginning of 2016, when the pair were spotted at Drake New Year's Eve bash, then on stage together where they publicly admitted they were on speaking terms. Weezy switched up the case to target Universal – Young Money's parent company – instead, but his on-stage lambasting of Cash Money lived on. The animosity was back, the ball in Weezy's court, and he wasn't willing to let his label listen to the mystery record until the case was all settled.
Later that year, a two-CD record from Weezy, believed to be Tha Carter V, wound up in the hands of Martin Shkreli, the heinous pharmaceutical boss known best for outrageously inflating the price of life-saving HIV medicine and using the money to buy Wu Tang Clan's Once Upon a Time in Shaolin record for $2 million. Rumor has it he bought the record from someone who bought Wayne's old Bugatti, which just happened to have a version of the album in the side pocket.
Fans had always been thirsty to hear some of the four-year-old verses from rap legends that were on the record, Kendrick Lamar's "Mona Lisa" being the most coveted. Sadly, all we've heard of it so far was teased to us by Shkreli via a shaky live stream which he ostentatiously shouted over. When he was sent to jail in January of this year, his copy of Tha Carter V became property of the US government, who seized it as payment for the security-fraud charges he was landed with. Picture that for a moment: a figure of law enforcement in New York City holds the key to Weezy's comeback.
Despite the fact he hasn't been present on the Billboard-approved mainstream rap scene for some time, Lil Wayne's Instagram account still boasts some 7.5 million followers. It's plastered with adverts for Bumbu, his Caribbean rum venture, alongside sporadic tour date announcements and teasers for songs from his latest mixtape, Dedication 6. It featured songs from Young Money icons Nicki and Drake, but seemingly, the wider world barely heard about it. His feed suggests that he's pretty comfortable financially anyway, and is at the point of making music for the purpose of pleasure rather than business.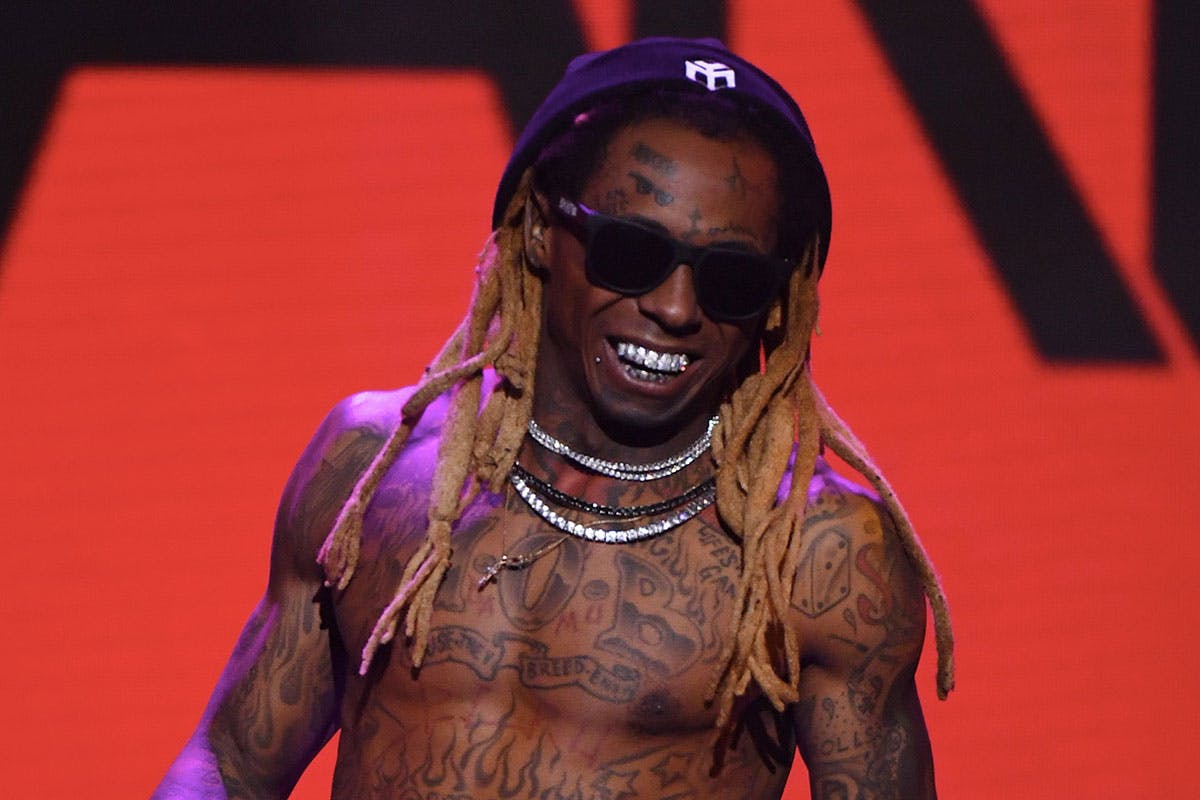 But today, we're used to rap stars being omnipresent, constantly working on mixtapes and singles, touring incessantly to ensure they're ingrained in our minds. But what happens to an artist's relevance when a body of work is held from release for so long, out of his own control? In Lil Wayne's case, the messy relationship with Cash Money Records has practically killed his career. If the record had dropped back when it had meant to, maybe Weezy would be up there on the same pop cultural pedestal as Drake and Nicki. Maybe he'd be working with the kind of artists they are, or raking in money through lucrative endorsements that we'd constantly hear about. It's a shame - when you consider that he's the originator of the Young Money movement and that he's fallen in the label's rankings. But there's still hope yet.
If pop music has proved anything to us, it's that long LP breaks from once-adored artists can only lead to killer album sales, and if Weezy is permitted to iron out his issues with Cash Money and release a record on his own terms – perhaps through a deal with JAY's Roc Nation to snowball on top of his TIDAL collab – he might just pull off one of the most monumental hip-hop comebacks in history. Remember, Tha Carter V might be comatose right now, but its rebirth now lies in Lil Wayne's perfectly-capable hands.
For more like this, read why Donald Trump may be the first real hip-hop president right here.