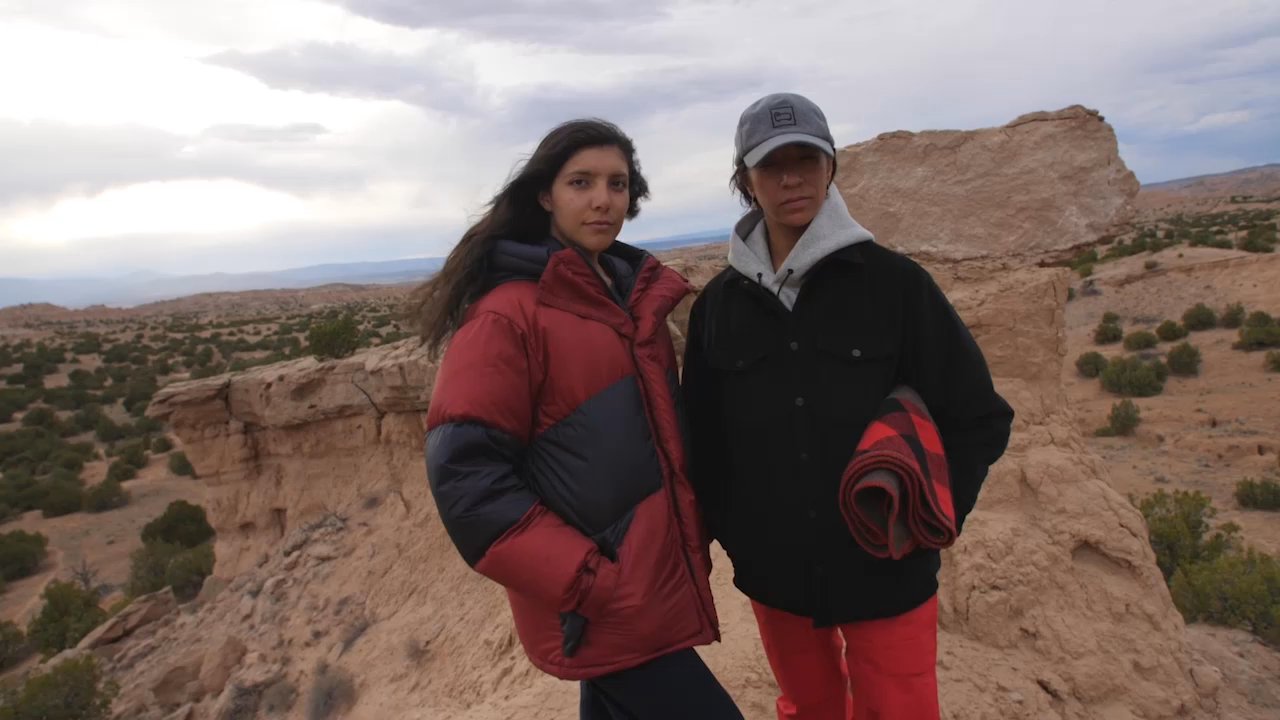 What started as a woolen mill in 1830 in Northern Pennsylvania has evolved into one of the most established American apparel brands in outerwear history.  Since its inception, Woolrich has been an avid supporter of outdoor activities, encouraging individuals to conquer the elements and brave what nature has to offer, while providing uncompromising functionality and refined, contemporary design.
As many of us find ourselves cooped indoors day after day, we forget the healing and fulfilling ways in which being outside can benefit us. Many of us are newbies when it comes to venturing into the wilderness or trekking off the beaten path, so for this Fall/Winter season, Woolrich has taken the necessary steps to make sure you're more than prepared for your next adventure.
The brand teamed up with Highsnobiety to explore the barely touched lands of New Mexico. The Rio Grande del Norte landscape comprises rugged, wide-open plains cut by steep canyons, not to mention an 800-foot deep gorge through layers of volcanic basalt. A true adventure experience, the terrain pushes explorers to their limits, as well as the gear and get-up they're sporting too. We called upon two nature enthusiasts, Gabaccia Moreno and Dani Reyes-Acosta, who spend more time outdoors than indoors to join Woolrich on this venture.
Having met a while ago through Instagram and the She Explores Blog, Moreno and Reyes-Acosta have a lot in common, with a vast amount of experience and appreciation for the outdoors stemming from their childhood, shift in career choices, and travel. "I was taught to care for land, water, flora, and fauna by my parents from a young age. We spent a lot of time outside, hunting, fishing, or visiting ancestral sites around the South of Mexico where I grew up," explains Moreno. Similarly, Reyes-Acosta has been inspiring individual action and collective communion through self-care and determination found in the outdoors. "I'm a mountain athlete, trail runner, and storyteller who is trying to rewrite the narrative of how we build community on this planet."
Photographer / Julian-Edward Tongol, Photographer / Julian-Edward Tongol, Photographer / Julian-Edward Tongol
To benefit our planet, we need to return to a regenerative relationship with nature. What's needed is a radical change in our lifestyles of mass consumption.

Gabaccia Moreno
We can create a better future through small actions. Reuse and repair broken gear instead of throwing it in the trash. Buy high-quality gear (like Woolrich's) that won't fall apart. Support initiatives, empower indigenous leaders to lead stewardship efforts, and most of all, be kind to others on the trail.

Dani Reyes-Acosta
When it comes to being outdoors, it's much more than just a hobby for both individuals. Moreno says, "I started to reconnect with nature in new ways. I realized I cared too much about it to not work with it. When I'm outside, I'm at peace, and I don't feel judged, so I knew right away I wanted to work with it in a way that was authentic and impactful."
Photographer / Julian-Edward Tongol, Photographer / Julian-Edward Tongol
Photographer / Julian-Edward Tongol
Reyes-Acosta admits that learning outdoor skills can be difficult and takes time and experience. "I embarked on a journey for over a year, chasing mountain and ocean adventures as I traveled through Latin America. Moving from an office with four walls to the wide world of everyday learning taught me a lot, and that the pursuit of our passions can align with our true purpose."
Speaking of outdoor skills, Woolrich made it much easier for Moreno and Reyes-Acosta to push themselves to the limits during their adventure, thanks to the high level of technical design and material use. The garments were just as ready to face the elements as the two explorers, blending comfort, functionality, and style, something Woolrich does best. Its outerwear aesthetic is always on point, a factor that Reyes-Acosta's mother says is just as important, "looking good is part of performing well!"
From submerging half their bodies in water to hiking dusty paths and climbing over rocks, both individuals didn't shy away from facing the down and dirty side of outdoor exploring.
"We pushed the limits of what these Woolrich pieces are designed for. I was kept super cozy all day, and I think the garments make great forest-to-urban-hike outfits. When we got caught in the rain, I was kept dry while being able to fish, which is always good in my book," states Moreno — a true testament of the pioneering, technical dedication we see season after season from the long-standing brand.
"The Parka is my favorite piece from this collection as I'm always in need of good rain gear. I love that this Parka comes with a warm layer for colder days, and I adore the color palette," explains Moreno. For this FW21 collection, Woolrich's insulated Diamond Down Parka is treated with PERTEX DIAMOND FUSE fabric. The yarn has diamond-shaped filaments that lock together for durability and abrasion resistance. The panel and pocket structure uses standard chevron stitching, with the large mesh pocket on the inside allowing for easy access items.
This season also sees Woolrich expand its Corduroy range, with Puffy Down parkas, vests, and shirts. Drawing inspiration from its iconic archive, the puffy style is back and has us ready for the upcoming colder months. The resin-buttoned Parka comes complete with a blue GORE-TEX lining that not only offers insulation but provides protection against water from both the inside and outside. The Corduroy series is also entirely packable, coming with a bag and carry-strap to help minimize space, but also easily at hand if the elements decide to work against your favor.
I love the simple beauty and cut of the wool sweater. Something like this is timeless and durable, and that is definitely what I look for in my gear.

Dani Reyes-Acosta
'Phone eats first' is a phrase I'm sure many of us have heard before. Alluding to the fact that we feel the need to document everything digitally these days, something many of us are victims of, we ask Moreno and Reyes-Acosta if they think technology is helping us or hindering us from connecting with nature.
Photographer / Julian-Edward Tongol
"Different people have different relationships with nature and technology, which is dictated by complex socio-political systems that inevitably rule us. I use technology to connect even further with nature, but I have also seen the commodification of nature through technology," says Moreno. When it comes to more skill-related issues, Reyes-Acosta explains how "technology can improve our experiences in the outdoors, but we should never rely upon it to guide us. Baseline skills, like knowing how to make (and properly extinguish) a fire, knowing proper food storage, and having basic first aid skills can never be replaced by a phone."
We've gathered up some of Moreno and Reyes-Acota's best outdoor tips to make sure you're prepared and some great apps to help along the way.
Have a plan and a backup plan.

Understand the area you are going to visit; for example, if there are special precautions you need to take.

Always remember a backpack, a big water bottle, a first aid kit, and snacks!

Learn ways to minimize our impacts on the environment - 'know when to leave it better than you found it' and 'know when to leave it as you found it.

Communicate with your fellow adventurers and a good contact safe at home who will know your plans (including approximately when you will be back in reception).

Research, Leave No trace Center for Outdoor Ethics is a good place to start.
Apps:
Maps - OnX Hunt

Fishing spots -  Fishbrain

Hiking/trekking - Hiking Project, Relive and All Trails

Thru-Hiking - Guthook

Camping spots and covering van life/road-travel needs - Sekr

Flora/fauna identification - iNaturalist
Shop the complete Woolrich FW21 collection here to get yourself ready for your next adventure.