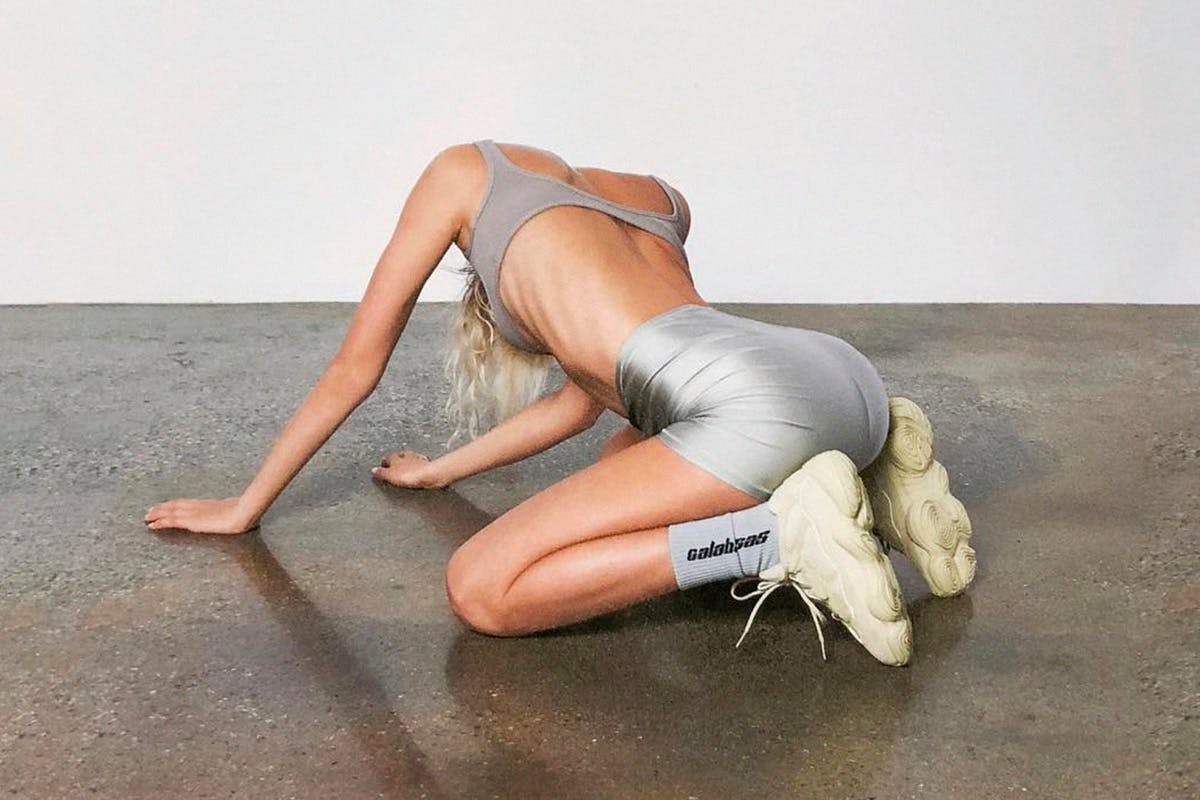 At first glance, Dylan James Richards and Sebastian Hunt look like typical hype kids. Scroll through their Instagrams and you'll find their aesthetic instantly recognizable: There are pictures of sleek vintage cars, lo-fi close-ups of scantily clad women, backgrounds in minimal or brutalist spaces, and selfies of the pair smoking cigarettes or lounging in plush, oversized hoodies.
And, of course, there are sneakers. Not just any sneakers, either: YEEZYs, arguably the most coveted shoes on earth. From the 750 Boosts, the Wave Runners, or those cloud-like slides, nearly every single one of the brand's releases is displayed on their pages.
But, unlike many enthusiastic sneakerheads, Dylan and Seb aren't following the trends, they're setting them. Working as "ghost creatives" with artists like Kanye West, Justin Bieber, and Tyga, the two started as fashion editors in New Zealand before moving stateside in 2015. Their work is veiled in secrecy and symptomatic of a rising trend in fashion. Thanks to the advent of social media, the role of a stylist has become less defined and more fluid.
Responsible for everything from styling editorials to curating global campaigns, Dylan and Seb are responsible for facilitating many of today's trends. The slightly-shredded, oversized hoodie you decided to wear with a thick bomber jacket? Most likely them. Together, the pair has merged practical workwear with the kind of sleek minimalism that dominated early '90s runways, cementing a luxe yet low-maintenance uniform for a generation defined by streetwear.
Pressing pause on celebrity clients, we met the duo for lunch, where they discussed how they started, the scope of their crafts and where they plan to go.
How did you two meet?
Sebastian Hunt: Online, during Tumblr's peak. We were about 17, and I thought [Dylan] had amazing style and an interesting vibe going on. I didn't realize he was also living in New Zealand. He lived in Auckland, about a 10-hour drive from where I was currently living, and we ended up hitting it off. A few days later, I ended up driving to hang out, before eventually moving there.
Dylan James Richards: We ended up studying together at this shitty fashion school. It was terrible. There was hardly any real creativity. We didn't really see eye-to-eye with the other students and teachers. They didn't really understand us, so we lasted only a couple of months. But we've been brothers ever since.
Was fashion always the goal?
SH: For the most part. It was definitely something we always participated in. We had a lot of creative friends too — photographers, models and makeup artists — and we'd plan our own shoots on the weekends. Then we got internships at this PR showroom which was the first time the idea of fashion as a business and career path seemed feasible. Stylists would come in to pull pieces for clients and I thought, "We can do this."
DJR: Once we picked up an understanding of what the job was and what we were capable of doing as young creatives, that's when we started plotting our own thing.
Then what?
SH: We eventually left the showroom and went to work for a New Zealand-based print fashion magazine. We started as fashion editors and we were given a lot of trust and control. We had full access to a ton of brands and that was our gateway into the industry. All the showrooms knew who we were.
DJR: We got to create freely and our work was finally taken seriously. Even when we were at the showroom, we'd use our Instagrams like resumés, posting personal shoots or ideas that inspired us. The fashion industry in New Zealand was such a commercial market and a lot of people didn't like our aesthetic. We got a lot of hate from more established stylists and older editors who thought our work was trash. We were even questioned by the magazine owners. No one really understood our work.
SH: There was a lot of hate. Modeling agencies thought our work was too crazy. Showrooms banned us because they didn't like the way we "portrayed the designs of their clients."
Why do you think there was so much push back?
SH: Well, not only was New Zealand incredibly commercial, the fashion community was extremely small. The old guard had a particular way of doing things and we were two 18-year-olds trying new shit. We used to have models wearing lucite heels with items from a conservative brand. None of it was that outrageous, but at the time it seemed insane to those companies.
DJR: I think there would have been less resistance if we listened to others' opinions or followed some of the set trends, but neither of us could. It's not our nature. Because of that, we didn't trust anyone's eye but our own. We didn't trust photographers on set. Didn't trust the brands. We pulled our own shit from eBay or friends' closets.
Is that when you decided to move to Los Angeles?
SH: We hadn't planned on moving to Los Angeles, it didn't seem like our niche, but when the opportunity came we took it. Celebrity styling wasn't part of the plan either but there was no way we could turn it down. We had reached our peak in New Zealand and there was nothing left for us to do.
DJR: It was perfect timing. We'd done stuff for almost every big New Zealand label and our portfolio was strong, but we hadn't done anything international. That was a big goal of ours.
What's it like working with Kanye?
SH: He's someone, like us, who strives for excellence.
DJR: We've definitely learned to look at fashion through several different lenses and it helped us think even more outside of tradition.
Acclaimed fashion photographer, Jackie Nickerson, often credits your work. In the YEEZY Zines she photographed, she's tagged your Instagram handles. What was that experience like?
SH: Jackie was always someone we wanted to work with, so when we got the opportunity it was surreal. We're now super close with her. She's always looking out for us and giving the best advice.
DJR: Jackie will always be my favorite photographer to work with.
Who are some clients that you can discuss working with?
DJR: We worked on two Justin Bieber music videos, both of which are commercial and wildly different from the rest of our work. We also styled the Calabasas spread in 032c featuring Travis Scott, Lil Yachty, the Kardashians, and more. That was shot by Mert and Marcus.
Can you tell me a little bit about the role of a ghost stylist?
SH: It mainly depends on the client — everyone has different expectations — but you act as a curator. A ghost stylist comes in and enhances a person's style or a brand's overall direction. They're supposed to pick up trends, themes, or elements that are missing. Sometimes an overall look seems super cool or high fashion, but it may not translate to a celebrity's audience or company. It's a collaborative process. Having a ghost stylist doesn't necessarily mean that a celeb or brand doesn't have great personal style or taste. It's about fine-tuning their style to reflect specific goals and interests.
DJR: And not all celebrities are fashion masterminds. Sometimes it takes a little help from a secret team of stylists to execute the best looks for them. Our culture is more visual than ever, the stakes are higher.
Do you think ghost styling has become the new standard?
SH: Absolutely. "Stylist" has become a loose term because so many people are now hired based on their own personal style. This doesn't always translate into a successful career. Styling is a lot of work. You have to know how to work on sets; you have to have an eye for understanding what'll look great in an editorial versus what looks great being worn.
DJR: Ghost styling is getting bigger because everyone is famous now. The right stylist can transform someone's career overnight. Look at how much Cardi B's style has changed the pace of her career. She went from wearing $20 outfits to Thierry Mugler 1995 couture.
How do you enhance someone's personal style?
SH: It depends. Styling men is easier for me because I can approach the look thinking of how I'd wear it. Men tend to strive for less effort, they're more interested in being cool. Not always, but mostly.
DJR: Women are easier for me because you can go crazy. Most men don't push streetwear to its limits and they're afraid of going against a trend. With women, the options are endless.
Obviously, women's bodies can be an obstacle if you have no training. You have to be very careful. When we were working on the YEEZY Season 2 Zine, it was our first experience working with models outside of traditional sample sizes.
It's no secret that fashion can be super restrictive and we were so used to working with the stereotypical model: extremely thin and tall. But for the Season 2, 3, 4, and 6 YEEZY zines, there was a diverse group of women. There were girls that were super curvy with large busts, which means you have to be careful; body type is interesting because of how widely things are viewed. The same look on a thin girl might seem too sexual on a curvy girl. A certain fit on an athletic girl might make her look too thin. Women have more rules but you always get better looks.
What's your creative process like?
SH: We start our research without references from other brands. We can take inspiration from anything, be it vintage sportswear, interiors, shapes, textures, and architecture. That sets the mood and we create a theme to build on.
DJR: Also pieces of clothing that aren't branded: old sportswear, workwear, and uniforms. I like clothing that's generic. It doesn't need 10 sleeves or five different armholes, nothing conceptual or avant-garde. It's how you piece things together that makes a final look, and the look has to be pretty low-key. We tend to do a lot of style-outs where we'll create a look that doesn't seem instantly wearable but the base is almost always utilitarian. It might be heavily layered but then we strip it back, change it around, and make the colors make sense.
Could you describe your personal styles?
SH: My whole wardrobe is almost all YEEZY (for obvious reasons). I'm not interested in paying thousands of dollars for workwear made by some high fashion designer, although sometimes I do slip up — I couldn't say no to the Celine rubber hiking boots! People aren't aware that you can get the coolest shit for $6 and then have it tailored for $20. Clothes don't need to have a fat price tag for you to 'flex.
DJR: We're always in a uniform. Every day it's the same base and then we switch it up with colors. Money can definitely help you build style but a lot of time it works against you. Especially now. Everyone wants to seem fashionable and there's a lot of logos and prints. We keep it plain.
How do you feel about the fashion world today, especially with the rise of social media?
SH: I think we're starting to move to a place where people don't care as much about expressing their individuality through clothes, which sucks. I have always been low-key obsessed with the beauty industry and how much make-up has shifted trends. You'll see tons of people have on carbon copies of the same outfit, but what sets them apart is how their face is beat.
I'm a little bored by everyone wanting the streetwear vibe. But I get it. We got our jobs from social media and there are more opportunities than ever.
DJR: I hate it. I have a major love-hate relationship with Instagram. Social media has changed everything and everyone is turning into clones. It's just one circle of the same shit. It's hard to find inspiration these days on it, but if you utilize social media the right way, it can shape your career.
What's next?
SH: We're definitely going to keep styling. There's a lot we have to offer and we've been ghost styling and ghost designing for so long. We're in talks to start our own brand and that's a huge goal for us. It has less to do with the credit and more about the satisfaction of being able to claim your work. Being behind-the-scenes is one of the best places to be, but it's a proud moment when your designs are recognized publicly. I also started working as a consultant for an Australian Skincare line, Aliange, because skincare has always been important for me and I believe a lot in this brand.
Any other celebrities or brands you'd like to work with?
SH: For celebrities, no one's off limits. But definitely Ariana Grande, Bella Hadid, and Travis Scott.
DJR: I'm pretty much open for whatever jobs and clients fall in front of me. I really enjoy the challenge of merging someone's image and mixing it with my own creative vision.