[UPDATE] February 26, 2018: This post has been updated with YEEZY Season 6's recently-previewed crepe-sole sneakers and Chelsea boots, as well as the advertising campaigns that appeared in New York's Times Square and Herald Square subway station.
Kanye West's foray into fashion has been eventful to say the least. Juggling his music career with an incomparably high-profile family life and so-called "public meltdowns," it's a testament to the man's vision that we are now entering YEEZY Season 6.
Following an internship with Fendi (where he was getting people coffee, lmao), two critically-panned shows at Paris Fashion Week, a sneaker collection with Louis Vuitton, the first Yeezys (made with Nike) and the since-abandoned Pastelle line, Kanye finally unveiled the first season of his new fashion label as a collaboration with adidas Originals in 2015. Minimalist, neutral and arguably derivative of designers such as Helmut Lang and Martin Margiela (and hiked up to about the same price point too), YEEZY was met with derision, adulation and confusion. The following seasons continued to divide opinion to varying degrees, but unlike many other labels started by rappers (RIP Snoop Dogg's 'Rich and Infamous' line), it endured.
In a line from The Life of Pablo's "Facts," Kanye spits "Yeezy, Yeezy, Yeezy, they line up for days," and it's true, amidst controversy, cancelled collections and a general sense of "what is he doing?," Kanye transgressed from musician to fashion designer in a way that no-one else has. Folks really do line up for days, or, at least, a bot is standing in the digital equivalent of a queue for them.
In the two years since YEEZY Season 1 debuted there have been cancelled collections, listening parties in Madison Square Gardens, fainting models on Roosevelt island, and a plethora of sneaker drops.
Now, we're unravelling the roll out of YEEZY Season 6. Here's everything we know so far.
The First Look
These inaugural images of YEEZY Season 6 came courtesy of West's long-term friend and former barber, Ibn Jasper. Taking design cues from some of the season's biggest sneakers such as the Balenciaga Triple S and Raf Simons x adidas Originals Ozweego, the chunky kicks eschew Boost technology in favor of an elevated, bumpy midsole. On the outsole, adidas's elastic adiPRENE material can be seen being complemented by gum accents, while the upper is notable for its '90s-indebted paneling.
To Fashion Week or Not to Fashion Week?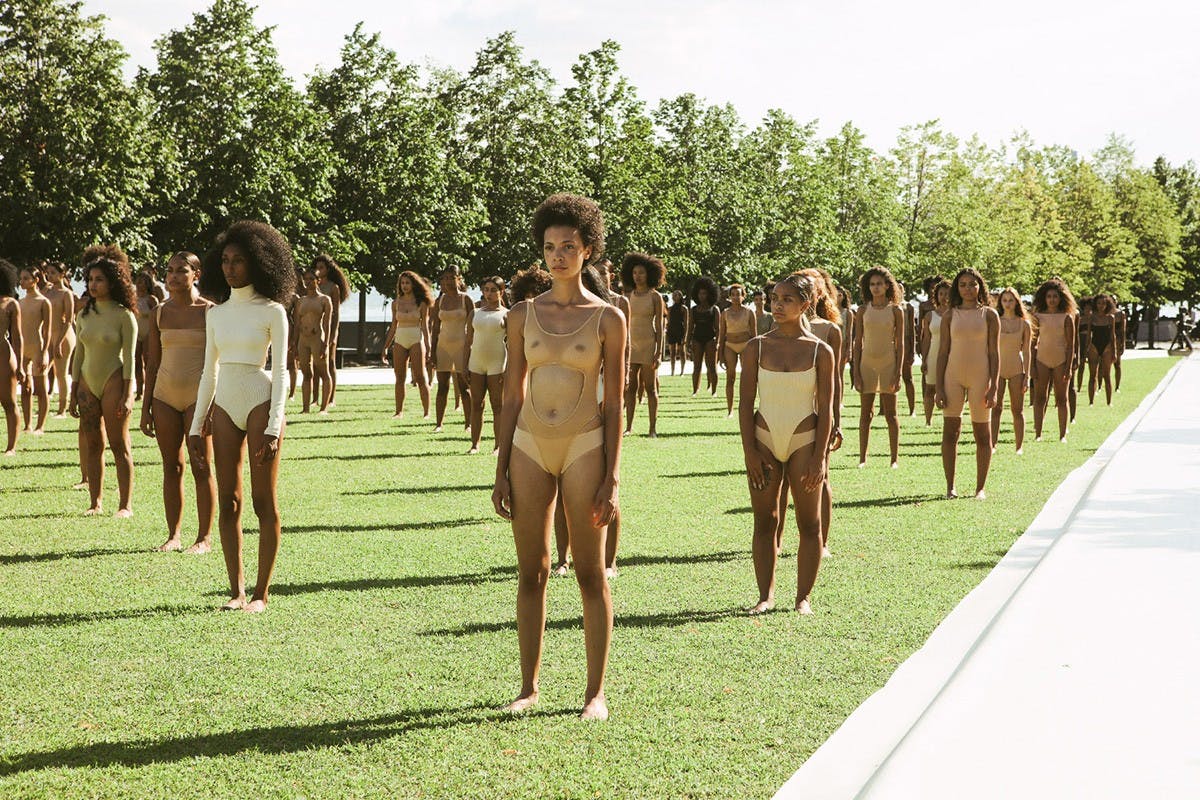 YEEZY's previous fashion shows were held in high-profile locations in New York, and we would have expected as much from Season 6, but things took a different turn this season. You'll remember that last year, Kanye's NYFW show was met with controversy as he allegedly took a slot on the calendar without consulting the CFDA.
News outlets reported that YEEZY Season 6 wasn't supposed to be showing on the official fashion calendar, but instead at an off-schedule presentation. However, in the end, NYFW came and went with no sign of YEEZY.
Offering a further glimmer of hope for a YEEZY fashion week show, socks advertizing a Season 6 show began appearing on Instagram, suggesting that Kanye would be showing in Paris.
Even after the apparent invitation, Kanye was a no-show at Paris too, and this is where Season 6 starts to really differentiate from other seasons. Bowing out from fashion week and presenting Season 6 on Kanye's own terms, and to his schedule, is what many fashion brands would do if only they weren't so ingrained in the rhythm of Spring/Summer-Fall/Winter. It's 2017 for crying out loud; nobody does anything just because that's "the way it's always been" anymore — YEEZY is one of the first brands to unshackle from the broken system, along with Vetements.
Calabasas Drops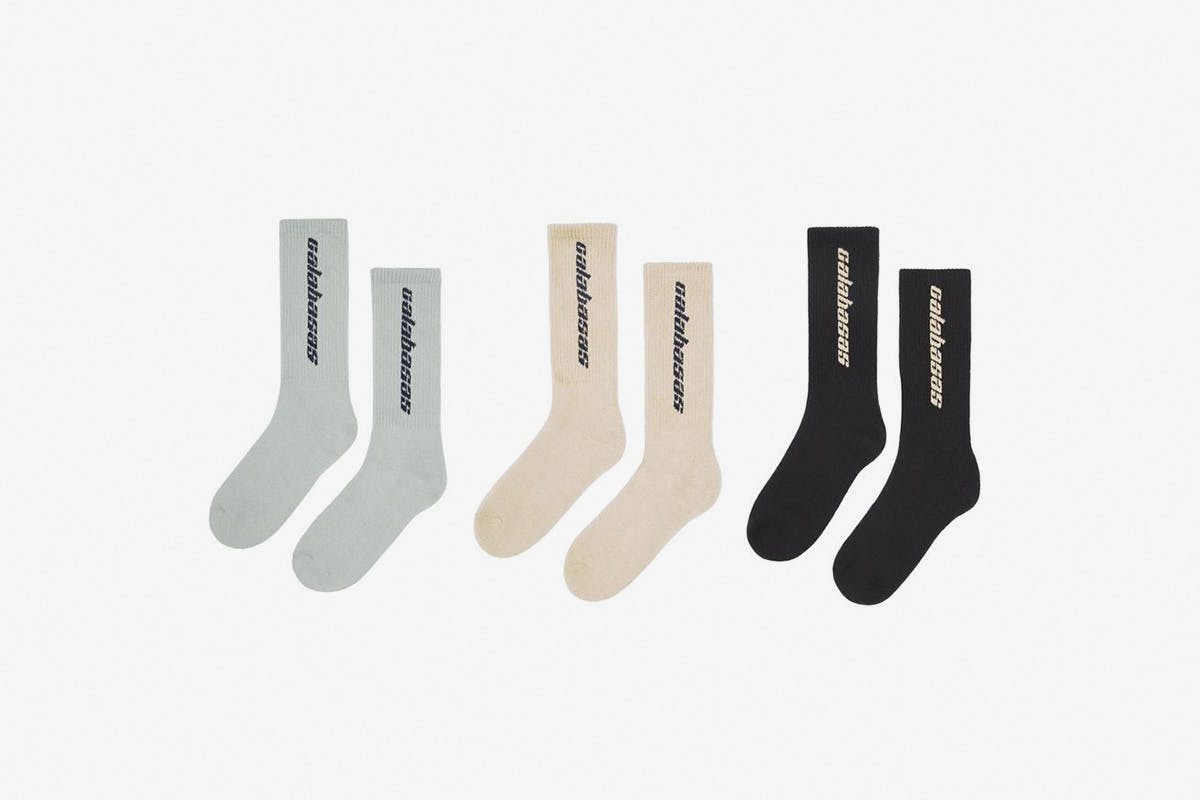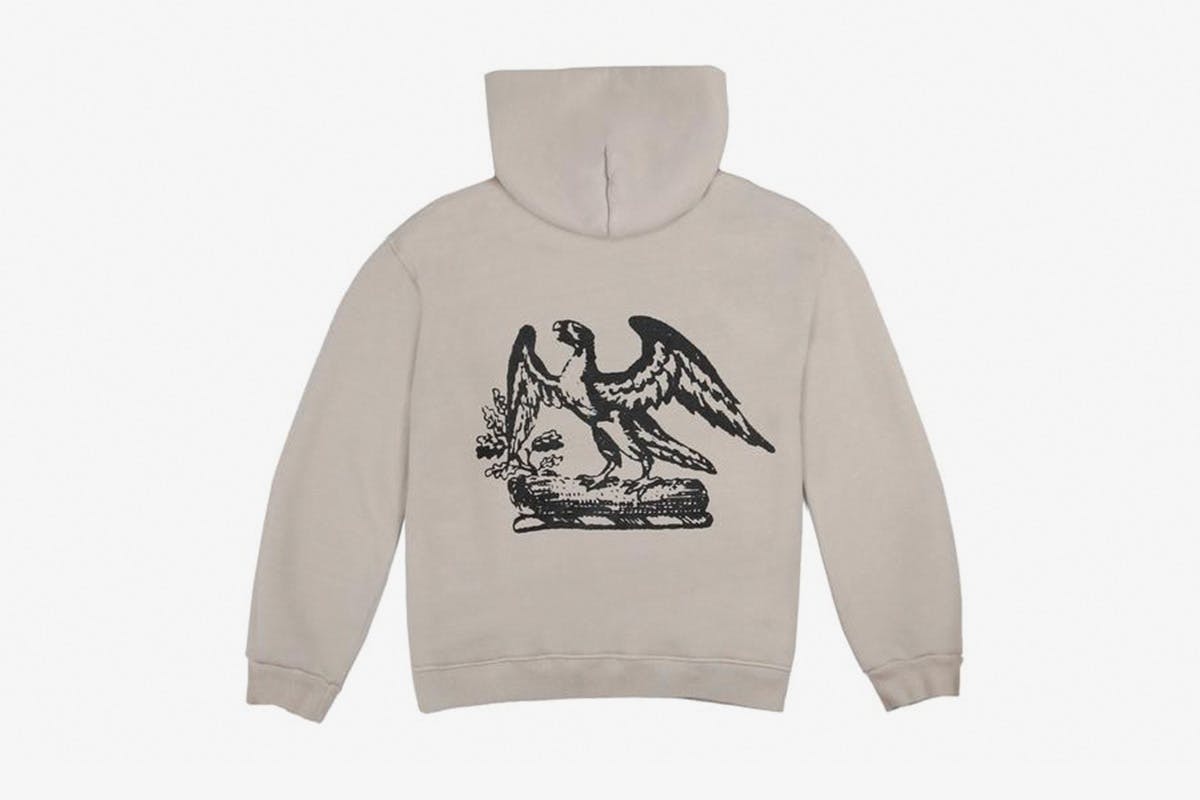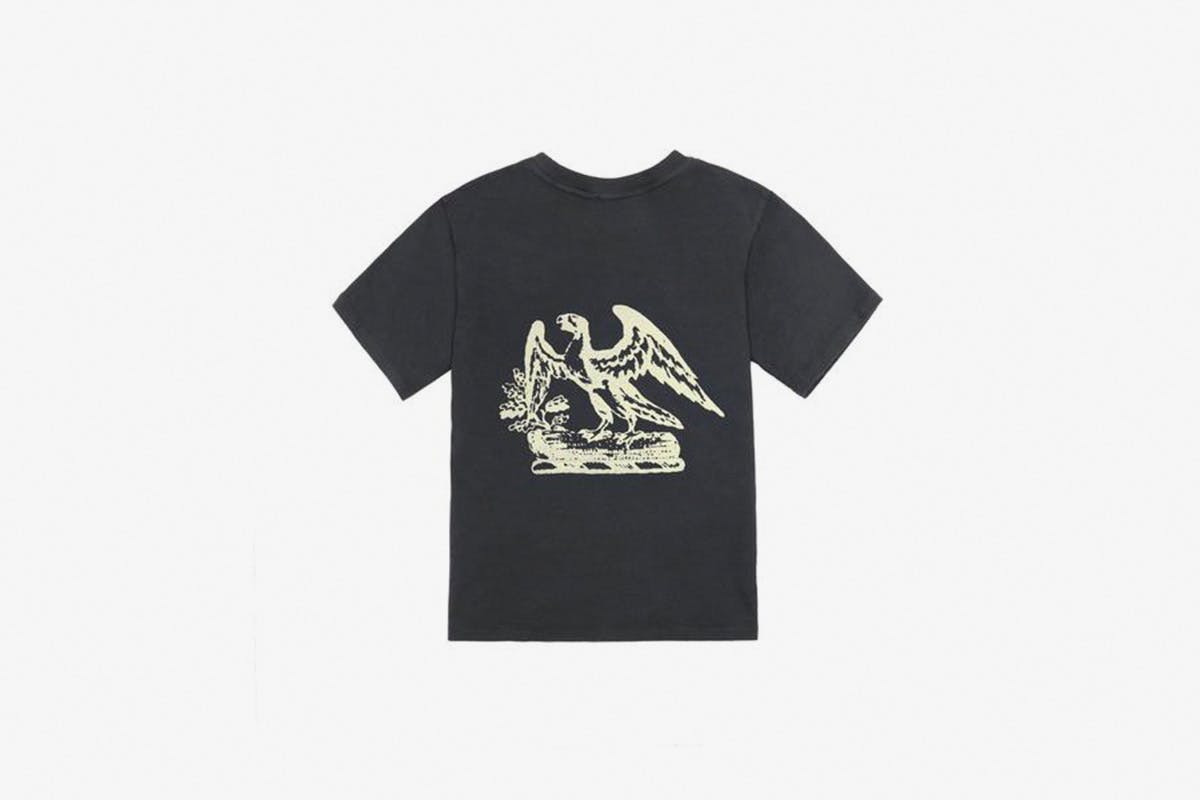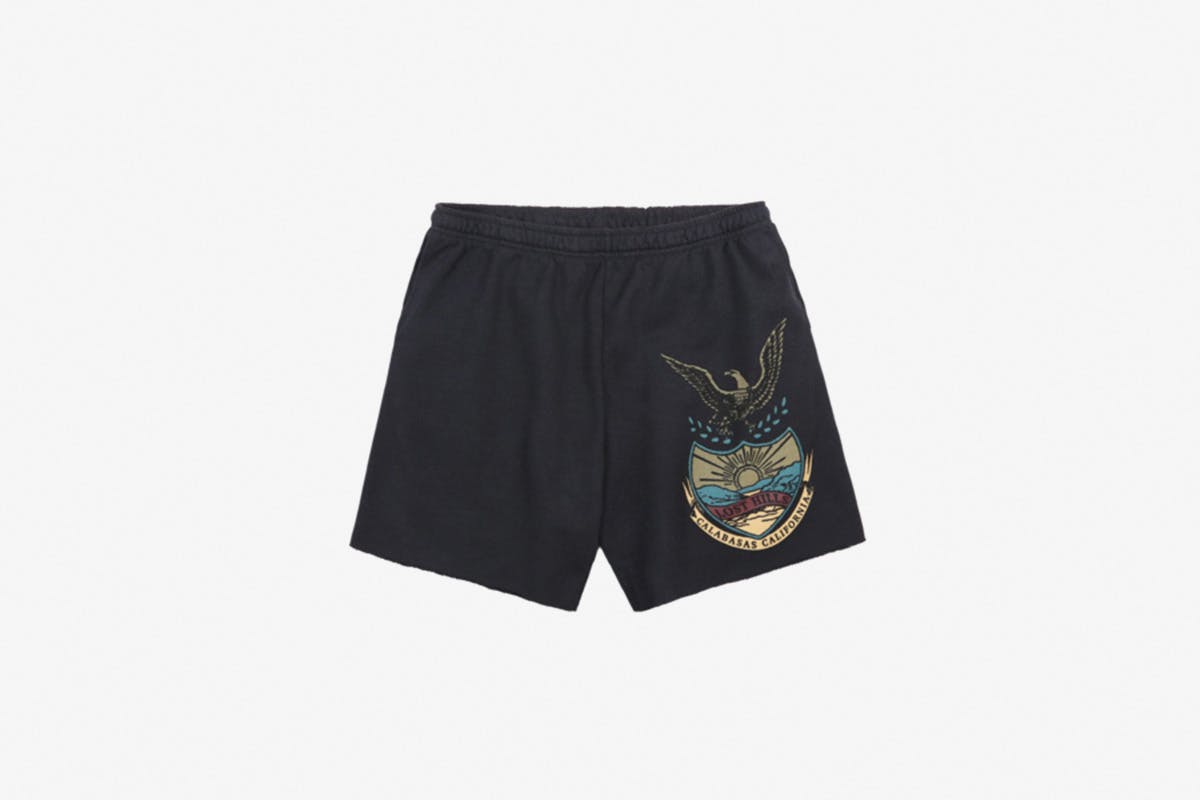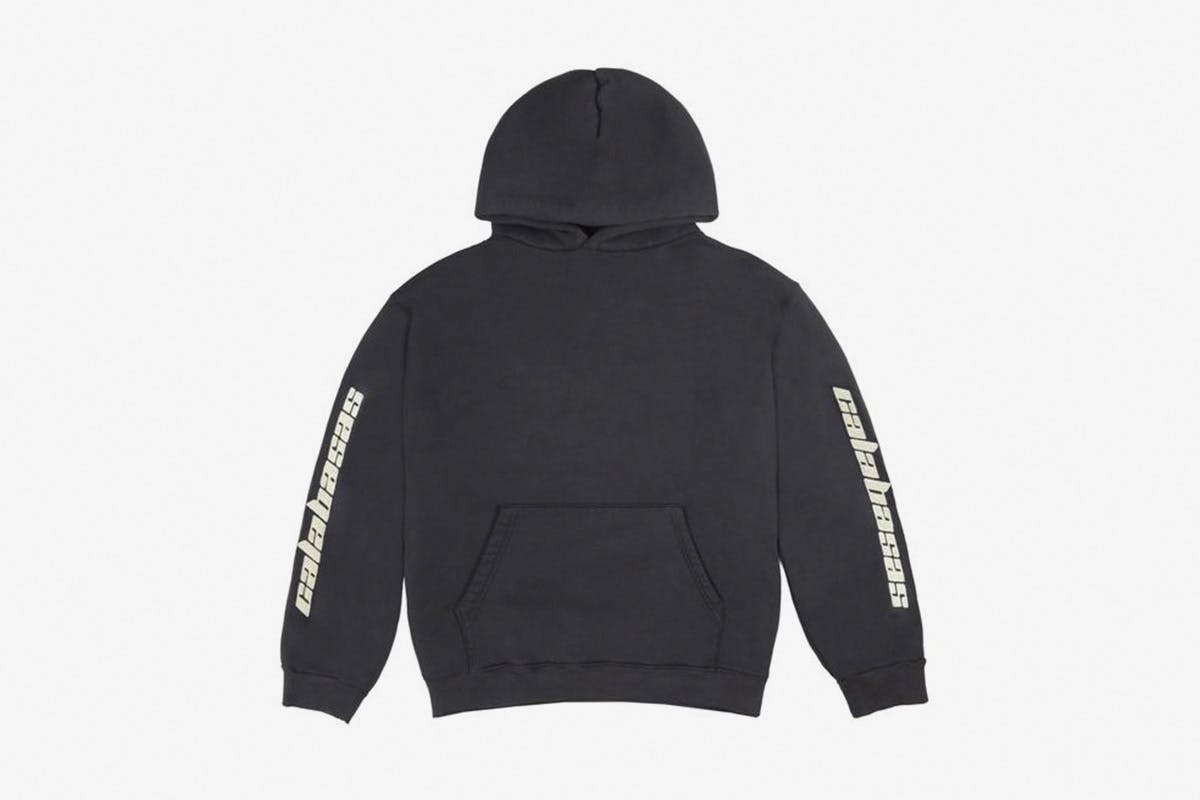 After a fairly dry summer with no signs of YEEZY in New York or Paris (despite the sock invite), August saw the surprise release of a brand new sneaker on yeezy.supply, along with a slew of Calabasas-branded gear, including sweat suits, sports bras, tees, and an acid yellow dad cap.
The collection came with an official zine, shot around Calabasas and the surrounding Los Angeles area by photographer Jackie Nickerson, and highlighted Kanye's infatuation with the so-called "Frozen Yellow" color that multiple other brands have picked up on.
The Sneakers
Throughout 2017, Kanye and his clique of collaborators leaked various new sneakers from YEEZY Season 6. Unveiled this season were two new colorways of the adidas YEEZY Powerphase in all-gray and all-black, the YEEZY wave runner 700 in blue/gray/orange, the Desert Rat 500 in gray, a "triple black" Wave Runner 700 and the highly divisive Mud Rat 500s in Supermoon yellow.
The Mud Rat 500s came courtesy of Kim Kardashian, who shared the image to her 105m Instagram followers. This marks the first time Kim's ineffable social media presence was being developed into the marketing for Season 6, usurping fashion shows and traditional means of advertising. Who needs a fashion show when your wife has the 12% of all Instagram followers at her fingertips?
However, opening yourself up to Instagram means opening yourself up to the trolls, and indeed the shoes' geriatric appearance was decimated on Twitter. Users compared the model unfavorably to Skechers and orthopedic shoes.
Towards the end of last year, Kanye West was spotted in New York in what appears to be a new silhouette of the YEEZY wave runner 700. While the silhouette very clearly has a YEEZY 700 midsole, the upper has been slightly reworked in a white, gray and taupe colorway leading to some publications calling it the "700 V2," although it could be an entirely new model as well.
In February, a new batch of crepe-soled sneakers surfaced that mimic the aesthetic of YEEZY's combat boots, and a set of high-end Chelsea boots followed soon after. The shoes were priced considerably higher than Kanye's adidas models, with the "snaggy" suede sneaker rumored to retail for $400, while the Chelsea boots started at $500 and reached at over $900 for a faux-snake version.
Things Get Meta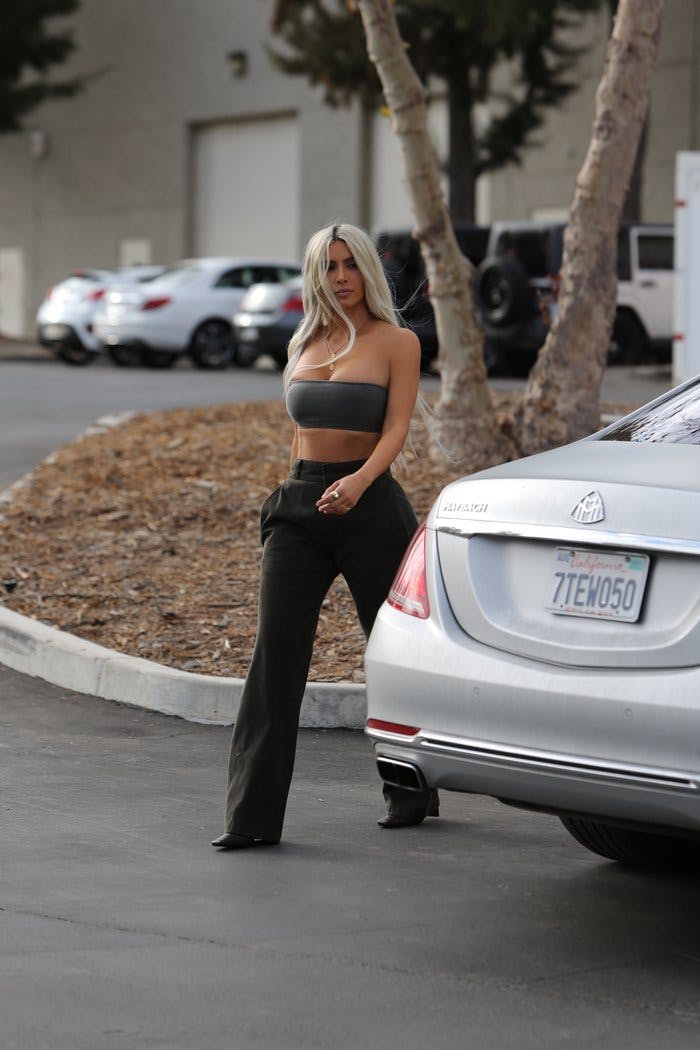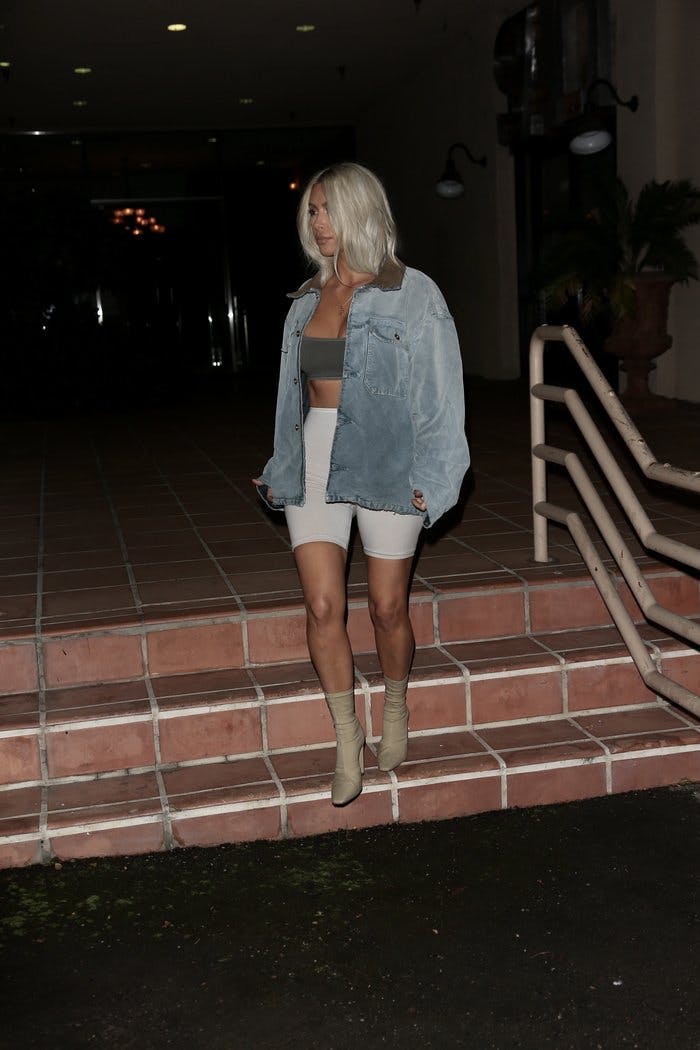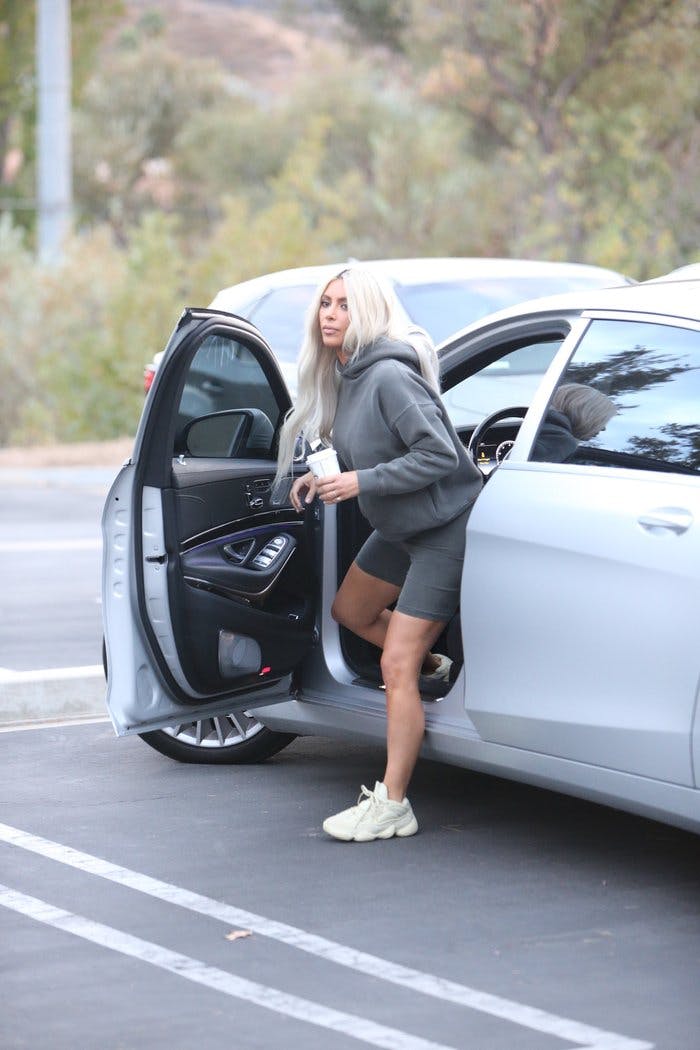 While fans were anxiously awaiting more news of YEEZY Season 6 after the Mud Rat 500s, it turned out that pieces from the collection had been under our noses the whole time. Shot in paparazzi style, Kim donned outfits from Season 6 (as styled by Carine Roitfeld) whilst out and about in LA. The shots were then cleverly repurposed into a lookbook for the collection. It's smart thinking, totally zeitgeist, and very befitting for one of the most famous couples on the planet.
Shortly after Kim posted the lookbook, the collection became available on yeezy.supply, but with some limitations, it was here where the real genius of YEEZY Season 6 began to make itself known.
As anybody who clocked on to cop a pair of the Desert Rat 500s will have noticed, the shoes were only available to buy as a bundle, alongside the core hoodie and sweatshorts, bringing the checkout total up to $760. This tactic could be interpreted as a means of it curbing resell mania, at least a bit. By effectively quadrupling the amount of money needed to get just one pair of Desert Rats, some thirsty resellers probably thought twice about the investment.
Second, this presents YEEZY Season 6 as a complete ensemble, not as individual pieces to be worn and diluted with another brand or style, but to be worn as a head-to-toe 'fit.
Meanwhile, in Miami, Kanye West's long rollout for YEEZY Season 6 appeared to be getting more meta by the day.
During Miami Art Basel in December, screenshots of Kim's Instagram were crudely pasted on walls of the main convention center. As January drew to a close, a roll-call of Hollywood celebs and models including Paris Hilton, Amina Blue, Sarah Snyder and adult actress Lela Star replicated the paparazzi shots of Kim and plastered them all over Instagram (which, according to The Fashion Law expert Julie Zerbo, was most probably illegal). Mega-famous DJ Diplo even made his own (presumably unofficial) version of the campaign, complete with wig and coffee cup.
Then in February, enormous YEEZY Season 6 adverts appeared in New York's Times Square, and a few days later the city's Herald Square subway station was overrun too.
The posters, printed as un-retouched screenshots, are indicative of how we receive images in 2017: with comments. Instagram's comments are part-and-parcel of the platform, so it's difficult to divorce them from what we're looking at. The palpable level of self-awareness shown by the Kim Kardashian paparazzi lookbook shows that even if Kanye has been relatively "quiet" this year, he's still paying critical attention to the zeitgeist and how to hack it.
The marketing for Season 6 suggests that after years of feeling excluded and rejected from the fashion world, Kanye is actually able to reject the fashion industry, too. The posters are rough-looking, emblematic of DIY culture, and a further rebuff to the idea that fashion collections need to be announced with runway shows and expensive campaigns. YEEZY Season 3 was unveiled to great effect at Madison Square Garden, alongside a The Life of Pablo listening party, but it's a near-impossible act to replicate. What's Kanye supposed to do, record a whole new album every time he wants to release some clothes?
As the year drew to a close, more Season 6 posters were spotted in major cities worldwide.
The Collection Itself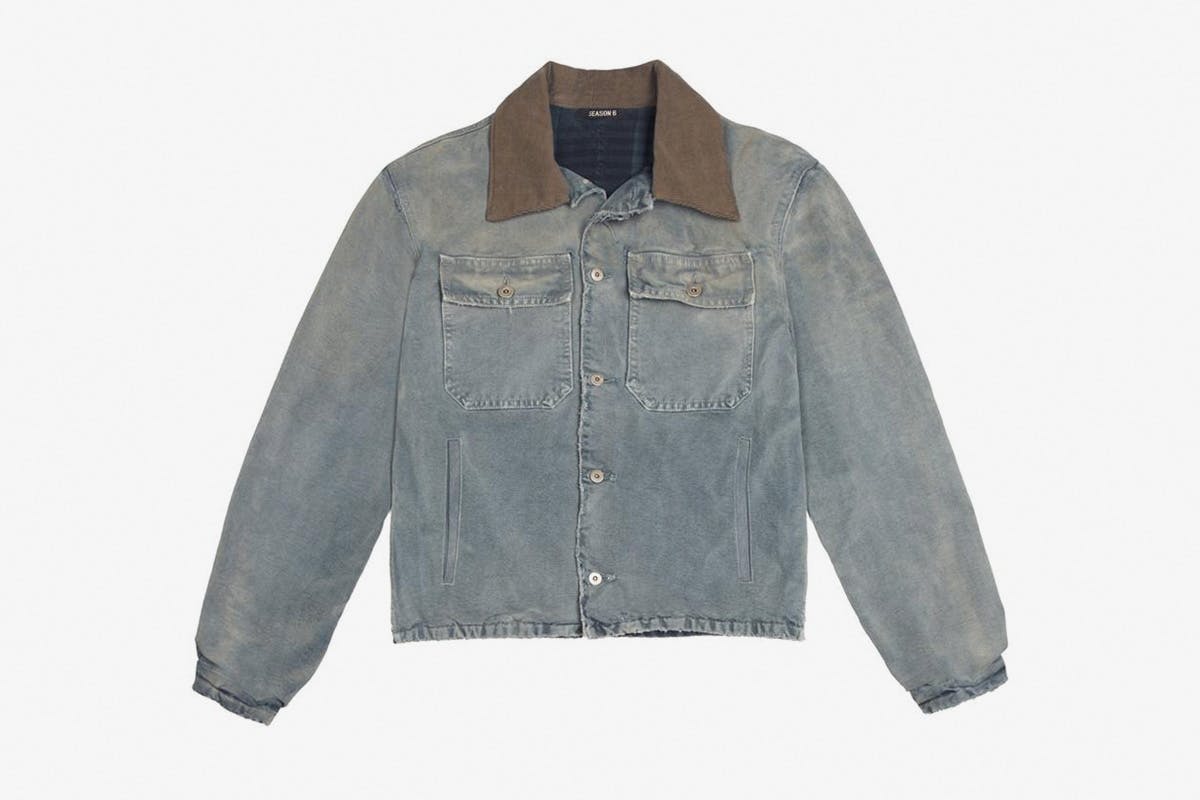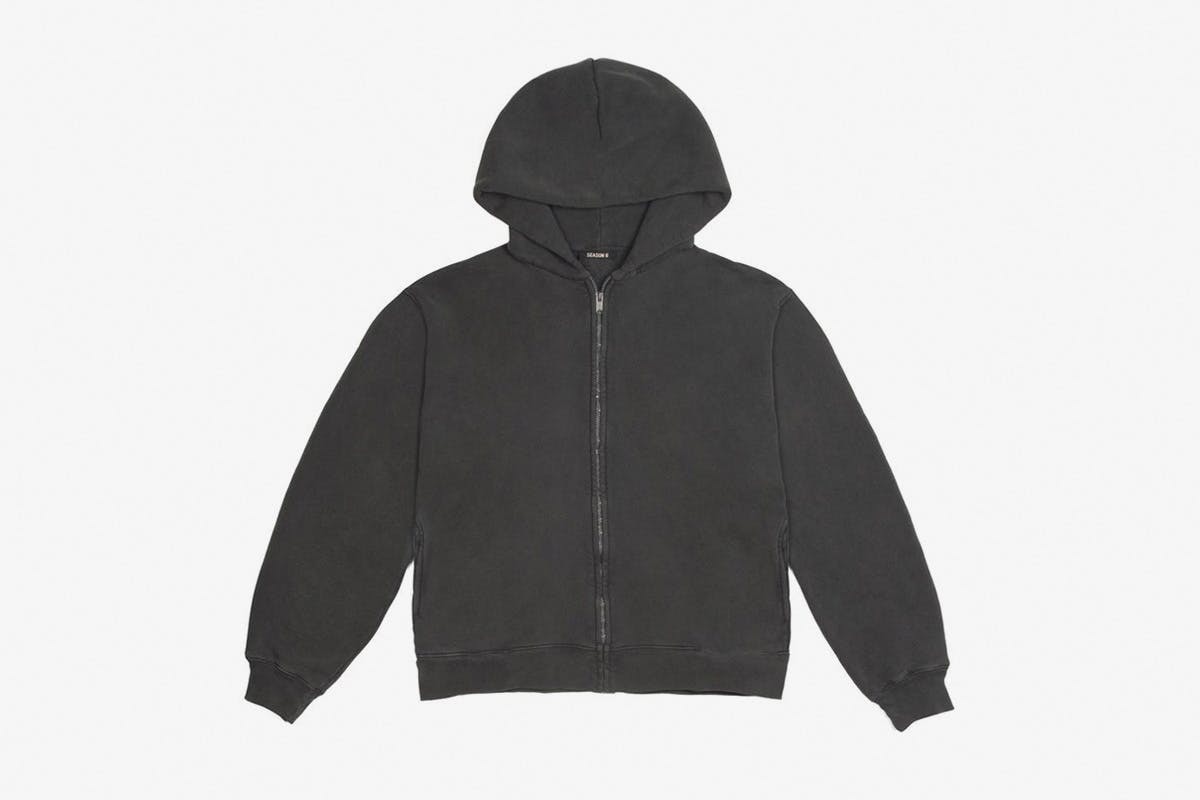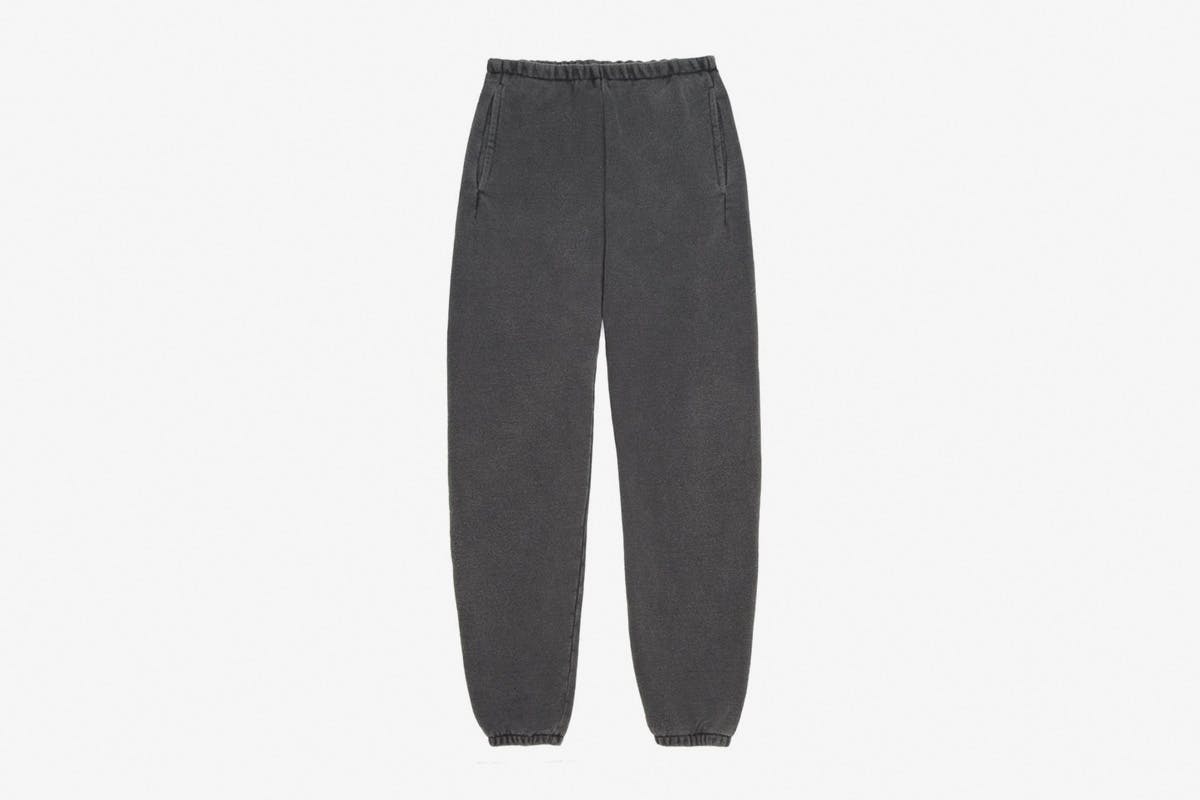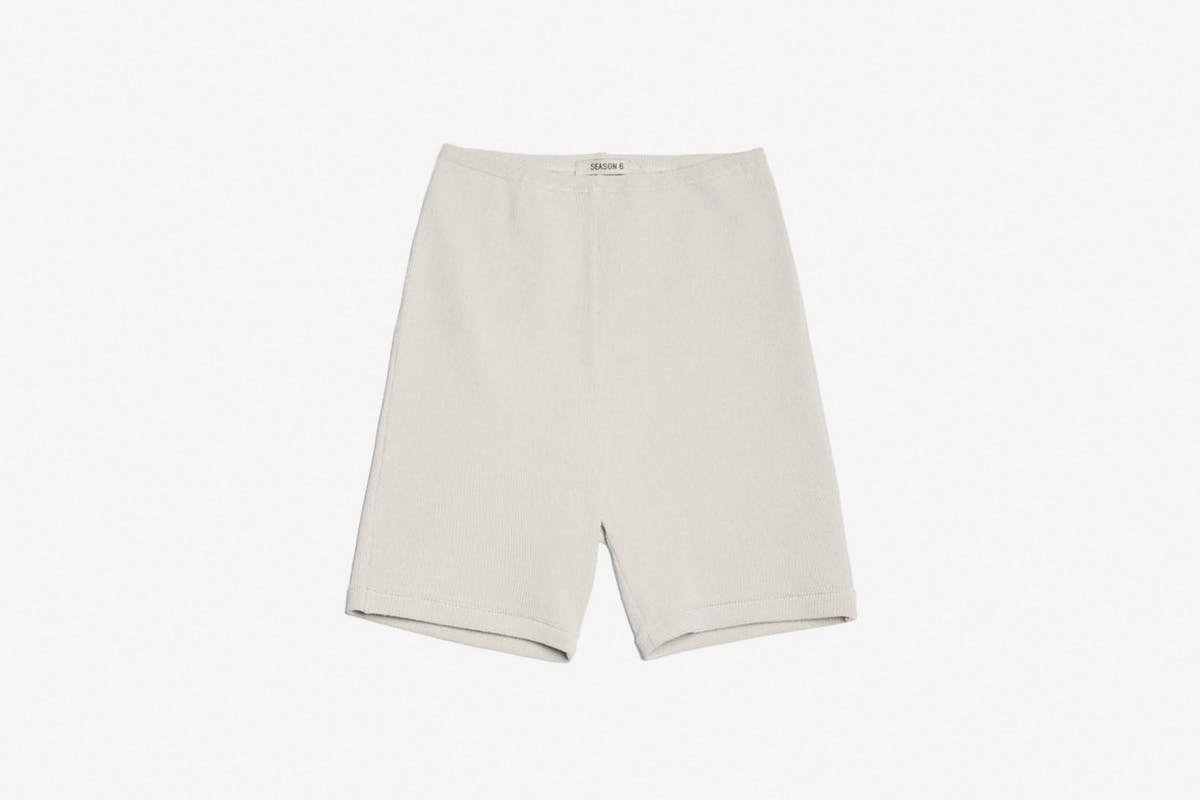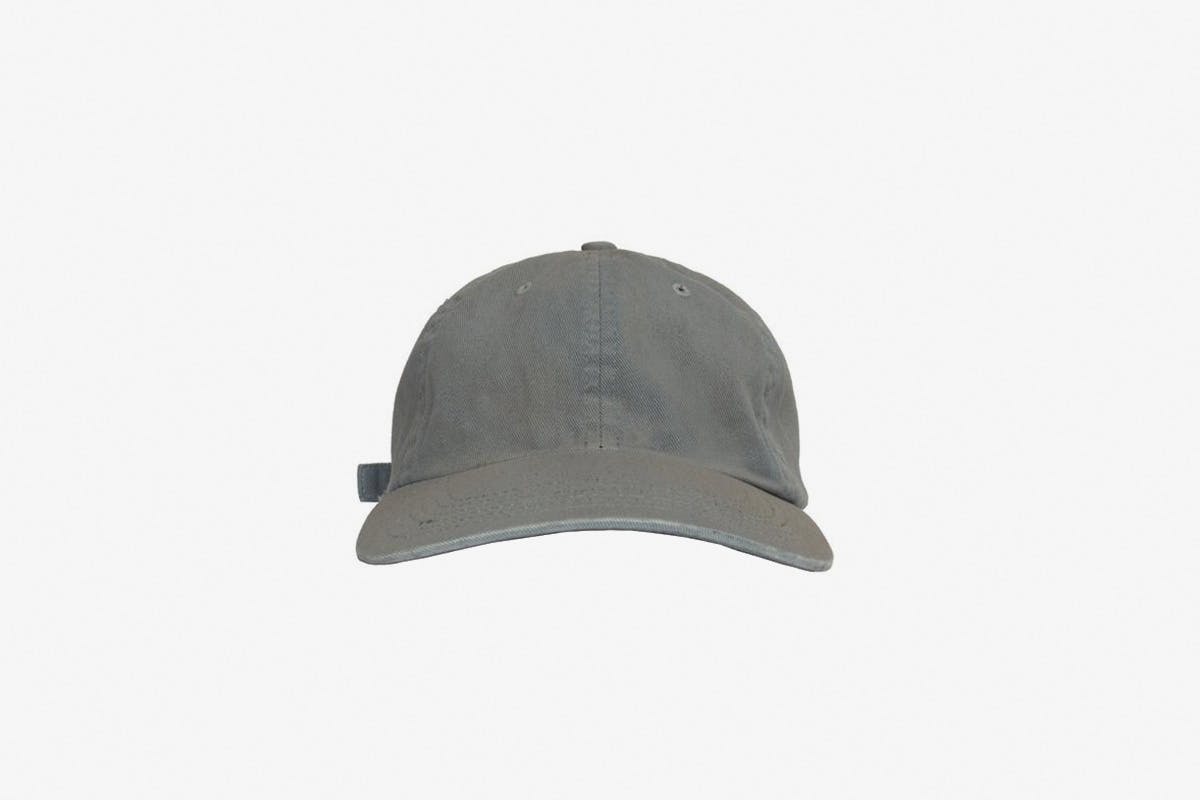 Although Kanye is hailed by many as an innovator and experimenter with his music, his aesthetic for YEEZY has remained much the same since its conception. It's almost formulaic at this point. Does it look like a uniform for a dystopian Hollywood elite? Check. Does it look like luxury but also exceedingly plain? Check. Is it mostly brown and maybe with a bit of blue or yellow? Check.
Over the past six seasons Kanye's vision for his fashion label appears to be rooted in re-affirming our own innate sense of humanity.
Compared to the otherworldly designs of Alessandro Michele at Gucci (i.e. fashion aliens), or even the extravagant drapery of Rick Owens, YEEZY always brings us back to our base level. By highlighting the human form in earthy, natural tones, the clothes say "this is what you look like, you're nothing special, you're just someone whose able to spend a lot of money on clothes", and that's ok. For a man with an ego as famously overstated as Kanye's, this is where YEEZY's designs manage to surprise us, instead of turning the wearers into ubermensch version of themselves, it reduces them to their most vulnerable self, to simply, a person.
From the main YEEZY collection, the overall look mimics previous seasons with absent branding, form-fitting cuts and unisex athleisurewear styles in a palette of beige, dusty blue and charcoal. One stand-out item from Season 6 is the flannel lined canvas jacket in "glacier" with a contrasting brown collar and slightly distressed edges.
Among the standouts from the Calabasas collection are a plaid hooded flannel and a three-pack of Calabasas socks. Items are reasonably priced, especially when compared to the exorbitant price points we've seen in earlier seasons.
Shop Yeezy Season 6 here.