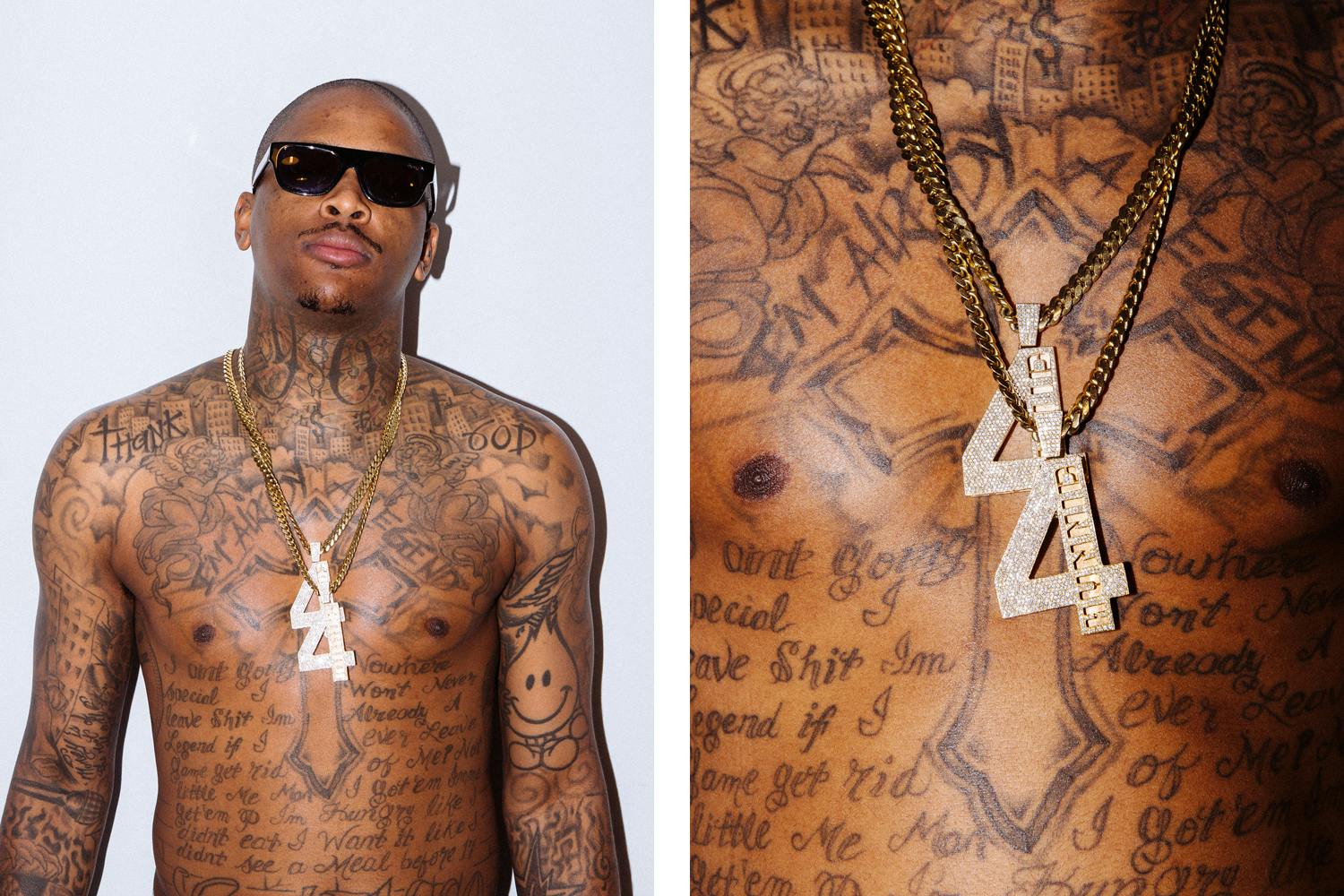 Compton-bred rapper YG, born Keenon Daequan Ray Jackson, may well have the nine lives of a cat. His debut studio album, My Krazy Life, and the soundtrack for his self-written short film, Blame It On the Streets, detail some of the rapper's more precarious moments. The most well-known incidents being a January 2012 shooting that occurred on the video set for his song "I'm a Thug," and a June 2015 shooting at a Los Angeles recording studio. YG emerged from the first unscathed but suffered a gunshot wound from the second attempt.
These days, YG tells us that his personal life is much less turbulent. However, the title of his sophomore album, Still Brazy, releasing June 17, indicates that he still knows how to make headlines. Who else could have sparked an unplanned rally through an Instagram invitation asking anyone who shared his sentiments to come out to the "Fuck Donald Trump" video shoot this April?
When a crowd of over 100 descended police quickly shut down the set, leading to spirited conversation across social media. The drama only increased when the Secret Service followed up with Def Jam, YG's label, demanding to listen to Still Brazy to determine whether it contained political material or not. Of all the people to get an early listen, it seems a little unfair it would be the Secret Service, but I digress.
YG reveals his history, political views and personal motivations through music, but his body, and the myriad of tattoos winding over his flesh, also provide a visual testament to who he is. So we asked him to tell us the stories behind a few of his most treasured tattoos.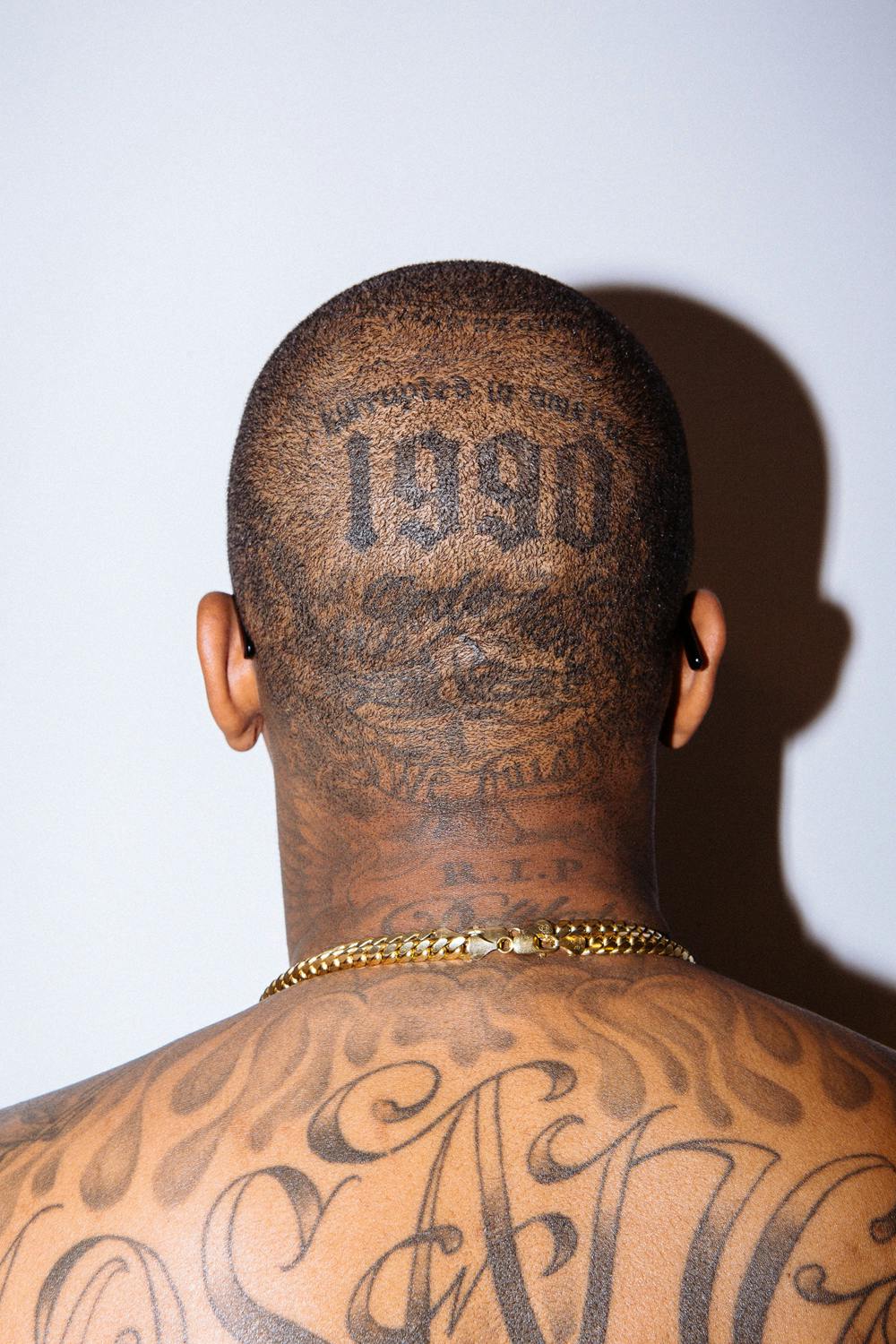 HS: So 1990, huh?
YG: It's the year I was born.
HS: What about your throat?
YG: It's just a YG and a little sleeved-up type situation. It's got a lot of smoke and guns firing off and a red spider web in the back with a spider under my chin.
HS: Why the spider and the web?
YG: This just shows a different side of me, it kind of represents the wicked side of me. The web is connecting all of the other things like the gun firing, the YG, street poles and all that sh*t. It's kind of showing all the parts of who I am.
HS: All the elements of YG?
YG: Yeah, it's like sh*t can get wicked so don't play, you feel me?
HS: Spiders don't seem that wicked.
YG: Spiders? Like Black widows and sh*t?
HS: I don't know, they kind of seem like they only f**k with you if you f**k with them first.
YG: Black widows are poisonous though...
HS: Yeah but they don't bother you if you don't bother them.
YG: Well that's the same type of dude I am.
HS: Fair enough.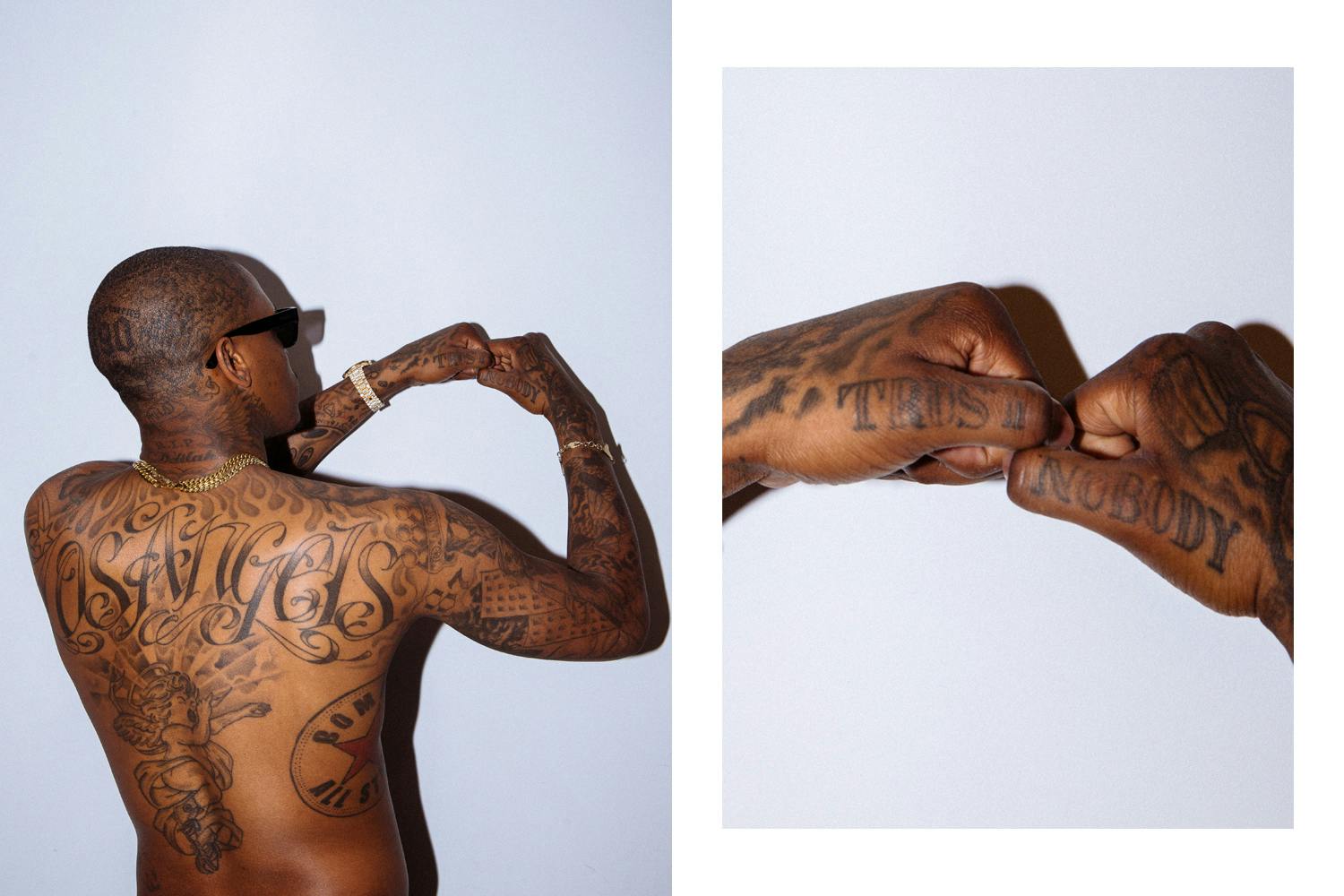 HS: What's the backstory behind the trust nobody tattoo?
YG: I got it a couple of years ago because that's how I was feeling. I was new to dealing with success, being from the streets and having people around me, I was the only one who was really getting money like that. So having so much sh*t going on in my life I really started feeling like I couldn't trust nobody [sic]. And man, last year I got shot and I still don't know who shot me. Real shit, to this day I don't know, so this [trust nobody] is in full effect right now.
HS: What about the rest of your arm? Are those stick figures?
YG: Yeah I got two stick figures on my lower arm by my wrist. It's a dude popping another dude. He shot him in his head because he's got two money bags. It says, "fuck you pay me," and that just represents a time in my life when I was robbing muf***as [sic]. I was doing a lot of strong-armed robberies and burglaries.
HS: So how old were you when you got that one?
YG: I was only like 17 or 18. The homie did it for me.
HS: Did you draw the stick figures?
YG: I think I did but I can't remember.
HS: When you look at something like that now does it make you reflect on how much your life has changed?
YG: Yeah, for sure.
HS: What about the back piece?
YG: It says "Lost Angels" but people always think it's Los Angeles. I've also got the baby angel with the mic right below it. I got this one to represent that I'm from Los Angeles County. I'm from a place where you come across a lot of good people that have good hearts, good souls and good intentions, but they're surrounded by things that end up corrupting them. They end up doing all the f***ed up sh*t they're around. So that's what that tattoo is about, me being a lost angel, you feel me?
HS: What's the Bompton All Star tat about?
YG: I feel like I'm a Bompton All Star. I put Bompton on the map, ain't nobody [sic] every came out of that place pressing that line like that. I did that so I got it tatted.
HS: How long ago did you get it?
YG: Probably like 2010 or 2011. It was really about pushing the Bompton sh*t. You know, I'm pushing it, I'm an artist and that's how it starts to pop on some worldwide sh*t.
HS: Do you feel like you're part of the reason platforms like Noisey etc., are scrambling to create series that explore the culture and history of some of the places you talk about?
YG: Yeah, I am the reason Noisey went to Bompton and did a documentary on Bompton. I'm the reason they caught the attention of the word Bompton. I didn't start saying Bompton first, I didn't make it up, I'm not the first person to use it, it's way deeper than me, but I gave it to the world.
HS: What other pieces are you really proud of?
YG: The tattoo on my forearm that says "Pushaz," it's a tattoo I got because that's my clique.
HS: How old were you?
YG: I was like 18 but I didn't meet Ty [Ty Dolla $ign]  and Mustard [DJ Mustard] until much later, and then they joined the crew.
HS: Did the tattoo come right around the time you started taking music seriously?
YG: Yeah, you could say that, but it's also about where I came from. This is like the family tree -- YG, Mustard, Ty, all the homies -- this is where it all started out. However this is going to end this Pushaz sh*t is where it all started, and all the homies got Pushaz tatted on them. Ty got it, Mustard got it, we all got it.
HS: So what about your album? What are you looking forward to since it's dropping soon?
YG: I'm looking forward to going on tour and seeing how many non-believers I can turn into believers. I want to see some muf***as aspire to speak up out here.
HS: Is that why you thought songs like "Fuck Donald Trump" and "Police Get Away wit Murder" were important?
YG: Not necessarily, it's more about connecting with people and making a classic rap album. There's no hidden messages on the album. There are some messages at the end of the album where I do get political: "Blacks & Browns," "Fuck Donald Trump" and all that. Those are the songs where I'm saying I want people to wake up and speak up.
HS: Were you surprised about how divisive that song ["Fuck Donald Trump"] became? People were writing op-eds and think pieces about it.
YG: We knew when the song came out it was going to be all over the place and that people would say whatever they wanted to say. The whole purpose of the song was to wake the culture up, wake the youth up, and get people involved in what's really going on out here where we're from.
It's about being proactive and not reactive. We can't keep waiting for stuff to happen to us and then sitting around crying about it and saying, 'I should've done this' or 'we could've changed this.' Now is the time. I'm trying to put a fire under other rap muf***as too. They are the people who are moving the culture and have the power and the platform, but some of them aren't really speaking up or doing anything.