In this Valentine's Day FRONTPAGE, we take a peek into the closet of the Internet's masters of couple style, Young Emperors.
When I entered the Young Emperors' Lower East Side apartment, Instagram's most fashion-forward couple was already in their first look: Matching leather Coach 'fits, their own well-worn metallic suitcases, and a fierce energy to match. They posed for the camera with practiced ease, seemingly reading each other's minds as they anticipated movements, mirrored actions, and maneuvered around each other's bodies. They've clearly done this before – every day, actually.
You may have seen images of them circulating online: a flashy French couple styled from head to toe in corresponding colors, patterns, and textures. Whether it's complementary fluorescent ruffles, matching Prada bags, or architectural pieces from an up-and-coming designer, the couple's 'fit pics are inventive and immaculate. Nelson Tiberghien and Isabelle Chaput, known collectively by the moniker Young Emperors, have captured the eyeballs of a quarter million people on Instagram and more than 200,000 followers on TikTok where they showcase their borderline camp ensembles.
Roughly eight years ago, the two met at photography school in Paris, fell in love, and created Cesar Love Alexandre, the start of their professional career together. Through this creative studio the duo focuses on creative direction and editorial work. Three years later, Young Emperors blossomed out of this initial collaboration as a mechanism to bring an audience into their world. There's something unusually enticing about the drama of it all — the glamor, the couture, and the atmosphere of magic that surrounds the two. Maybe they're experimenting with pieces you've never seen before (have you ever seen a metallic dress made of bows?) or styling those pieces in ways you might not expect (yes, a fruit basket can in fact be an accessory), and in doing so, they constantly keep us on our toes.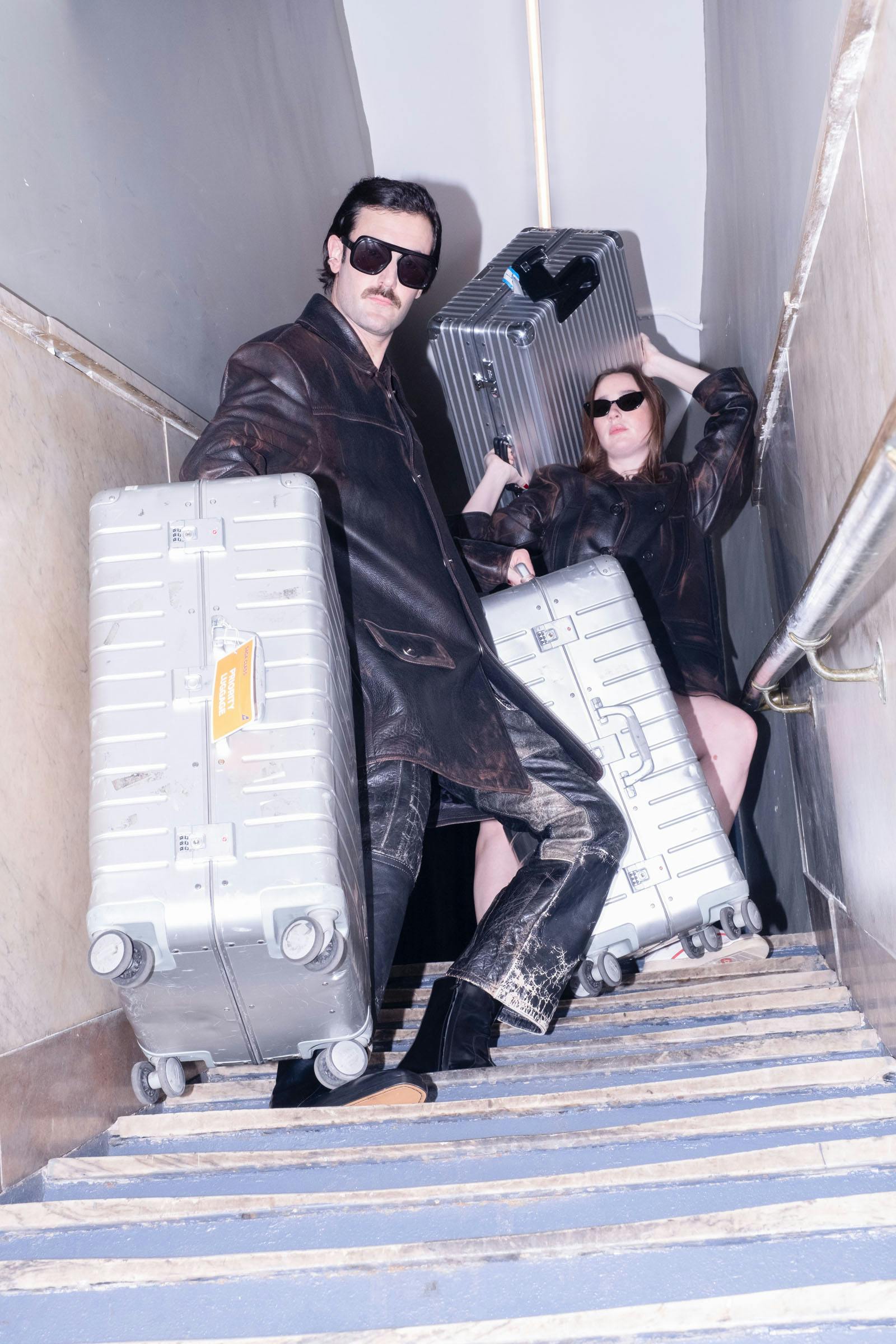 Even more so, while we're living in a social media moment that is dominated by the desire to constantly look effortlessly cool, it's refreshing to watch the couple be so outwardly intentional with their looks. Their outfits scream, "Yes, we care about fashion! And it looks good to care!"
Back in their apartment, the couple changes into their second look: a trench for Chaput and a jacket and tie for Tiberghien– all Burberry. They call out to each other, "mon chéri!," while looking through their collection of sunglasses to style with the outfits. Their motions are fluid and it's easy to pick up on how this practice reaches beyond their social media platforms. The couple later clarifies that they coordinate outfits everyday and have done so for the last eight years.
"It became such a habit. It feels normal. On the contrary, if one day we are not matching, I will feel very weird," Tiberghien explains.
To be clear, while "matching" implies replication, more often than not the two are wearing completely different outfits. A more apt description would be striking coordination: designs drawn from the same collection, patterns and colors which compliment one another, styles seeming effortlessly in-sync. And according to Chaput, that's exactly what it is: effortless. "Your mind starts to work that way. It's like we make matching outfits as we breathe."
There is a power in their coordination that is clear to anyone who might watch them strutting down the sidewalk, either online or in person. "I think when you see us together, it gives another energy than if you see us separately," Tiberghien explains. Chaput tacks on: "It's like it becomes a third person, the entity of the couple. The outfits together, they have a different visual than just one person."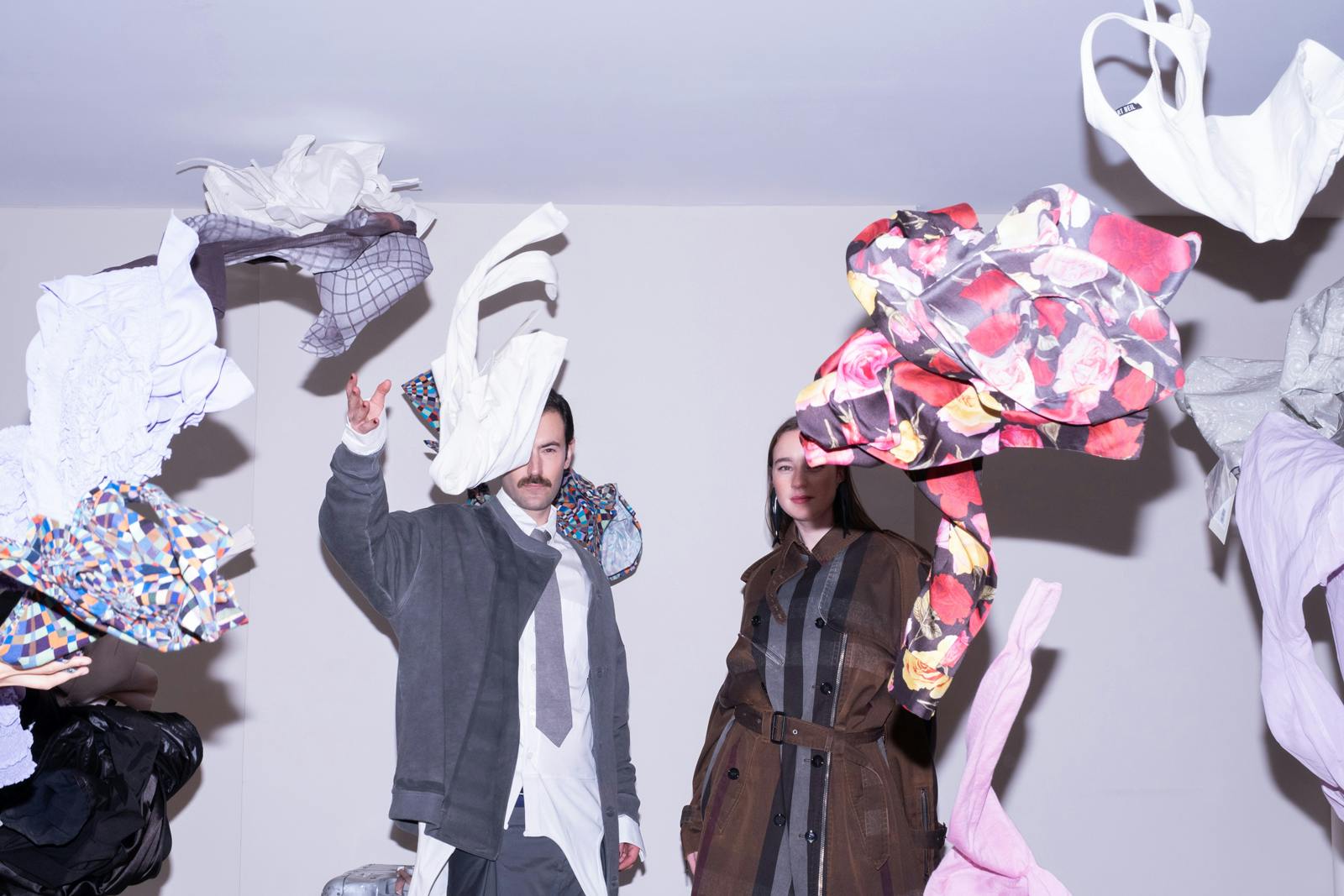 Indeed, Tiberghien and Chaput have successfully produced a singular entity of themselves, one without ego, name, or gender. Chaput insists on "styling as the source of everything in clothes," rather than gender, an ethos exhibited clearly on their social media channels. Pieces seen on Tiberghien in one post will be worn by Chaput in another, and vice versa. Tiberghien is often seen sporting skirts, heels, purses, and sparkling pieces – items often traditionally reserved for female-presenting people. However, the duo pointedly disregards these social norms. Not necessarily to make a political statement (although intentionally or not, they do), but because they seek to embrace the scope of what fashion and style have to offer.
"To be fairly honest, on a practical note, I am more likely to look at women's clothes than men's clothes," Tiberghien explains. Chaput elaborates: "Women's clothes have more options."
While they acknowledge that the men's fashion world is evolving to include more atypical designs, it doesn't stop them from experimenting with the handbags, sparkles, and textures already at their disposal. Specifically, their shared closet allows for a wider range of possibility and creativity in their ensembles. "It's nice because we have two sets of clothes instead of just one. You have more combinations. It's like the more puzzle pieces you have, the more combinations you can make," Chaput states while explaining their styling process.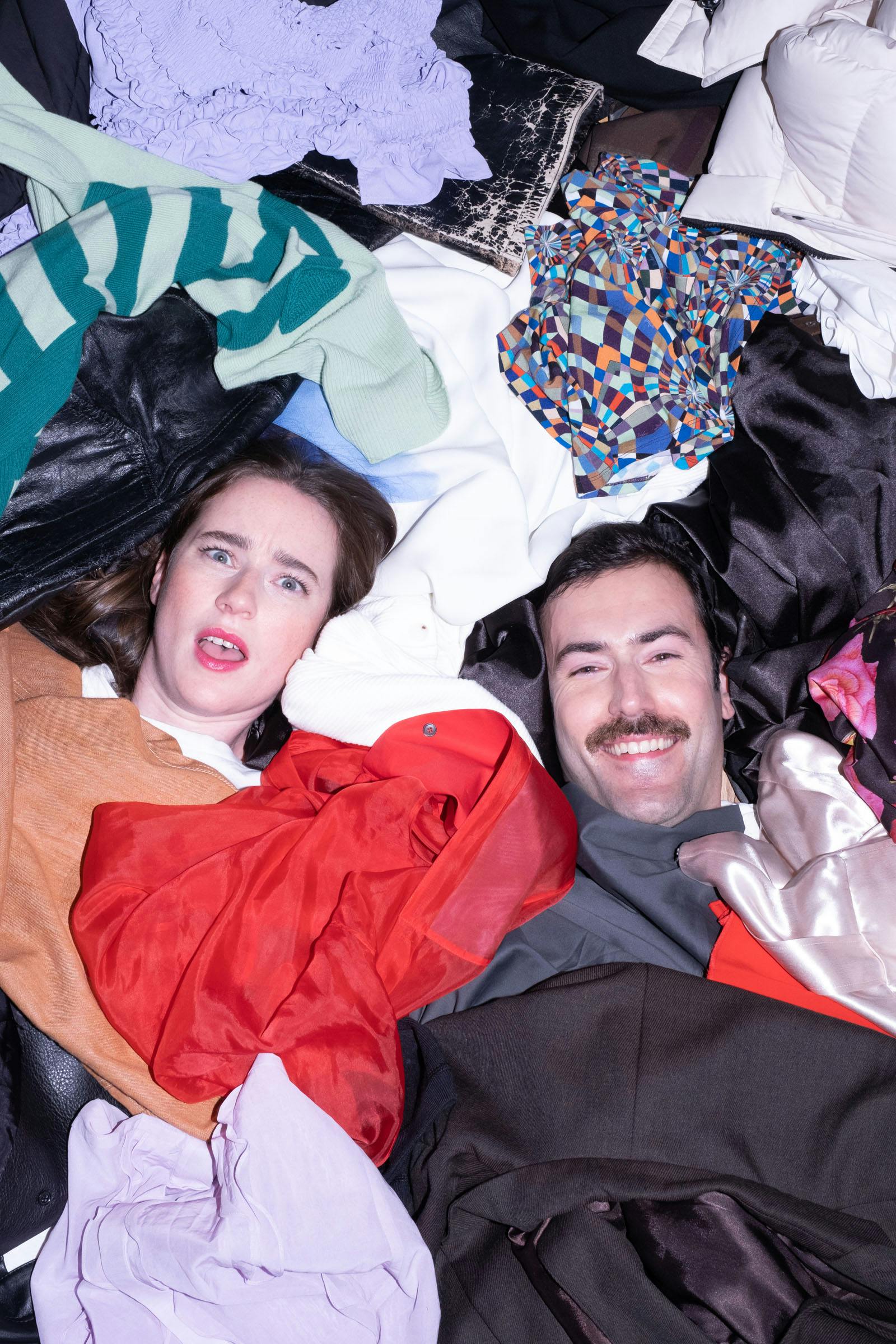 Although blurring the lines of gender in fashion is nothing new, it might be the first time we're seeing it displayed for such a large audience on social media, especially within a heterosexual couple. Every week, we see them play with these boundaries and it keeps us asking: what will come next? And so, Young Emperors sends a very clear message: style sees beyond gender. Style sees clothing as clothing, pieces to a puzzle — just as Chaput quipped.
But style, for them, is an expression of their love.
"I mean for us, clothes are very important, but it's also very light and fun," Chaput says with a smile. "Yes, it can have a very deep meaning. It can bring you places, or have an impact on how people perceive you, but it also has an impact on how you perceive yourself, and within the love unit as well. I feel like even when we hate each other, we [match]. And that's sort of also a metaphor of our love. It's going to be there no matter what."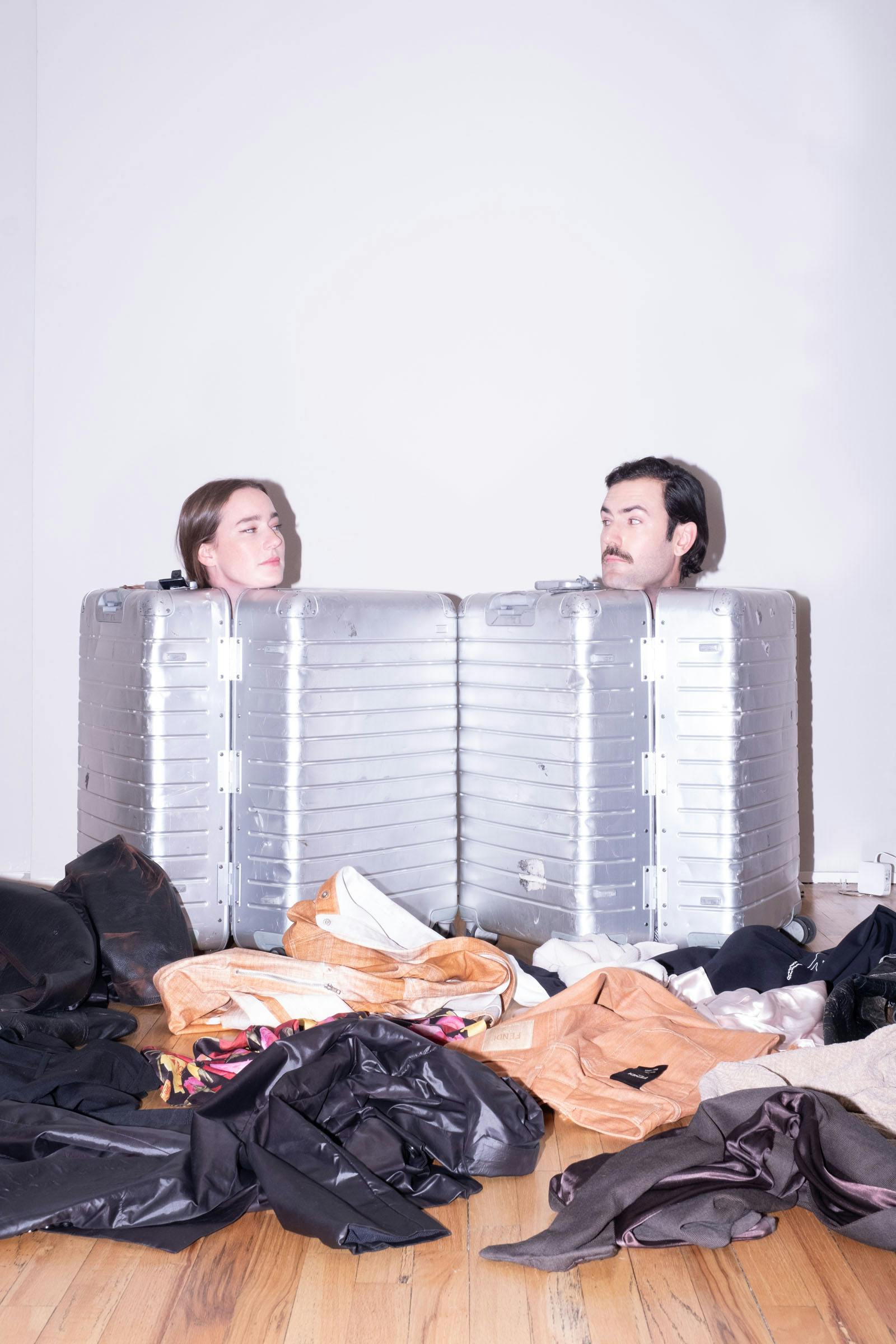 The comfort of coordination translates beyond the safety of routine. Chaput explains how their romantic relationship enables them to push each of their own creative boundaries: "You have this safe space to be crazier. You are more free than you would be as your own singular person. I feel like I get less scared to dare and to try new things, or to wear super bold things."
Although they collaborate every day, Tiberghien and Chaput uphold an individual personal style that allows the partnership to flourish. "She's very elegant, with a touch of fantasy, but also very serious," Tiberghien says, almost as if he's speaking about himself. Chaput hums in agreement. "I would say you're a chameleon. I feel like you don't really think about a [particular] style that you are."
Out of glam and in their post-shoot attire, they are still matching in gray sweatpants and white shirts. Chaput turns her head to glance at her partner: "It's like you're building your own world. You're building your little island in the middle of your everyday life and it's a form of poetry, this colorful spark that you create for yourself." After hanging out with them all day, it's clear that coordinating 'fits is their shared love language and the two would match even if nobody else was looking.