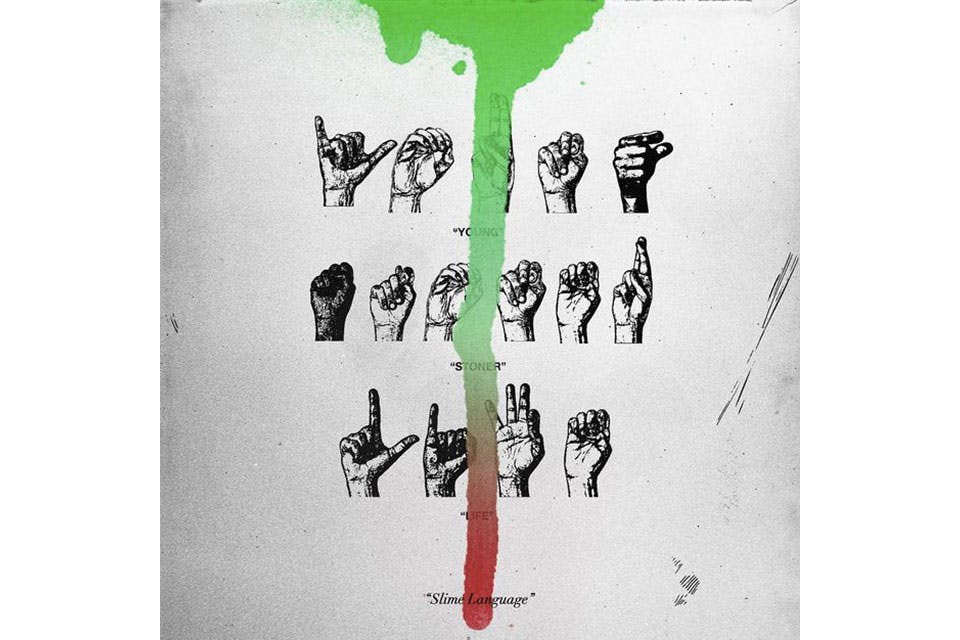 3.0/5.0
Young Thug teased Slime Language by sending its tracklist along with (very real) hissing snakes to music journalists across America, a bizarre act of self-promotion that once again proved the artist doesn't believe in doing things by the book. Everything about Young Thug is unpredictable, with the gender fluid rapper's love for off-kilter rhyme schemes, dresses, and clutching machine guns on Instagram solidifying his status as a thugged out Little Richard.
This level of spontaneity makes every new Young Thug record an exciting prospect. Unfortunately, his latest release, Slime Language, which is a compilation album for the artists on Thugger's label Young Stoner Life Records, doesn't quite hit the lofty heights of previous solo ventures Barter 6 or JEFFERY.
The intentions behind Slime Language are obvious, with Thug wanting to make a boss move and show the world he has elevated to the heights of rap mogul by putting out a compilation project to spotlight his artists. In many ways, it's an attempt to mirror JAY-Z (The Dynasty: Roc La Familia), 50 Cent (G-Unit's Beg For Mercy) and Lil Wayne (We Are Young Money). The big difference is these rap giants largely took a back seat in order to elevate their label mates, resulting in star turns from the likes of Beanie Sigel, Lloyd Banks, Nicki Minaj, and Drake. The same cannot be said for Slime Language, with Young Thug simply outshining everybody else on his roster. Subsequently, his label mates struggle to escape the shadow of their mentor.
The record begins solidly with "Tsunami," a song containing Young Thug's trademark woozy flow amid a beat that sometimes sounds like it could be the menu music for a vintage 2D Sonic game. Things step up a gear with "Gain Clout," where the reflective keys and bouncy drums bring out the very best in Thugger, who is here at his most eccentric, humorously rapping: "I pop a wheelie, I fuck on a bitch like I'm Banshee/Bought a Rolls Royce and then I was smokin' on whammy/I put the bitch on her back and I beat it like Hercules/How the fuck you let these rat n*ggas go get them some cheese?"
However, tracks such as "Audemar," built around an annoying ad-lib that sounds like someone clearing their throat of phlegm, and "It's a Slime", a generic collaboration with Lil Uzi Vert that's filled with phoned-in verses, are instantly forgettable. The same goes for "January 1st," a song that should be a showcase for Jacquees & Trap Boy Freddy, yet comes across as irritating, with both artists shamelessly jacking Young Thug's style and failing to show any personality of their own.
The closest Slime Language has to a breakout star is young female spitter HiDorrah. When she declares "I ain't balling on a budget!" on "Expensive", her no-shits-given attitude shines through. Her catchy autotune bars on "Oh Yeah" reference rocking Alexander McQueen threads and making it out of the streets, easily outshining Young Thug, who sounds like he's just doing a karaoke impression of Lil Wayne. But aside from HiDorrah, the guest stars on Slime Language aren't exactly the most memorable, and you sense Young Thug may have to do a bit more mentoring before these artists are ready to become stars in their own right.
If you're coming into this project strictly as a Young Thug fan, Slime Language has more than enough to keep you entertained. In just two bars, Thug's hook on "STS" goes from riding in a luxury sports cars to potentially overdosing on MDMA. This duality is what makes Thug such an interesting lyricist; just when his boasts make him sound immortal, he's able to bring the listener crashing down to earth by spitting a bar that soberly reminds us of his mortality.
"Goin Up" meanwhile, is a brilliant summer jam, with a catchy melodic hook. When Thug raps "I'm at the VMA awards, now bring 'em out/ I left the dentist with some braces in her mouth/ I told your darling, shawty was on south/ I take this Rari, park it at the house," it isn't immediately clear what he's going on about, but he raps these bars with a playful energy that somehow still makes them sound relatable. The best song on Slime Language is perhaps "Dirty Shoes," with its core use of trippy, acoustic guitars reminiscent of the dark production on 2Pac's masterpiece The 7 Day Theory — bars such as "I got 30 new bitches like I'm Curry" look destined to become popular memes.
If you need reminding of why Young Thug is one of modern rap's most original stars, Slime Language provides plenty of evidence. However, as a showcase for Young Stoner Life Records, it feels like it's lacking. Young Thug clearly has aspirations to follow his inspiration Lil Wayne and help launch the careers of future superstars, but this record doesn't feel like the moment he will achieve this dream. Put simply; Slime Language is a good Young Thug album, but an average compilation project. Don't be surprised if you find yourself fast-forwarding straight to the Thugger verses.
Young Thug's 'Slime Language' is available to buy or stream. For more of our album reviews, head here.