International fashion footwear retailer Aldo has teamed up with five renowned street artists from New York, London, Seoul, Dubai, and Montreal to create limited edition versions of its Mx3 silhouette. Celebrating the global street art community and young creatives from around the world, each bold design reflects the artists' unique connection to their city and community.
Hailing from New York City, Buff Monster is a vibrant street artist known for his moniker "Stay Melty" and vibrant ice cream characters depicted in candy-colored fantasy lands. With the Mx3 as his canvas, Buff Monster applied his signature drip effects to the breathable mesh upper and bright colors to the heel tab and sole. The result is part work of art and part street style essential. For a limited time only, each pair will come with a matching drawstring bag.
To capture the sneaker and others in the AldoMx lineup, Aldo called upon local New York City creatives to further involve the community and get their take on the silhouette. New York-based photographer Hannah Sider took on duties behind the lens while Von Ford took care of styling models Bria Scott, Mahi, and DJ Reed.
Following the design phase, Aldo took a deep dive into the mind of the artist to better understand his inspirations, process, and relationship with New York. Read the full discussion below, watch a video from the project above, and then visit Aldo's online store for more details.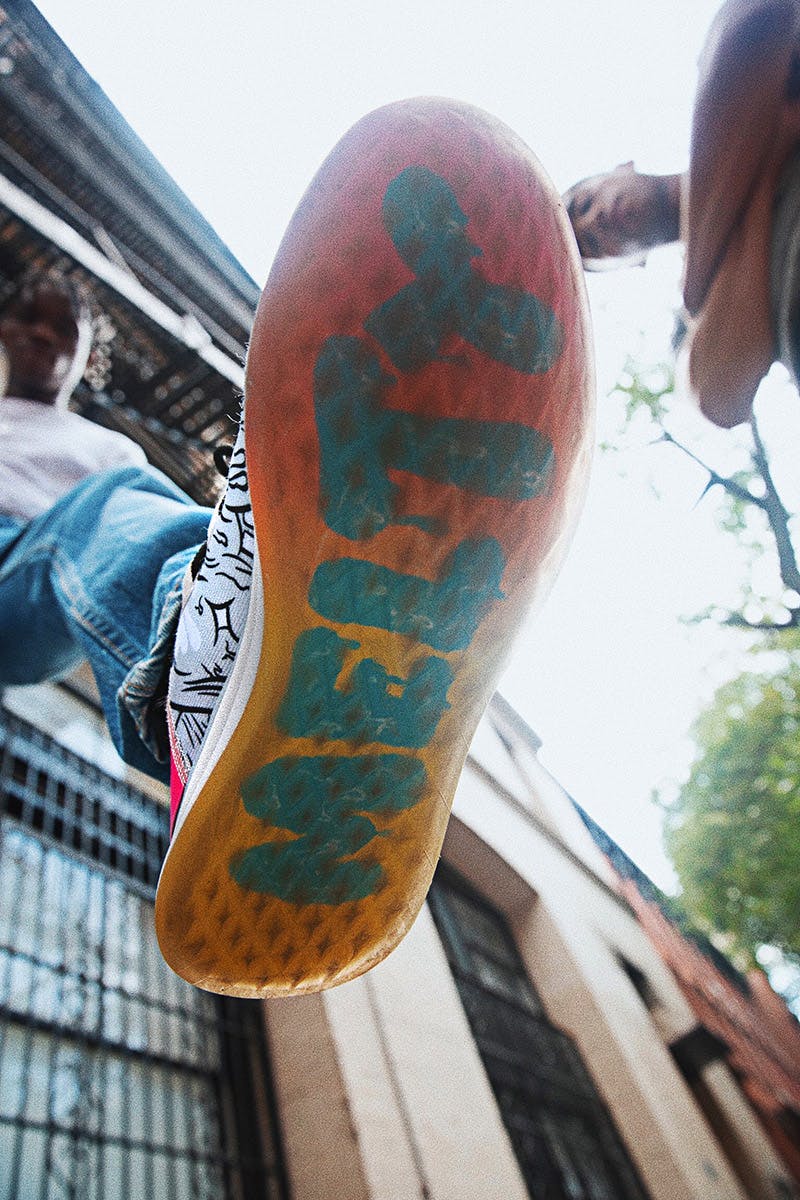 How has your city helped define you?
NYC has provided so many amazing opportunities; it really has exceeded all expectations.
When it comes to culture; art, music, fashion... How does your city differ from others around the world?
People seem to pay attention to what's happening in NYC. I'm happy to call this place home, but I don't believe all the hype.
Does your city have a specific youth culture? What does the youth mean to your city?
Yes, but this is a city for adults.
With everything going on today how important is Art in today's society? How can art be a vector for change?
Street art, in particular, is a very democratized form of art; any passerby can experience it if they wish. Murals have really changed neighborhoods and cities; Bushwick in Brooklyn is an often talked about example of this.
What new trends have you seen in the artistic communities within your city? Globally?
I like to see work that is site-specific and self-referential.
How can art be inclusive?
Pablo Picasso said "Every child is an artist. The problem is how to remain an artist once we grow up."
What emotions do you feel when you're creating art?
Making work in the streets is a great way to make a contribution to the neighborhood and interact with the folks passing by. But I'm also just as happy working alone in the studio, listing to heavy metal or my favorite podcast.
How important is collaboration to your artistic progress? What does this particular collaboration mean to you?
Collaboration offers an opportunity to work in a new way or to work on a project that you wouldn't have done on your own. I think people like to see what happens when two individual entities that they know come together to create something new. Ideally 1 + 1 = 3.
With all the great artists in your city, how do you feel you broke out? (Luck, hard work, a mentor, specific style or technique etc.)
All the things you mentioned are really important and all contribute to success. One thing that I'm always aware of and in pursuit of is consistency. Consistency is not an innate human trait, but it really is the sign of a professional.