Under the Radar is Highsnobiety's weekly celebration of upcoming talent. Each week, we spotlight an emerging brand that's bringing something new to the worlds of streetwear and fashion.
London-based menswear designer Alex Mullins' eponymous label seeks to lift menswear out of the darkness with vibrant, joyful tailoring. After graduating in fashion and print at University of the Arts London's Central Saint Martins, Mullins launched the label in 2013.
He points to Americana as an initial influence. "My dad always resembled the Marlboro Man adverts and my mum always wore a lot of large, eclectic jewelry with bright fabrics," says Mullins. "The combination of a severe workwear silhouette and details mixed with handcraft and unusual materials is key to my overall aesthetic."
Alex Mullins' FW18 collection (currently available at Machine-A in London) explores escapism through a revival of '60s styles. "I wanted to find a balance between businessman smartness and lighthearted escapism," the designer explains. "I think that escaping to a more surreal aesthetic is on a lot of designers' minds right now due to what's going on in the world with fashion, art, economics, politics, etc. I feel we need a place to escape to, to have a bit of fresh air, something to lighten our mood.
"This is what is connecting the '60s culture to now; a feeling of desperation is manifesting itself in a kind of 21st-century psychedelia."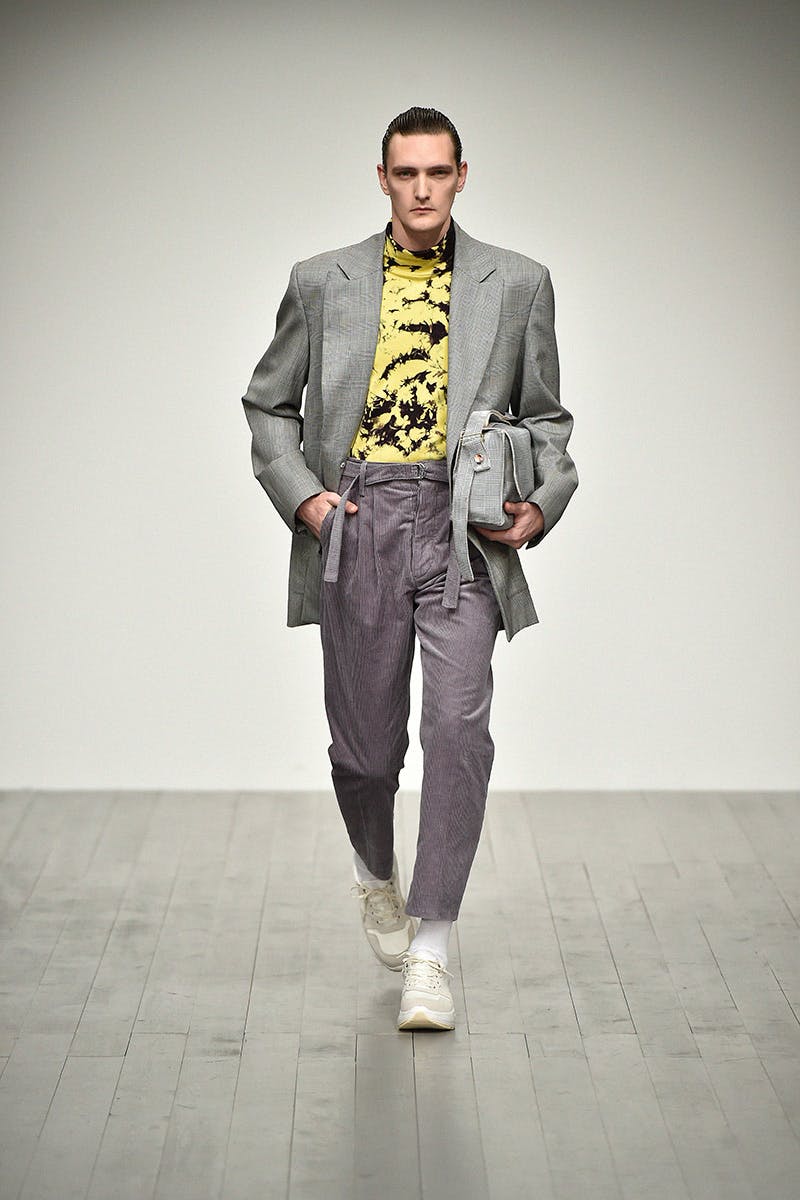 The champion of Alex Mullins' FW18 collection — and one that sits comfortably among the recent surge of interest in Grateful Dead merch — is the all-over tie-dye print that appears on shirts, pants, and balaclavas. The Tie Dye Spin Modular Shirt is 100 percent cotton with a classic collar and long sleeves. So far, so normal. But the rainbow print fabric, swirled into black for contrast, features a detachable, reversible tonal patch on the chest that can be layered with a tee underneath, or removed entirely for a brazen bit of chest exposure.
"I'm always attracted to things that feel a bit bad taste, a bit offbeat, so designing the most toxic color combination of tie-dye was the obvious choice," says Mullins.
Alex Mullins' SS19 collection sees the designer lean into experimental fabrics and yet more unusual color schemes. The collection features ochre tailoring layered with cut-out neon vests, thick checkered patchwork denim pants, cookie-cutter style leather bibs with front-facing zip pockets, cropped metallic jackets, and short-sleeved Hawaiian shirts.
However, some of the most memorable SS19 looks come from Mullins' lighthearted spin on classic tailoring: blue and white suits with all-over flecked paint prints, the koi carp-print suit, and cream long-sleeve shirts with cut-outs under the arms. Again, Mullins has designed these key pieces to be removable and easily reworked. "The shirts can be worn many ways by reattaching the sleeves or the collar in different positions, which is really fun to play with," he says.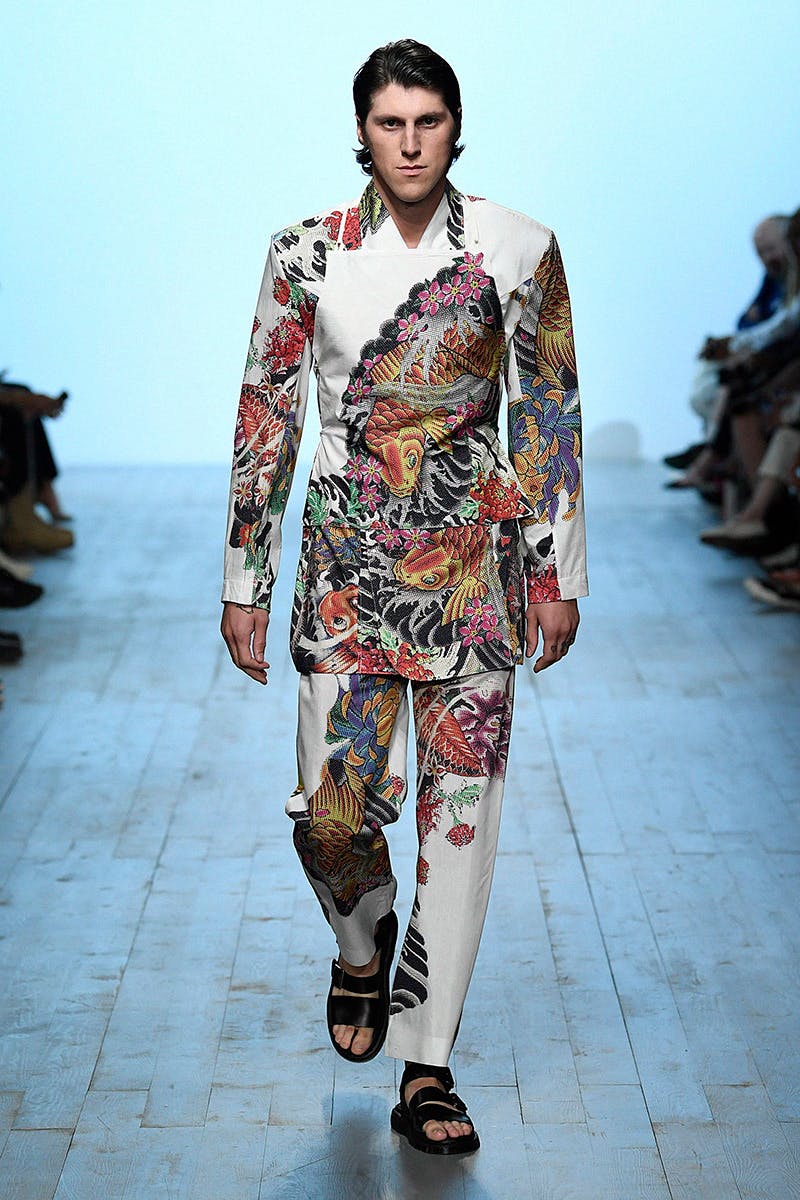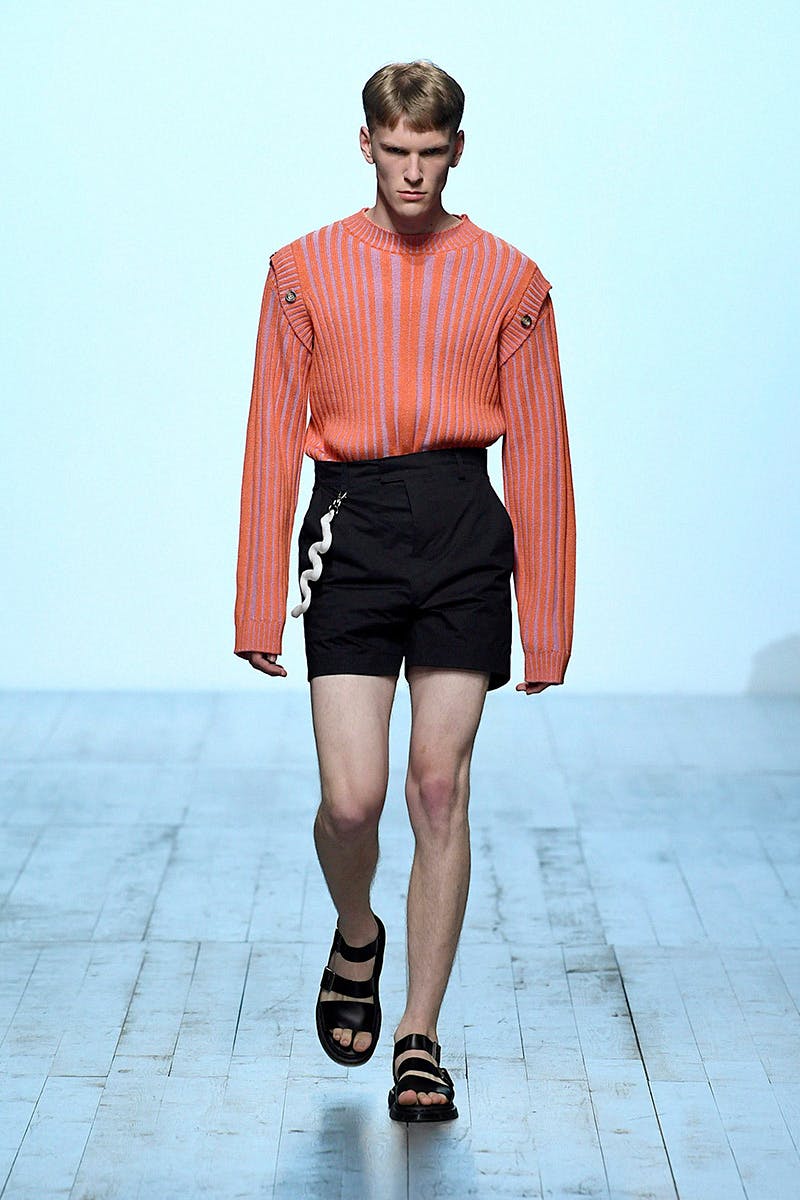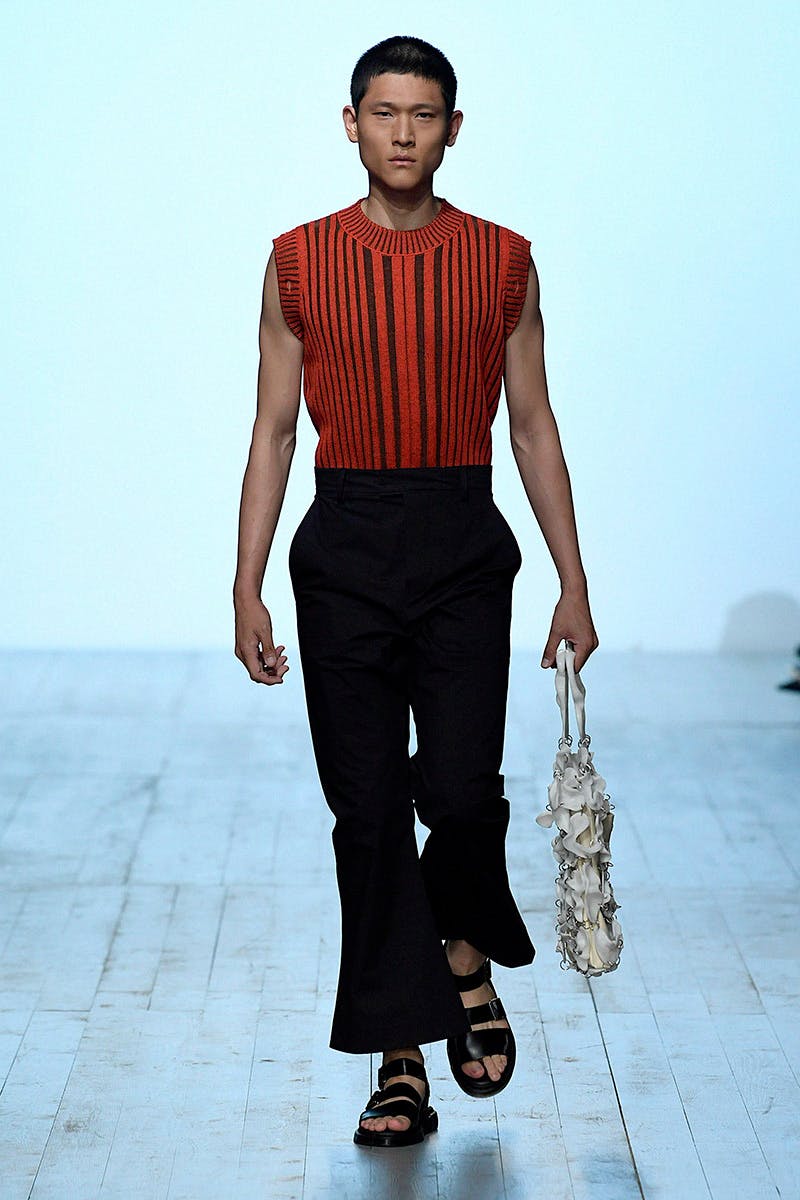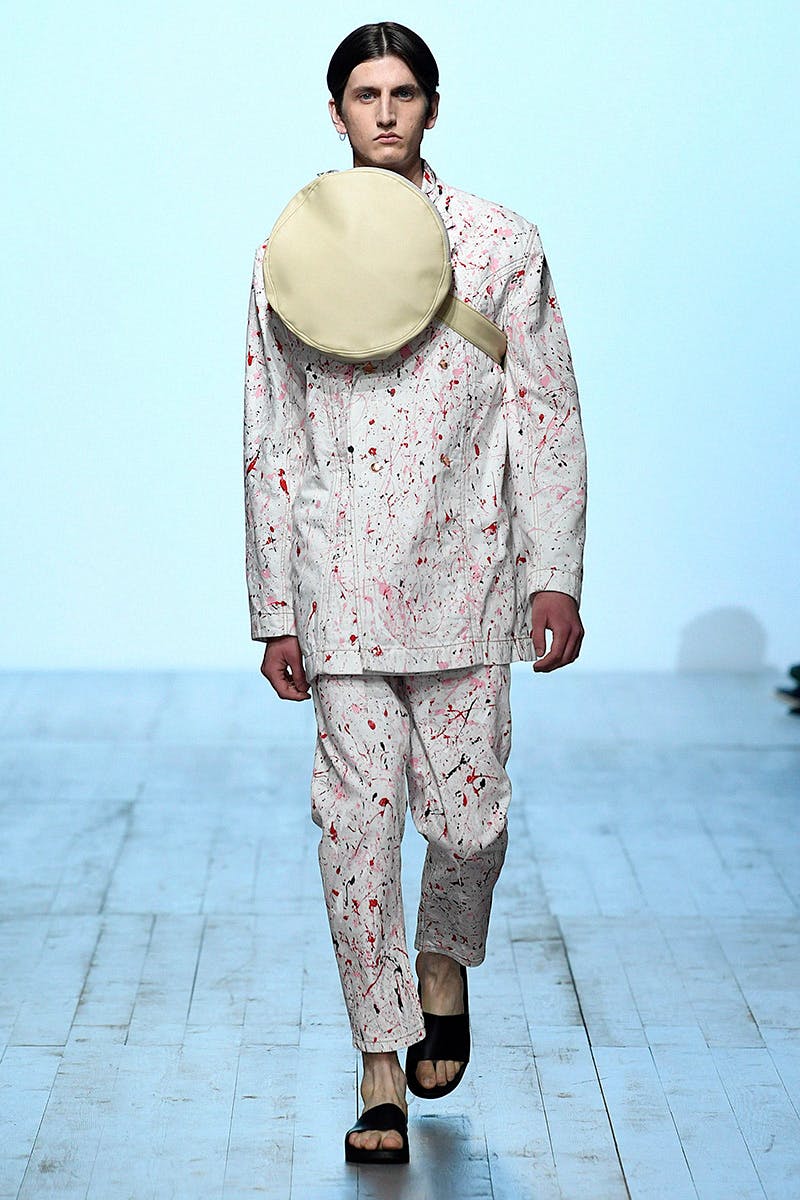 There's humor in Mullins' designs, something the menswear landscape – currently flooded with austere black technical wear — can find some respite in. For example, the "ALEX MULLINS" logo for SS19 is underlined with the red squiggle that tells you you've made a typo in a word processor. The brand's playfulness is becoming a hallmark of Mullins' design language, which feels refreshingly breezy. Because, as the world gets heavy, we could all do with a bit of lighthearted escapism.
Alex Mullins is stocked internationally and can be found at 10 Corso Como in Milan, Shanghai, and Seoul, Joyce in Hong Kong, Galeries Lafayette in Beijing, Wallace and Murron in Osaka, Wut in Tokyo, Slow Waves in Melbourne, H.Lorenzo and Please Do Not Enter in Los Angeles, and Machine-A and Shyness in London.