"The avant-garde générale," begins the 19th-century French strategist General Henri Bonnal, "is a strong force (one, two, or three army corps) pushed out a day's march to the front, immediately behind the cavalry screen."
Then, as now, to call something "avant-garde" (literally "advanced guard") is to place it ahead of the rest. While the term has its roots in battlefield tactics, the turn of the 20th century gave a whole new context for Monsieur Bonnal's words: les arts. Spurred on by the work of modernists such as Picasso and Matisse, the phrase "avant-garde" gained new meaning outside the military, finding a place in the cultural realm. By 1910, according to Dictionary.com, the phrase had been borrowed as an artistic term used to describe the "pioneers and innovators of a particular period."
Within today's sneaker world, a handful of pioneering designers have indeed marched to the front. Some, like Picasso, have names and legacies that are larger than life; others, like Bonnal himself, are perhaps lesser known. Regardless, as a unit, the avant-garde sneaker designers shaping this particular period are a strong squad indeed.
Meet 10 avant-garde shoe brands leading innovation today.
Rombaut
Rombaut is the eponymous brainchild of Belgian designer Mats Rombaut. The line, which began in 2013, combines conceptual high fashion design with environmental responsibility. It also, in the words of i-D magazine, turns out "the ugly shoe hybrids of your nightmares." High praise, indeed.
Sneakers from Rombaut take nearly every form imaginable. There are cowboy boot mash-ups, which Solange wore for her Dazed shoot. There are chunky combat runners (Bella Hadid prefers the Boccaccio). There were once even Bernie Sanders low-tops (no news on whether he ever wore a pair). Returning to that "environmental responsibility" bit, each of the above is made from some of the most eco-friendly materials on the planet, including tree bark, pineapple fibers, and mushroom leather. A Rombaut shoe is as innovative in fabrication as it is in form.
To quote Mats himself: "I try to challenge the rules of traditional shoemaking." If Tilda Swinton's futuristic INSIGHT IIIs are any indication, Rombaut — both the man and the brand — are succeeding.
visvim
At the dawn of the new millennium, Hiroki Nakamura gazed deeply into the past. What he saw — vintage clothing, tribal motifs, and a return to the handicraft of yore — would expand the very definition of "sneaker culture."
In the year 2000, Nakamura founded visvim, a footwear line turned Pitti Uomo darling that almost needs no introduction. In case you've been living under a moc, visvim rose to prominence in the mid-2000s with the success of a shoe called the FBT (pictured above). Introduced in 2001, the FBT (short for "Fun Boy Three" — more on that here) is a hybrid sneaker-moccasin consisting of an EVA Phylon midsole handsewn to an Elk leather upper. It was both novel and primitive. In a market dominated by performance basketball shoes, it was unlike anything ever seen before.
Before the end of the decade, the visvim faithful included names such as Kanye West, Eric Clapton, John Mayer, and Pharrell Williams, all of whom have been spotted in FBTs. The shoe was nothing short of a phenomenon. But one drop doesn't make a river.
In the years since the FBT, visvim has introduced a universe of footwear that carry the same "old made new" romanticism its first hit embodied. Sneakers such as the Huron Mesh Moc-Folk tilt the balance towards modernity, while the Yucca Moc Shaman takes the brand's original concepts to new heights.
"Part of what makes visvim so powerful is that it evokes something in you," musician John Mayer told The New York Times in 2016. By taking elements of both the past and present, Nakamura and his brand have tapped into something entirely new.
Purlicue
"I found it interesting and decided to name the brand after it," explained Chinese architect-turned-designer Su Junhua while speaking to ANNMS. "There's no particular meaning."
Named after a Northern English word that describes the distance between the thumb and index finger, Purlicue is an avant-garde sneaker brand that thrives in its irreverence. Su's design philosophy is, in his own words, to be "continually pushing the boundaries and criticizing [himself]." And what exactly does that look like? Well, let's see.
First, consider the bulbous, leather-wrapped PPK-3. Like all Purlicue shoes, it's handmade with premium leathers. And like all Purlicue shoes, it's… quite bizarre. At first glance, there's an entire other running shoe nested within the PPK-3's calfskin upper. Even the sole is wrapped in leather. As you wear the shoe, the leather deteriorates, revealing the rubber sole inside. Moving on.
Next, consider the modestly-named B-1. Su again: "As you can see, the upper design is inspired to the popular basketball sneakers, mounted atop of dress shoes' soles." So, when work is out at 5 p.m. and ball starts at 5:05 p.m., the B-1's got you covered.
All in all, Purlicue creates some of the most novel sneakers in the entire game. They're also, from an objective standpoint, beautifully designed, as one would expect from an architect.
Y-3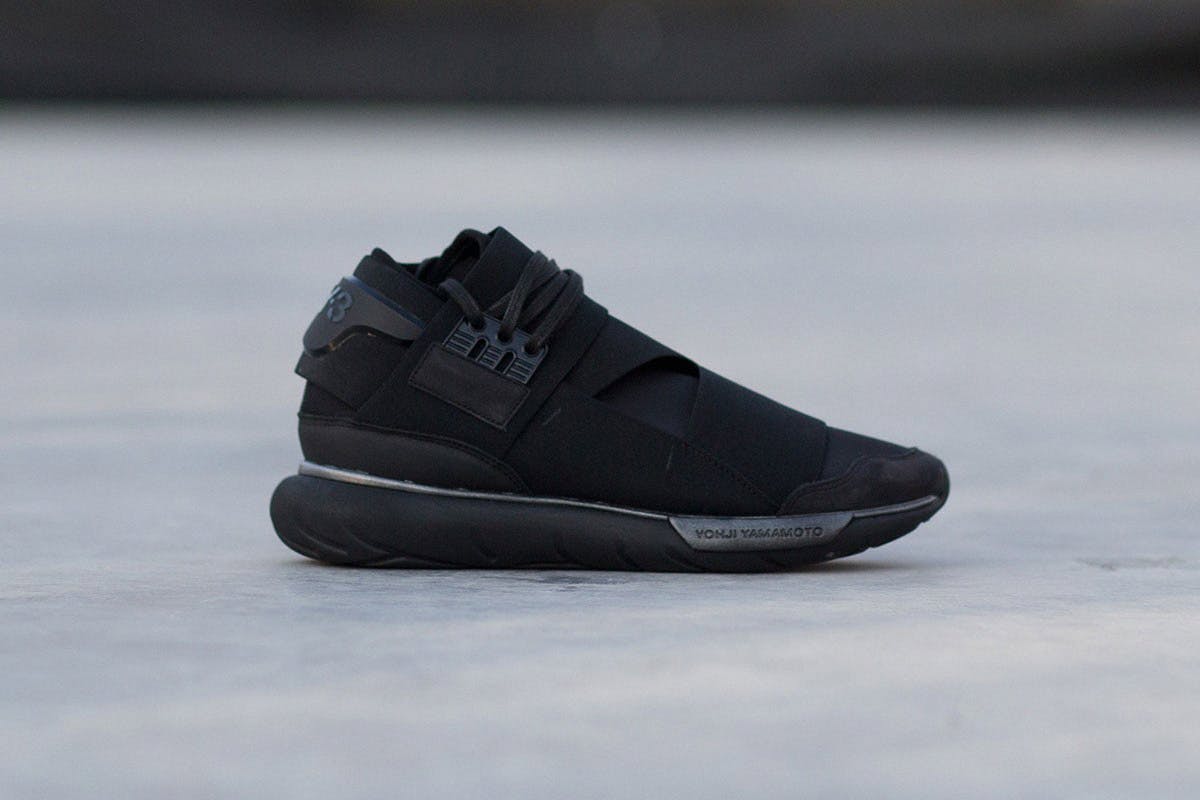 If visvim constitutes a phenomenon, Y-3 is a cosmic event.
Japanese designer Yohji Yamamoto first worked with adidas on a limited-edition sneaker made for his AW01 runway. The shoe – which sold more than 50,000 pairs – was a smash hit. Two years later, Yamamoto and adidas took their collaboration to new heights with the launch of Y-3.
Symbolizing the union of Yamamoto ("Y") and the Three Stripes ("3"), Y-3 is a designer sportswear line that has been walked at Paris Fashion Week since 2003. While Y-3's garments combine space-age athletic materials with Yamamoto's futuristic tailoring, it's the shoes that steal the show.
Y-3 sneakers are, by convention, unconventional. The Qasa High, arguably the brand's most popular silhouette, is a neoprene-wrapped ninja shoe plopped onto a curvaceous EVA outsole. The Ayero, a blocky, retro-inspired trainer, features an oversized, segmented midsole that forms the Three Stripes. And then there's the Runner 4D.
To a number, Y-3's eye-popping designs appear not of this Earth. While the sneaker cognoscenti might now see the Qasa as familiar, to the rest of the solar system, the brand's outlandish footwear might as well be rocket science. On a related note: Y-3 also makes spacesuits.
DEMOBAZA
Founded in 2008 by Bulgarian designers Demo and Tono, DEMOBAZA is… well, let's start with what it isn't.
DEMOBAZA is not versatile. Garments include drop-crotch cargo sweats, full-body cashmere blanket coats, and the Pullover Net Unseen.
DEMOBAZA is not practical. Last season, the brand sold a €288 ($340) neoprene neck pad.
What it is, then, is damn cool.
With an aesthetic best described as Mad Max on the Star Wars planet of Tatooine, DEMOBAZA blends shamanistic references with rave clothes to produce garments that appear one hidden knife away from a Resident Evil villain. Forget "design languages" or "full-outfit styling," DEMOBAZA is its own universe. And in that universe, footwear rules Thunderdome.
Moon Rovers. Cyber Clogs. The galaxy-approved Skywalkers. All will certainly cost a pretty penny, but originality always has its price. One thing's for certain: There's little more explosive than a pair of DEMOBAZA sneakers.
Rick Owens
No discussion of avant-garde footwear is complete without Rick Owens.
Californian designer Owens started his eponymous clothing line in 1994, introducing the world of womenswear to his special strain of darkness. His collections expanded to menswear eight years later, but it would take until 2006 before Owens launched his first sneaker, the larger than life Dustulator Dunk.
Introduced around the height of the SB Dunk boom, the Rick Owens Dunk was to Nike's what a David Cronenberg movie is to Anatomy 101 — for better or for worse, it was engaging. Sales, and a raft of new Rick Owens sneaker releases, soon followed.
In 2008, Owens introduced the now-iconic Geobasket, an ultra high-top sneaker that, according to the Swoosh, bore more than a passing resemblance to its own trademarks. One "Cease and Desist" letter (and five years) later, Owens unveiled the first of his now-legendary adidas collaborations. The twisted, sublime "Rickdidas" collab may have ended in Fall 2017, but the shoes it spawned — the Vicious Runner and Springblade High Boot, to name two — hold a special place on the bleeding edge of sneaker culture.
With or without adidas, Rick Owens consistently turns out some of the most eye-popping silhouettes in the game. So if you want it darker, seek out the Hiking Sock, Mastodon, Geobasket, or "Ramones" High-Top.
Filling Pieces
In 2009, an architecture student named Guillaume Philibert found himself dissatisfied; the sneaker market seemed to be missing high-quality, high-concept kicks at a reasonable price. Philibert decided to fill that hole in the market with his own designs, and thus, Filling Pieces was born.
Filling Pieces is remarkable for bringing avant-garde design to the mid-price sneaker market. The brand's standard model, the aptly-named Low Top, is a wedge-shaped sneaker almost too geometric to be true. More unbelievably, it's handmade in Portugal yet retails for around $225.
Despite selling dozens of Low Top variants, the brand embraces the experimentation required to stay cutting-edge. Each season, Philibert "[tries] to design a new silhouette to add to the Filling Pieces range." Those new models — the Fuse Runner, the martial Field Boot — keep the range fresh while acting as a laboratory for the design team's creativity.
"My background is also in architecture, so I can take inspiration from a piece of furniture, a detail in a façade of a building, a fabric of a hammock, or a sound or lyric," Philibert told Sneakers Magazine in 2016.
Looking at a structure such as the Mid Peak Nubuck Sneakerboot, it's not hard to see how such a diverse range of influences make their mark on Filling Pieces' pieces, with the reasonable price a more-than-welcome bonus.
Casbia
Manuele Bianchi spent two decades designing luxury women's footwear at Donna Karan in New York. Then, in 2010, he felt it was time for a change.
Bianchi, Casbia's owner and designer, chose his native Italy as the place to found the brand. His new designs — a far cry from DK heels — "reflect [Bianchi's] aesthetic and lifestyle," producing shoes that are "graphic, architectural, and practical," according to the brand's own site.
Other than a short "About" page on its website, Casbia — and Bianchi — appear borderline press-shy. Although, with shoes like these, one has to wonder why. Casbia sneakers are, in short, wild. From the stealth fighter Vetta RBT to the side-lacing AWOL Atlanta Veterano (a collaboration with sportswear house Champion), it's almost as if the brand's unconventional designs represent a release valve of sorts for Bianchi. Whatever the inspiration, Casbia's avant-garde footwear is as mysterious and beautiful as it is expensive.
According to a Complex interview, Filling Pieces founder Guillaume Philibert's most costly pair of sneakers are a "700 USD Casbia shoe." Real recognize real.
Carol Christian Poell
Take the mystery of Casbia, add the world-building of DEMOBAZA, and sprinkle in some Rick Owens darkness.
And then triple the recipe.
Carol Christian Poell is an Austrian designer who started presenting collections in AW94. His first collection, titled "Unintended Collection," set the scene. In the decades since, Poell (whose eponymous label is often abbreviated to CCP) has produced ultra-niche garments with an uncompromising attention to fit, and in doing so, has built one of the few true cult followings in fashion.
CCP garments are as baroque as they are mesmerizing, a Perfume Genius album brought to life. In the words of writer Gunner Park: "Poell perceives dress not as a compliment to the body, but as an annulment of the body." CCP jackets and trousers are about form over function and his shoes are much the same.
CCP's most famous sneakers are the paint-drenched "Drips." Unlike a splattered Margiela, CCP sneakers feature deformed globs that blanket the sole. As the wearer walks, the "drips" are chipped and flattened, degrading the shoe itself. For the privilege, you'll pay north of $2000 retail (Grailed isn't much better). Want a truly-villainous "U-sole" on your "Drips"? If you can find one, both your wallet and Achilles tendons might regret it.
Expensive, inaccessible, temperamental, but oh-so-cool when styled right. CCP sneakers are perhaps the tip of the avant-garde.
YEEZY
In February 2015, underground designer Kanye West launched — okay, you know the story.
While CCP represents pioneering design at its most underground, YEEZY by adidas is avant-garde sneakers made mass culture. Love him or hate him, Kanye West — through the talented pencil of Salehe Bembury — introduced the world to some novel, head-turning footwear.
Beginning with the 750 Boost three years ago, YEEZY ticked through a list of footwear archetypes, giving each a Kanye rework before shepherding them off to peak-hype releases. The Boost 350, a remixed wedge runner, received a one-piece upper and exaggerated outsole. The 500 Desert Rat, a chunky, retro-inspired sports shoe, got its proportions shuffled with an outrageous sole unit.
Kanye West might not have brought the same uncompromising vision as fellow adidas collaborators Yohji Yamamoto and Rick Owens, but it's hard to argue with the numbers: YEEZY releases — at least major ones such as the 350 and 700 — sell out in milliseconds.
Regardless of any personal design critique, YEEZY has popularized the sort of pioneering and innovative design work that defines the ­avant-garde. In a world of Stan Smith clones and unironic Air Monarchs, adding a hype culture's worth of strength to that "advanced guard" out in front is hardly a bad thing.
To stay updated on everything happening in the sneaker world, follow @Highsnobietysneakers on Instagram, check our sneaker release date calendar and subscribe to our sneaker chatbot on Facebook to receive lightning quick updates to your inbox.