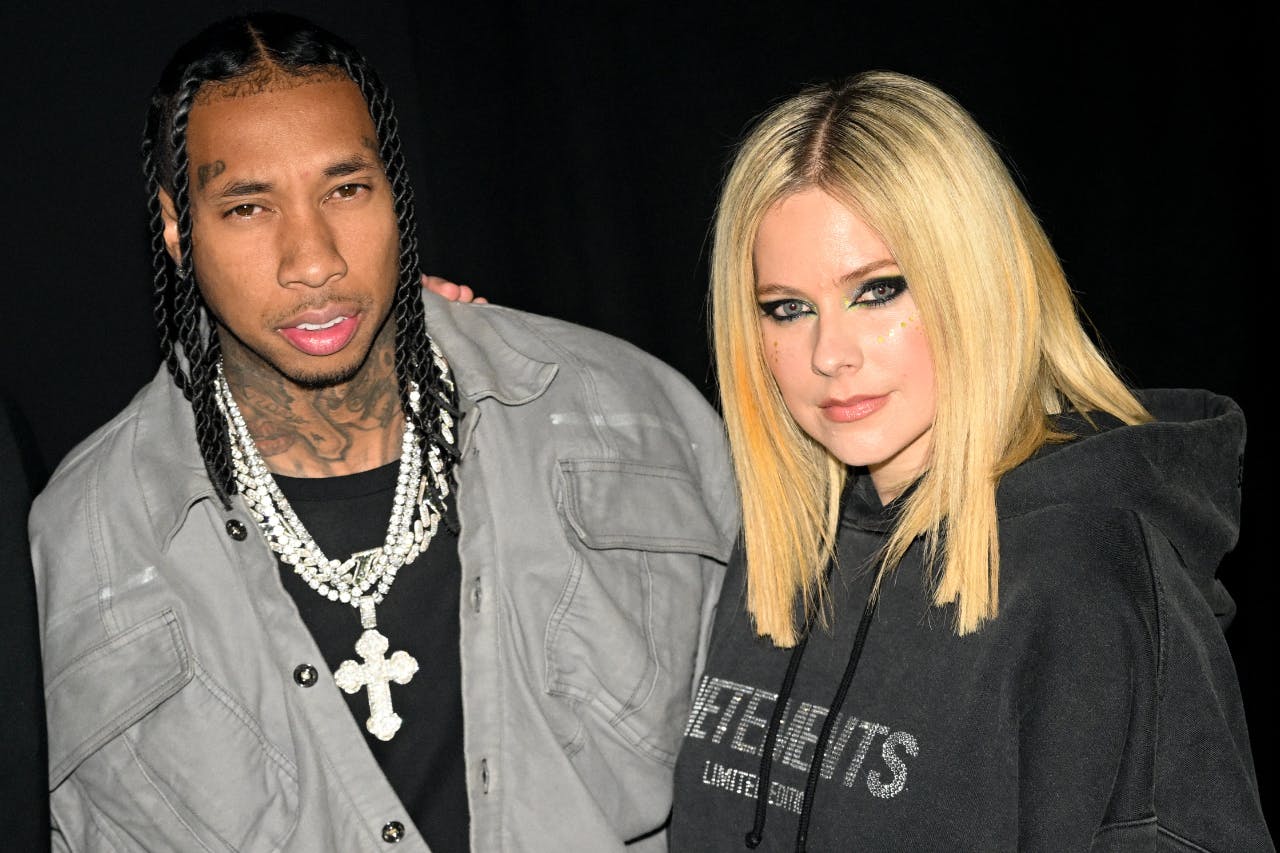 It's been a rollercoaster week for Avril Lavigne's love life. Avril Lavigne-aissance, indeed.
Early whispers seemed to suggest that Lavigne was possibly dating rapper Tyga after they were seen having dinner back in February, before a source close to the pair confirmed to a gossip site that they're just good friends. Okay, cool.
On March 6, though, Lavigne was rumored to be dating Vetements CEO and creative director Guram Gvasalia — the younger brother of Balenciaga creative director, Demna — after they were spotted holding hands on March 5. Okay, cool.
However, images of Lavigne kissing Tyga began to emerge later that evening, before they were spotted together at Y/Project on March 7, which would suggest that the initial rumors were actually true. What a ride!
Lavigne's surprise presence at Paris Fashion Week seemed to be an extension of newfound freedom in the wake of her recent split from fiancé Mod Sun but, with Lavigne being consistently spotted wearing almost exclusively Vetements clothing undoubetley adding fuel to the Gvasalia dating fire.
In a March 1 Instagram post announcing Lavigne's arrival to Paris Fashion Week (and her new Vetements look), she even tagged Guram Gvasalia's IG account, which seemed innocuous at the time, but only added to the rumor mill.
As of yesterday, we were pretty convinced that Lavigne and Gvasalia were a couple, although I was surprised that we actually talking about Vetements in 2023! That being said, the pair do have some interesting parallels, so it made sense.
Lavigne, for instance, is a pop-punk superstar who's recently reclaimed her celebrity status, complete with new music and a generation of Gen Z admirers only just now discovering Lavigne's hits.
Gvasalia, meanwhile, has spent the past few years attempting to bring the once-buzzy Vetements back to relevance.
Vetements, once the hottest brand in fashion, has seen declining relevance since Guram's brother Demna left his post as creative director to take Balenciaga to new heights.
However, not unlike Lavigne, a new generation of fans (including some other pop punk icons) has rediscovered Vetements' old work in light of the Balenciaga boom.
It all makes sense in a Y2K sort of way.
Vetements has attempted to target new-gen fans with an edgy Instagram presence (cough, @vetements_uncensored, cough) and youthful sub-label VTMNTS but results are mixed. Not a lot of kids can afford $1,100 hoodies.
Avril Lavigne probably can, however. She was seen wearing Vetements shirts, hoodies, and jackets throughout all of Fashion Week, sitting front row at shows like Ottolinger and, of course, Vetements.
It seems more likely now, however, that Lavigne was simply a fan of Guram's brand. The hand-holding? Just a couple friends hanging out!
Oh well. Tyga and Lavigne make a nice couple. It's just not nearly as eye-poppingly bizarre as Lavigne x Gvasalia.