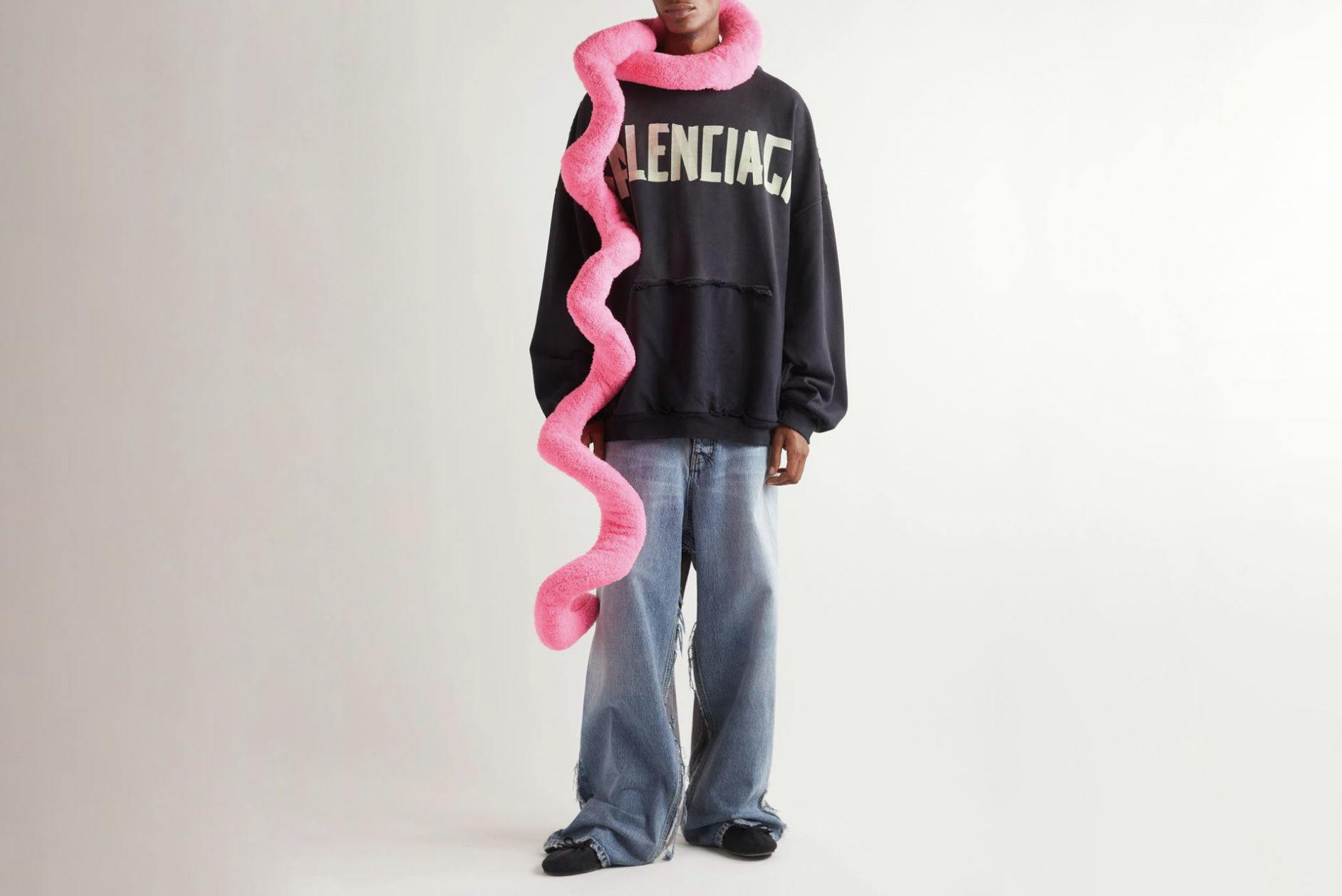 Nowadays, the weirder your outfit gets, the better. High-end fashion has become a playground for designers, and making a statement is the priority. Lately, brands are bringing a comical take to the runways with tongue-in-cheek garments like Doublet's Bucket Bag, or Loewe's Grass Sneakers. Balenciaga is basically the leader when it comes to pushing boundaries, and the Balenciaga Wire Scarf is yet more proof of it.
Demna's distinctive designs are not exactly defined as "playful." While they might garner headlines because of their boldness, many of Demna's designs seek to comment on current crises. For example, last year, the Spanish house called attention to the Ukrainian war during its FW22 presentation. Balenciaga's SS23 show was set in a post-apocalyptic world, and along with its dark distressed looks, some witty garments stood out as beacons against the muddy runway.
Glove tote bags, zip-up chokers, and Lay's chip bags were some attention-grabbing accessories accompanying the runway looks. And, among all that weirdness, this pink noodle-like scarf came to brighten up the serious mood.
This Balenciaga Wire Scarf is wrapped in soft polyester and, at 220cm in length, can almost reach the floor. Its spiral structure makes it super easy to wrap around the neck so that it stays in place throughout your day. The piece is available in two eye-catching colorways: neon yellow and this bright pink. But be warned, this playful piece has a not-so-playful price tag of more than $2000.
Shop the Balenciaga Wire Scarf below.
Want to keep browsing? Download the Highsnobiety app for all the hottest products and brands from the the Highsnobiety Shop. Highsnobiety has affiliate marketing partnerships, which means we may receive a commission from your purchase.