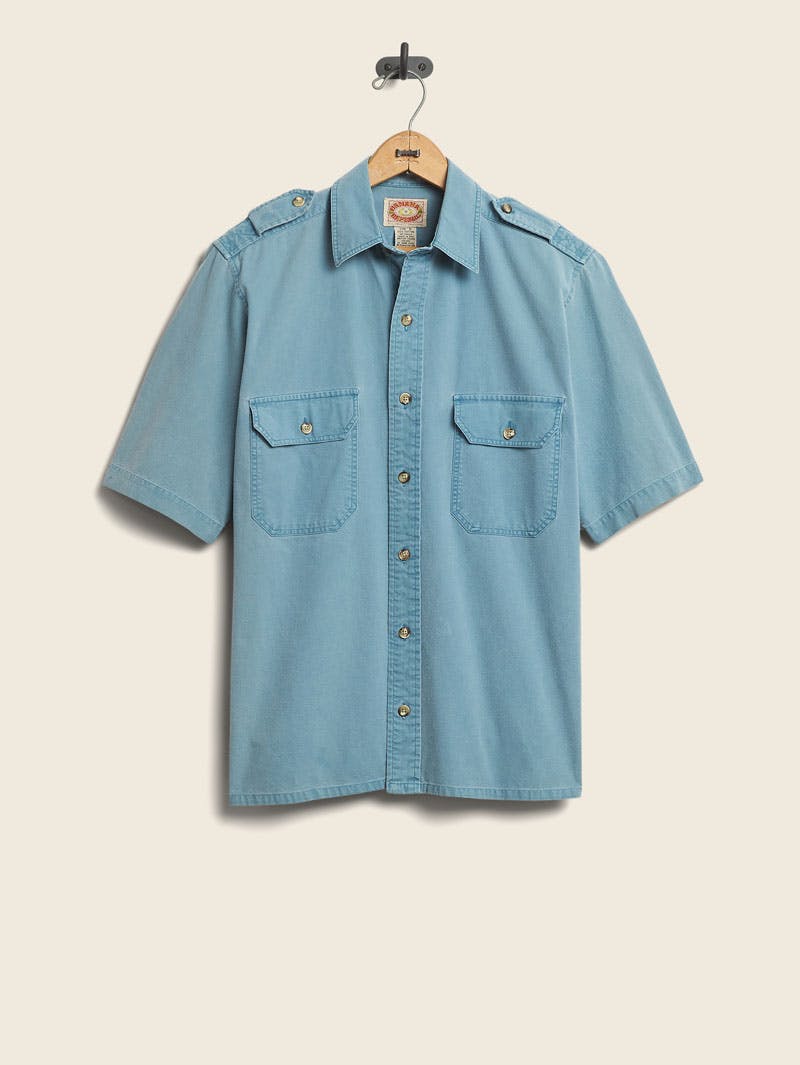 Back in the '80s, Banana Republic was a quirky adventure outfitter, proffering pith helmets and photographer vests for intrepid explorers. The brand has obviously gone in a much different direction in the years since, but devotees haven't forgotten that legacy of expedition. Ana Andjelic, Banana Republic's new Chief Brand Officer, is one such die-hard, and she's bringing back the past by way of the retailer's inaugural "BR Vintage" line.
Deeply inspired by Banana Republic's timelessly out-of-time catalogues, Andjelic and a team of "purveyors" went through the archives to select 225 unique vintage pieces from the '80s, '90s, and early '00s. Ranging from classic hunting jackets to graphic tees and caps, the BR Vintage selection is indicative of the worldly ethos that inspired Banana Republic's founding.
"Banana Republic was created as an imaginary territory on par with Narnia, Middle Earth, or Wakanda," Andjelic said. "Our archives are this chest of curiosities that takes us to another imaginary world ... a caravan route in a desert, an abandoned campsite, a forgotten forest. We wanted to deliver the modern customer this imaginary world that started it all with a resolutely modern vibe. Some stuff in our vintage store is so camp that it's cool and other is timeless streetwear."
Inspired by old school travel-wear and Ernest Hemingway's Abercrombie & Fitch wardrobe, Mel and Patricia Ziegler launched two "Banana Republic Travel & Safari Clothing Company" surplus stores in 1978. Their snappy success inspired GAP to acquire and expand it five years later, sparking a widespread '80s explorer fad. Interestingly, Hemingway — who never wore GAP or BR — left such an indelible influence that an old photo of him appeared in a '90s GAP ad long after both companies moved past the safari trend.
The debut of BR Vintage comes at a turning point for GAP. The parent company is moving out of malls in favor of digital distribution, driving customer growth with projects like YEEZY GAP. BR Vintage is one of Banana Republic's first major pushes to lure in new shoppers following a challenging year. "Banana certainly had challenges unique to Covid, between occasion wear and workwear," GAP CEO Sonia Syngal said recently.
150 of BR Vintage pieces are available on Banana Republic's website, and an additional 50 are exclusive to its store in New York's Flatiron district. These items are mostly seasonal (lightweight poplin and linen), and BR has plans for additional cold weather BR Vintage drops later in the year. Considering that many of the one-of-one items are already sold out online, the taste for safari clothes clearly hasn't waned.