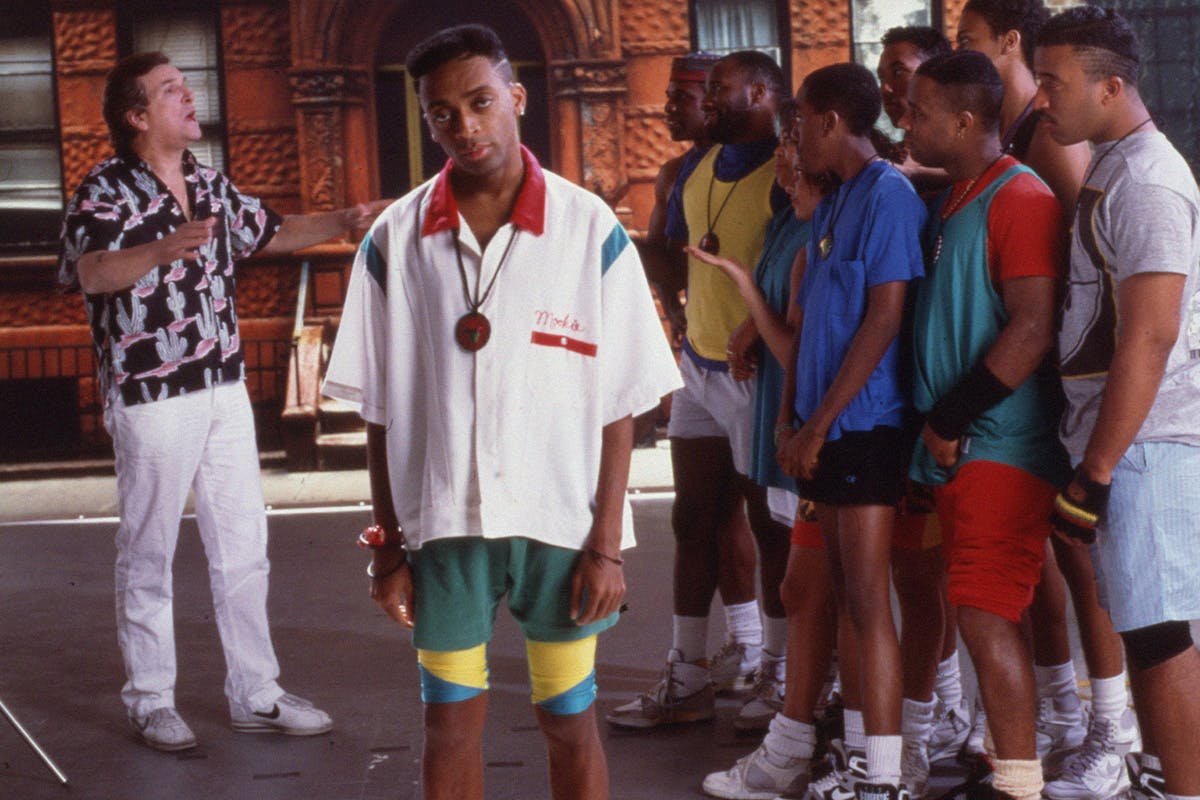 editor's note: minor spoilers to follow
The Big Apple, the city that never sleeps, the city so nice they named it twice – New York is one of the greatest cities in human history and probably the most idolized in popular culture. Movies, music, theater and the like have all helped to prop up the city's reputation, which in turn has led to more tourism from eager travelers keen to see it for themselves. In 2017 approximately 62.8 million tourists flocked to the metropolis, marking the eighth consecutive annual record.
Indeed a lot of movies are set in the city — although not all are necessarily filmed there. Toronto is a common stand in, while Paramount Pictures' New York back lot sets in Los Angeles are well known to many. So when a movie is actually filmed in New York it creates a kind of atmosphere that simply can't be faked. Additionally there are a small number of filmmakers — almost always native New Yorkers themselves — that not only capture this energy, but genuinely love New York so much they're able to craft films where the city is a character itself. The masters include Woody Allen, Martin Scorsese, and Spike Lee, although there are younger directors who are certainly following in their footsteps.
We've compiled 40 movies that best show off this incredible city, highlighting its five boroughs, iconic neighborhoods, famous landmarks, and specific locations that these films immortalized and brought to the spotlight. Many films are shot across multiple boroughs but we've sub-categorized them into the main area they fall into.
Manhattan
After Hours (1985)
What it's about: Expect After Hours to be the first of a few Martin Scorsese entries on this list. The black comedy follows a New York City worker's night of mishaps, where one unfortunate event leads to another; a part of the "yuppie nightmare" sub-genre. Set in Soho, After Hours is both an ode to nights out roaming Manhattan's streets, and Murphy's Law.
Landmarks/areas: Unsurprisingly, Soho has changed a lot since the '80s with many of the film's original locations now gone, but the energy of this moment in time remains captured on film.
Juice (1992)
What it's about: Juice tells the story of four young men navigating life in Harlem. Ernest R. Dickerson makes his writing and directing debut, moving on from his work as Spike Lee's cinematographer throughout the '80s and early '90s, while Tupac Shakur stars in his first acting role.
Landmarks/areas: Juice was almost entirely shot on the streets of Harlem, with Dickerson explaining that it's, "About the perils of growing up black in the ghetto. If I can accurately show that without the Hollywood wrappings, then I've done what I set out to do."
Bad Lieutenant (1992)
What it's about: Harvey Keitel is the titular bad cop in this debaucherous look at where the underworld meets the law. Director Abel Ferrara is another New York native known for his depictions of the city.
Landmarks/areas: The movie was filmed across Manhattan and the Bronx, specifically the Morris Park neighborhood where Abel Ferrara grew up. The iconic yet now defunct Limelight club appears in the film, as well as St. Paul's Church in Harlem and the Port Authority Bus Terminal. The Lower East Side's Alphabet City stood in for much of the film's sleazy backdrop.
Wall Street (1987)
What it's about: The name says it all – Wall Street's heady tale of greed and ambition in the finance world in 1980s New York simultaneously acts as a seduction and warning against capitalism. Michael Douglas' portrayal as Gordon Gekko earned him his only Oscar for acting.
Landmarks/areas: Naturally Wall Street is rooted in downtown Manhattan's Financial District, however the film also covers locations in Midtown and Central Park. Impressively, the film was granted access to shoot on the actual floor of the New York Stock Exchange during trading hours, with only 45 minutes allowance to shoot the entire scene.
Annie Hall (1977)
What it's about: Woody Allen is another New York director where most of his filmography could fit on this list. But let's start with one of his greatest – Annie Hall. Woody Allen plays Alvy Singer, a semi-autobiographical character who spends the film pondering his failed relationship with Diane Keaton's titular character. The city of New York plays the third lead role.
Landmarks/areas: The majority of the film is set in Manhattan's upper half, particularly the Upper East Side. However, it also features Brooklyn's Coney Island, downtown Manhattan, and Central Park. Surprisingly the plot also takes us to Los Angeles, providing the perfect vile contrast to Allen's beloved NY. Unfortunately most of the actual spots are no longer standing.
Shaft (1971)
What it's about: One of the first and most widely known Blaxploitation films, Shaft tells the tale of private detective, John Shaft, who's hired to retrieve a Harlem mobster's kidnapped daughter.
Landmarks/areas: 125th Street in Harlem features most of the action, while Greenwich Village is home to John Shaft's apartment. Village institution Caffe Reggio still stands, which you may recognize from a few other films including the Coen brothers' Inside Llewyn Davis. An OG version of Times Square also serves as the backdrop for Shaft's office.
25th Hour (2002)
What it's about: Edward Norton plays a convicted drug dealer who's about to serve a seven-year sentence. 25th Hour has been praised as being the first New York film to tackle the aftermath of September 11, which director Spike Lee felt should be written into the plot when the attacks happened during the film's planning stage.
Landmarks/areas: Various shots of Tribeca and the East River appear in the film, but most prevailing is 25th Hour's footage of Ground Zero following September 11.
Kids (1995)
What it's about: Larry Clark's cult film about a group of teenagers in NYC and their x-rated exploits is harrowing to say the least. While it presents a less-than-favorable view of youth growing up in the city, it's certainly one of the more realistic portrayals and has wound up a relic depicting what '90s Manhattan was once like.
Landmarks/areas: Kids begins near the Upper East Side and Yorkville, where Casper and Telly make their way through the streets before catching the 6 train at 77th Street Station. Arriving at Washington Square Park — a central point for the characters in the film — they take off once again, meandering the streets of Lower Manhattan and the East Village. The pool that they break into is the Carmine Street swimming pool, which still stands today, while the rave Jennie attends was the infamous '90s party NASA, however it was filmed at The Tunnel instead of its usual home at The Shelter in Tribeca.
The Godfather
What it's about: Based on Mario Puzo's book of the same name, The Godfather needs no introduction.
Landmarks/areas: For a movie as epic in stature as The Godfather — both in story and legacy — it's only fitting that it covers locations across all five boroughs of a city as epic as New York. Manhattan's St. Regis Hotel, Radio City Music Hall, New York County Courthouse, and a few smaller spots are featured, while the First Calvary Cemetery in Queens was used as the site for Don Corleone's funeral. The Italian restaurant Louis where Sollozzo and McCluskey are killed was in the Bronx but is no longer open. Also in the borough is the Lincoln Hospital. The Jones Beach Causeway on Long Island — where Sonny is gunned down — was actually recreated at Floyd Bennett Field, an old disused airfield in the south east of Brooklyn, as well as a few interiors filmed in Brooklyn. The Queensboro bridge makes an appearance and perhaps most surprising is the fact that the massive Corleone family compound, which is seen extensively in the film's opening during Connie's wedding, is located in Staten Island in the affluent Emerson Hill neighborhood. The production team created the house's perimeter by putting up fake gates at the end of the cul-de-sac, making the plot of land appear even bigger. Staten Island's Mission of the Immaculate Virgin church also appears at the end for the christening, however the interior was filmed at Old St. Patrick's Cathedral on Mulberry Street in Little Italy.
Rosemary's Baby (1968)
What it's about: Adapted from the book by Ira Levin, Roman Polanski's psychological horror follows a young couple who move into an ominous new apartment with strange neighbors, before Rosemary Woodhouse (Mia Farrow) becomes pregnant and increasingly suspicious that her baby is wanted for satanic purposes.
Landmarks/areas: The Dakota building on the Upper West Side served as the exterior for the Bramford, with its Renaissance Revival style lending a darkness to the film's atmosphere. Home to many celebrities over the years, the building's most notable resident was perhaps John Lennon, who was tragically murdered under the entrance archway while coming home one night in 1980.
Ghostbusters (1984)
What it's about: A classic '80s flick about three parapsychologists who take to capturing and eliminating ghosts.
Landmarks/areas: Ghostbusters boasts some well known locations such as the New York Public Library, Columbia University's Low Memorial Library, and Tavern on the Green restaurant in Central Park West. The Ghostbusters HQ is in fact a real fire station in Tribeca named 8 Hook and Ladder.
Mean Streets (1973)
What it's about: Another Scorsese, this time his directorial debut. Mean Streets set the tone for much of Scorsese's oeuvre, tackling his oft-visited themes of Italian-American identity and the seedy underbelly of New York.
Landmarks/areas: While the name and narrative aims to tell the stories of Little Italy, many of the film's scenes were actually shot in Belmont, the Italian community in the Bronx. However, Little Italy's Old St. Patrick's Cathedral on Mulberry Street is unmistakeable, while former neighborhood bar Vulpe was turned into a Tuscan restaurant for the film.
We Own the Night (2007)
What it's about: A tale of two brothers on opposite sides of the law, We Own the Night explores the Russian crime underworld of New York, starring Mark Wahlberg and Joaquin Phoenix.
Landmarks/areas: Native New Yorker James Gray was insistent that We Own the Night should be filmed in NY instead of the common stand-in Toronto, despite the meticulous task of shooting in 1980s period design. The final result is impressive, with many nondescript locations from across four of five boroughs providing the backdrop. One famous landmark that fit the movie's retro style was Katz's Delicatessen on the Lower East Side.
The Godfather Part II (1974)
What it's about: The first sequel to ever win Best Picture at the Oscars, it's often argued whether The Godfather Part II is better than the first part. And while this film in the gangster saga is set mostly outside of New York — taking us from Italy to Cuba and even Lake Tahoe — the scenes that were filmed in the city are of vital historical importance.
Landmarks/areas: Most notable is Part II's footage of Ellis Island and the main building of the former immigration station complex, where European immigrants first arrived to America by boat early in the 20th Century. The building now houses the Ellis Island Immigration Museum. Additionally the East Village was transformed to stand in for Little Italy in the scenes detailing younger Vito's narrative in the 1910s and '20s. The bar where the Rosato brothers attempt to kill Frank Pentangeli still stands today, operating under the name 7B Horseshoe Bar aka Vazacs (as it used to be known).
Manhattan (1979)
What it's about: Woody Allen has professed his love for New York city in many films, but Manhattan is his most dedicated. What could have been cloying instead turned out as one of the most pure love letters to the city. The ensemble cast includes Allen, Diane Keaton, and Meryl Streep, in a story that interweaves each of their lives, as much with New York as each other.
Landmarks/areas: Unsurprisingly, Manhattan hits a lot of spots, ending up as one long list that reads like a tour guide of the city. The Metropolitan Museum of Art, Lincoln Center, Guggenheim Museum, MoMa, Whitney Museum of American Art, and the Hayden Planetarium provide cultural stimulation, while Bloomingdale's also makes an appearance. Food spots include the Empire Diner, Dean and DeLuca, Zabar's, Elaine's, the Russian Team Room, and Allen's personal favorite pizza in NYC – John's of Bleecker Street. Most memorable is the film's poster, which references a scene at Riverview Terrace on Sutton Square, with a view of the Queensboro Bridge.
Taxi Driver (1976)
What it's about: Robert De Niro plays deranged Vietnam war veteran, Travis Bickle, who's work as a cabbie puts him in direct contact with some of the scummiest people in the city. Not that he isn't one himself. For how uneasy Taxi Driver makes you feel, it simultaneously offers a kind of romantic view showing how perverted the city can be.
Landmarks/areas: A lot of the film was shot in Midtown bordering Hell's Kitchen, while Columbus Circle is the setting for a pivotal scene. Contrastingly, the seedy side of the East Village is on full show, but it's this side of '70s New York that's long since been cleaned up. What Taxi Driver does capture incredibly well is that dynamic location that New Yorkers know all too well – inside a cab.
Léon: The Professional (1994)
What it's about: The cult film that launched Natalie Portman's career, Léon: The Professional follows a professional hitman — played by Jean Reno — as he takes in a 12-year-old girl as his protégé.
Landmarks/areas: Unfortunately, as with many New York films older than two decades, many of the locations are no longer around. Tony's restaurant was actually called Guido's, while the exterior of Léon's apartment building is at 71 97th Street at Park Avenue, on the Upper East Side. However, the stairwell and corridors of the building were filmed at the notorious Hotel Chelsea – infamous for many reasons but most notably the place where Sid Vicious was arrested after his girlfriend Nancy Singen was found dead.
Inside Llewyn Davis (2013)
What it's about: Oscar Isaac plays a fictional musician in the Coen brothers' ode to the folk music scene of 1960s Greenwich Village.
Landmarks/areas: It's impressive that the Coen brothers managed to create this period film only six years ago. Various Greenwich Village venues like the iconic Gaslight Club and Caffe Reggio appear in the film, while a stretch of East 9th Street was turned into the Village of the 1960s. Other locations include Washington Square Park, 96th Street station, Christopher Street station, Queens' 61st Street-Woodside Ave station, as well as the Greater Refuge Temple in Harlem acting as the Gate of Horn club in the film's Chicago scenes.
The Wackness (2008)
What it's about: This coming-of-age movie about a pot-dealing New York teen who has an unlikely friendship with his psychiatrist has a similar '90s New York vibe as Kids. But while Kids is a grim take on reality, The Wackness offers a slightly more relatable version.
Landmarks/areas: The film honors Central Park with various scenes shot at The Mall and Bethesda Terrace, as well as a general summer-in-the-city atmosphere.
Donnie Brasco (1997)
What it's about: A deeply moving mafia film, Donnie Brasco details the growing friendship and betrayal of undercover FBI agent Brasco, played by Johnny Depp, and Al Pacino's aging mafioso, Lefty Ruggiero.
Landmarks/areas: Katz's Delicatessen makes another notable appearance, while the Little Italy bar Mare Chiaro where Donnie and Lefty first meet still exists today at 176 Mulberry Street, however it's now known as the Mulberry Street Bar.
When Harry Met Sally (1989)
What it's about: When Harry Met Sally's most memorable scene — in which Meg Ryan loudly fakes an orgasm while eating with Billy Crystal in Katz's Delicatessen — is everything you need to know about this pioneering rom-com.
Landmarks/areas: Writer Nora Ephron spent decades living on Manhattan's Upper West Side and frequently incorporated her love of the neighborhood in her work. There's plenty of street shots, as well as the old Shakespeare & Co bookstore. Other landmarks from Manhattan include Central Park, Washington Square Park, The Met, and as mentioned, Katz's Deli.
Tiny Furniture (2010)
What it's about: Lena Dunham wrote, directed, and starred in this very millennial story of a young woman who moves back in with her mother after graduating from college, in a bid to figure out her life.
Landmarks/areas: Shot mostly across Tribeca and Lower Manhattan, the film also depicts the last decade's gentrification of Brooklyn with scenes in DUMBO and Vinegar Hill.
Home Alone 2 (1992)
What it's about: Probably the best Christmas movie set in New York (and one of the best in general) Home Alone 2 is one of those rare sequels that might actually be better than the original. Macauley Culkin has never lived down his role as Kevin McAllister, leading Google to release one of the best ads of 2018.
Landmarks/areas: Home Alone 2 hits a bunch of popular sites – Rockefeller Center, Central Park's Bethesda Terrace and the Wollman skating rink, Times Square, Carnegie Hall and the Queensboro Bridge. The Empire Diner and World Trade Center both feature fleetingly, while the Plaza Hotel has a starring role.
Carlito's Way (1993)
What it's about: Al Pacino plays a Puerto Rican criminal who's just been released from Rikers, while Sean Penn is a corrupt lawyer attempting to lure him back into the world of crime.
Landmarks/areas: The movie features various scenes in Greenwich Village including the Joffrey Ballet School, Harlem's 125th Street station, Grand Central Station, the former Copacabana nightclub (now Avra Madison restaurant)—famous as the location of Goodfellas' restaurant sequence—as well as Rikers Island in the East River.
The Devil Wears Prada (2006)
What it's about: Based on the bestselling novel, The Devil Wears Prada was an incredibly successful book-to-film adaptation, thanks in part to a stellar cast and production, but certainly also to the large role that New York played in the film.
Landmarks/areas: The crew behind the movie employed the same cinematographer and stylist as Sex and the City in an attempt to portray a similar fashionable look to the city. So it's little surprise that it crosses all over Manhattan highlighting cultural spots, restaurants, and stores, although a few are now closed. Places featured include the American Museum of Natural History, the Hermès store, and restaurants/cafes Bubby's (Tribeca), Craft (Flatiron District), Smith & Wollensky (Midtown), The Coffee Shop (Union Square), and the King Cole Bar at the St. Regis Hotel. Andy and her boyfriend live on the Lower East Side while Miranda (unsurprisingly) lives on the Upper East Side.
Midnight Cowboy (1969)
What it's about: Midnight Cowboy offers an account of how the big city dream can fall flat on its face, as Jon Voigt plays a Texan stud-turned-hustler in this seminal John Schlesinger film.
Landmarks/areas: It gives us a glimpse of Times Square before technology brought it into the future, as well as a much more realistic look at NYC life in front of the iconic Tiffany & Co. store on 5th Avenue – the end of the '60s were not as kind as Audrey Hepburn's time there. The affluent entrances of Upper East Side apartments are given full exposure, while the Peninsula New York hotel still stands today.
Frances Ha (2013)
What it's about: Greta Gerwig plays Frances Halladay, a 27-year-old woman trying to navigate becoming a responsible adult while chasing her dreams. Filmed in black-and-white — and with ample New York scenery (among other places) — it's reminiscent of Woody Allen's Manhattan but made for millennials.
Landmarks/areas: With locations around Manhattan and Brooklyn, Frances Ha takes us to Tompkins Square Park, Bryant Park, City Hall Park, M.A. Grocery on the Lower East Side, and the now shuttered restaurant Azul Bistro, as well as plenty of outdoor shots as Frances runs through the city.
Brooklyn
Do the Right Thing (1989)
What it's about: Racial tensions arise between a pizza shop owner and the local black community in Bed-Stuy during the hottest day of the year. Spike Lee is one of those New York directors who undoubtedly does the city justice and Do the Right Thing — one of his first features — is probably his most iconic.
Landmarks/areas: Shot entirely on one block in Brooklyn's Bedford-Stuyvesant neighborhood — on Stuyvesant Avenue between Quincy Street and Lexington Avenue — the specific locations were actually faked with most created as temporary shopfronts by the film's production designers.
Saturday Night Fever (1977)
What it's about: Saturday Night Fever is a surprisingly bleak account of young adult life for Italian-American Tony Manero, played by John Travolta. Sure it has the famous disco scenes it's known for, but it also has a strong dose of reality.
Landmarks/areas: In a rare occurrence many of the locations and businesses from the movie are still in operation today. Most are located in Bensonhurst and the Bay Ridge area of Brooklyn and include Lenny's Pizza, the Philips School of Dancing, the hardware shop where Tony works (now the Bay Ridge Home Center), the Verrazano Narrows Bridge, and even the Manero home at 221 79th Street, Bay Ridge, although it has undergone renovations. A few spots are no longer around, most unfortunately the 2001 Odyssey disco, which had its colorful, lit-up floor installed for the film and kept in use after.
Two Lovers (2008)
What it's about: An understated romantic drama from James Gray, Two Lovers stars Joaquin Phoenix as a suicidal man torn between two women. It's loosely inspired by Fyodor Dostoyevsky's short story "White Nights".
Landmarks/areas: Set and filmed mostly around Brooklyn's Brighton Beach neighborhood, Two Lovers also features some scenes in Manhattan, notably the Lincoln Center.
Once Upon a Time in America (1984)
What it's about: The creator of the spaghetti Western, Sergio Leone turned to the gangster genre for his last ever film detailing the Jewish crime underworld. Starring everybody's favorite wiseguy, Robert De Niro, it's considered one of the greatest in the genre.
Landmarks/areas: Once Upon a Time In America's famed image of the Manhattan Bridge was shot on Washington Street in DUMBO, Brooklyn, while exteriors were mostly filmed in Williamsburg, obviously pre-gentrification. That's about all that was filmed in New York though, with the rest filmed on a soundstage in Rome's Cinecittà Studios, while other scenes were duped with quite random substitutions. For example Paris' Gare du Nord stands in for Grand Central Station and Venice's luxurious Hotel Excelsior provides the setting for Noodles and Deborah's date.
Requiem For a Dream (2000)
What it's about: Based on the book by Hubert Selby, Jr., Requiem For a Dream tells the story of four intertwining lives and the impact that drug addiction has on them, portraying both the initial seduction and ultimate destruction.
Landmarks/areas: Director Darren Aronofsky grew up in Brooklyn's Manhattan Beach neighborhood, located right next to Brighton Beach and Coney Island, where much of the film takes place. The boardwalk, Steeplechase Pier, and the bright red tower (known as the Parachute Jump) are all featured extensively in the film.
He Got Game (1998)
What it's about: Another entry, another Spike Lee Joint. He Got Game is about Jesus Shuttlesworth, played by then-current NBA player Ray Allen, as he gears up for the college draft, while Denzel Washington plays his father.
Landmarks/areas: Lee often shoots his films with the city in mind but beyond visually striking shots of Coney Island's famous boardwalk and the beach, he explained, "There is also a kind of weathered and run-down look to many of the buildings that fit with the story and the design of the film. We wanted Coney Island and the locale to be a character in this film...not just the amusement park, but also the housing projects as well."
The Squid and the Whale (2005)
What it's about: Loosely based on director Noah Baumbach's parents' divorce, The Squid and the Whale relives Brooklyn through the eyes of a teenager in the '80s.
Landmarks/areas: The streets of Park Slope and Brooklyn College are immortalized through a nostalgic '80s tinge, while the American Museum of Natural History in Manhattan features in the film. The giant squid and whale diorama inside gives the movie it's moniker.
The Bronx
Wild Style (1983)
What it's about: Regarded as the first hip-hop motion picture, Wild Style is a loosely scripted movie featuring rappers and other early prominent hip hop figures in 1980s New York.
Landmarks/areas: Shot entirely in the South Bronx and Lower East Side, the locations in Wild Style have changed considerably today. Sites include the Slattery Playground basketball courts and the Cross Bronx Expressway, as well as the East River Amphitheater and Coleman Square Playground in LES.
Summer of Sam (1999)
What it's about: Spike Lee heads to the Bronx for a fictionalized narrative surrounding the actual Summer of Sam killings in 1977, moving the focus to a pair of young Italian-American friends played by John Leguizamo and Adrien Brody. The Sopranos actor Michael Imperioli co-wrote the script with Lee.
Landmarks/areas: The movie was filmed in the Bronx neighborhoods of Throggs Neck, Morris Park, and Country Club, as well as additional scenes at Brownsville, Brooklyn. The Lower East Side's iconic punk club CBGB was used for the concert scene.
Queens
Goodfellas (1990)
What it's about: Arguably one of the best films ever made — mafia-related or otherwise — Goodfellas is based on Nicholas Pileggi's non-fiction book Wiseguy. And while there's no surprise that another Scorsese is on the list, the fact that Goodfellas was shot entirely on location, zigzagging around the city, means it's full of authentic New York scenery.
Landmarks/areas: While scenes were filmed in every borough — save for the Bronx (also in New Jersey) — many are no longer around but the majority left are in Queens. Both JFK and LaGuardia Airports make an appearance, the latter then known as Idlewild, while the Airline Diner still stands today (although it's now the Jackson Hole Diner). The Sherwood Diner (now Goodfellas Diner) where Henry and Jimmy await the news about Tommy is still standing in Maspeth, Queens, however since a fire broke out last year it's been temporarily closed. Opened in 1829, Neir's Tavern is one of the oldest bars in New York and is still open for business in Woodhaven, while the famous restaurant scene takes place in the city at 10 East 60th and Madison Avenue, where the Copacabana is now Avra Madison. This spot also features in Scorsese's Raging Bull and Carlito's Way. The Prospect Park Zoo in Brooklyn actually stands in for Florida's Tampa Zoo and Henry's paranoid phone call takes place at the Pergament Mall in Staten Island. Outdoor scenes across New York are still recognizable, including by the Gowanus Canal in Red Hook, Brooklyn.
A Guide to Recognizing Your Saints (2006)
What it's about: Based on a memoir by Dito Montiel, who is also the film's director, A Guide to Recognizing Your Saints follows Montiel through parallel storylines during his youth in Astoria, Queens in the mid-1980s and as an adult returning 20 years later.
Landmarks/areas: Most of the film is shot in Astoria where Montiel grew up, adding a layer of authenticity and serving as an ode to one of New York's less immortalized neighborhoods. Locations include Astoria Park and the Hell Gate Bridge, while many of the scenes take place on the corner of 31st Street and 24th Avenue. The house fronts featured look very similar today.
A Bronx Tale (1993)
What it's about: A coming-of-age story about a boy torn between the mob world and staying on the straight and narrow. What's notable about A Bronx Tale is that both lead actors also held key creative roles – Robert De Niro in his directorial debut, and Chazz Palminteri as screenwriter — adapting his own one-man play that's loosely based on his own life.
Landmarks/areas: What's surprising is that besides one scene, none of it was actually filmed in the Bronx, with most scenes shot in Astoria, Queens along 30th Avenue, including at St. Joseph's Church.
In Jackson Heights (2015)
What it's about: The only documentary on this list, In Jackson Heights deserves special mention for its highly regarded depiction of the Jackson Heights neighborhood in Queens. One of the most multicultural areas in the United States, where over 167 languages are spoken, the film is about the local community and its unity.
Landmarks/areas: In depicting everyday scenes of its residents and streets, In Jackson Heights honors the neighborhood's truly authentic character amid a sea of gentrification in NYC.
Staten Island
See The Godfather, Goodfellas.